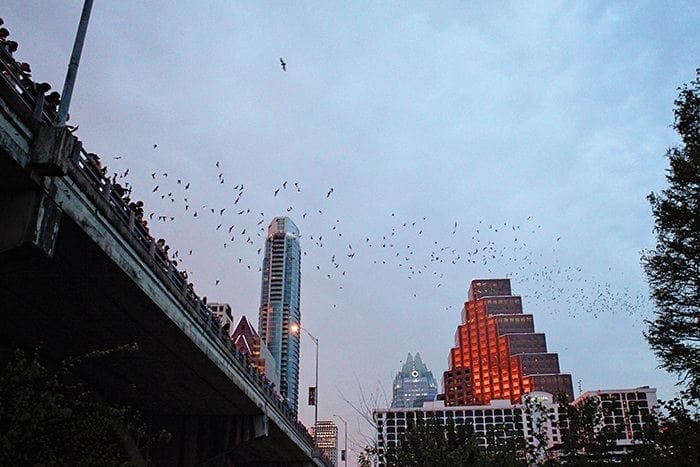 My husband and I have a bit of an idealized vision of Austin, Texas. Billed as a family-friendly destination full of culture and music, he and I have discussed wistfully moving there in the past. However, we thought maybe we should visit it first to see what all the fuss was about.
For spring break, we packed up our toddler and 5-year-old and drove across country to spend some time in this artsy, multi-cultural city and found that it was full of fun for our family of four.
While moving will remain a dream (Let's face it, I could never leave my family.), Austin is certainly a place worth visiting with the entire family. Here's why…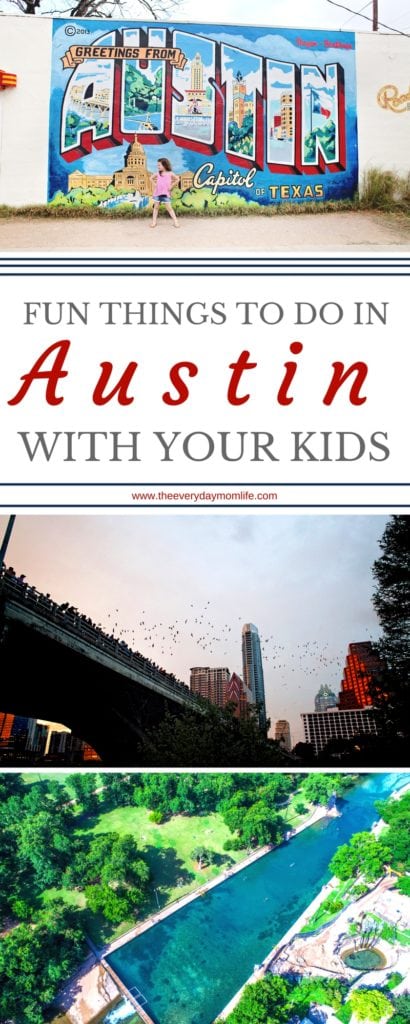 Cathedral of Junk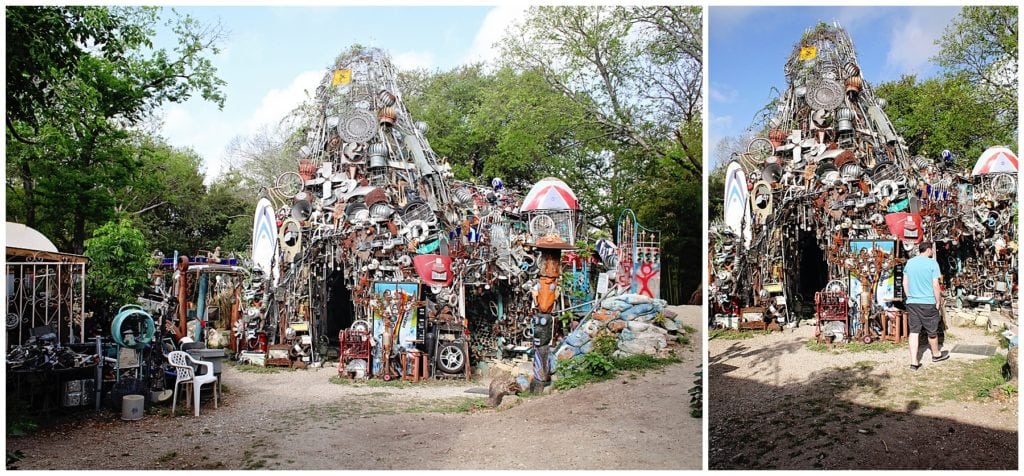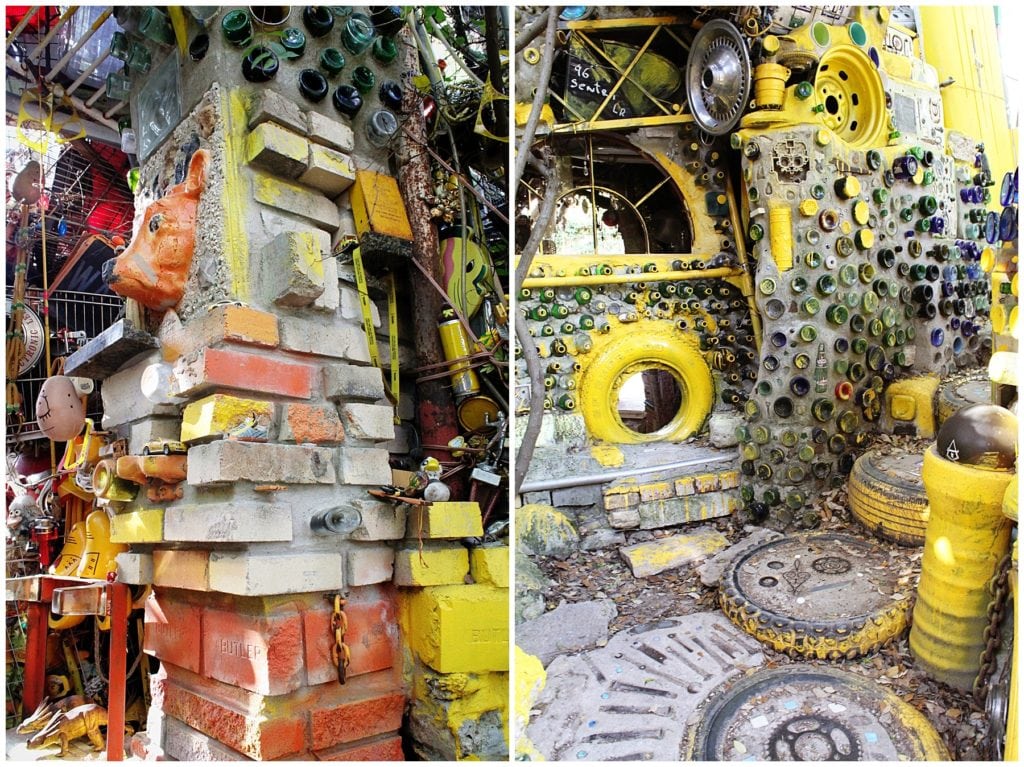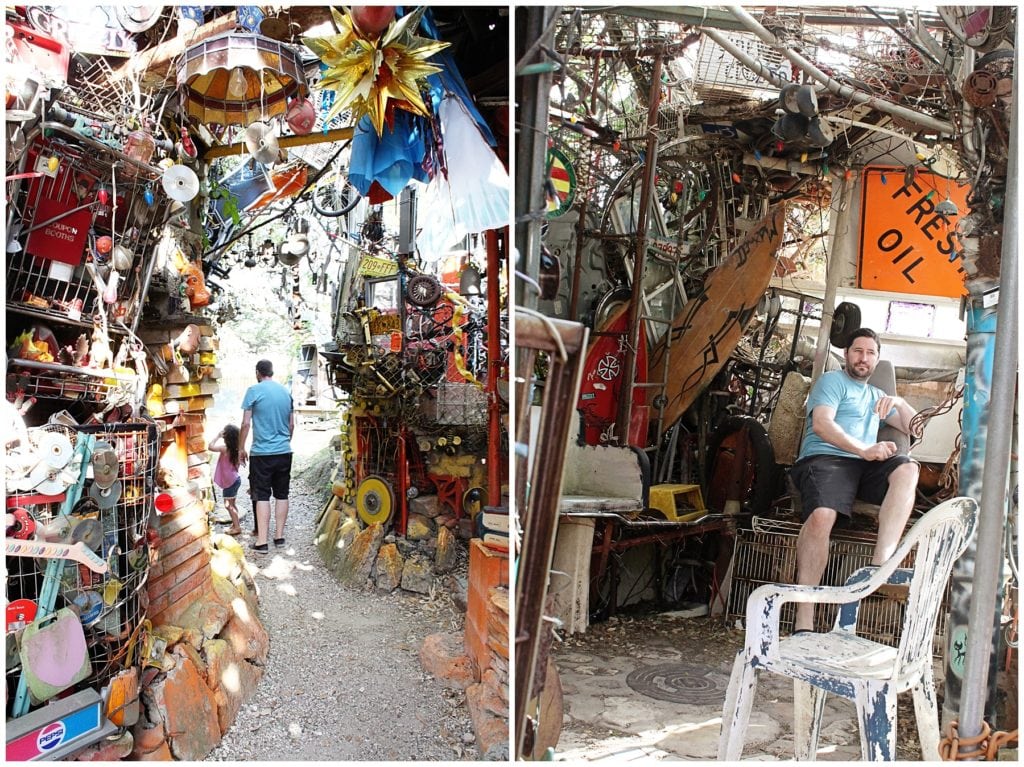 Both my kids will tell you that this was their favorite thing about the vacation and asked if we could build our own Cathedral of Junk in the backyard.
I have to say, this was an impressive, quirky sight to see. Nestled in the privacy of someone's backyard lies the Cathedral of Junk. It's literally a three-story high sculpture made out of random junk the owner collected over the years. It has different rooms and you can climb up in it all the way to the top.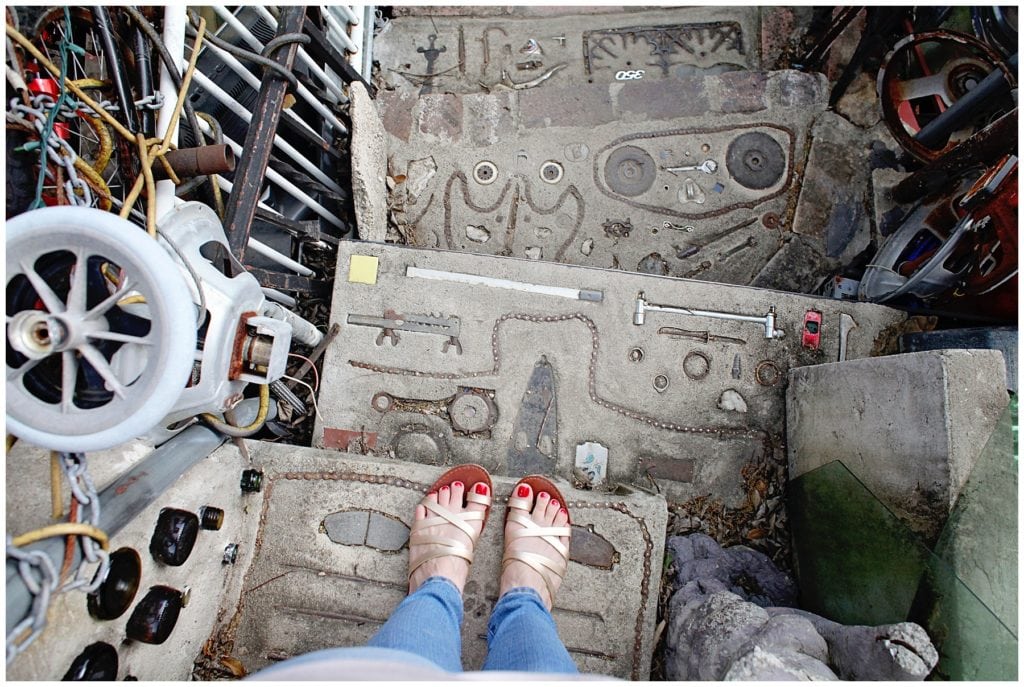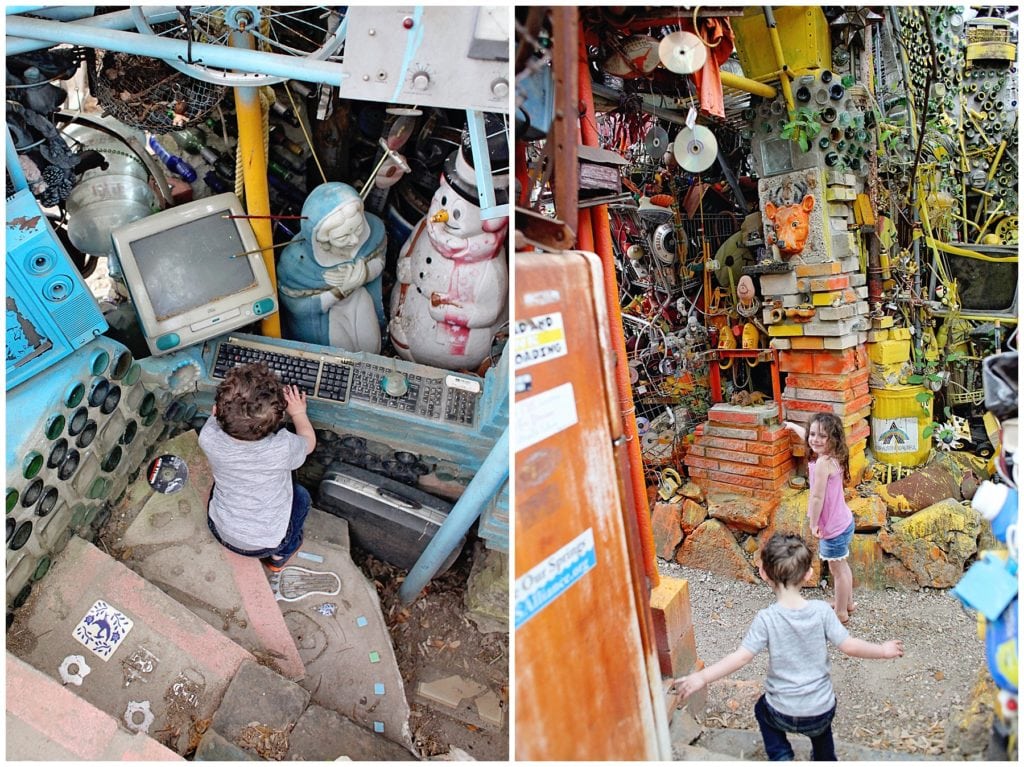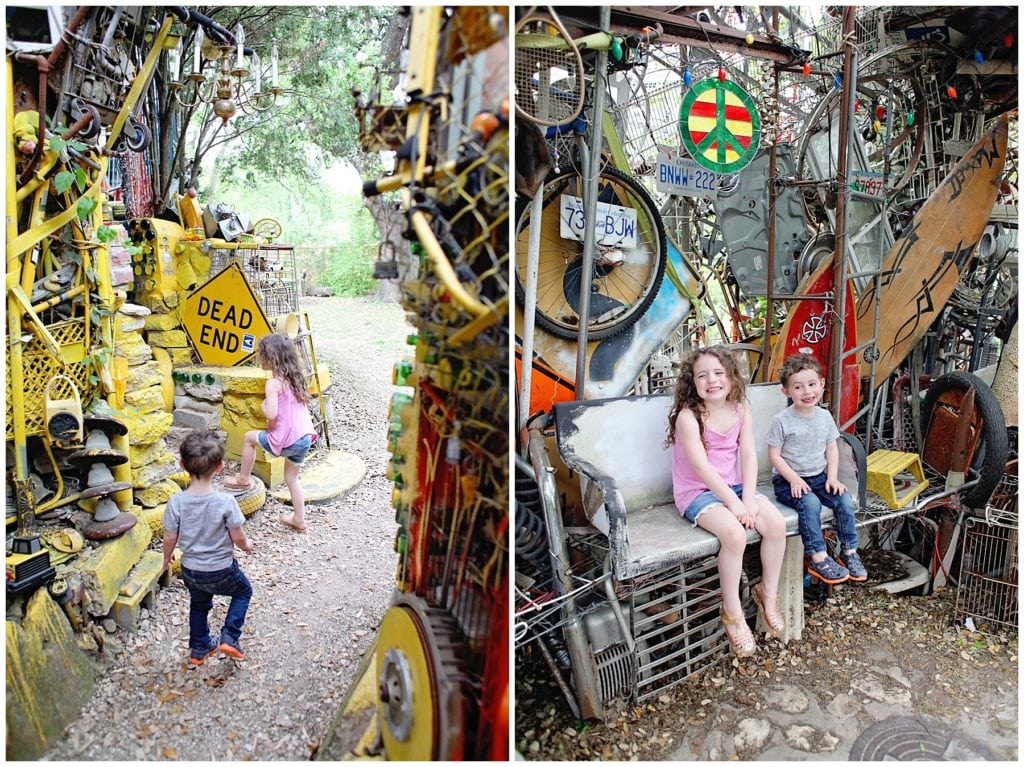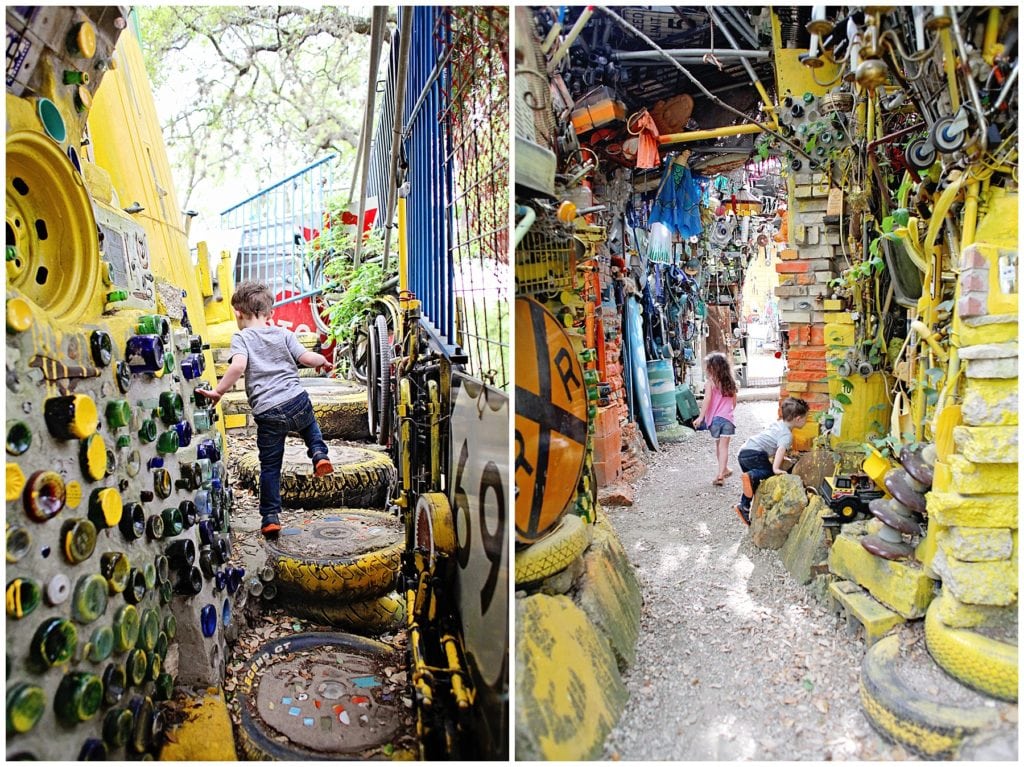 It was a literal playground, museum and art installation all in one place. The owner has been working on it for 30 years and it's just continued to grow. He charges a donation of $5 per adult to get in and kids are free. This is something I think you could visits again and again on subsequent trips to see how it grows over the years.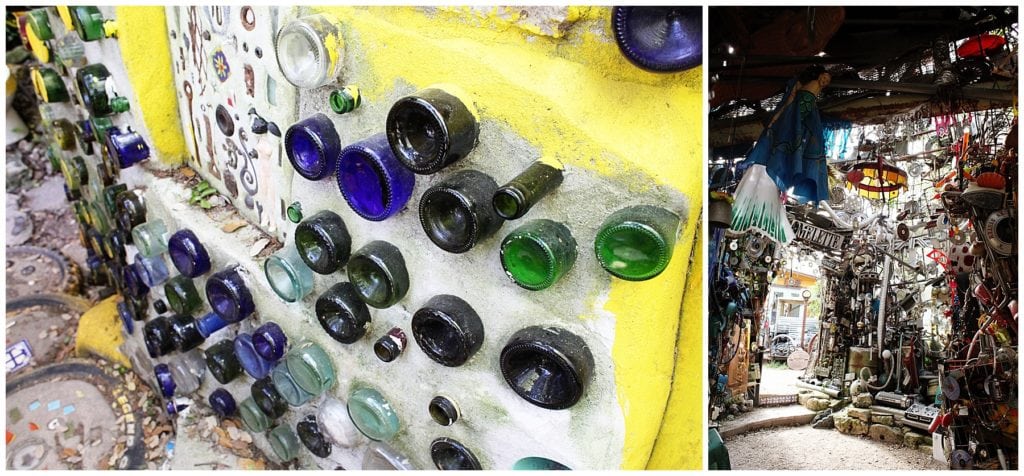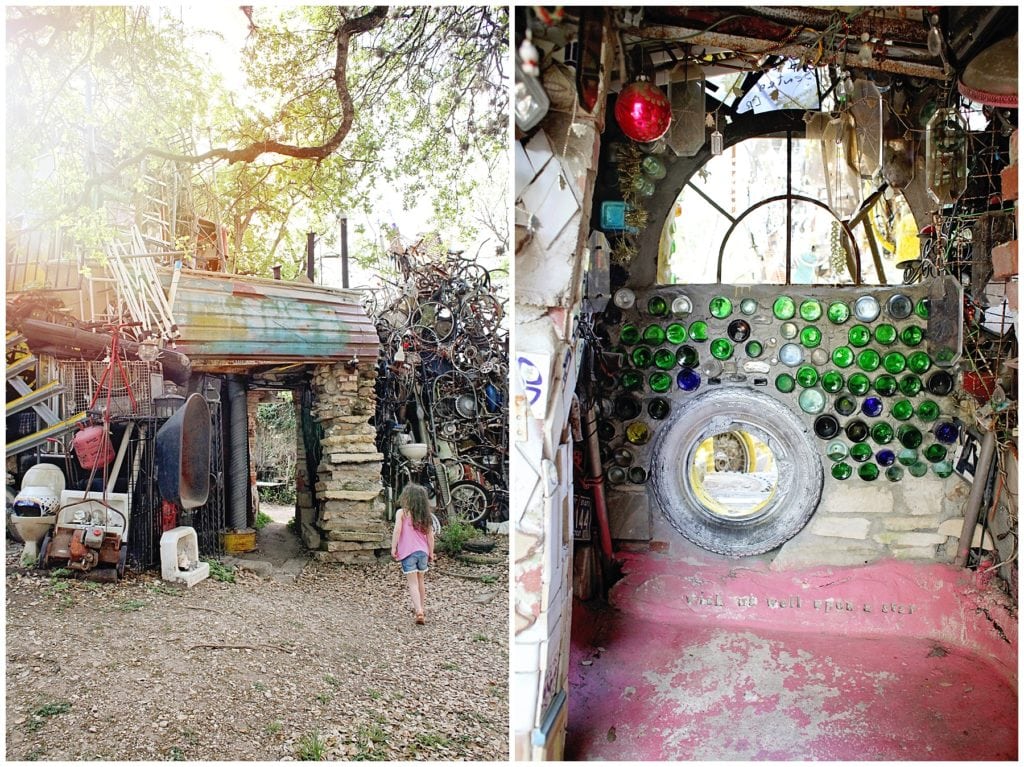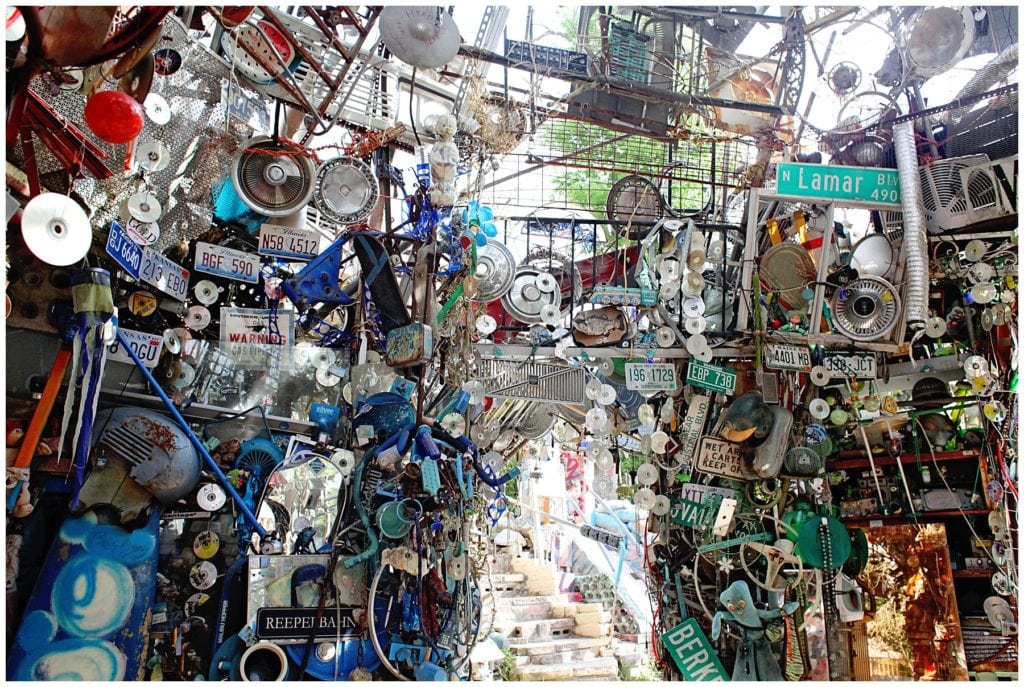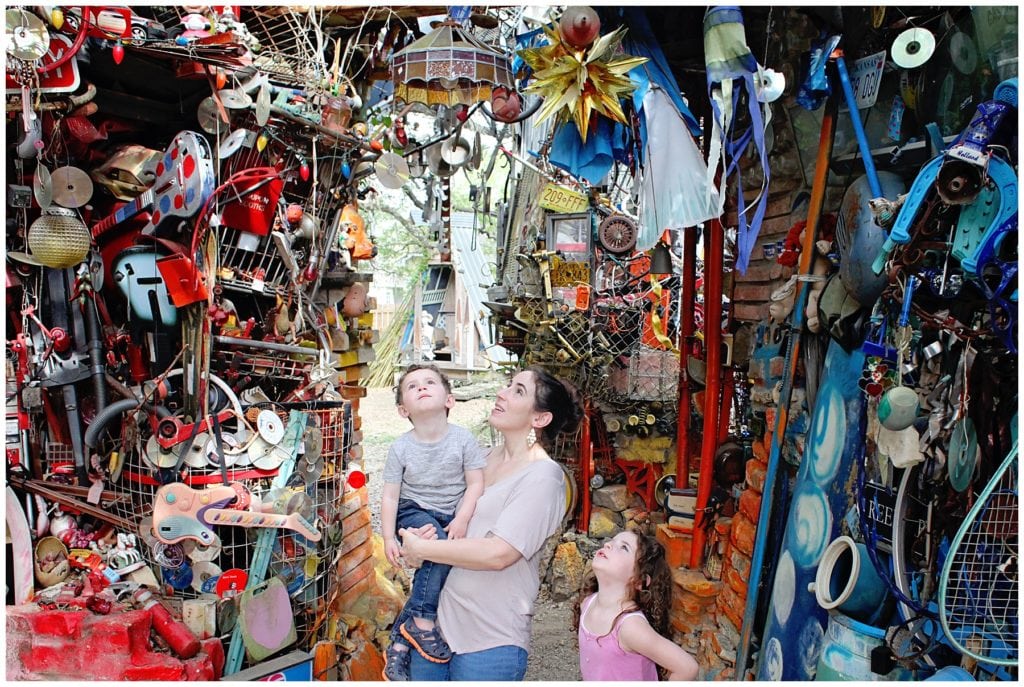 Zilker Park
Zilker Park is 351-acre park of wide-open spaces and sits across from Lady Bird Lake and just beyond Austin's skyline. The park has miles of trails, gardens and waterways making it perfect for all kinds of outdoor activities like jogging, biking, swimming and more.
The park is a frequent hang out for dog lovers and my kids weren't shy about asking to play with stranger's animals. In fact, we had to stop for everyone we saw.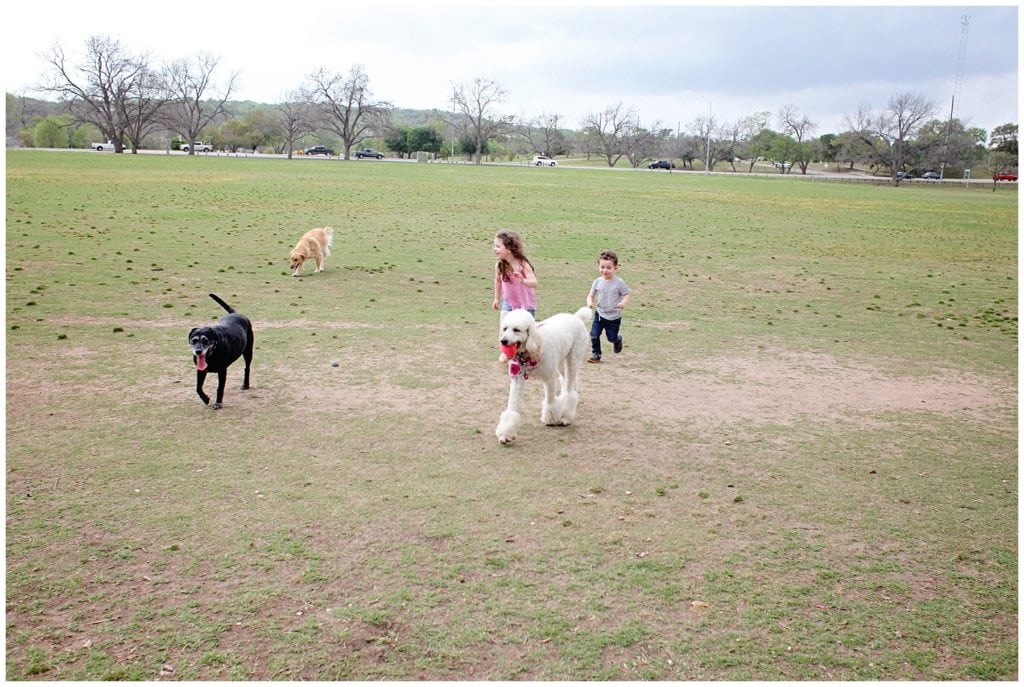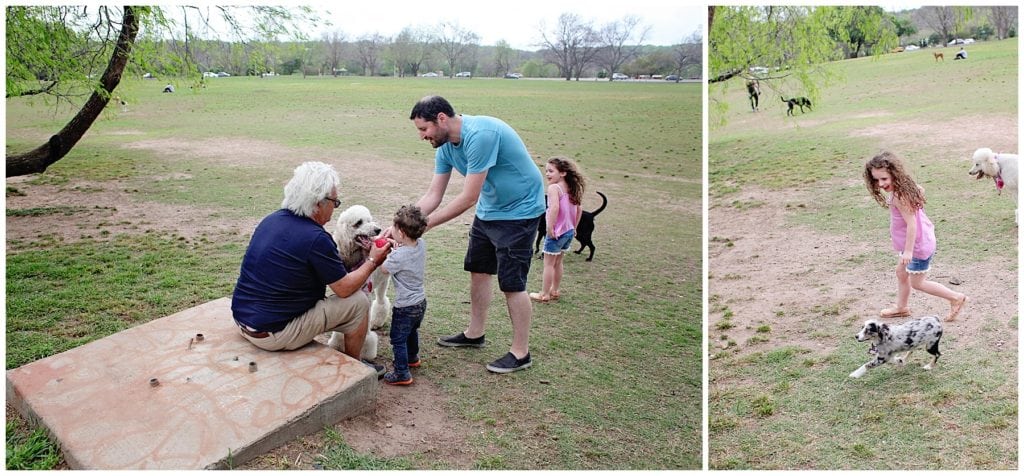 They also enjoyed just running through the acreage in general. Since we had such a long car ride their little legs needed all the exercise this place provided. We climbed on rocks, explored some trails and eventually ended up in the river to cool off a bit.
The park also hosts events year-round including a kite festival, the Austin City Limits Music Festival, theater events, blues sessions and holiday lights. See the full event calendar here.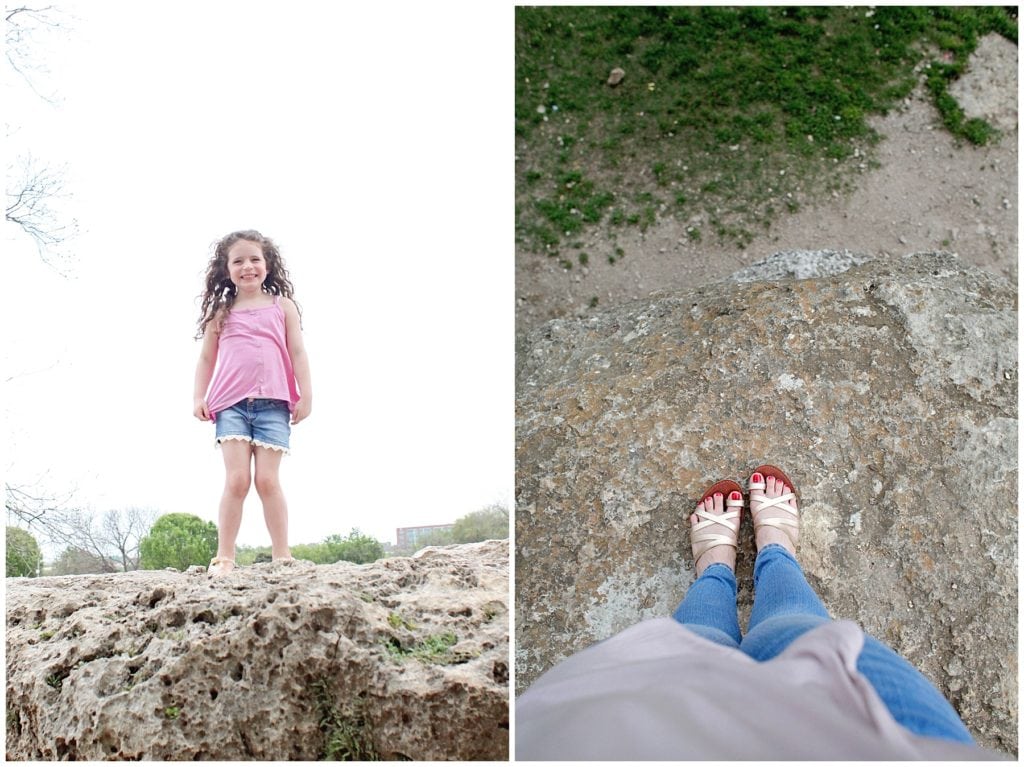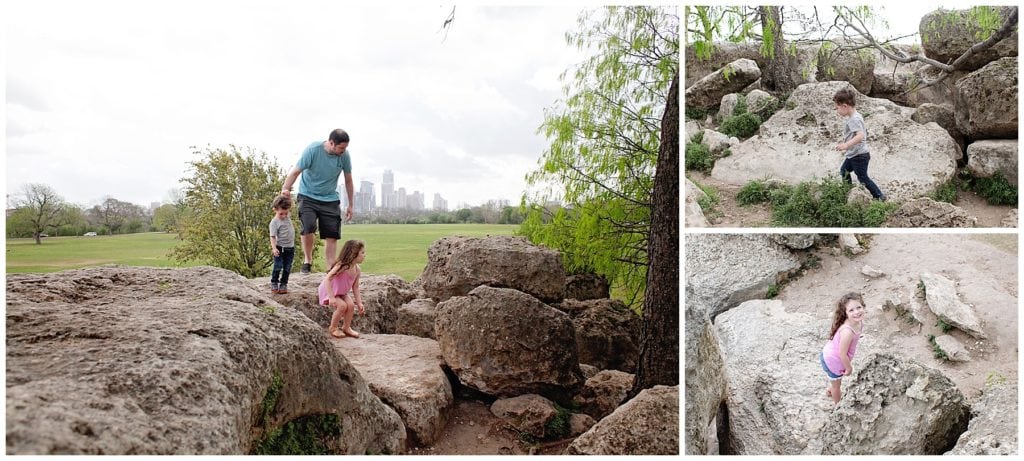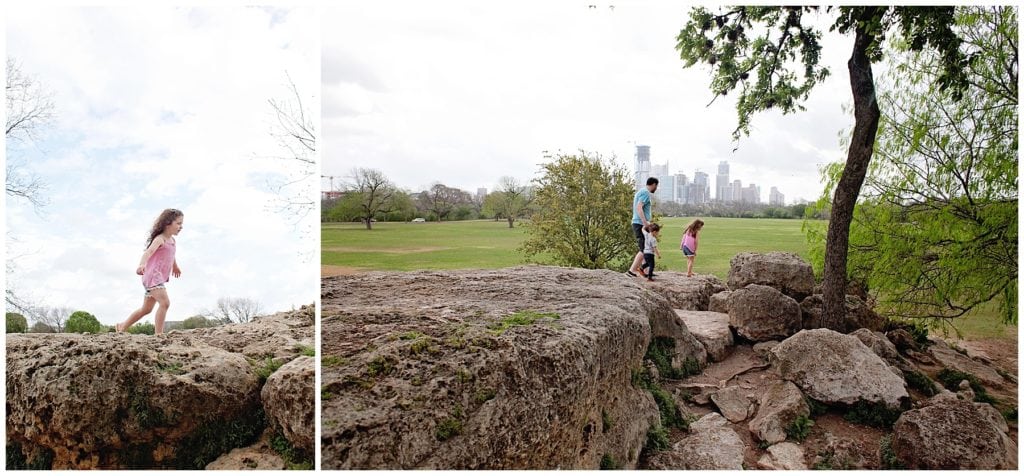 Canoe or Kayak Trip
Inside Zilker Park you can find Zilker Park Boat Rentals and rent kayaks, canoes or stand-up paddle boards. We saw them but didn't think it would be the right thing for our young kids. However, after they begged us, we gave in and rented a canoe for all of us.
I have to say this was one of the most fun family experiences I've ever had with my kids because they were literally experiencing canoeing for the first time. Obviously, you can do this in a lot of places but it's so convenient to have it in Zilker Park.
My kids, just 2 and 5, were nervous about this trip but excited too. We were able to have the canoe for 2 hours and paddled up and down the river turtle water. The water is so clear in spots that you can watch all the turtles diving down to the bottom of the river.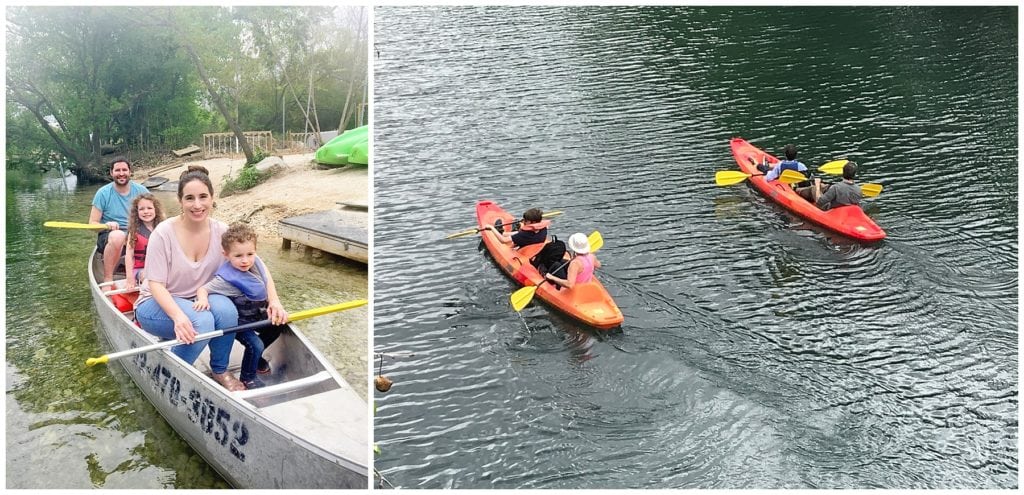 Barton Springs
Barton Springs "Pool" is a pool that's three acres in size and made from underground springs. It is 68-70 degrees in temperature year-round so I'm sure it feels great in the Texas summers. Depths of the pool range from 0 to 18 feet so make sure your kids are wearing the appropriate swim gear to keep them safe (vests and floaties) and have an adult with them.
The springs are home to the Barton Springs Salamander, which is an endangered animal and the pool is it's federally protected habitat. There is also an educational exhibit where visitors can learn more about the pool, it's history and the springs that feed it.
The pool is closed form maintenance every Thursday from 9 a.m. – 7 p.m. You will need your own towels. You should plan a day or afternoon here the same as you would if you were going to the beach or any public pool.
Graffiti Art
Austin is known for its artsy scene. All around the city you will find graffiti art that helps to give the city it's vibe. It's fun to just drive around the city and see what you can see but you can also make it into a scavenger hunt of sorts to find some of the city's favorites.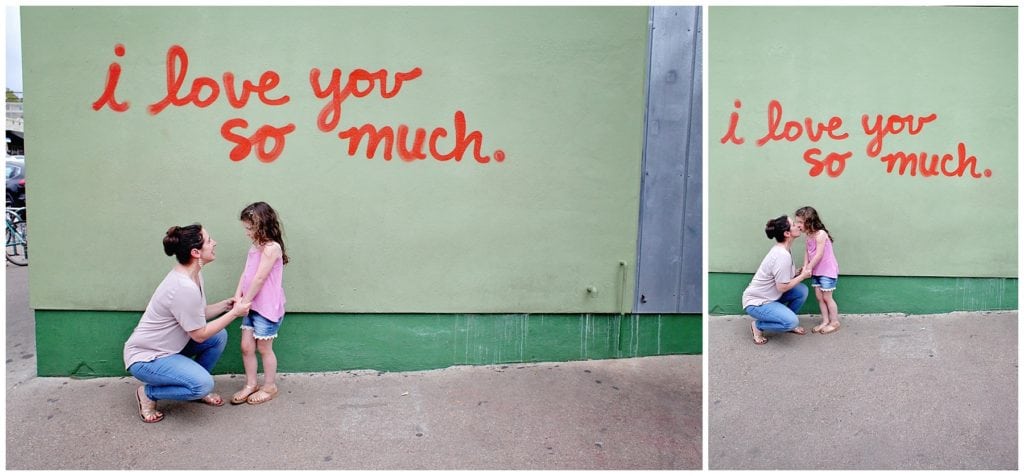 Some of the most popular sites include:
I Love You So Much – 1300 S. Congress
In 2010, a local musician Amy Cook scrolled the words, "I Love You So Much," as a message to her partner and owners of Jo's Coffee. The love letter went viral and since then hundreds of thousands of people have gone to see it to have their photo snapped there. We were no exception.
You're My Butter Half – 2000 E. MLK Blvd.
The United Way unveiled this in 2012 as part of a rebranding effort and it's become a spot of joy and fun for the community. It's out of the way of traffic so it makes it a great spot to snap a few photos.
Jeremiah the Innocent – W. 21st Street and Guadalupe Street
Technically, this image is not considered graffiti. This frog asking, "Hi, How Are You?" is an icon of the Austin music scene. Daniel Johnston put Jeremiah (Frog? Bullfrog?) on the cover of his album, "Hi, How Are You: The Unfinished Album," in 1983.
Ten years late the record store, that was in that building asked Johnson to paint the frog on the wall of their building. Today the owner of the location pays a licensing fee for the use of the image.
Greetings From Austin – 720 S. First Street
Local businesses, vintage clothing shops, delicious food and a bright neighborhood surround one of Austin's most famous pieces of graffiti art. The mural was painted in 1998 and was intended to help the struggling neighborhood by adding a spot of color. Now 20 years later it's a popular stop to snap a picture. You just have to be fast. To get it all in you have to stand in the road, which is on a side street but will have a few cars going up and down it.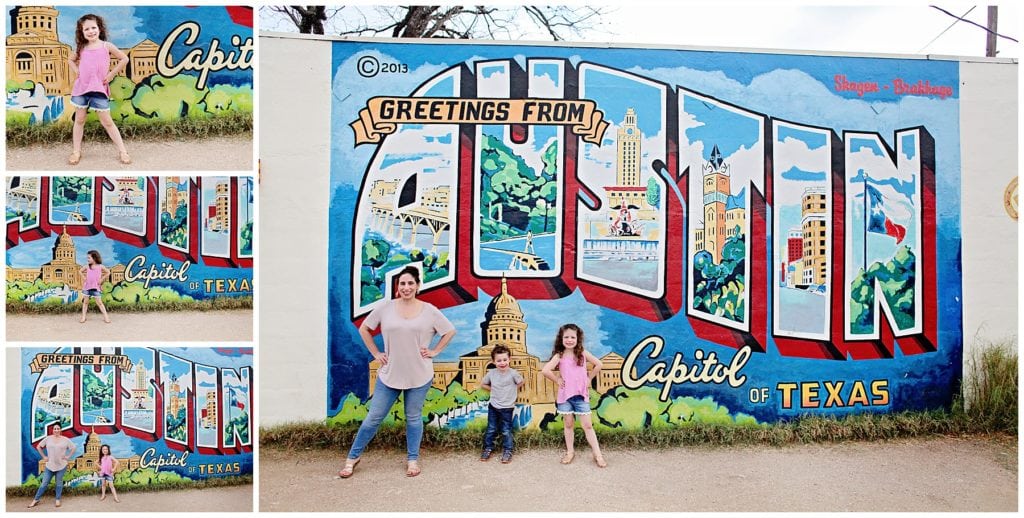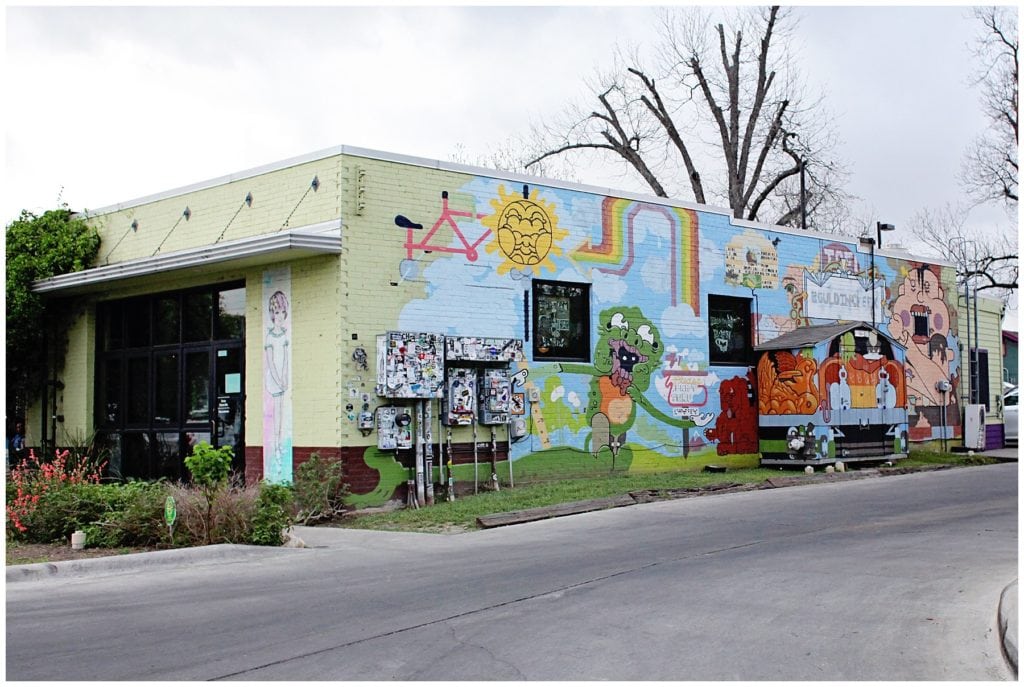 Exploring Caves
There are plenty of caves to explore in the Austin area if you want to teach your kids about geology and history at once.
We visited Inner Space Cavern, which is just outside the city and was discovered in 1963 by the Texas Highway Drilling Department. After drilling 40 feet into solid limestone, the drill suddenly dropped 26 feet. With over 7,000 feet of cave surveyed it was opened to the public in 1966.
Inner Space Cavern is estimated to be 10,000 years old and is considered one of the best-preserved caves in Texas. There are bones from mammoths on display outside the cave as well as a full-sized replica of a mammoth, so you can locate where the bones would have been.
They accept reservations for parties of 20 or more and tours leave on a regular basis. The cave is about 72 degrees year-round with high humidity. It takes rain water 3-4 days to reach the cave and it does NOT flood when it's raining according to the website. It would be a great activity for a rainy day.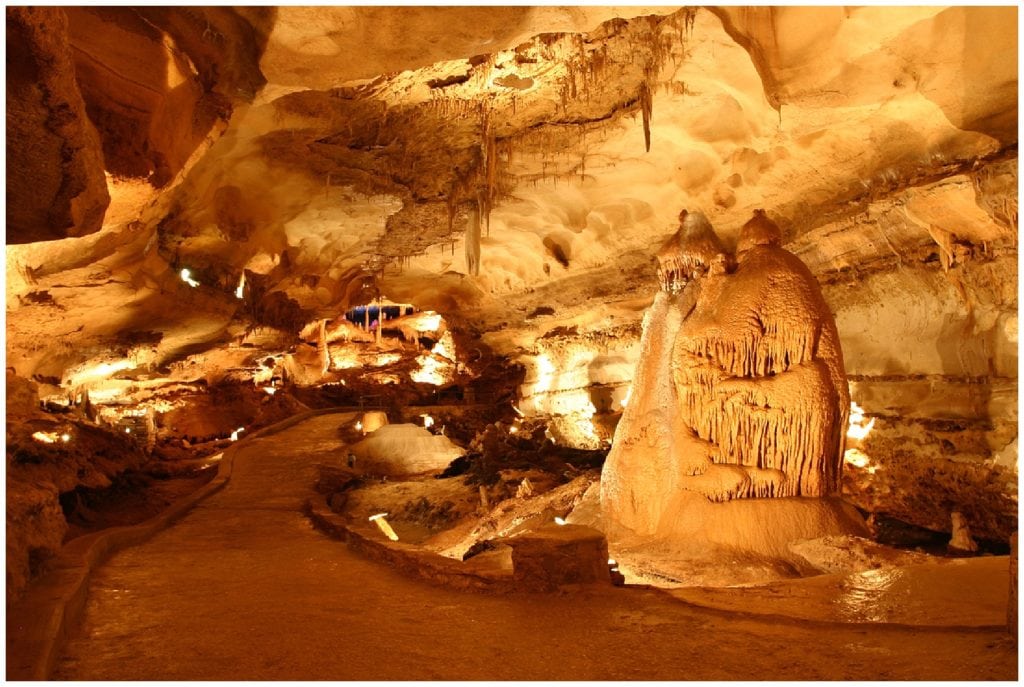 Food Trucks
Food trucks are everywhere in Austin and this soon became one of our favorite ways to eat lunch. They're quick and offer a variety of foods for a variety of appetites and tastes. The kids loved it too because when we found a food truck park they were able to get something that suited their taste buds (pizza) and they were able to run around a bit.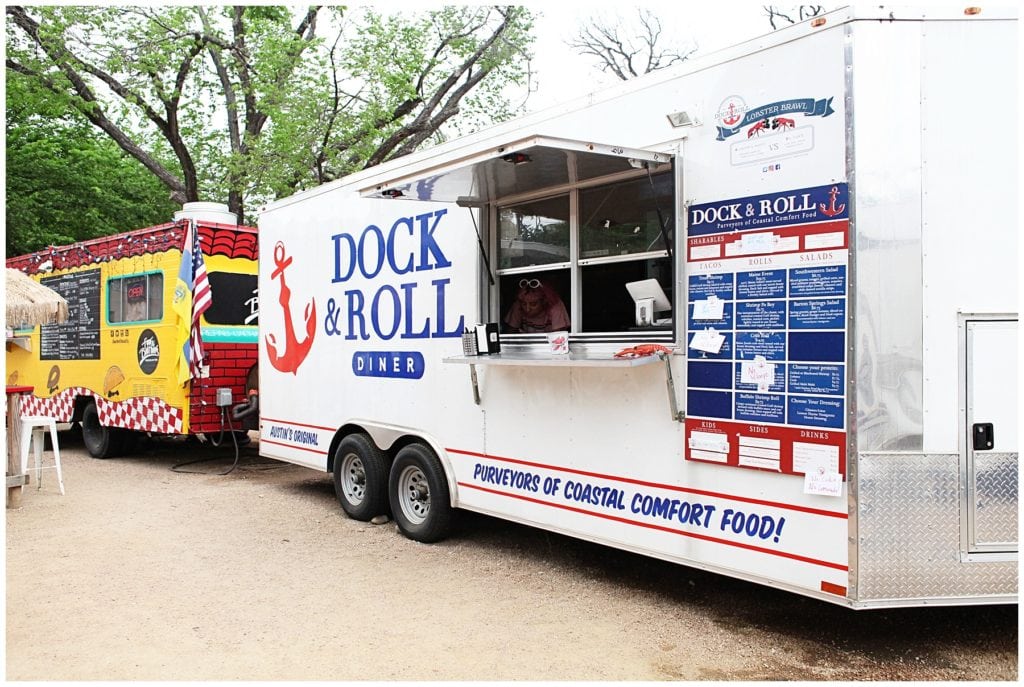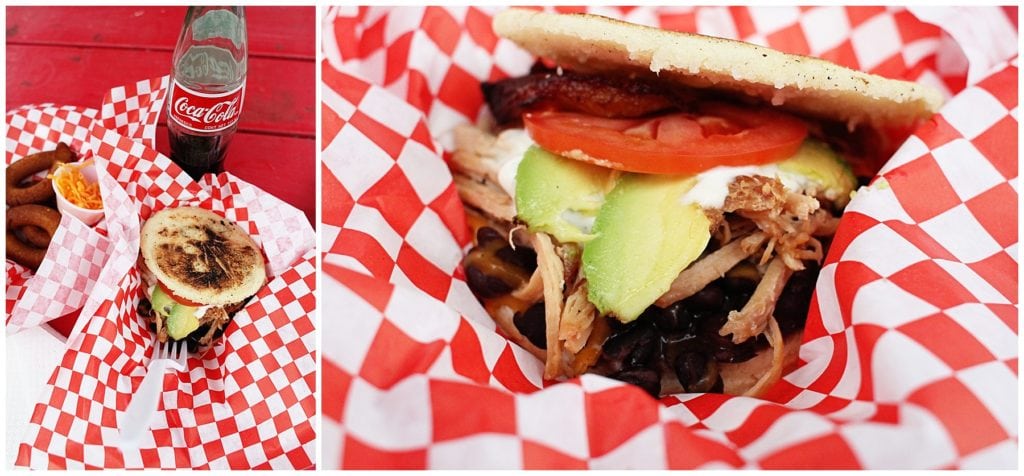 Live Music
The Austin music scenes is on fire. Adding to the city's hip artsy vibe you can find live music all over the city moist evenings. We, unfortunately, didn't get a chance to do this because our kids go to bed early but if your kids are just a bit older, or if you're there on a weekend (we were not) then finding a place to take in the music is a must.
Click here and here to see lists of places you can find lice music in Austin. Also, don't forget that Zilker Park often has live music. Check their events calendar here.



Flight Of The Bats
Under the Ann W. Richards Congress Avenue Bridge, you can find the largest bat colony in the world. The 1.5 million Mexican free-tailed bats nest under the bridge from March through October and come out around sunset each night to feed.
This is a free activity and you can either line up on the bridge (I don't recommend this with small children because it is a sidewalk next to a very busy street) or head to the Statesman's Bat Observation Center and grab a spot on the lawn. Arrive about an hour before dusk to grab a good spot. You can bring games to play or have a picnic. Just make sure to have food put away before they fly off because poop happens.
This was seriously one of the most incredible things I've ever seen. There are just so many of them! They aren't big so if your kids scare easily (like mine) tell them they're birds (like I did). 🙂 Afterwards I told my daughter the truth and then she decided that bats weren't scary after all.
Make sure to hold onto the kids here. It's very busy, crowded and easy to get lost – especially when everyone is looking up and not paying attention to where the small people are at.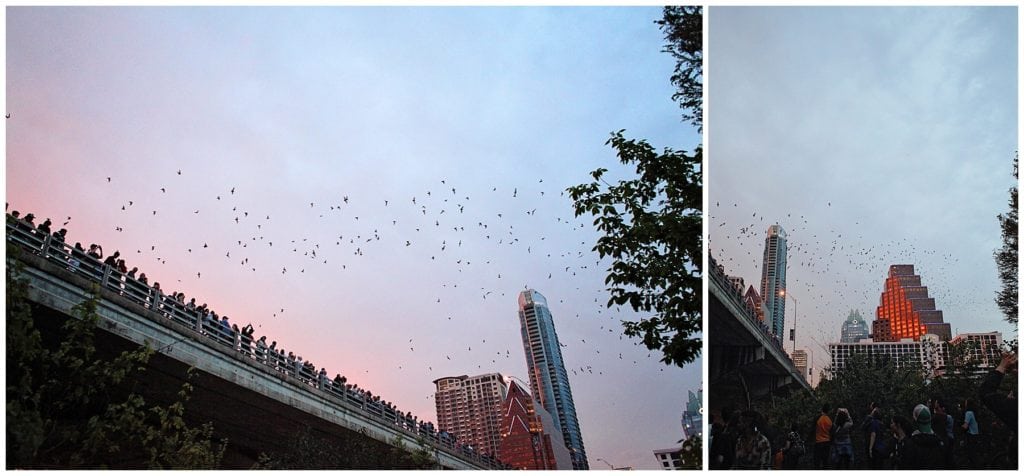 The Aquarium and Children's Museum: We don't usually go to these places because we have a great children's museum at home and a huge aquarium in Chicago.  We like to travel to do things that we can't do at home. However, I realize a lot of people like to go to museums on vacation and sometimes you just need something that will entertain the kids that doesn't really require you to do the entertaining. These will both fit the bill.
The Thinkery
Austin's Children's Museum is a place where science and discovery meet active play. They have different exhibits including light lab, an innovators workshop, a kitchen lab, a farmer's market area, an outdoor climbing area and of course the water play place of children's dreams. There's plenty to do so your kids won't get bored here. Admission is $12 per person.
Austin Aquarium
The Austin Aquarium is a home to thousands of different species including reptiles, birds, sea animals and much more. There are currently more than 8,000 animals representing the shorelines of the world. Admission is $13.95 for adults and $8.95 for children.
What are your favorite kinds of places to visit when you travel with your kids?
Click here to see more travel posts. Click here to see more kid experiences.