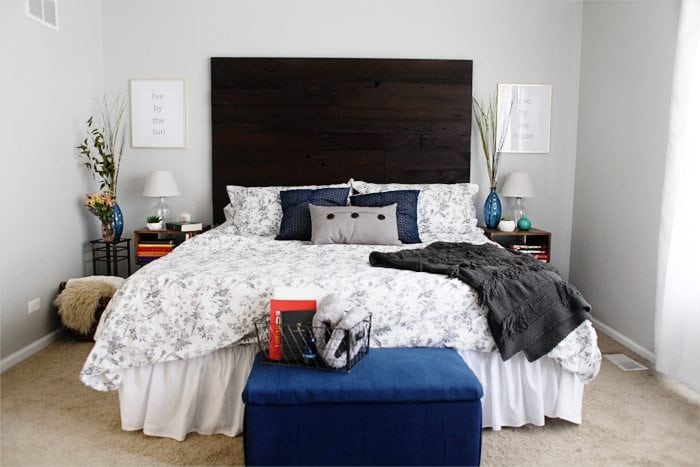 This post was sponsored by Tuft & Needle. I was give a free mattress in exchange for an honest review. 
My master bedroom has been the wasteland of our house. It's the last room to be cleaned, the last room to get anything new and certainly the last room anyone sees. Therefore, we have been lax on decorating it and turning it into a space that really feels cozy and warm. We've lived here 7 years and it's been painted twice but other than that, I haven't given it any more thought. Until now.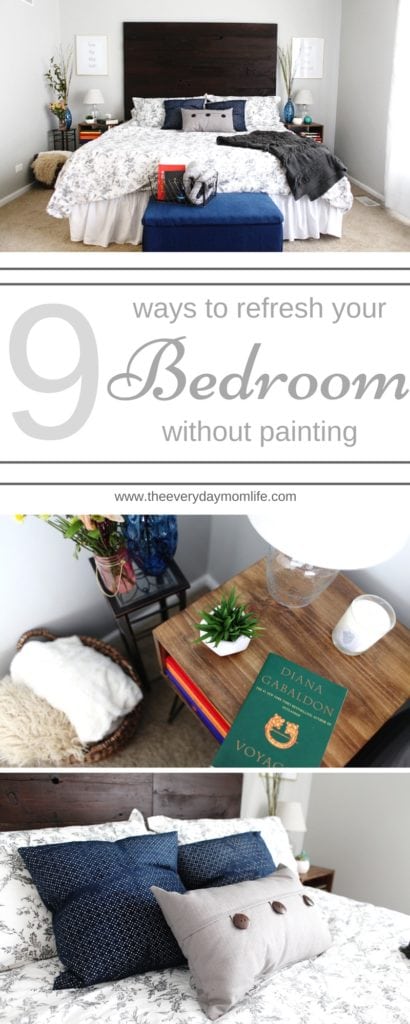 Since I've been off work and home with the kids certain things about my house have been driving my crazy. I look around and see a bunch of unfinished rooms, projects that need to be completed and opportunity to make our house more of a home.
Our bedroom became a project when I realized that my daughter needed nightstands for her bedroom. Instead of buying her new ones (because she gets everything new!), I thought the ones in our room would be perfect. They were the right color and had storage for her to keep all her books in and all her other "stuff" hidden. But then I needed something to replace mine. That spurred me to update the entire room and finally make it a place I wasn't embarrassed about.
Since we've already painted it two times I did NOT want to go down that road again. Instead I looked for other ways I could update the space that didn't feel like a complete undertaking. Here is what I did and some easy ways I used the room, without painting.
Use textures
One of the easiest ways to make a room feel more comfortable is through texture. Joanna Gaines always talks about layering textures in the rooms she designs and once you realize that's an option you will see opportunities to do it throughout your home. You can do this by incorporating different materials such as wood, metal, wool, fridge blankets (you can find the throw blanket here), plants and more.
We already had this great, reclaimed wood headboard, which I wanted to refinish but my husband vetoed. I ran with that. I incorporated wood of a different texture and color, metal and glass.
The glass was important because I didn't want it to be that smooth glass look that is often seen in vases and lamps. I wanted to make sure they had some depth so I purposely looked for textured glass.
I also mixed the metals in the room. You can see that there are hints of bronze, silver, gold and even black metals throughout the room. I love that it doesn't all look matchy matchy.
Get a great mattress to top off the bed
Even though you don't specifically see a mattress since it's covered by the bed linens, it can make a huge difference in a room – not only in the way it feels but in the way it looks. We've been using this Tuft & Needle mattress for the last few weeks and I really love its lower profile. I think it gives the room a much more polished look verses our old, lumpy mattress.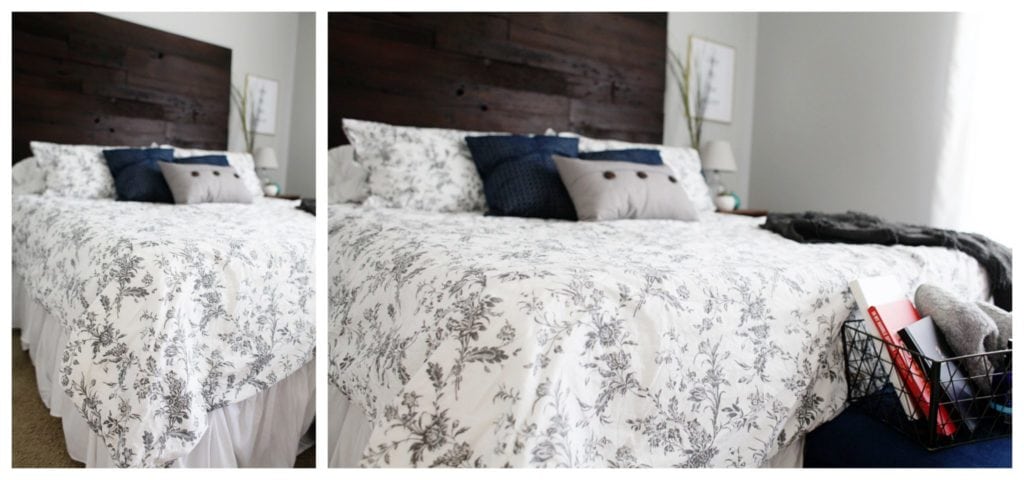 We also love the way it feels. Our old mattress had depressions in it and it was only 4-years-old. The Tuft & Needle mattress is much firmer. I wasn't sure how I felt about that at first but I honestly sleep like a rock on it. My husband also said his back has stopped hurting, which is a big bonus. He was constantly complaining about it before.
The mattress comes delivered to your front door in a large box, which was great because I wanted to switch it out right before we did this refresh and didn't feel like I had to make a switch right. I also love that I didn't have to go to a show room and deal with any sales people, whom I honestly don't trust after the issues with our mattress and problems we've had with my daughter's mattress.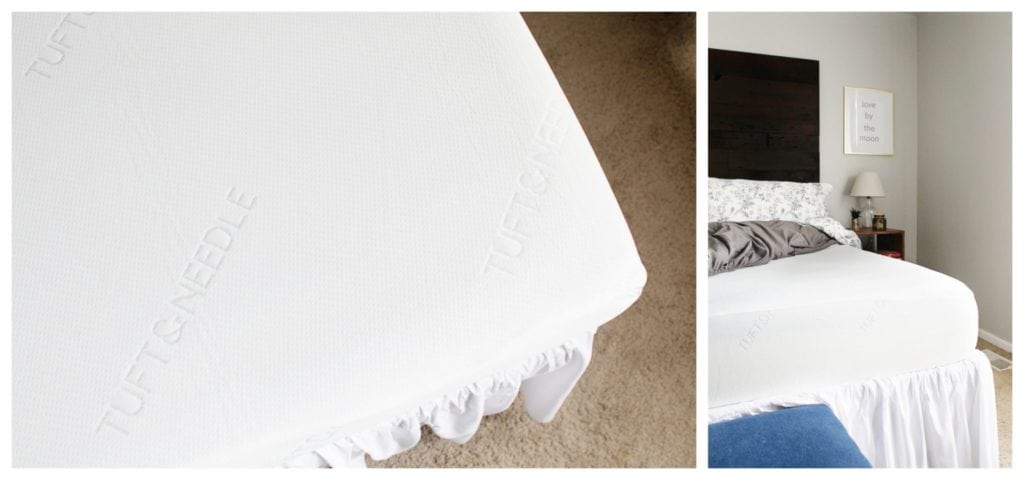 When we removed it from the box the mattress itself sort of inflates. It's made from two pieces of foam, which is called T&N AdaptiveTM Foam. It's not latex or memory foam, which is great because I know that can get hot and I already get so warm when I sleep. According to Tuft & Needle it's designed to support, provide relief for your back, neck and shoulders and still be breathable. It also works on an adjustable bed frame.
And don't worry, the kids can still jump on it without breaking it.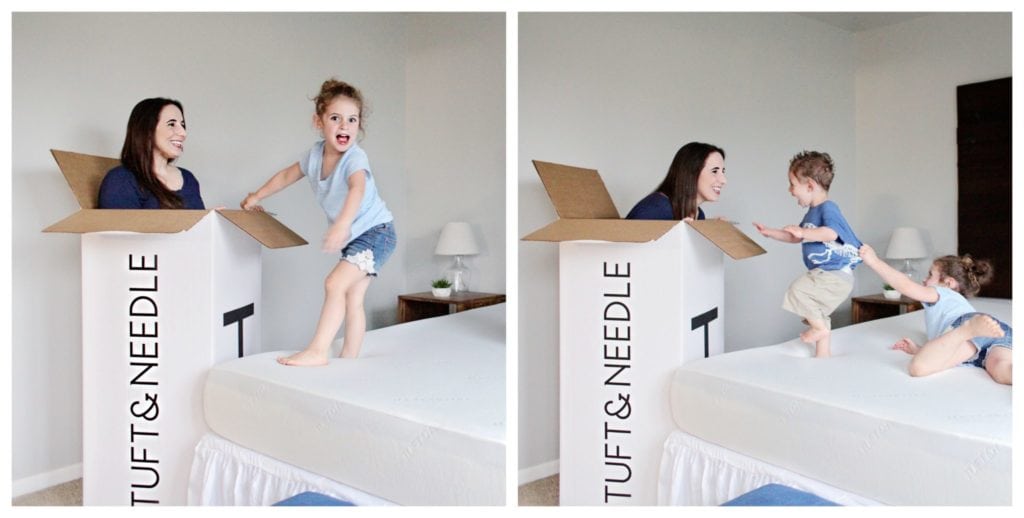 Add a bit of color
I incorporated color in the room with the use of pops of blue, greens and some random reds. Our walls were grey. Our headboard was brown and I know that the nightstands would be brownish tones too. I needed some other non-neutral, happy colors.
I brought in white with the duvet cover and some vases. Books – red and yellow and blues – are featured throughout. I tied it back to the walls through the design on the duvet cover and the pillows on the bed.
I didn't plan on specific colors ahead of time. I let my choices come organically. I do want to add more green in the future still.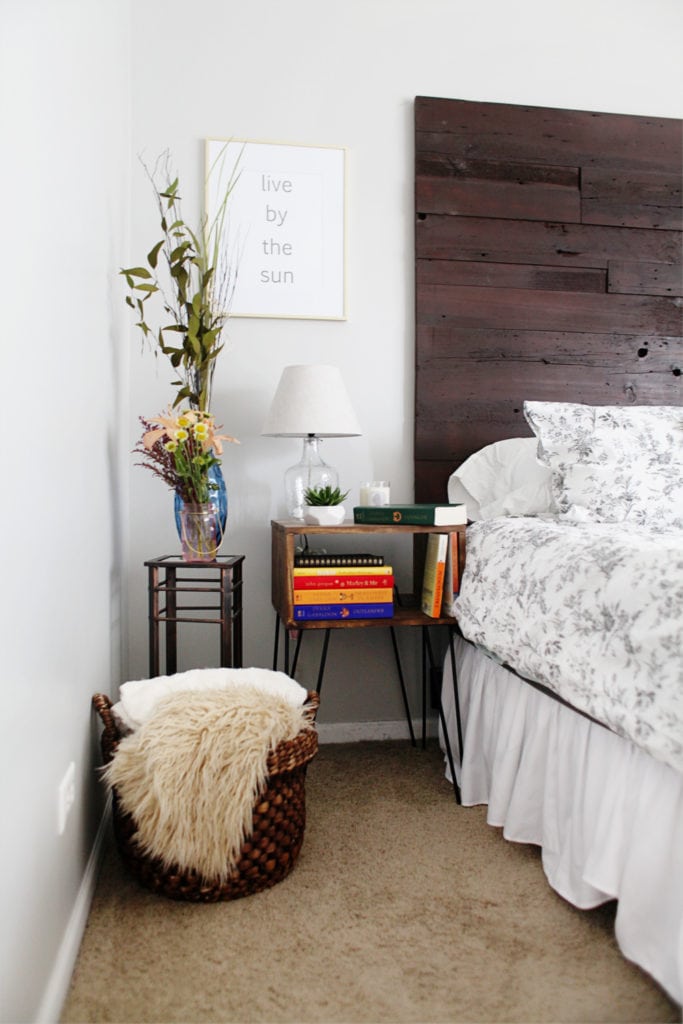 Add some greens
Speaking of greens, adding plants to a space is a great way to transform it. I want to add more in the future but I couldn't bring myself to buy large, fake ones right now for more than $100 and I didn't want to carry real ones up from downstairs just for a photo. I want them to be permanent fixtures in the room because plants make me happy.
I actually want to figure out how to hang some from the ceiling to bring the whole look of the room higher but because we have a decorative, high ceiling I have to figure out exactly how they will hang before I add them.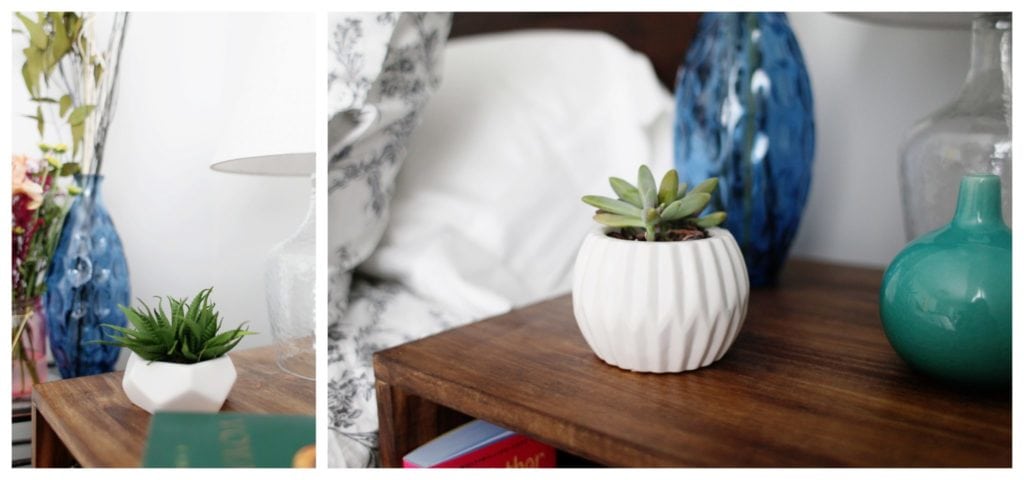 Change out your linens
Changing out bedding or adding/removing a bed skirt is one of the easiest ways to up change a room. I swapped out a straighter bed skirt for this one that's a bit frillier. I'm not sure I love it yet but I do feel like it looks better with the duvet cover, which I do love. I know all white bedding is a trend right now but I just can't. Kids, dog…no. This is the closest I can get.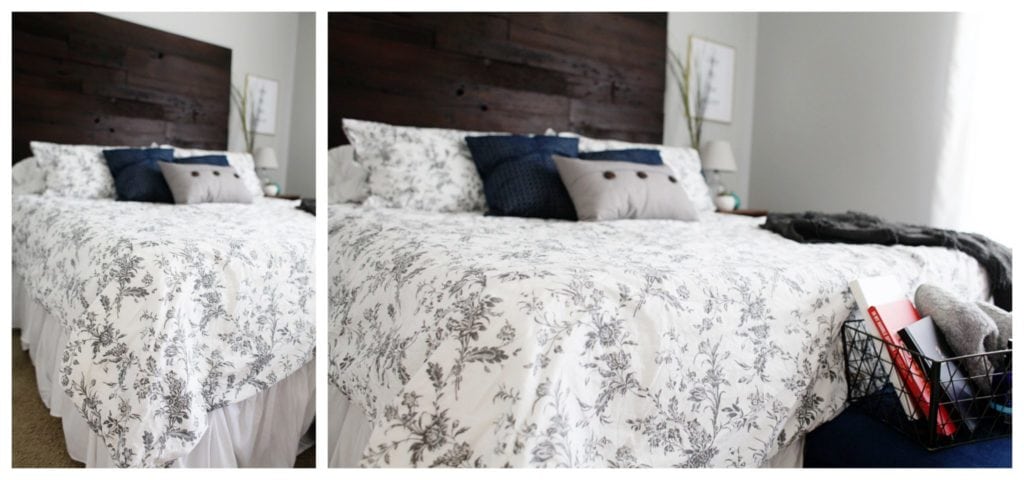 Swap out small furniture pieces
As I mentioned this whole bedroom refresh was started because I wanted to give my daughter our night stands. That let to me needing to find new night stands for our room. Well the ones I found that I was in love with were basically wooden boxes with hairpin legs. They were also $400 each. Even if I could afford that I don't think I would have paid that much.
However, I loved them. I decided to try making them and I adore the way they turned out! I'll be blogging separately about how I did it soon.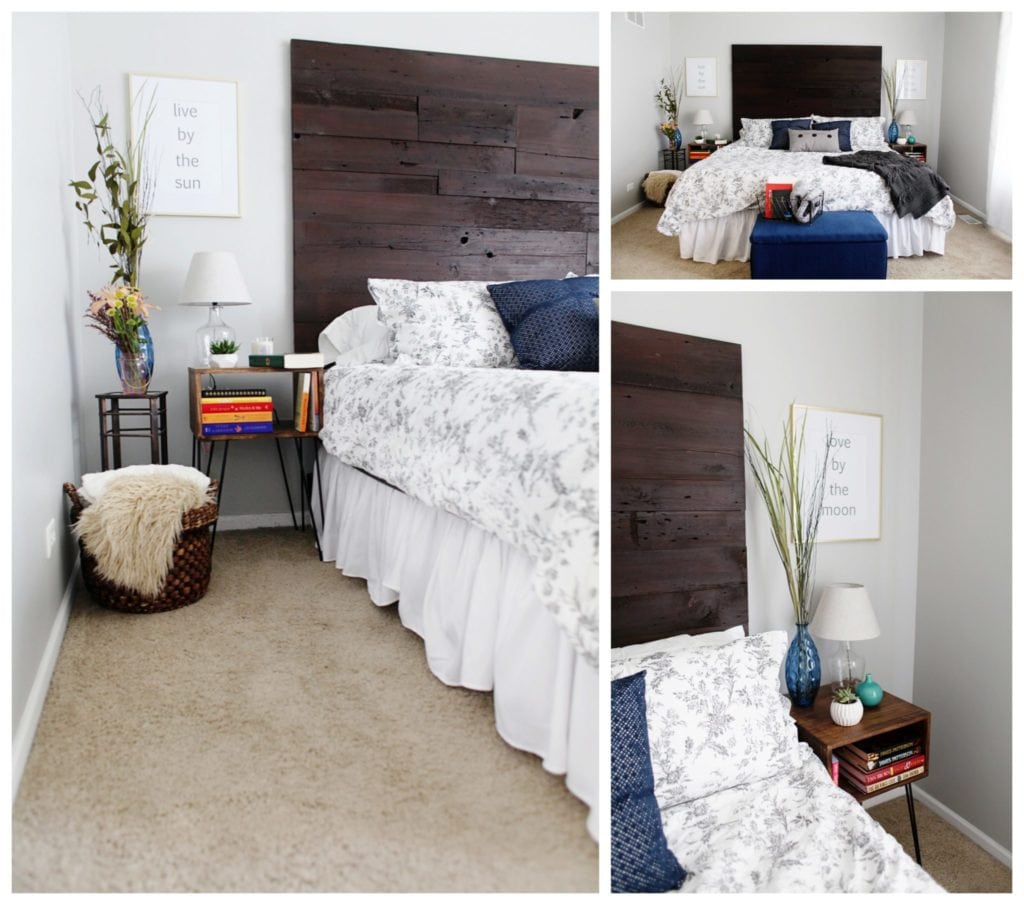 Recover old pieces of furniture
If you have small pieces of furniture that are covered in fabric you can recover them to completely change the look. This will add to the room feeling finished and pulled together.
I recovered the ottoman in our room without using the sewing machine, which is something I didn't even want to get into here. I actually bought a different fabric to recover it with but in the end I used jean fabric – yes the same kind you make jeans out of – because it was durable, washable and I liked how the color was going to work with the room overall.
It's been such an improvement. Don't you think? You can find the whole tutorial here.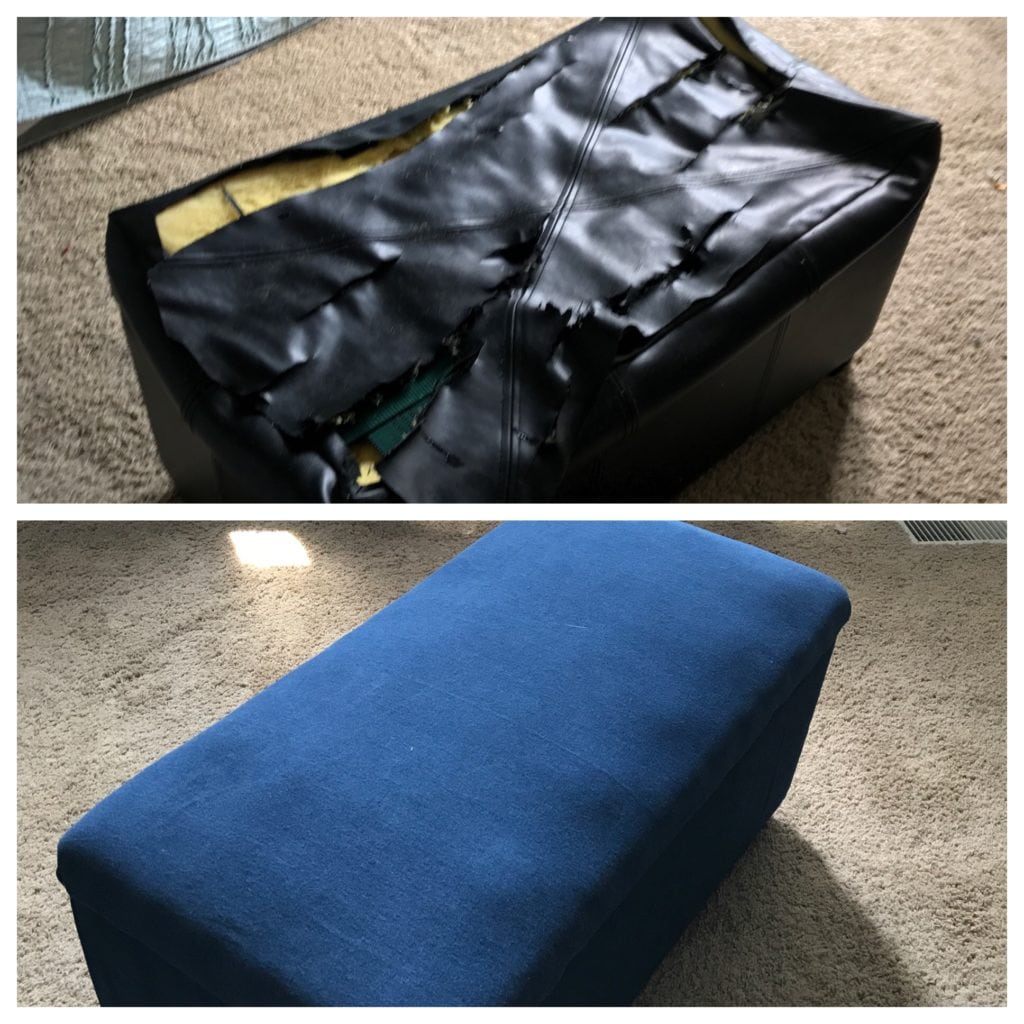 Wall art
I'm super picky about what I put on my walls. We had never had anything up in our room because a hole in the wall always feels like a big commitment to me. I'm finally becoming more comfortable with trying out different things though and loved these two sayings that I hung by the bed. I'm a romantic at heart and the simple words and straight lettering got to me. I made these on the computer, found frames I loved and didn't look back.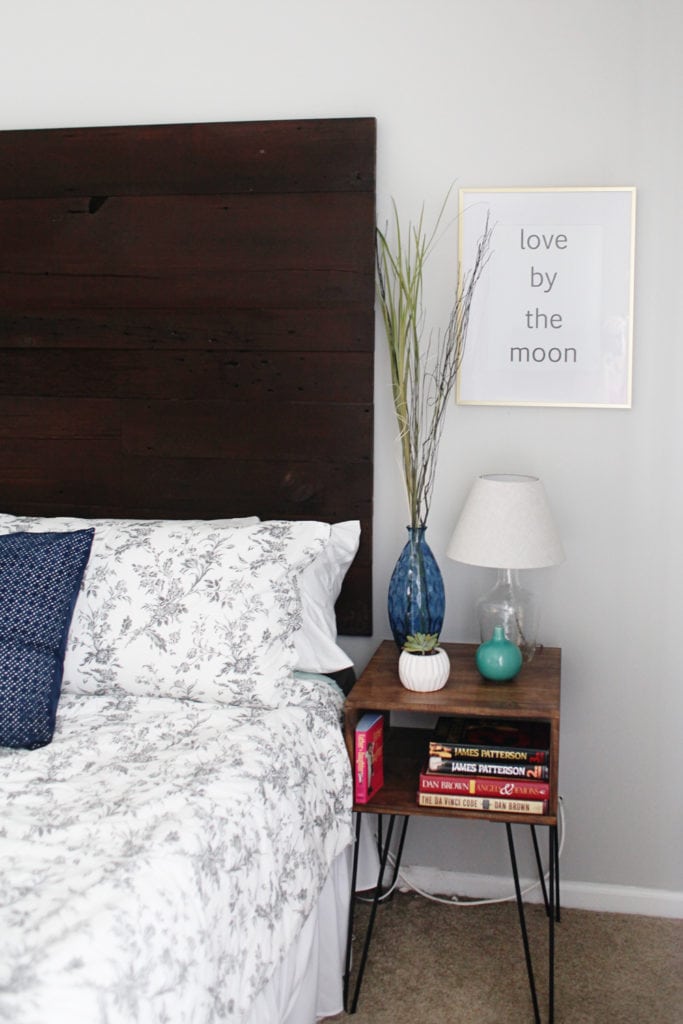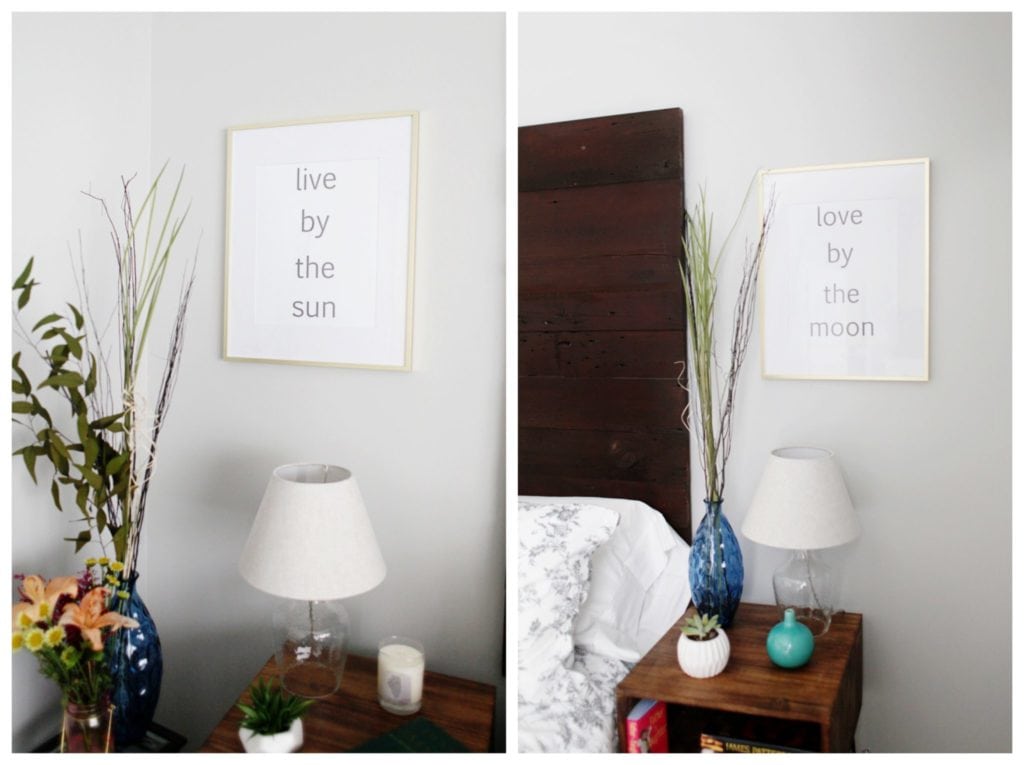 Personalize it
Last but not least, make sure you add some personal touches. I added this candle that I thought was adorable because it featured our state, books that I love to read (The Outlander series is a must!) and put together little bed side baskets that we could use for our favorite blankets, slippers and notebooks. You can also add photos, jewelry boxes and more.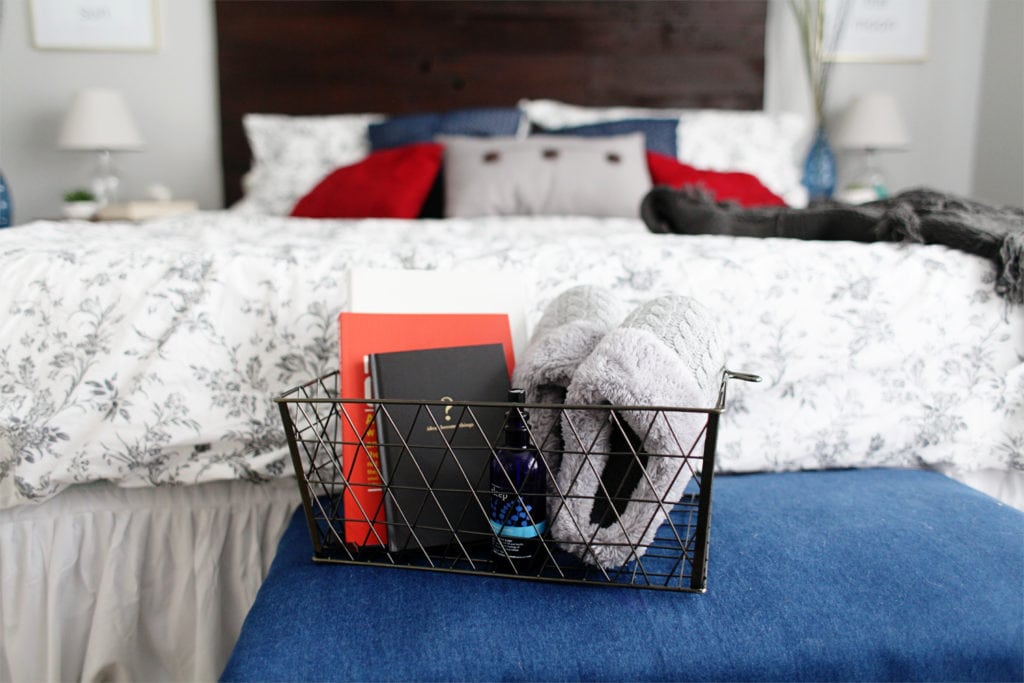 As you can probably see from some of the photos I'm not totally done. This is one side of my room. I'm slowly going to be updating everything else so stayed tuned! There are many blank walls and corners to fill. 🙂 Here's our before and after.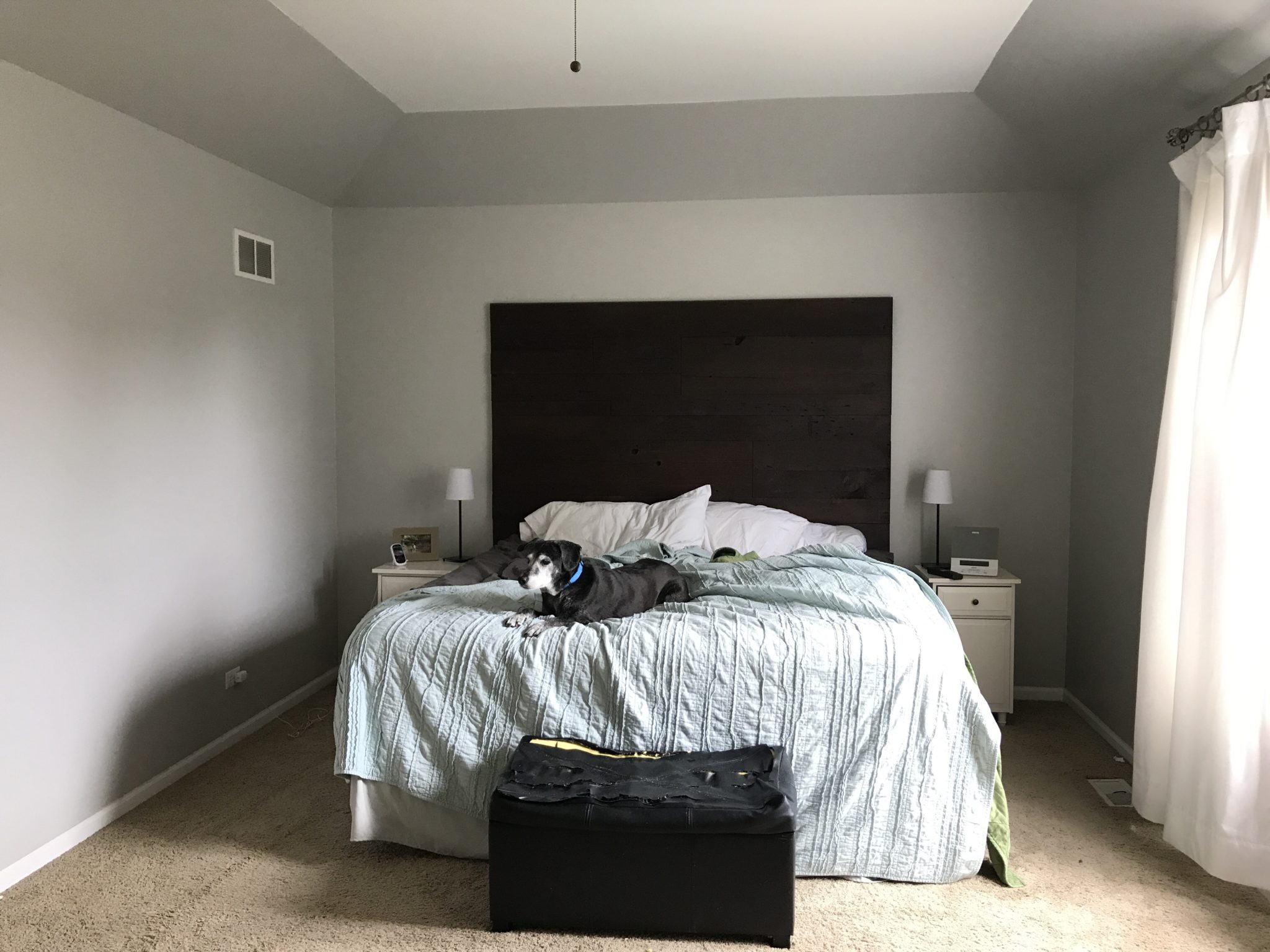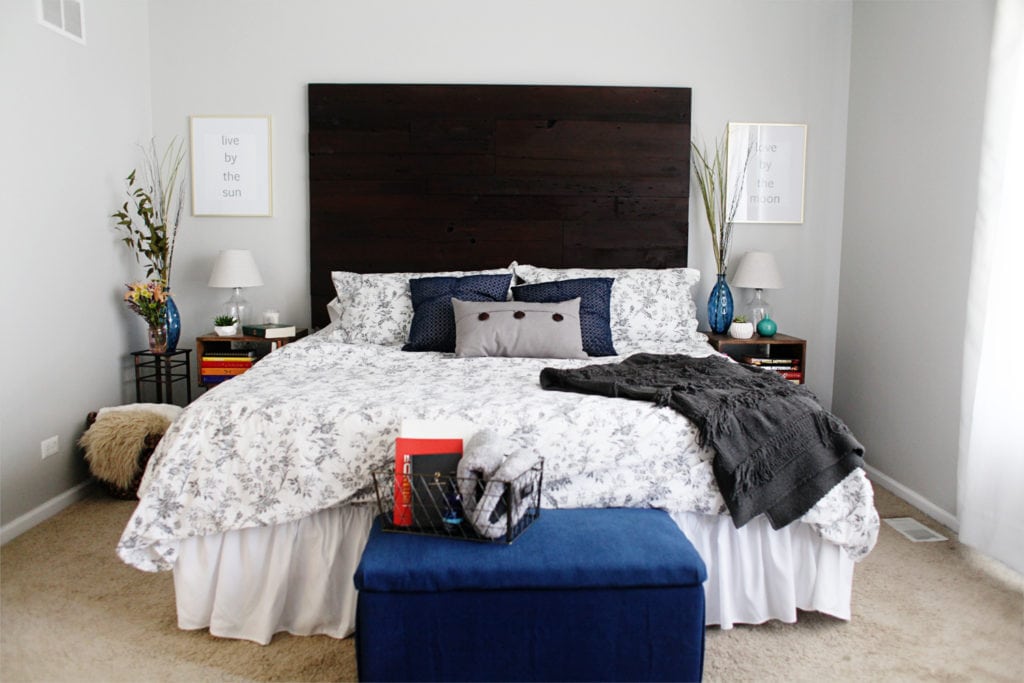 What are some easy ways you have refreshed a room in your house?