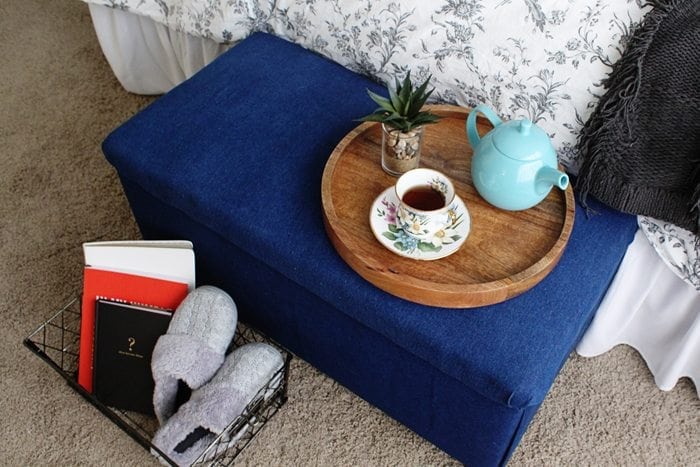 Don't you just love it when a good DIY project turns out like you were hoping it would? I love doing little projects around the house and now that I'm staying at home I feel like I actually have time to make things happen here.
While I was working a full time job some of the projects that I'm planning to do would have honestly been pipe dreams. A lot of them I would have either paid someone else to do or for upcycling projects I probably just would have gotten rid of the item and purchased something new. But now I have some time and now I also have a vision for a lot of the things around my home that have either been serving a limited purpose or literally just taking up space, like this ottoman.

I know what you're asking yourself. Why in the world does she still have this ugly thing? Well, it was a wedding shower gift 8 years ago. In the days before children when I could have nice things, someone very sweet gave this to my husband and me for our new home together. Over the years my dog(s) and children have used it as a stepping stool and it slowly just fell apart.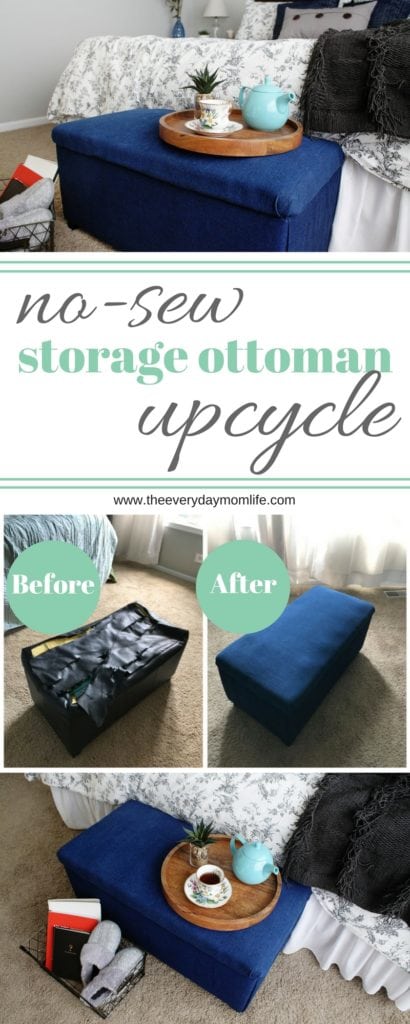 As I mentioned before I probably would have just thrown this ottoman away and purchased something new if I had been working fulltime. However, I had a vision for this ottoman and also had to save some pennies since we have been living on one income.
When all was said and done I was much happier with the way this project looked than I think I would have been if I purchased something new always.
Maybe it's because of the effort I put into it, maybe it's because of the new usefulness or how it works within our color scheme. Whatever it is, I'm happy I did it and I'm thrilled I did it without having to break out the sewing machine. Get all the details below!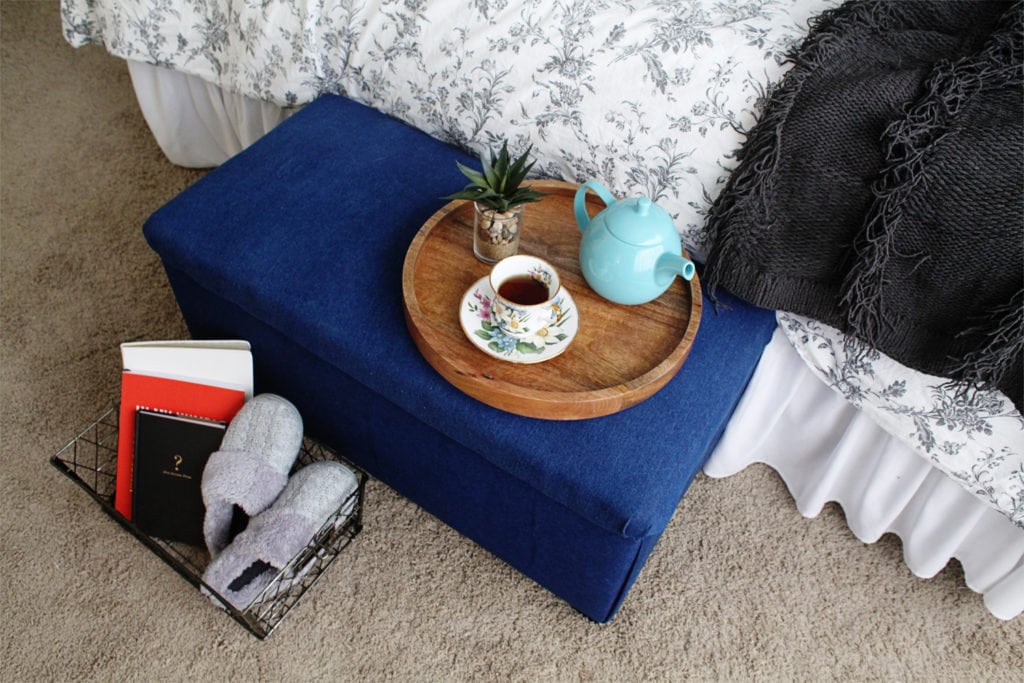 Supplies:
Old ottoman
Staple gun and lots of staples
Upholstery batting
Upholstery foam
Heavy duty fabric or duct cloth
Upholstery dust cover fabric
Might also need: Screws, electric screw driver, hand saw
Optional: Piece of wood just smaller in size than the lid of your ottoman
Steps:
1. Remove the ottoman lid and strip it down to the frame. Discard everything that is disgusting or that you won't be using again.
2. Cut your upholstery batting to the right shape and size for your ottoman lid. In this case, I kept the frame of the ottoman and the green supports you can see. I needed the batting to fit inside the square and over a little lip that was on the top side.
We used a handsaw to cut through the batting. Scissors will not work. A lot of people on YouTube will show you how to make saw hacks with electric saws but I didn't want to get into a project for a project.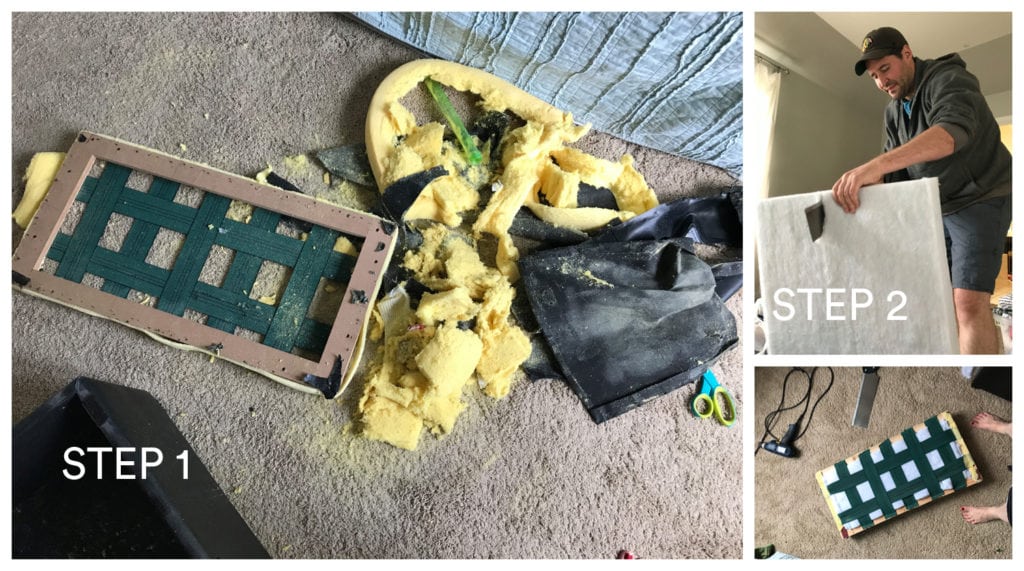 3. Once the batting is in place, use foam to cover the top and sides of the lid to give the top a seamless and smooth look. Staple one side first placing your staples about a half inch a part.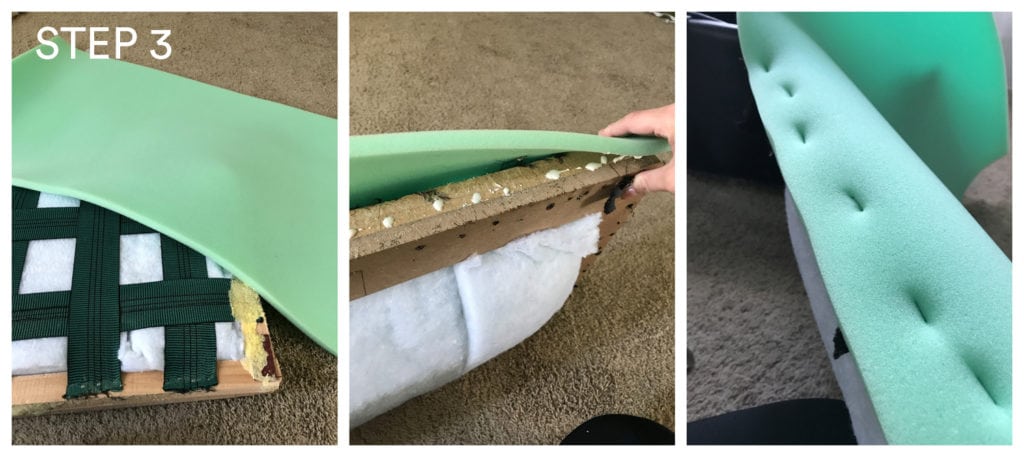 4. Repeat this on all four sides until you have the lid covered. Wrap the corners like you're wrapping a present.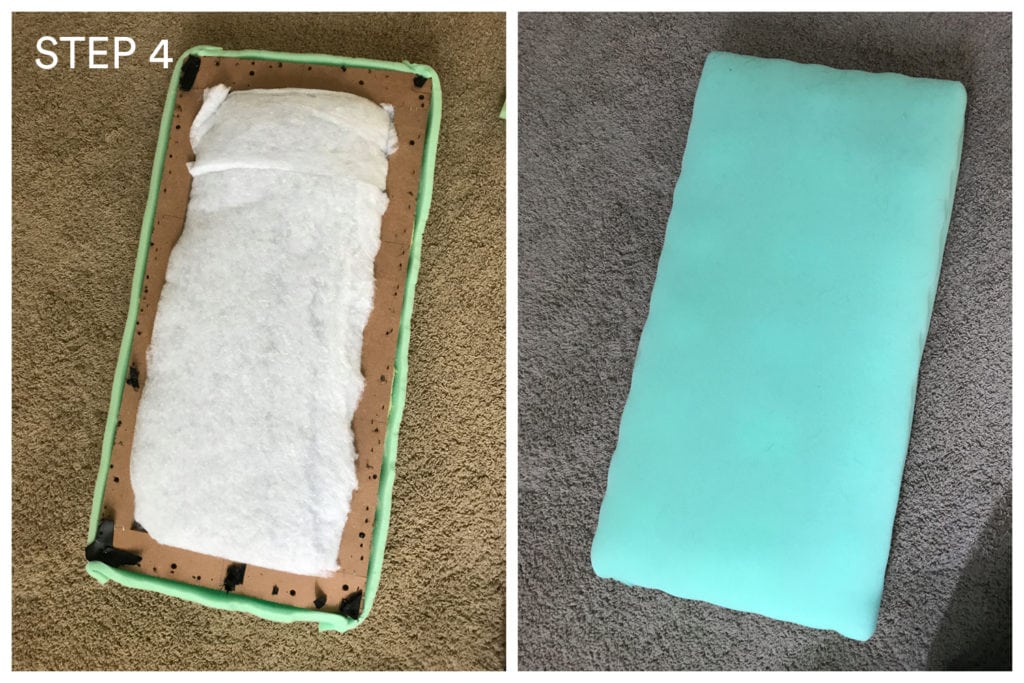 5. Then take your fabric (usually cut to size) and secure one side first. You can see a close up of how I did the corners. Make sure to pull tightly so that you don't end up with lose fabric on the lid of your ottoman.
6. Then wrap the lid like you were wrapping a present. Then (not shown) cut off excess fabric on the lid.
7 &8.  Once the lid is done begin working on the base of the ottoman in a similiar fashion. Use one piece of fabric per side and secure it at the base first. Then pull it tightly up and over the tip of the ottoman, securing it inside of the storage area with staples.
I did the long sides first and then tackled the ends.
9. On the ends, secure your cut piece of fabric to the bottom and again secure the top of the fabric inside the storage part of the ottoman.

10. Make sure that you have folded the sides in and you have a nice straight line before securing these pieces. These seams will be seen so you want to make sure they look nice and even. Pull them tightly so it doesn't look like there is a pocket for small hands or toys to enjoy.
11. Secure the corners by folding them in on one another and making sure that they are stapled in tightly.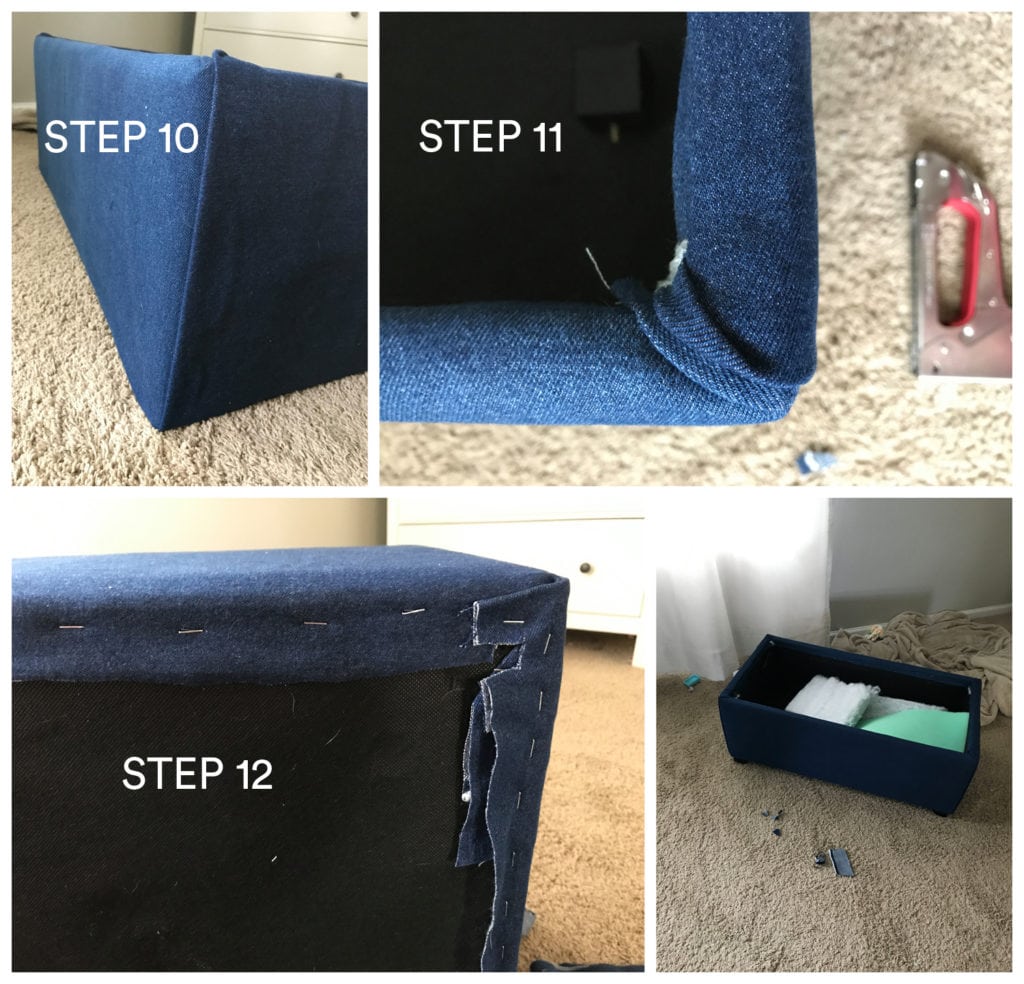 12. Reinforce the bottom on the ottoman with additional staples as needed and trim excess fabric. I also cut holes in the fabric for my ottoman legs, which screwed into the bottom into the existing holes.
13. After I was done with the fabric portion of the project I decided I hated the way the top looked. I also know I was going to have the same issue with having a weak lid because their was nothing really holding the lid together on the bottom. I decided to reinforce it by cutting the piece of wood just slightly larger than the hole of the frame.
14. I wrapped it in utility cloth and then secured it to the frame of the lid with screws. You can see we (my husband had to help again here) messed up a bit by not pulling the fabric tight enough and with the placement of the screws, but since we have never done anything like this, I was happy with it.
Place the screws as needed. Since we knew the dog and the kids would be using this as a stepping stool for our bed, we added a lot of screws to make sure this could hold the weight.
I love how it give the lid a cleaner, more complete look on the bottom and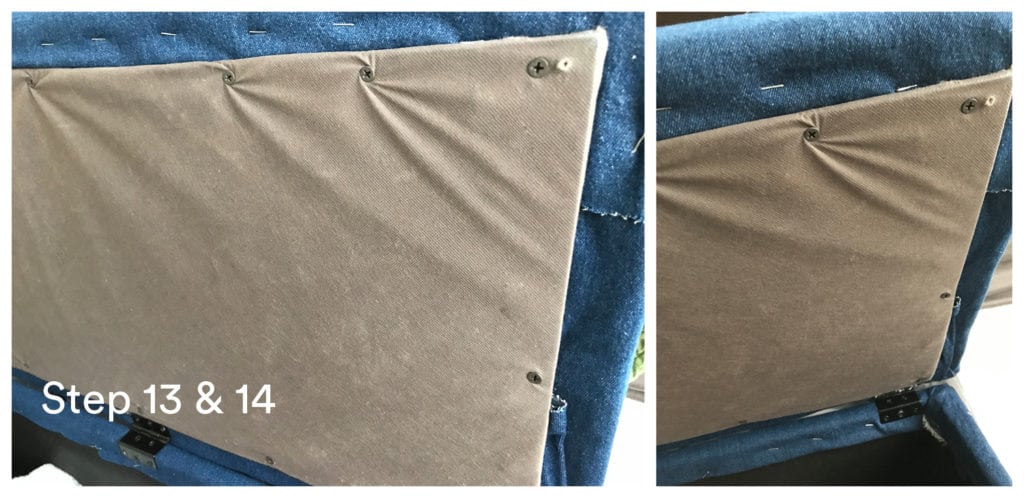 15. Screw your lid back into place using the same holes that were originally used to ensure alignment.
Here's the before and after: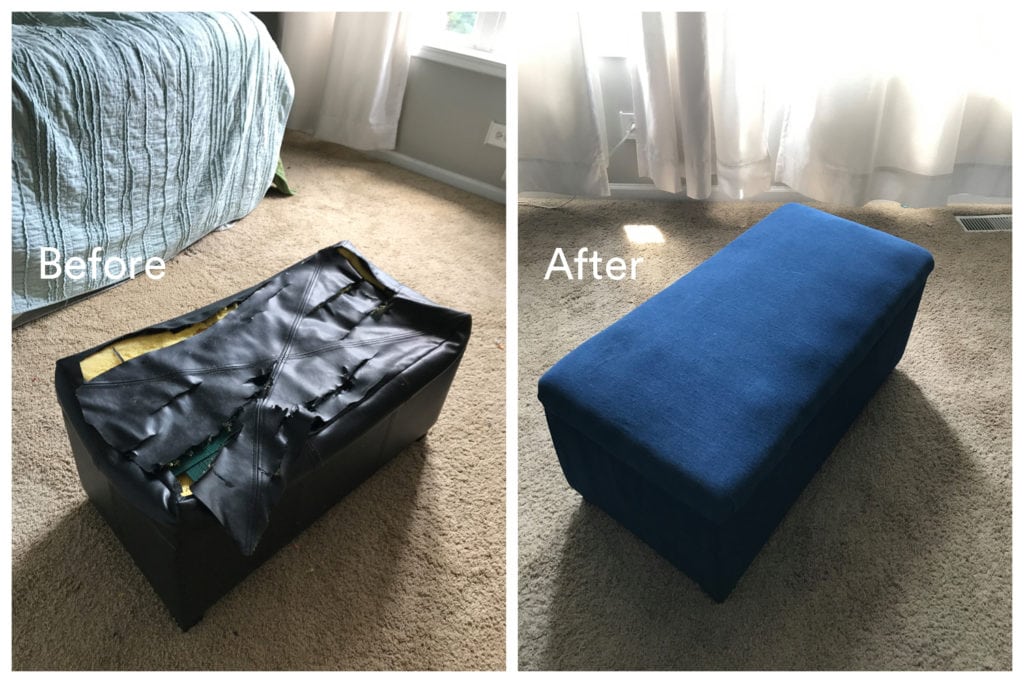 I think it turned out pretty great, especially considering where we started. 🙂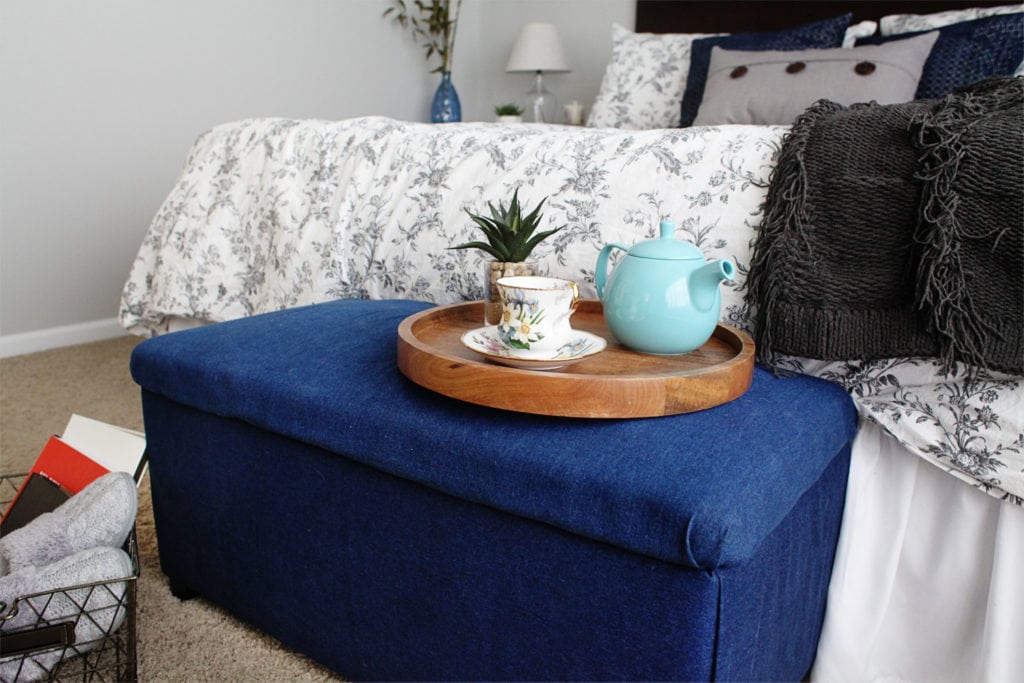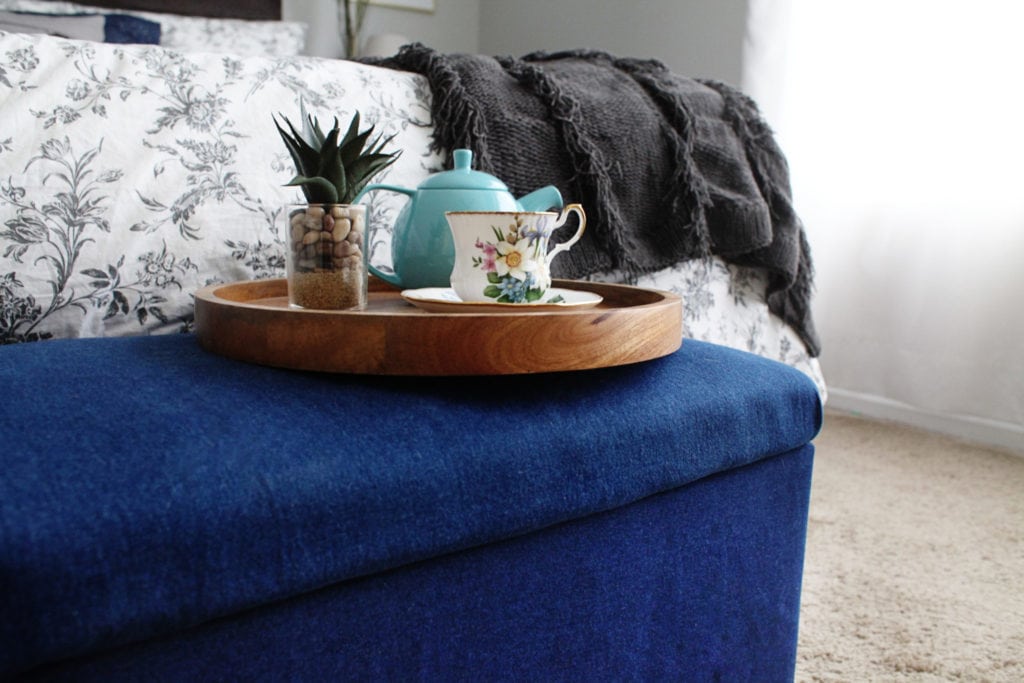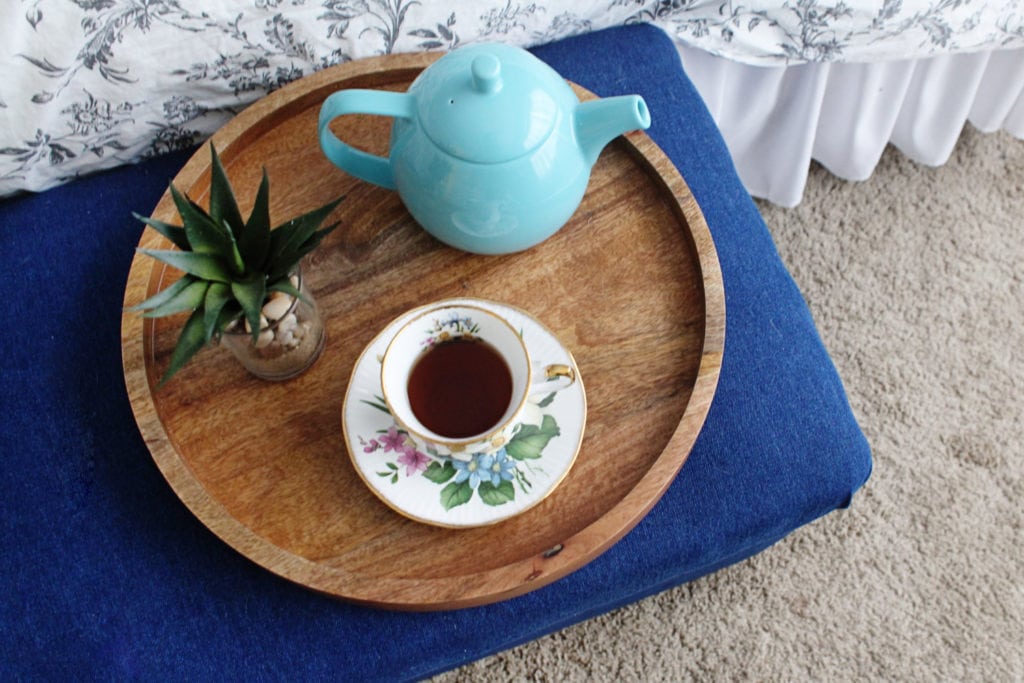 All in this ended up costing me about $60 to reupholster. I used jean fabric – literally the kid of fabric you would make jeans from – because I wanted something that would hold up to animals and kids. I also wanted something simple enough that it would go with everything, even if I decide to repaint in a few years.
When we added this to our wedding registry it cost $200. It is a nice strong piece of furniture – with the exception of that lid – so the idea of buying a new one just didn't work for me. Today we probably could have found something similiar for $150. Savings $90. It's a win.
You can see our whole bedroom refresh here.