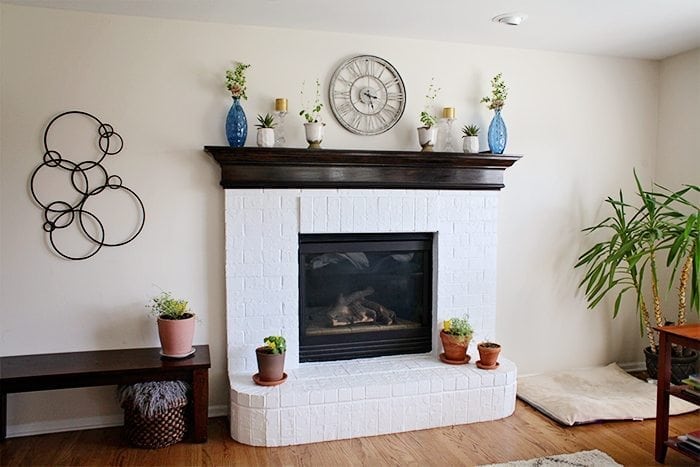 It took me seven years to convince my husband to paint the fireplace. Seven. Long. Years.
I honestly don't think he ever really agreed to it. He just accepted that I was going to do it, like the way someone accepts that Tuesday will follow Monday. It became a sure thing.
Our fireplace was tan brick with blue highlights. Blue, friends. Blue.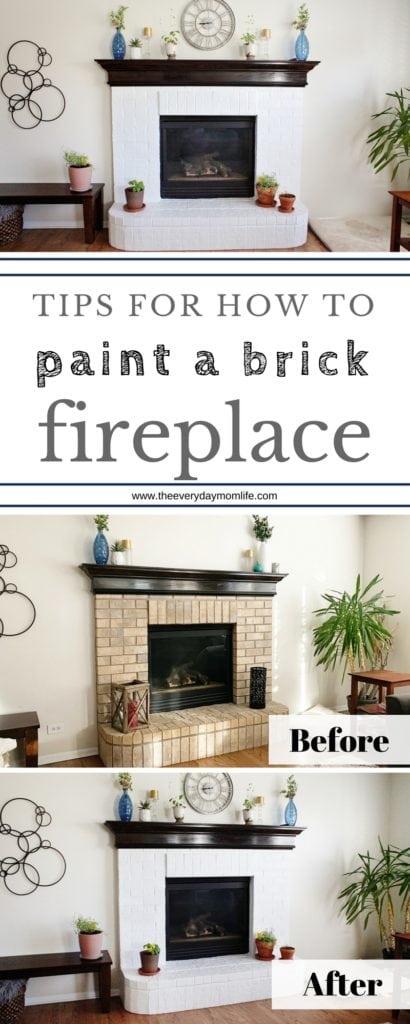 We have the same brick on the outside of our house but there the highlights look more grey-blue, which doesn't bother me as much. (Although, I have tried to convince him to paint that too. I'd love a nice, traditional look with white brick, black/grey shutters and a bright red door.) On the fireplace though, that brick annoyed me every time I looked at it. Since it's in my family room, I looked at it a lot.
Because I had so much time to figure out how to do it, I was fully prepared and ready when the weekend came. I had no troubles (with the exception of picking a color) and I'm so pleased with how it turned out!
Here's how I did it and the tips I have for you if you decide to take on this fun project in your home.
Vacuum It
You want to do this first to make sure the brick is clean. Brock generally has little crumbly pieces and can chip, especially older brick. Vacuum it first to make sure that you start painting with a clean surface.
Use primer 
I don't often use primer when painting walls because I don't generally think it is necessary, especially if I'm painting over a light color. However, for the fireplace I would suggest using a primer to prep the surface. Since brick is so porous it just helps the paint to coat better.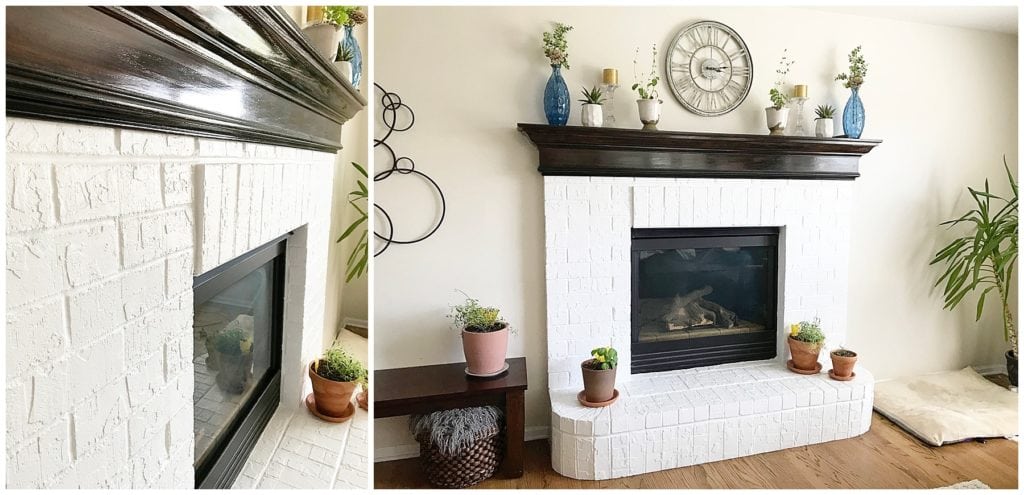 Use the right roller
You want to have a roller with at least a 1-inch nap when painting brick. Since it has cracks and crevices you need to be able to get the paint into those and anything that has less nap won't make it happen.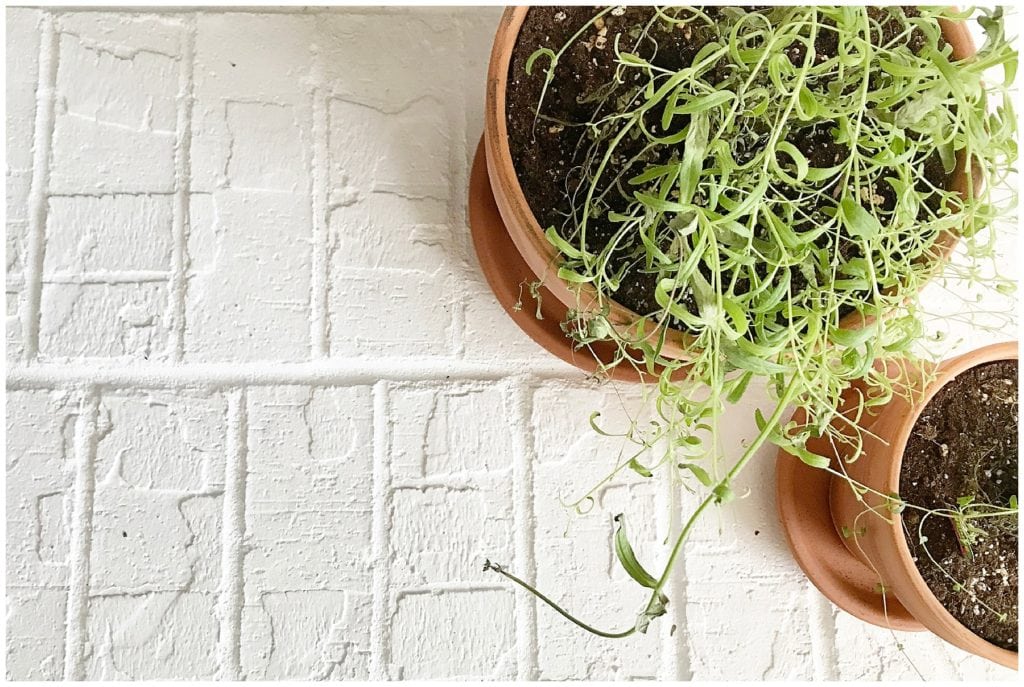 Tape the walls and the box
I don't like using painters tape when painting walls because it never sticks right, and it always allows for some bleed. When I painted my dining room and laundry room recently I didn't tape the ceiling or around the doors and windows. I just went slow.
However, for the fireplace I suggest that you tape your walls. Not the brick, but your walls next to the brick so you don't get the paint on the walls. Our fireplace has motor holding the bricks together and a line of it in between the fireplace and the wall. It was tricky to paint without a line of tape so eventually I gave up and just taped it. I believe that was the better choice and saved me from needing to touch up the wall afterwards.
I also taped the parts of the box that I could easily paint around, which was most of the parameter of the box. If you get the paint on your box you usually can scrape it off, but why do that if you don't have to? Just use some tape on it to keep it clean.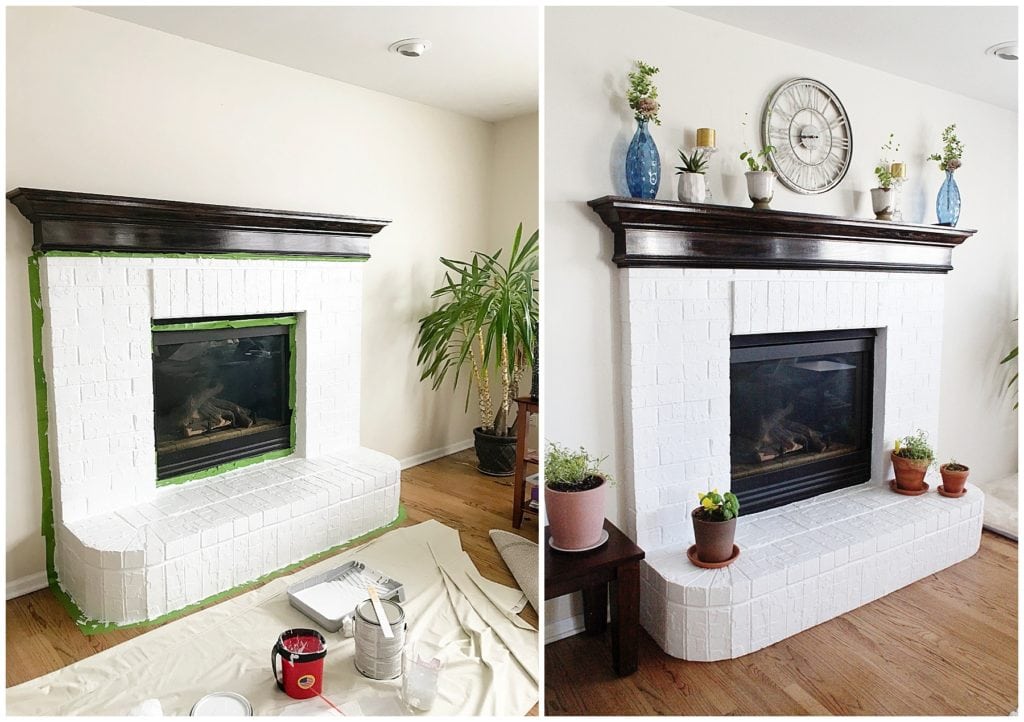 Use masonry paint 
Most paint brands will have a masonry paint and I suggest using that in whatever color you want. It will adhere to the brick the best and since it was created to use outdoors, I believe it's tougher than regular wall paint. My kids have been playing on the fireplace, have dropped things on it and have hit it with stuff. So far, we don't have any chips. (Knock on wood.)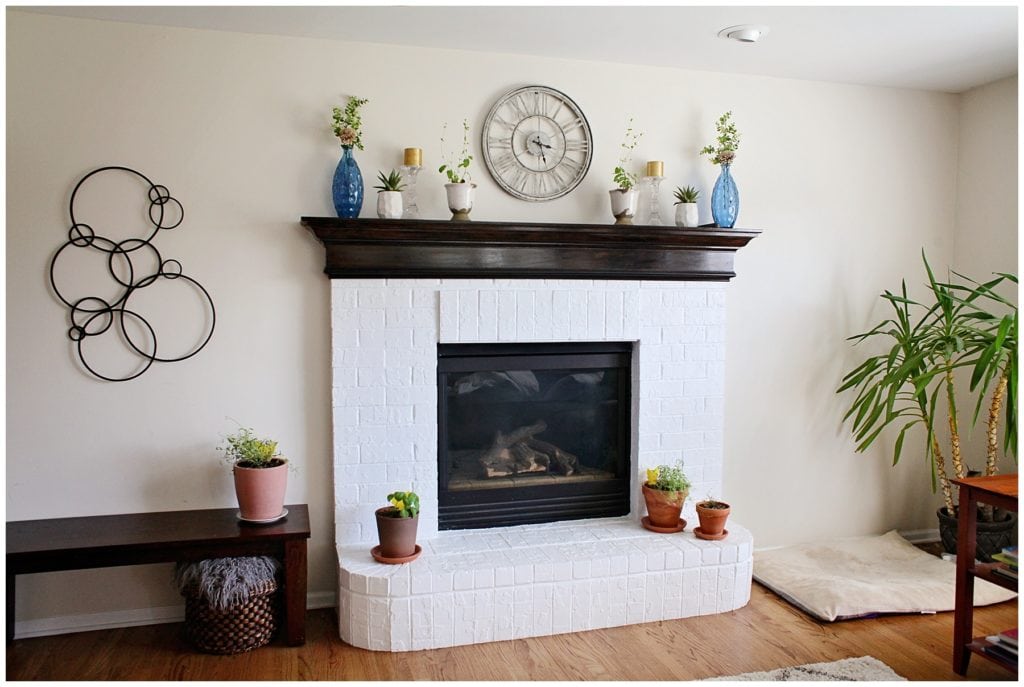 Buy tiny paint brushes 
When I say, "tiny paint brushes," I mean buy the cheap paint brushes that kids use for watercolors. They cost a dollar or two and are well worth it when it comes to painting around the fireplace box.
Even though I taped around the box, the brushes allowed me a bit more precision here and didn't glob the paint on in this space. The masonry paint is thicker so you just want to make sure it doesn't look sloppy here.
Also, the brick on our fireplace touches the box and there were some places that tape just wouldn't work because the space was so small. I needed something very tiny to be able to paint the sliver of brick and motor in these spaces. These tiny paint brushes worked perfectly and I just threw them out afterwards.
You need multiple coats 
I would suggest putting at least two coats on the fireplace to make sure you have a smooth color of coverage. I used a base white for the fireplace paint so it matched up well (not perfectly) to my primer. However, if you decide to use a creamier white or a grey-based white, then you will want to apply multiple coats to make sure the primer or the brick doesn't show through.
So what do you think of the make-over?
Have you tried painting your fireplace before or do you want to now? How long do you think it will take me to convince my husband to paint the outside brick too? 🙂
For more Home & DIY posts, click here.