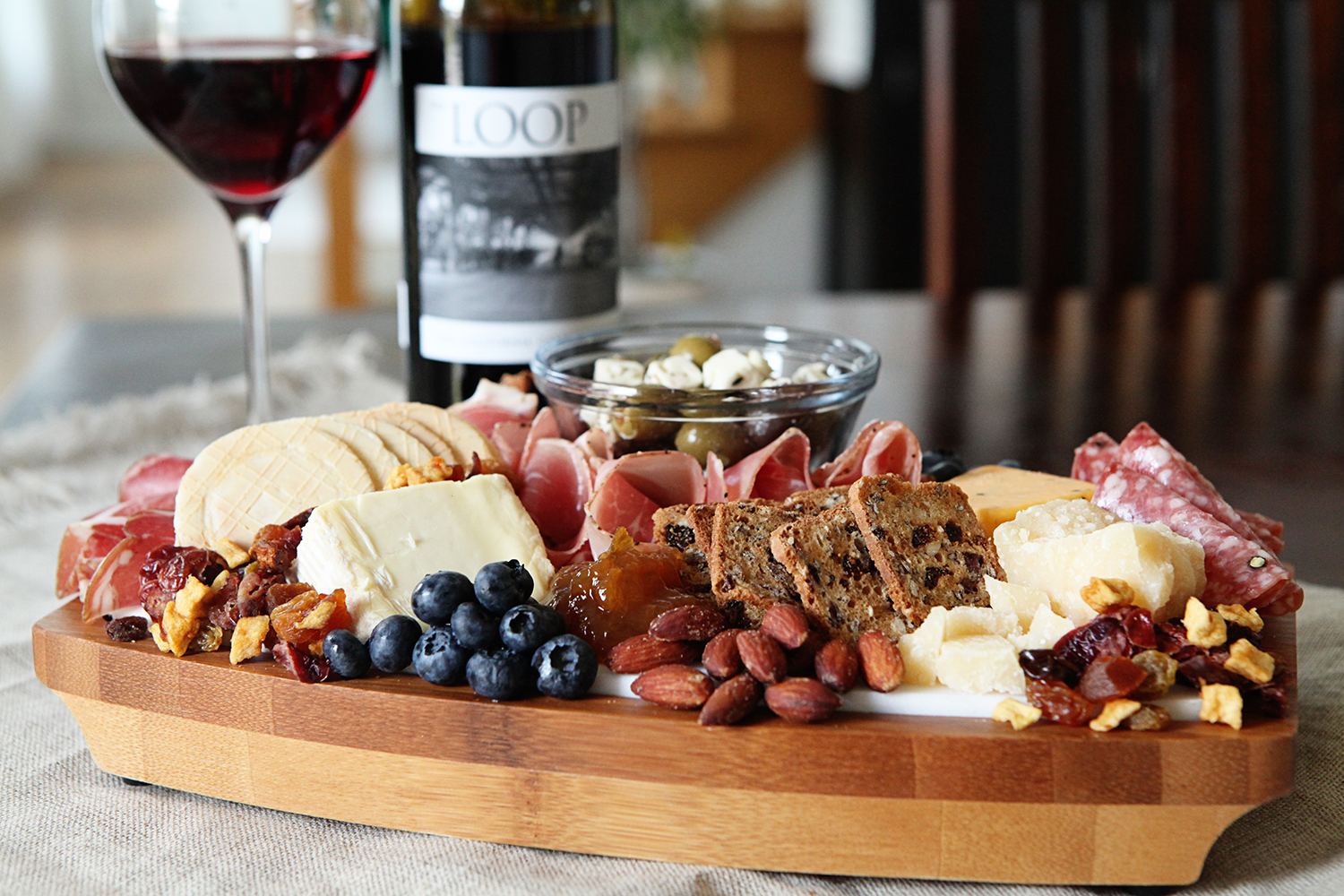 If you search, "How to make a cheeseboard," or, "How to make a charcuterie board," online, you're likely to find hundreds of different tips on how to turn meat and cheese into a beautiful, almost-magical platter that can be served as an appetizer or even dinner. If you feel overwhelmed when creating one of these, don't worry, I'm here to assure you that you can't mess this up.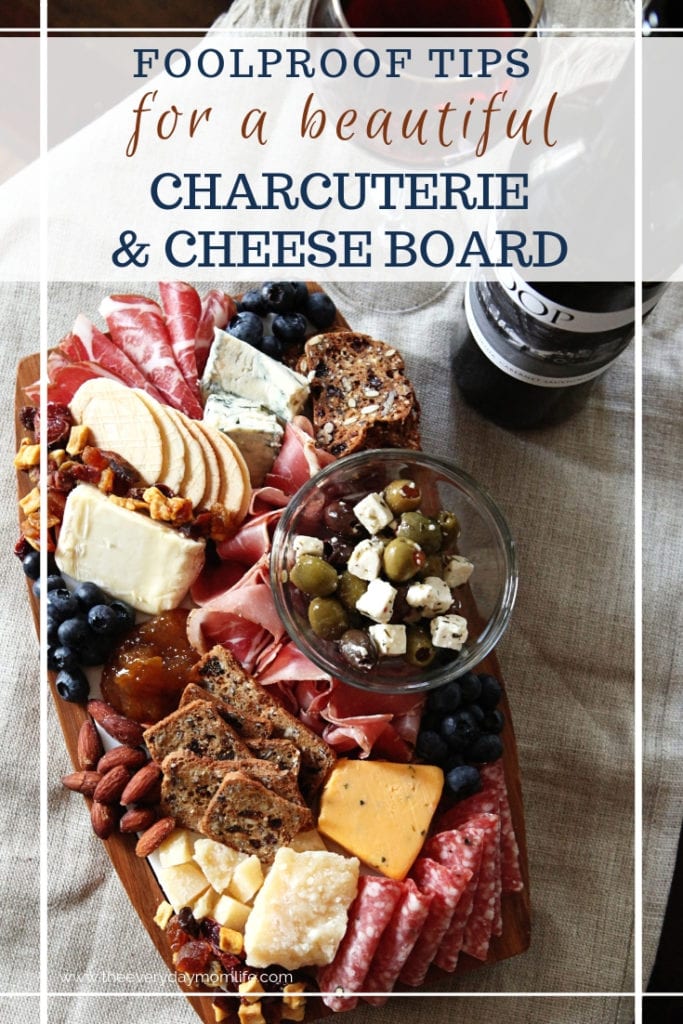 With a few simple tips you can make a beautiful board that will serve a variety of taste buds and pair with wine, beer or whatever the drink of choice is for the evening. You'll be able to serve them for a crowd, an evening for two or even a family dinner on a weeknight when you don't even feel like cooking.
Here are some basic rules I follow when I make one.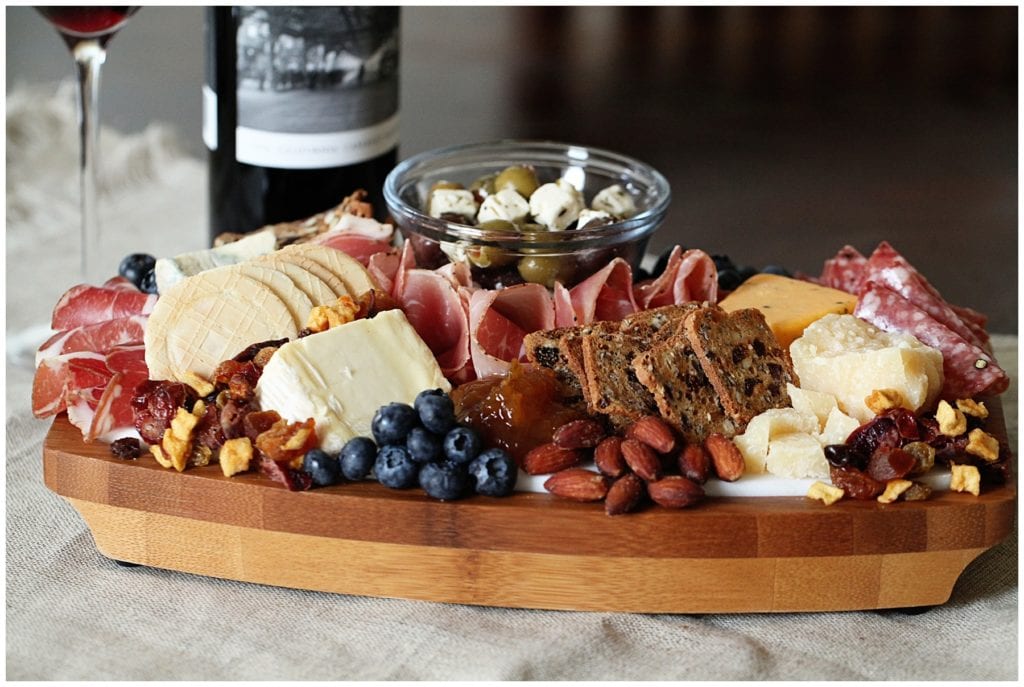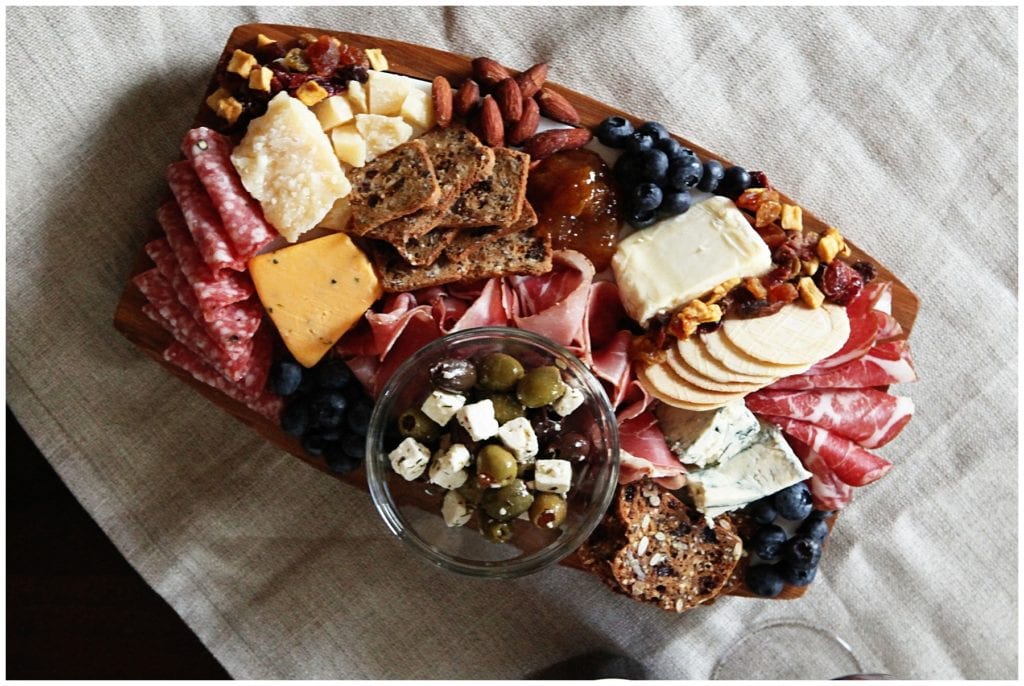 Start with a variety of cheeses
When I think about making a charcuterie and cheese board, I like to compare it to painting. To create a picture, you need different colors and the same is true of your board. Think of your cheese as the paints. I always like to get a variety of cheeses – white, yellow, blue, etc. so I have different colors on the plate to work with.
However, don't just think about the colors. These paints have shape too. Cut some in triangles and squares. Some come in a round form or as a long and you can play with half-moons and height on the plate too.
Just make sure you like all the cheeses you pick. 🙂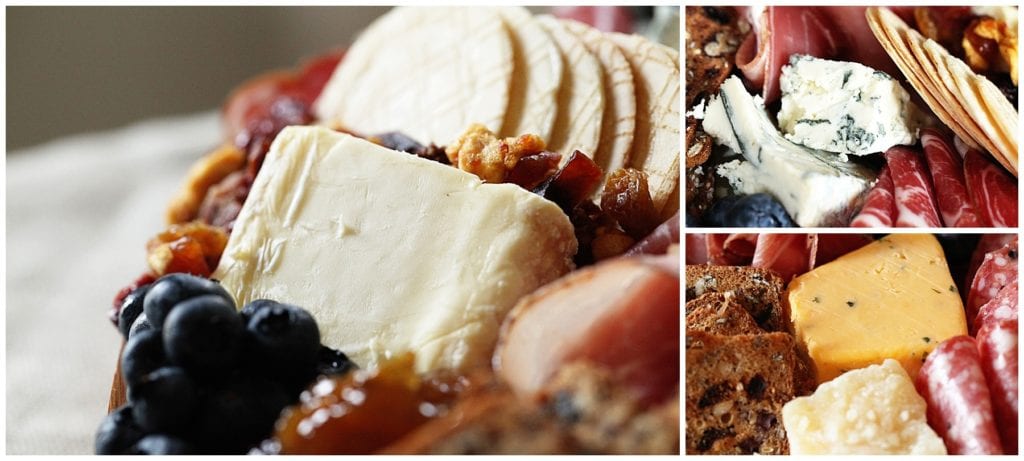 Use a variety of meats
When picking meats for the plate, you won't have too many color options. However, you still want to consider the way each meat will fold or not fold so you can begin to visualize how much room you will need for each. Other than that, just get what you like!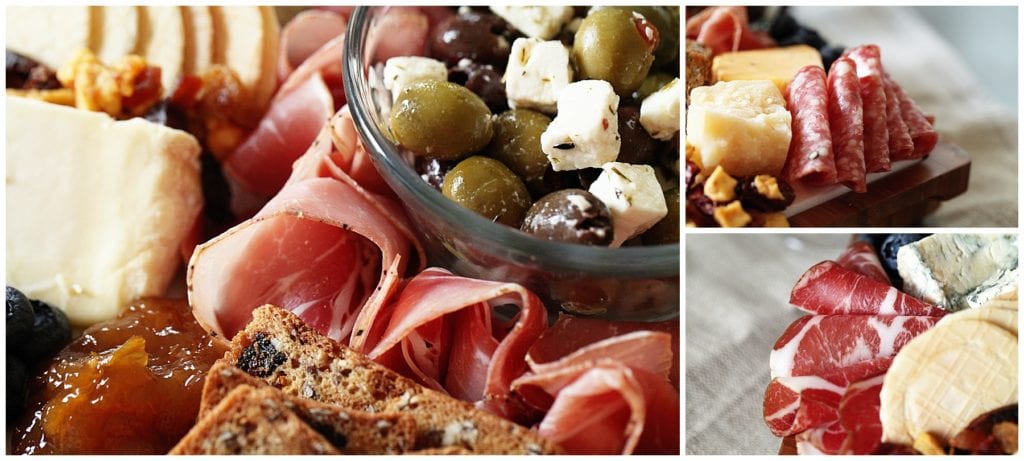 Anchor the board
When I begin to build the board, I like to use one thing as an anchor or the focal point.Like the vanishing point in a drawing or painting, an anchor will give me something to build the plate around and a place to start. All roads sort of lead back to it.
Here I used the small bowl of marinated olives and feta. As you can see my board is small so if you have a large board you can pick multiple anchors and build from there, or just continue with one and have everything sort of flow from it. You don't always have to have it in the middle either. Try anchoring the board on one side or one corner to make it feel different each time.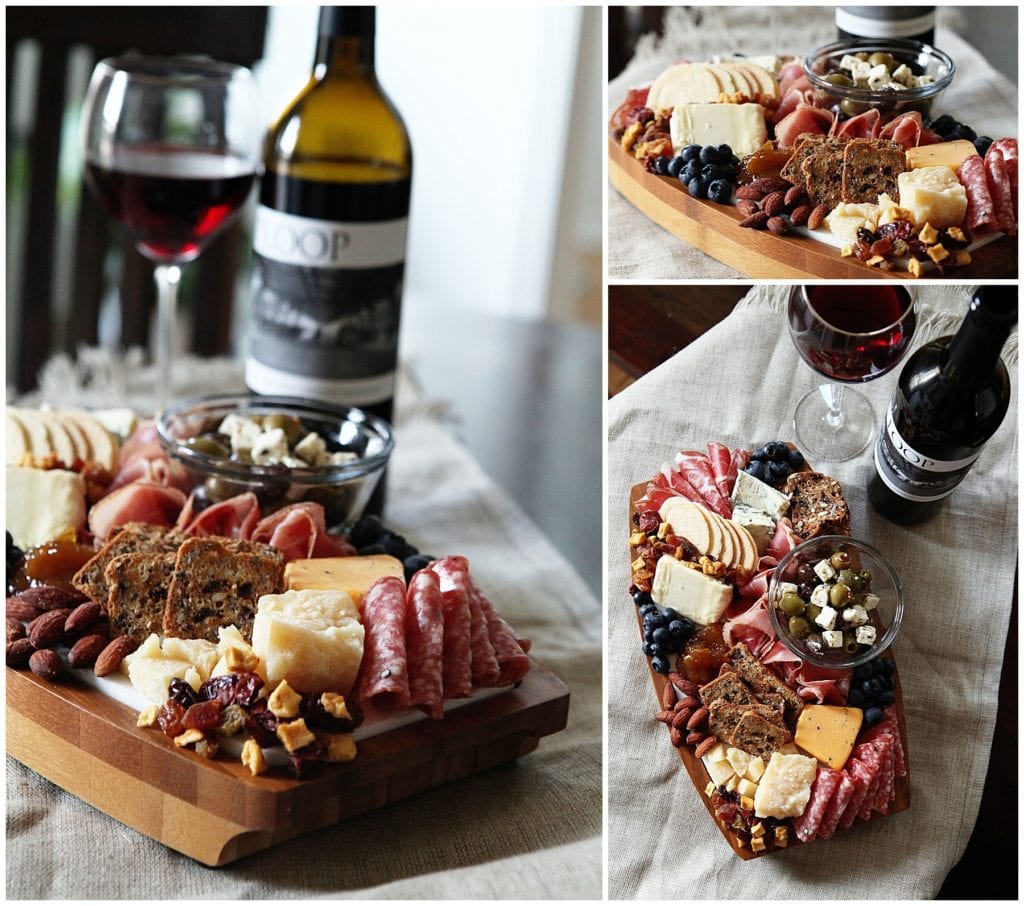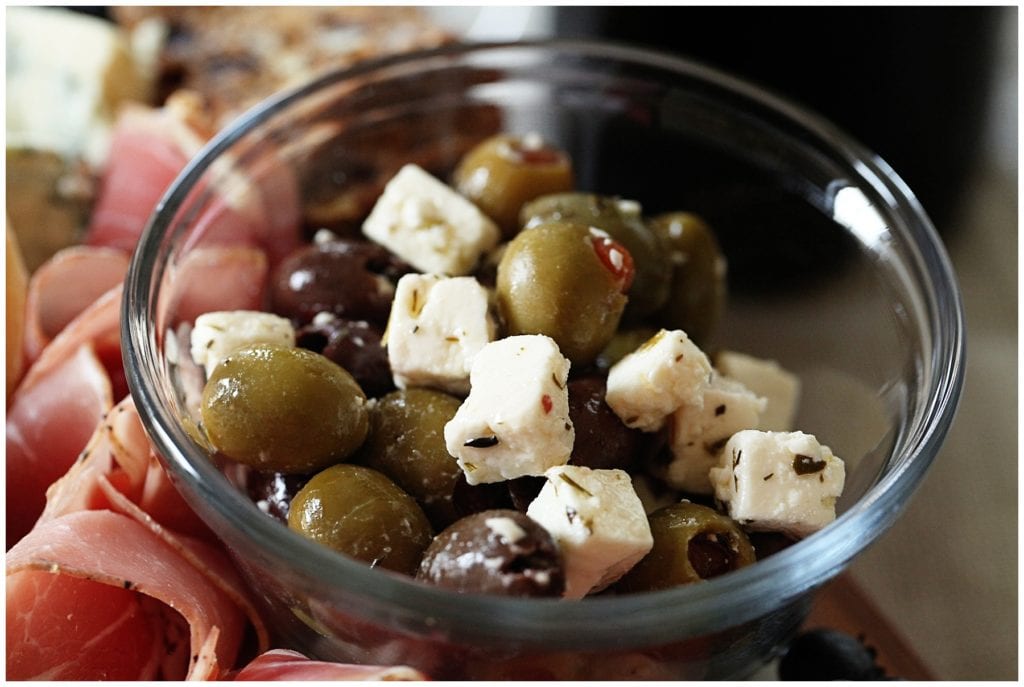 Include something sweet
You already have the cheese and the meat so now it's time to include something sweet. This can be done by using fresh fruit, dried fruit, jellies, jams, chocolate, etc. On my boards I often use apricot jam because I love the way it tastes with savory and sweeter cheeses. I love how it works with blue cheese and a good brie, which are generally my favorite cheeses.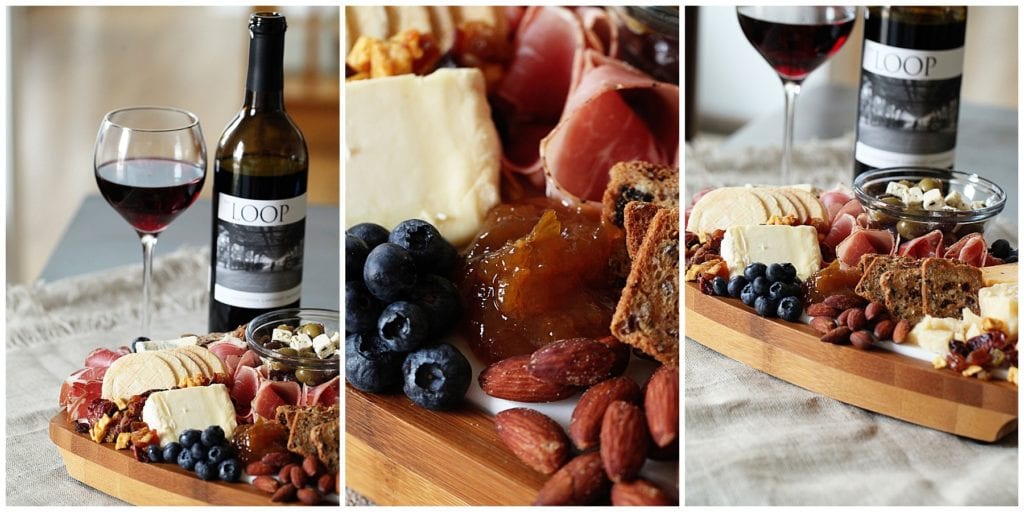 Include something savory
Like the sweet tastes, you want to add in some savory options too. My olives worked for that. You can also use mustards, pesto, garlic spreads and more.

Give it texture
Just like an artist would paint texture into the trees or a lake in a landscape, I like to paint it into my board too. I use different textured crackers with different shapes, smooth and hard edges, various heights and more to make the board feel more vibrant.
Also, think texture for your mouth too. (AKA mouthfeel) Here I added nuts and banana pieces for crunch, the olives for the smoothness in addition to the soft cheeses and dried fruit for a chewy texture.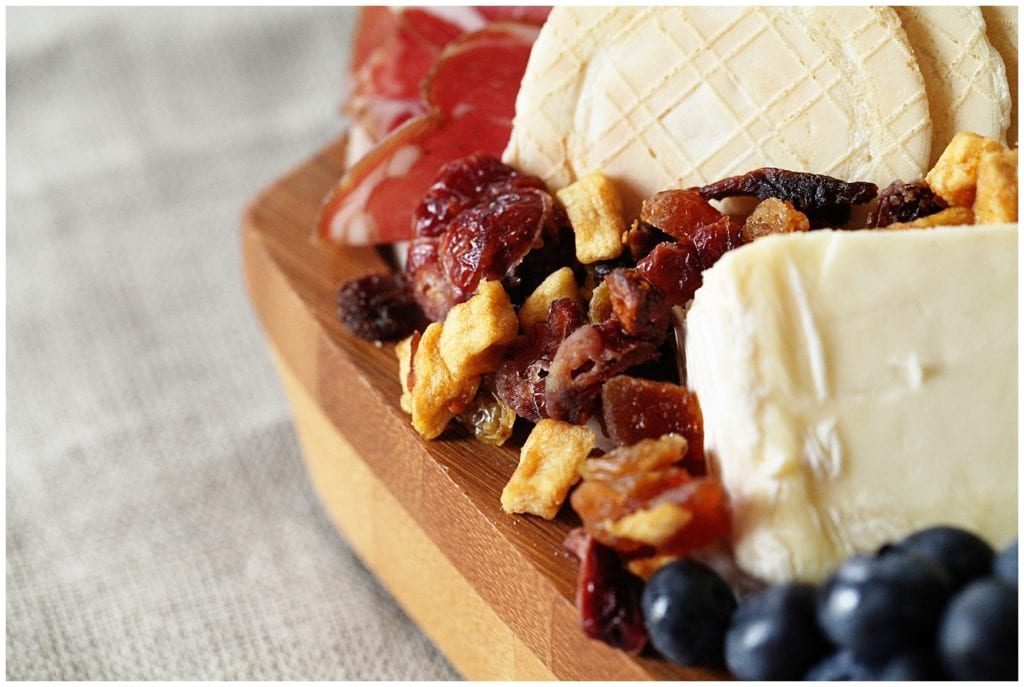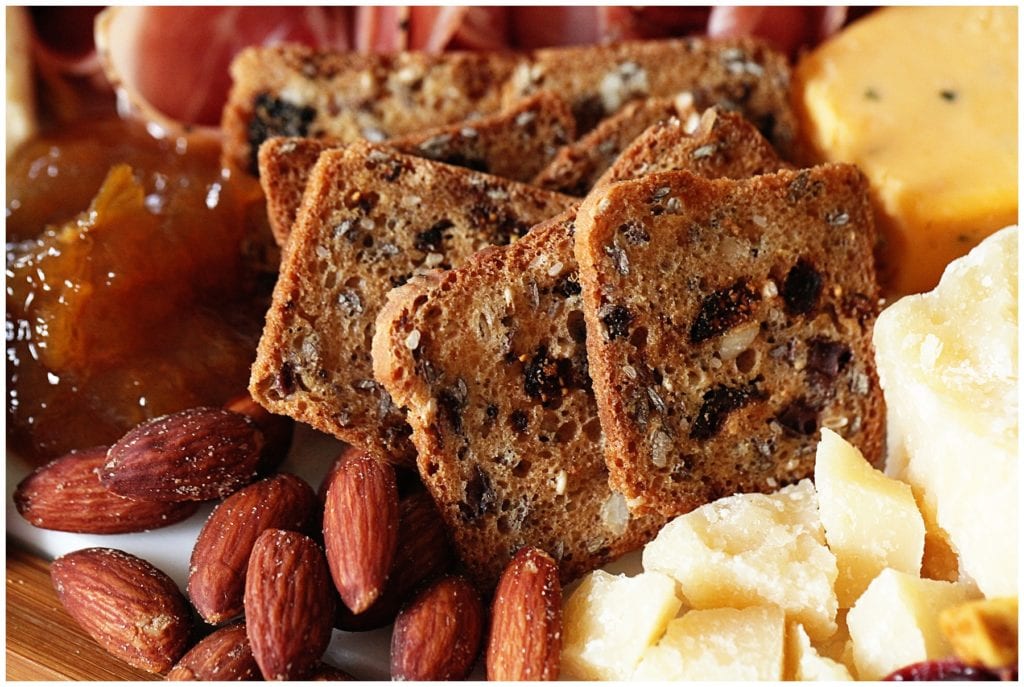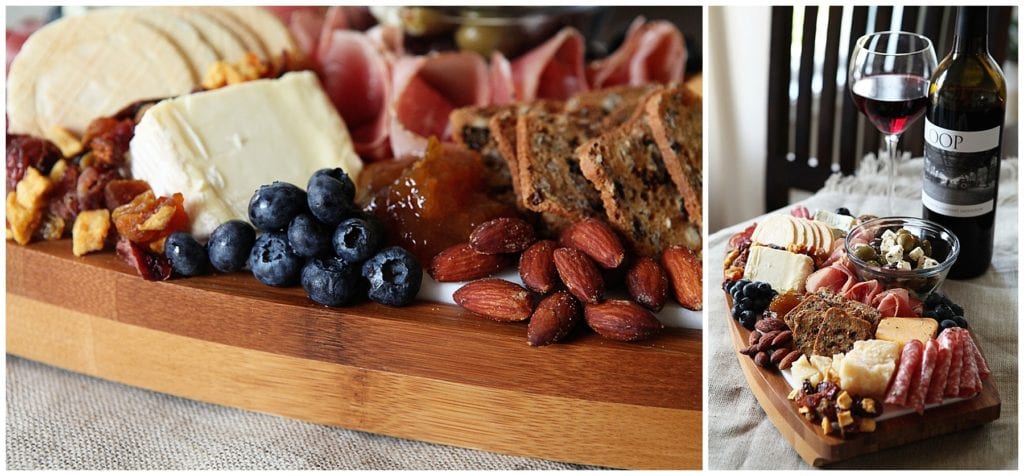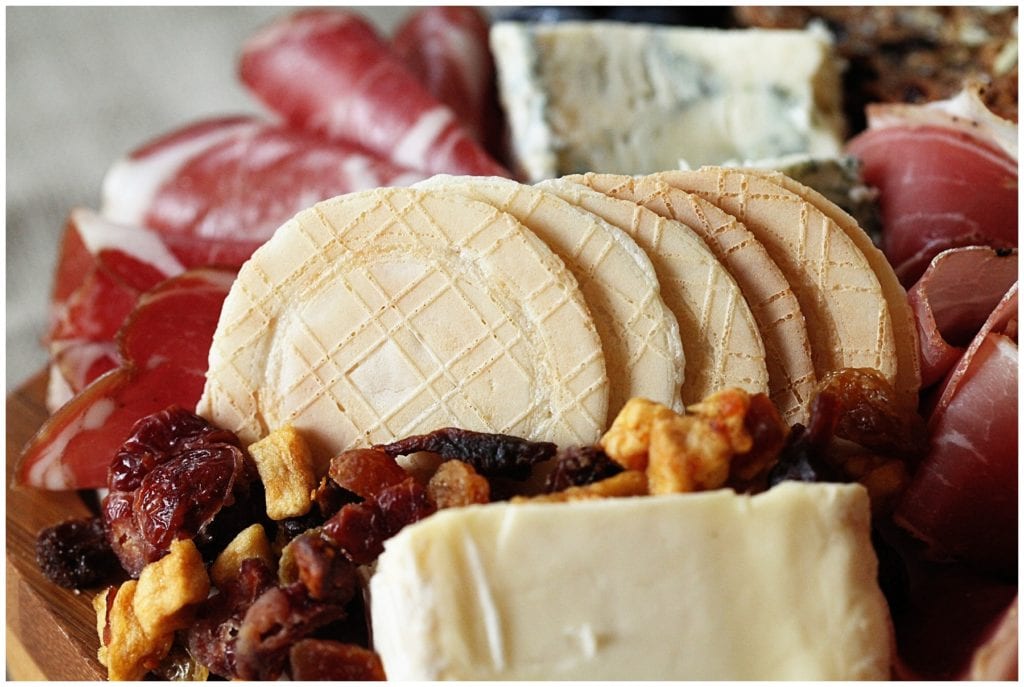 Pack it in
You will find tips to give the meat and cheese space on a charcuterie and cheese board. I throw that out the window. I like to stuff mine full and use every nook and cranny of space for something. Usually you're making these for multiple people with multiple different tastes and I always like to make sure there is something for everyone. The only white space I like on my board is a nice chunk of cheese.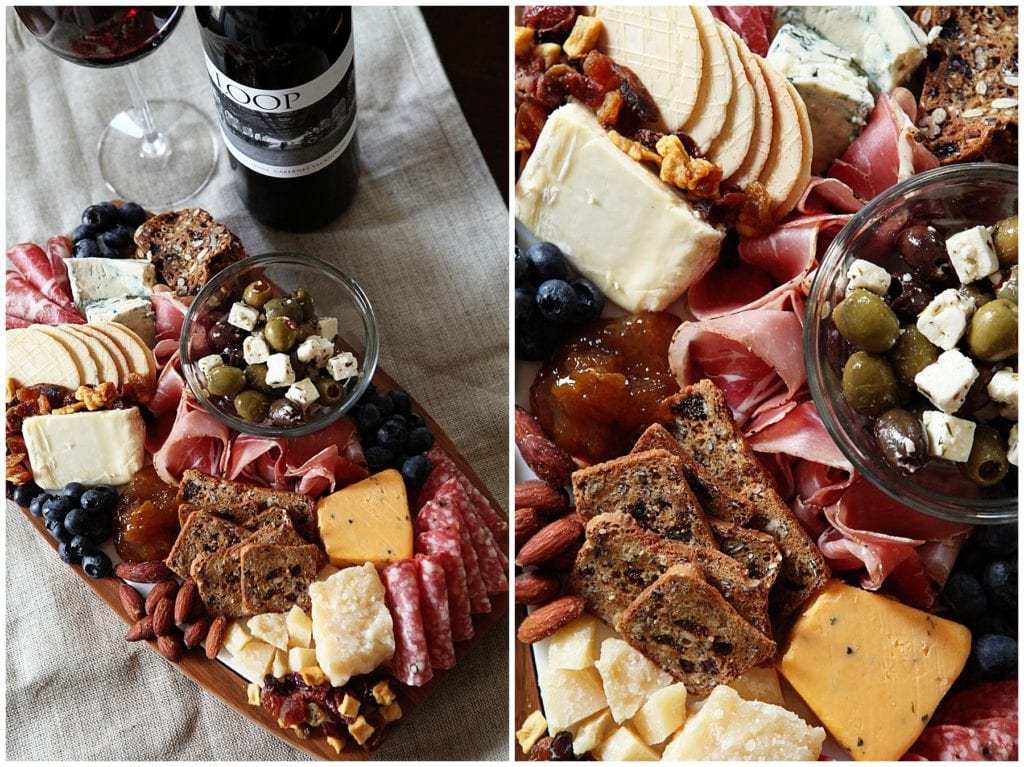 Make sure it's all fresh!
Final and most IMPORTANT tip when creating a charcuterie and cheese board – make sure you're using the freshest ingredients! Usually I try to shop the day of or the day before when I am making one of these. I tend to make them for dinner or lunch a lot in the fall on a nice, lazy Sunday, which also happens to be the day I go grocery shopping. So when you shop, find the freshest ingredients; grab a cheese board, cutting board or even just a plate and start layering it all on there.
Happy eating, friends!
For more tips for the home, click here. For more recipes, click here.