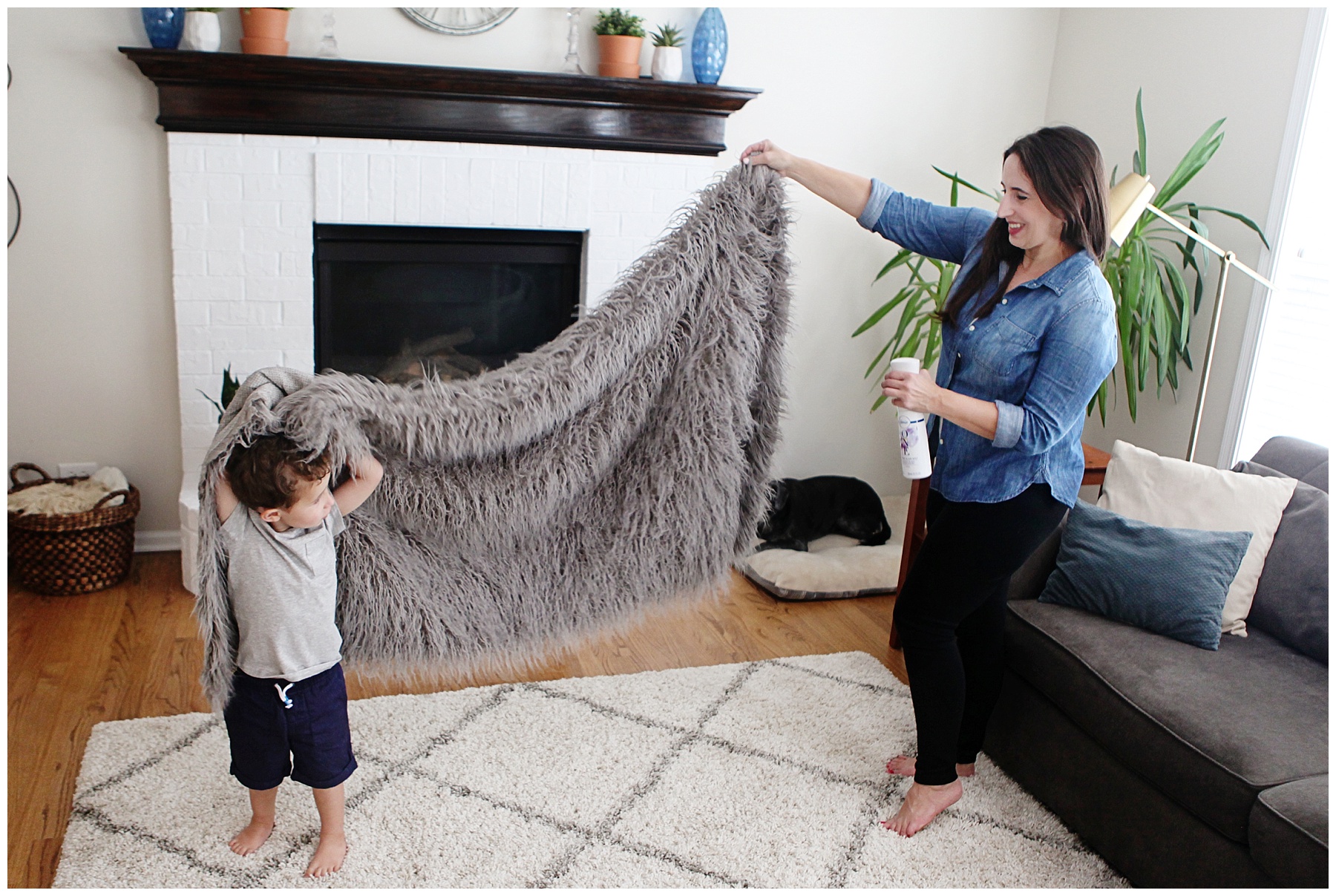 I'm an animal lover. If my husband would let me we would be living in a place where we could have about five or six (or 10?) dogs, horses and maybe some goats or chicken.
Ok so I guess ideally it would be a farm – a farm where I just have animals to hang out with and never eat because that would break my heart.
But alas, we don't have a farm. We only have one pretty, old furbaby that's been in my life for more than 15 years.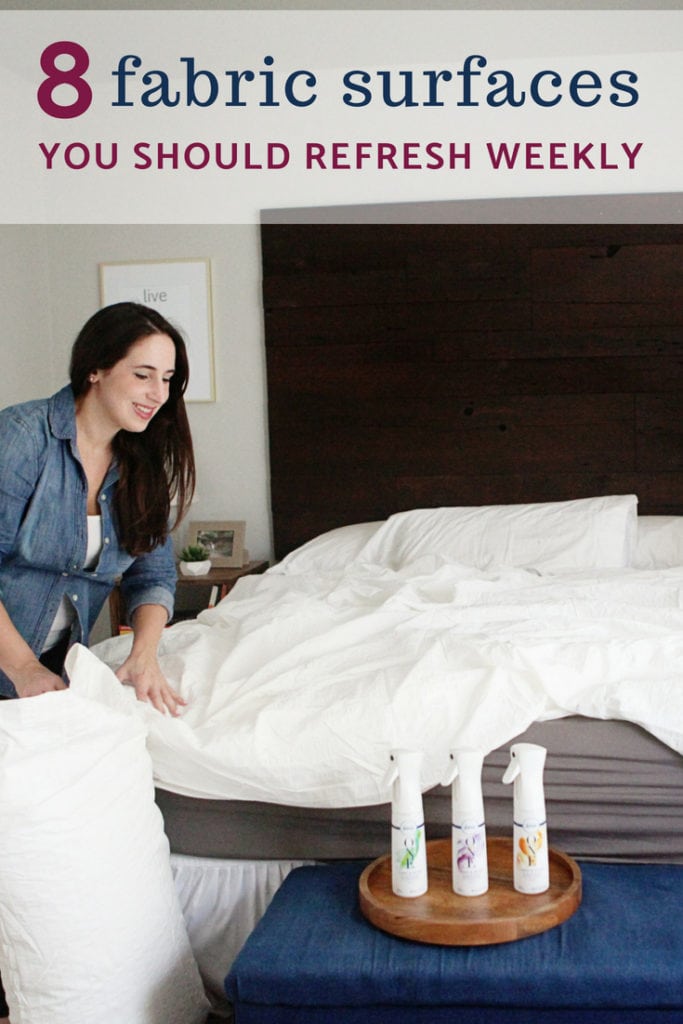 While she doesn't smell like a farm, she does smell like a dog – even when freshly washed. And since I adore her, she's allowed on all furniture in the house.
Combine that with two crazy, sticky, mess-making kids and some of the most-loved surfaces in our house get a little stinky.
Recently I discovered Febreze ONE, a nature-inspired odor eliminator from Febreze that doesn't use any dye or heavy perfumes. It's perfect for our well-loved surfaces and is made for refreshing fabrics and air. It also is not an aerosol spray, which makes me happy.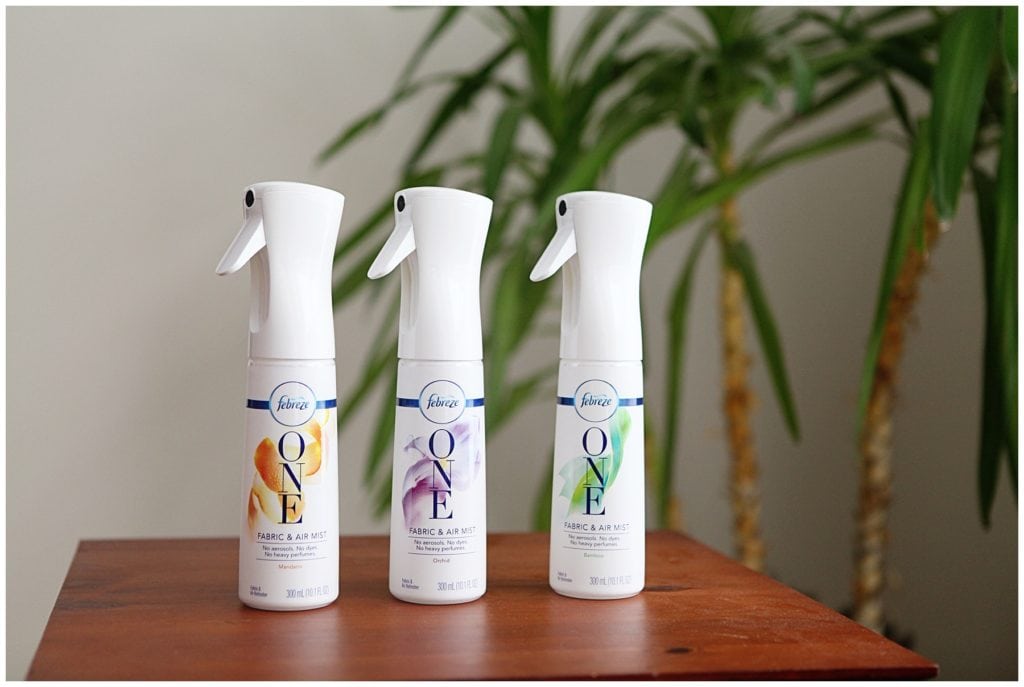 I've been consistently using it on many of the fabric surfaces in my house and I'm thrilled with how it's keeping everything smelling fresh and clean.
Most parents know that you can't wash some of the larger fabric items in your house as often as recommended or even as often as you like. Life just gets too crazy and too busy. Sometimes you need a faster way to ensure those surfaces smell great on a regular basis and in between washes. These are the surfaces that I believe are perfect for Febreze ONE.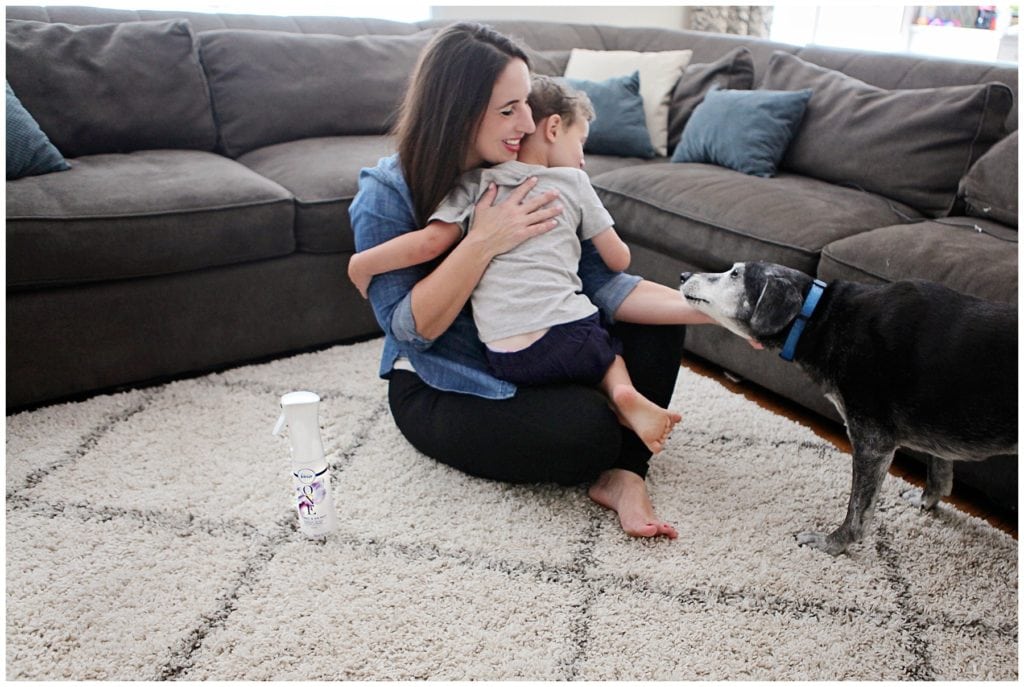 Couch cushions
Various everyday smells can permeate a couch. They get into the cushions and the fibers, and sometimes you can identify the culprit. Sometimes you cannot. On a surface that gets so much use every single day – everything from body odor, outside smells, soggy diapers, spills, etc. – it's bound to get a little stinky.
Between my sweet pup, my sweet babes, and my husband and I, our couch gets a lot of use. We all seem to like the corner spot best and I've been refreshing that spot with Febreze ONE every few days. So far, it's doing a great job keeping any lingering smells away and makes my couch a more pleasant place to be.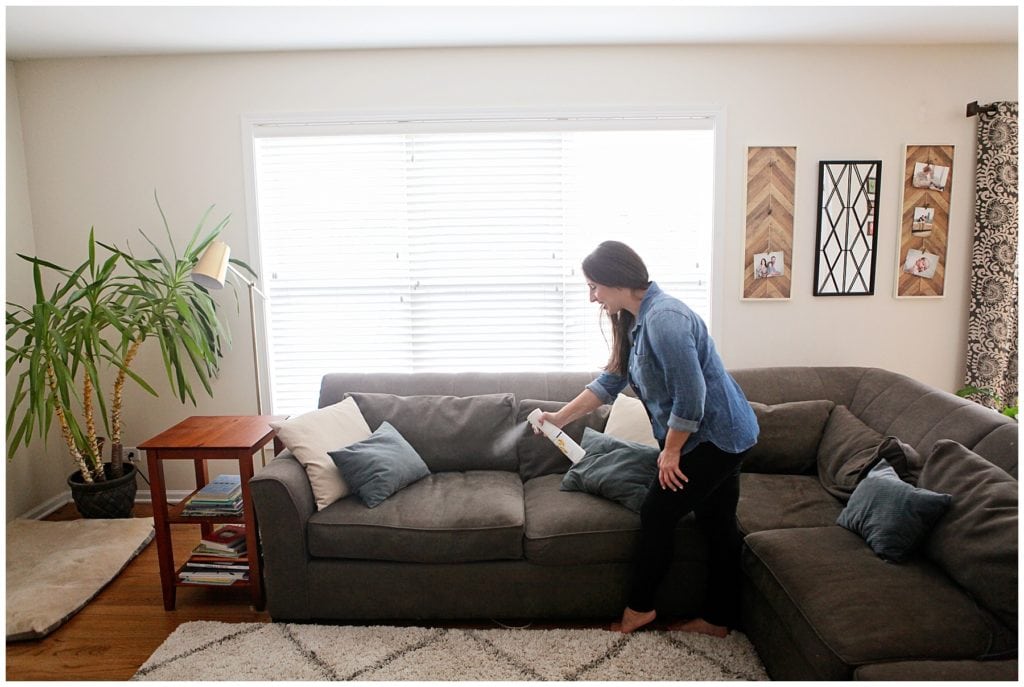 Throw blankets
Throw blankets are often made out of various materials and have various textures that can make a lot of washing lead to wear and tear. Because you don't want to over wash them, you need to find other ways to keep them fresh in between cleanings and Febreze ONE can help you to do this. We like to use it on our fuzzy blankets, which tend to pill if they are washed a lot.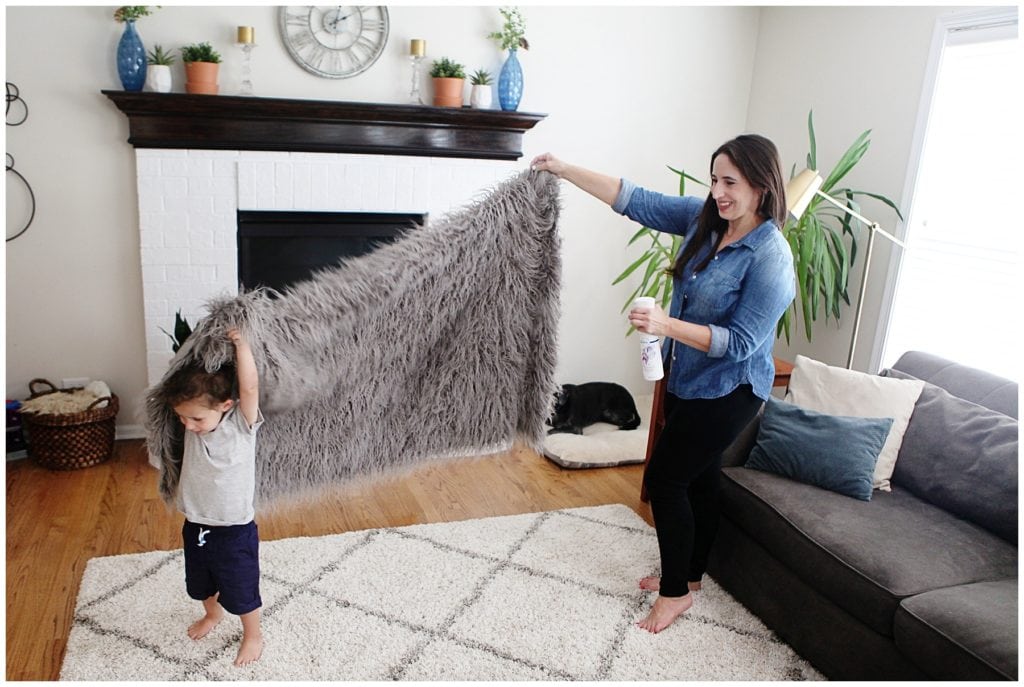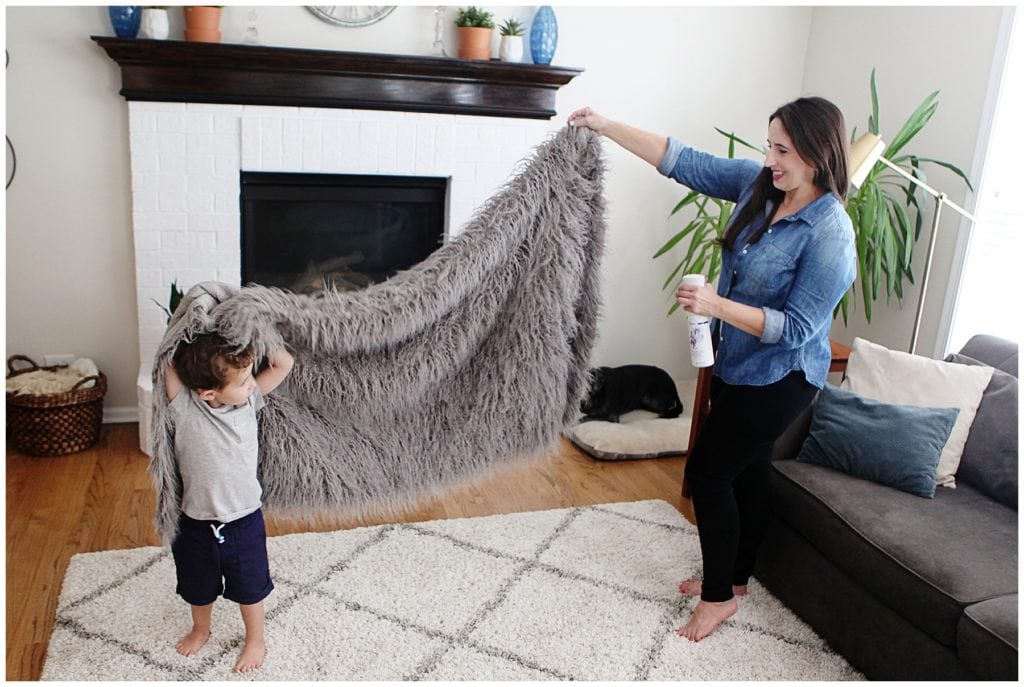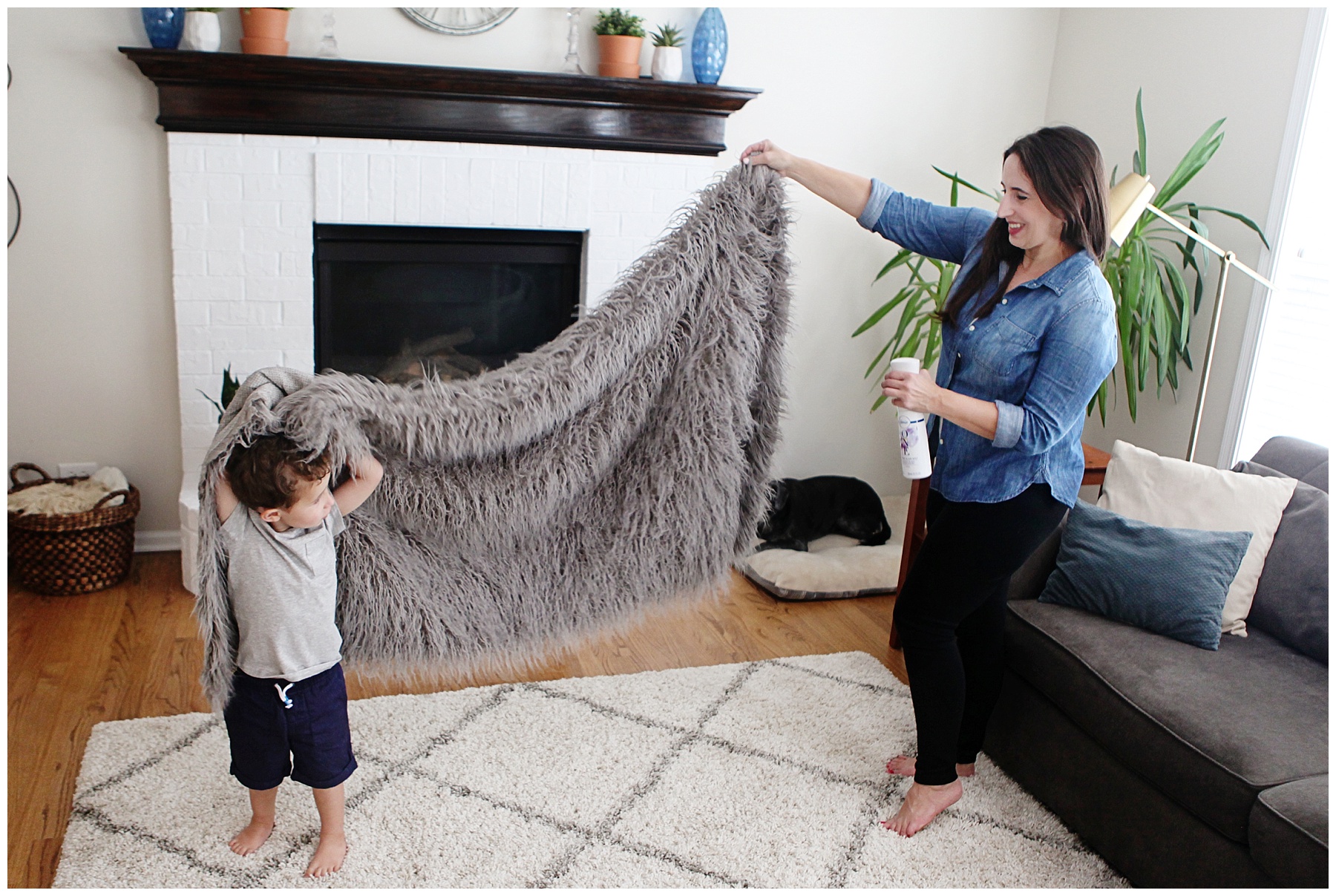 Couch pillows
Like the cushions, the couch pillows are always in use. Between the kids jumping all over them – and I do mean they pile them up and jump – the dog and my husband and I using them, there's a lot of smells going on there. A quick spray of Febreze ONE and I can take care of it all. The spray technology allows me to have a long, continuous spray versus a squirt and I can take care of all of them with one shot if I line them up.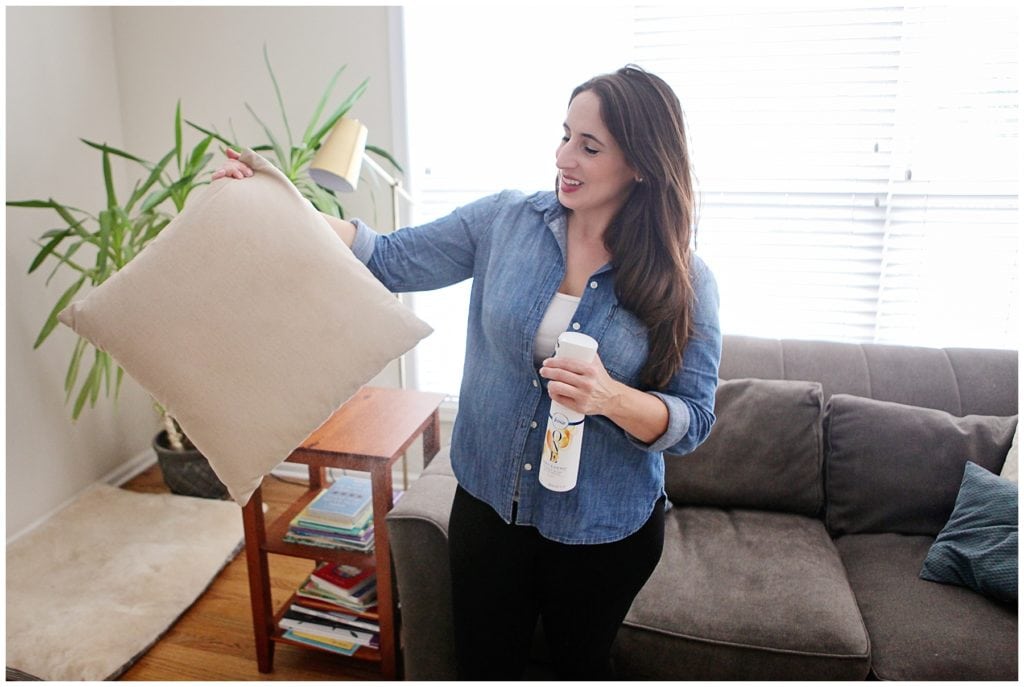 Area rugs
Most people spend a lot of time looking for the perfect area rug. It took me a few months to find a great rug for our family room. I wanted something that was square to fit the space, and I also wanted something that would be comfortable enough for my family to lay on. However, the rug gets smelly and, in fact, most people's do.
Odd smells are fairly common with area rugs because they are made with different fibers and constructions that are impacted by humidity in your home. Even if the top layer of your rug is made of one material, the bottom might be made out of something different.
With a few sprays of Febreze ONE, I can take care of the problem spots easily.

Bedspread and sheets
Most experts will tell you that you should wash your sheets and bedspreads once a week, However, realistically, I don't know a single person that can keep up with that in life. However, using Febreze ONE has kept the sheets and the bedspread fresh in between washing. I love the three scent choices that are available too including Bamboo, Orchid and Mandarin.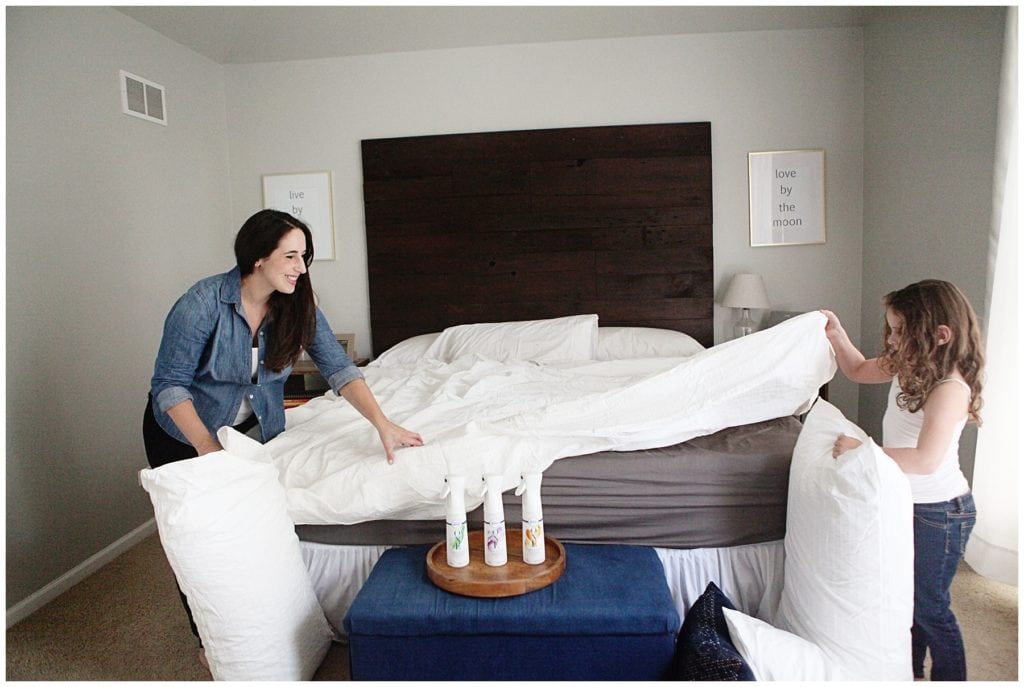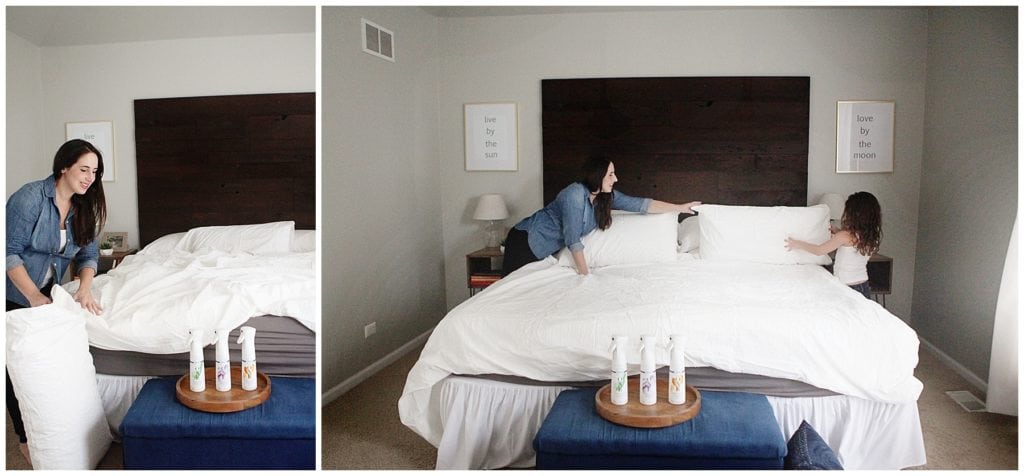 Curtains
All curtains are made of woven fabrics that gather dust. Whether they're casual cotton curtains, light and silky sheers or heavier fabrics they will all pick up dirt and scents from pet dander to hair and even mold spores. The accumulation of all this can reduce your indoor air quality.
Using Febreze ONE on the curtains will allow you to refresh them from top to bottom and help to keep them smelling nice in between washings.
Decorative pillows that can't be washed
If you have decorative pillows with embellishments, you probably bought those pillows specifically for those embellishments. For instance, mermaid pillows with millions of sequins, wood buttons, plastic pieces or even beading can all be sewn onto pillows for a unique look that will help to complete your room.
However, due to these embellishments you can't always toss these pillows into the wash. Febreze ONE is perfect for these pretty pillows. A quick, gentle spray with the ultra-fine mist gives them a beautiful fresh scent that will please everyone in the house.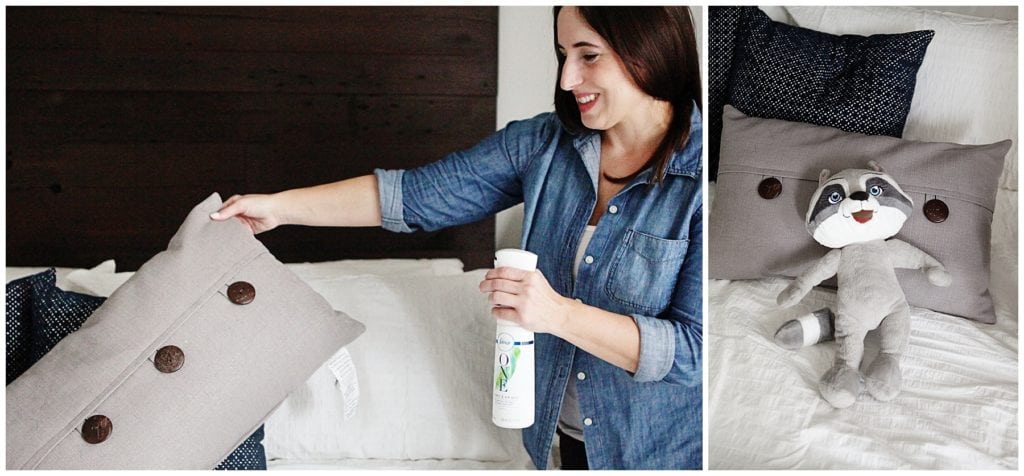 Stuffed animals
Just honestly here, I hate stuffed animals. A year ago, I sent my children away, rounded up all but their favorites and donated them. Somehow, we have more. They've somehow reproduced and they're smelly.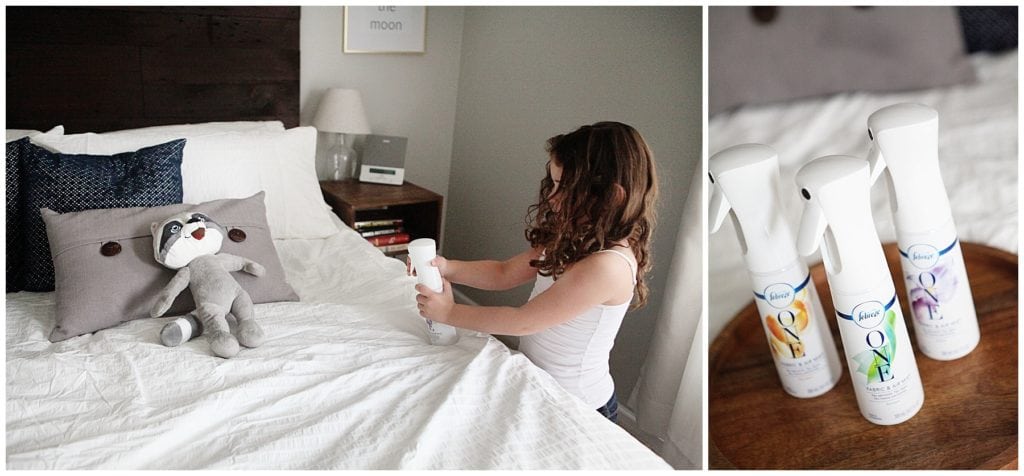 Like the fibers in your carpet, stuffed animals are made with a variety of different materials. When the temperature of your house changes, or your kids wipe their noses on them or their dirty hands that they always forget to wash, those stuffed animals get smelly.
Using Febreze ONE on the stuffed animals is a no-brainer. I can gather them all and use the continuous spray to refresh them without the use of aerosols.
Right now, if you click here you can get $5 off when you buy two Febreze ONE products.