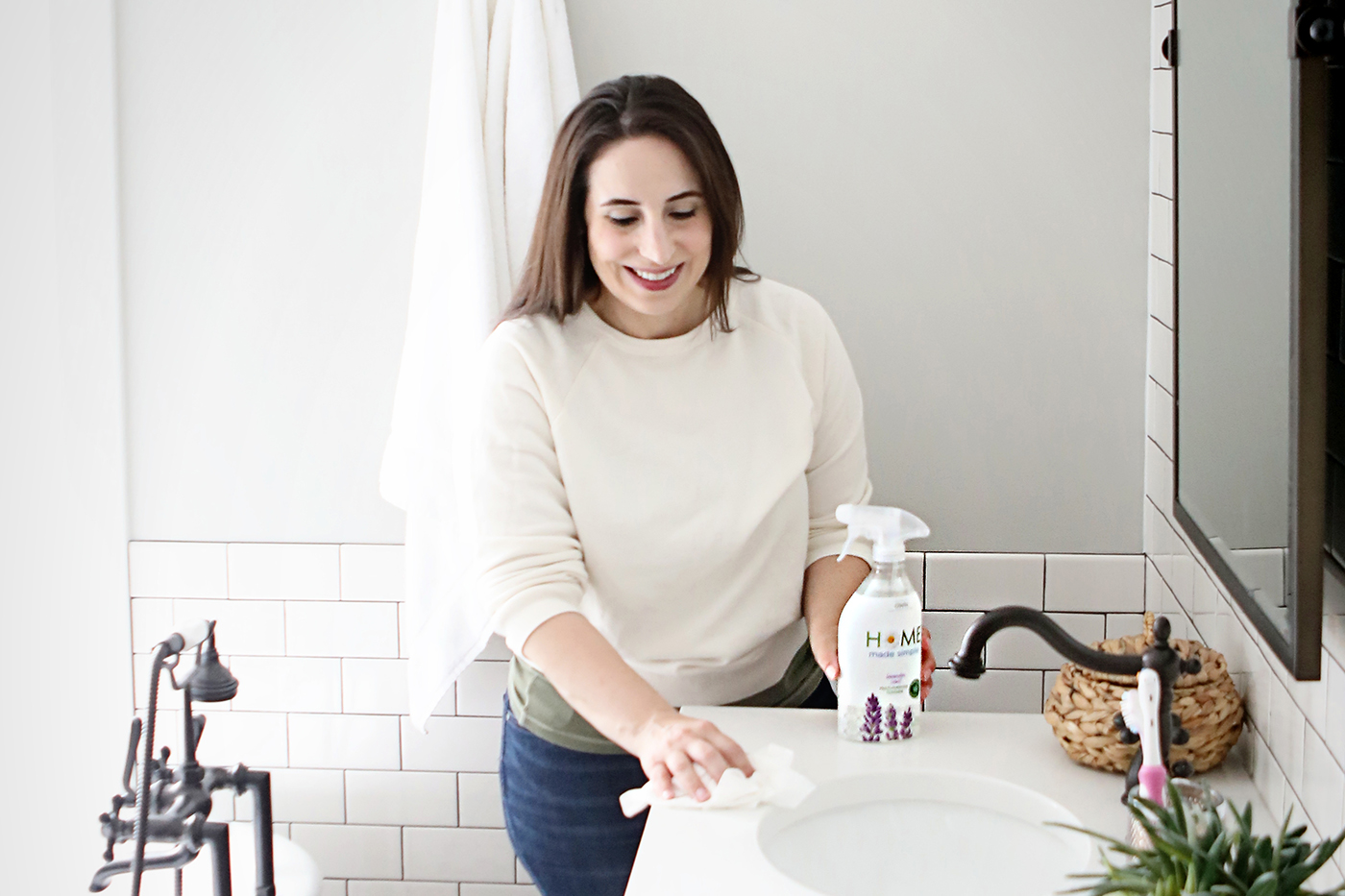 When we moved to the farmhouse, I made a commitment to really try and do things more naturally and in a better way for my whole family. This meant we would be composting, working to use zero chemicals in the yard, cooking more with fresh foods that we can grow and finding new cleaning products that would fit this more natural lifestyle that weren't full of chemicals.
My progress has been a bit slow because we did a large renovation on the farmhouse and now we are doing a massive renovation on the barn. But sometimes slow and steady wins the race. If you do things all at once, it can feel like a shock to your system and be a lot to remember…Or at least that's what I'm telling myself since we are slow.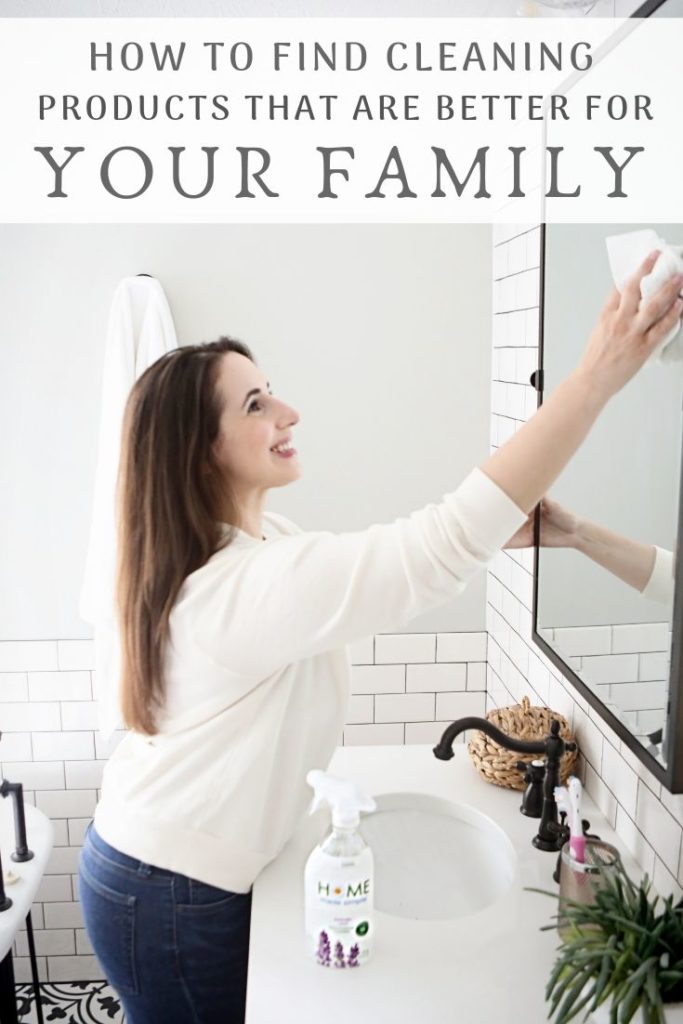 That said, we've just started composting and as soon as the fence is in, we will get the garden all finally planted too. Luckily, Mother Nature has also been slow this year and we have unseasonably cold weather, so we are three weeks behind in planting season. It's so nice when girls can help each other out. 🙂
Finding better cleaning products that work
As for the cleaning products, we've found something we really love in Home Made Simple products that are inspired by nature. You can find them at Meijer stores and other major retailers, and they don't contain any of the chemicals your run-of-the-mill cleaning products do.
Sure, I could make my own. But honestly, we have a farm now and with all the work here – especially this year – I don't have the time. Plus, Home Made Simple products are really and truly effective!
So, what makes these products so great? Well, there's a few things I look for when I'm looking for cleaning products that will be better for my family. Home Made Simple checks A LOT of the boxes and I wanted to share this list with you so you can see for yourself.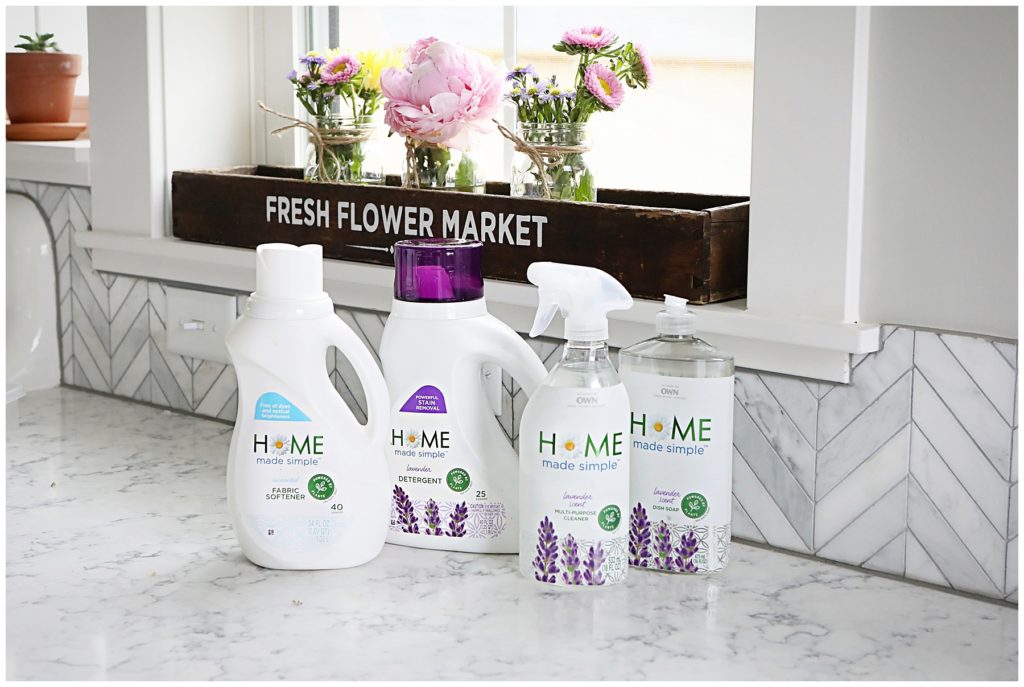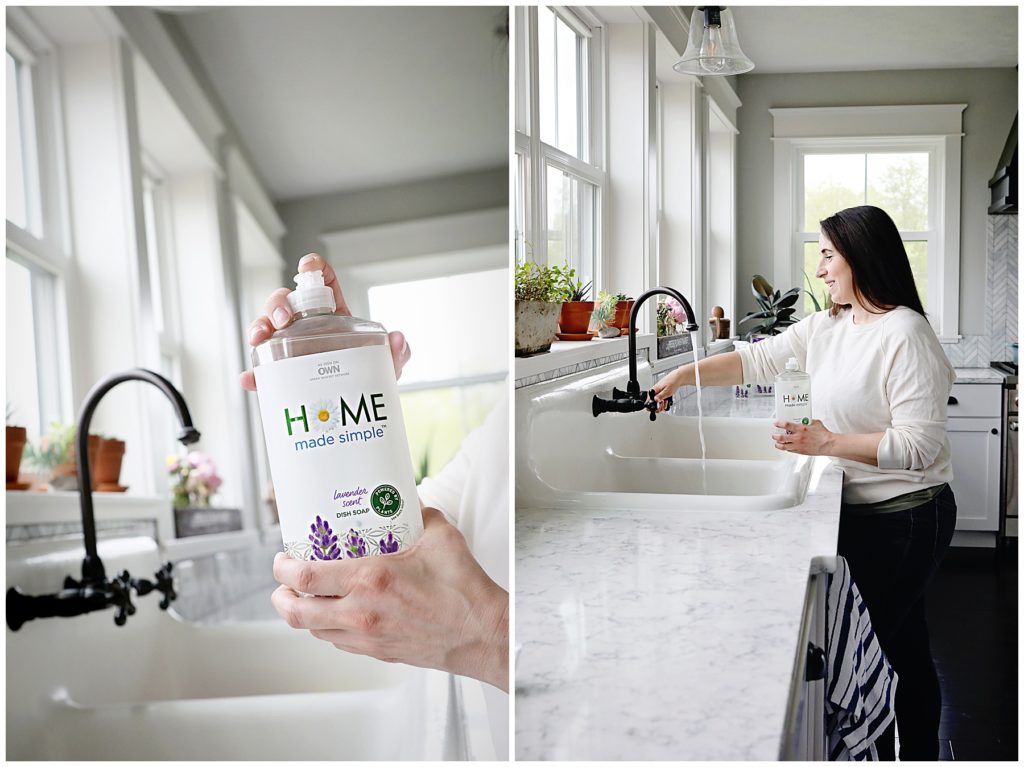 Plant Based
When looking for cleaning products for my home, I first look to see if the products are plant based. This is important because I want most of the ingredients to be things I can understand as a human being and mother. I don't want to have to be a scientist to read a product's ingredient label.
Home Made Simple cleaning products are up to 95 percent plant derived. That's pretty good and that's 100 percent better than a lot of the other products on the market.
Recyclable
The packaging for Home Made Simple products is 100 percent made from recyclable materials and you can then recycle the bottles again. It's actually a pet peeve of mine when products – including food products – come in bottles that don't carry this distinction. Or worse, they come in packaging like Styrofoam that you can't even recycle at all.
No Phosphates
What are phosphates exactly? In their most basic form, phosphates are chemical derivative of phosphoric acid. What does that mean?
In cleaning products, phosphates are often used to make dishwashing detergent and laundry detergent more effective. They have low toxicity levels when consumed in small amounts (because used in fertilizer), but they tend to make their way into wastewater and then into streams, lakes and oceans. They stay in the water for years and cause nutrient pollution because they provide excessive nutrients. This feeds algae and cause harmful algal blooms. You can read more about that here and see what the blooms look like here.
No Dyes
It seems odd to me that companies still dye their food and products to be more of a strawberry color, blueberry color, yellow for lemon, etc. Those colors are never even close to the natural color of whatever they're trying to match and often look fake. I love when I find products and food without dyes.
While the jury is still out in terms of evidence about dyes being harmful (Remember, you can find many, many things on the internet that will back up whatever you believe – true or not. This article quotes a lot of actual science as sources.), I'd rather not have them included in the products I use to feed my family, clean my home or wash my kids' clothes in.
None of the Home Made Simple products include dyes, which makes them just a bit more pure in my book.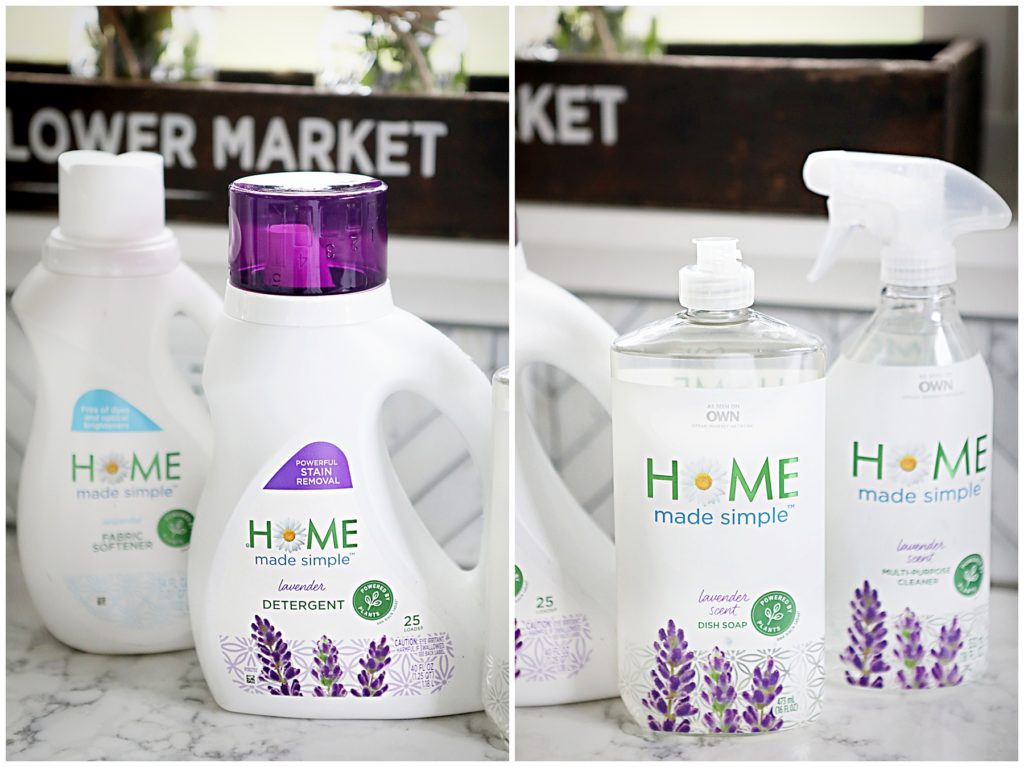 Natural fragrance
I don't often use a lot of fragranced items in our home. When I was pregnant with my son a lot of the smells from cleaning products just started to bother my nose. That stuck with me.
Now I look for products that have natural scents or have fragrances added in from natural sources. Home Made Simple products include fragrances from essential oils. The smells are light enough that it doesn't bother me. They give everything just a touch of the scent without being overpowering.
They also have laundry detergent and fabric softener that are unscented if you are sensitive to smells.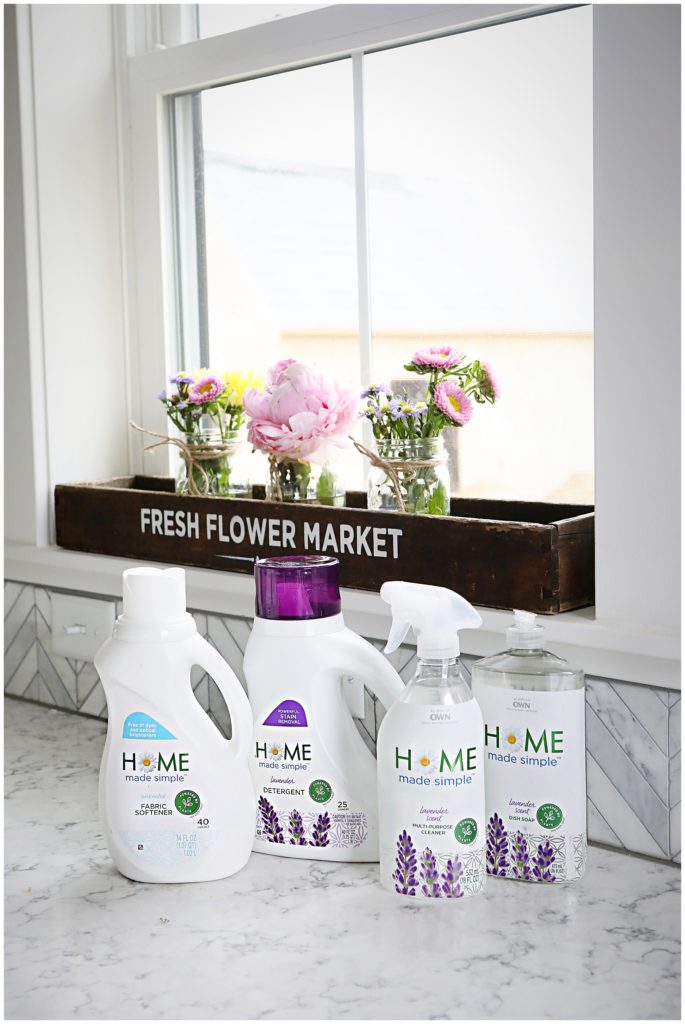 No parabens
Parabens are a common ingredient in cosmetic items. You've probably come across them if you've ever gotten a manicure, pedicure or had anything waxed. However, they're in a lot of other products too because they're used to prolong the shelf life of many health and beauty products. You might see them listed as parabens or other names such as: butylparaben, methylparaben and propylparaben.
Why are they bad? A 2004, British study found traces of five different parabens in the breast tumors of 19 out of 20 women studied. That is a VERY SMALL STUDY. I add that because percentages based on that study will be skewed due to the limited number of participants. Also, the study did not link parabens to cancer, but the main finding was that they were able to penetrate the skin. You can find the study here published by the national Institutes of Health.
Parabens are also believed to disrupt the hormone function in your body by mimicking estrogen. To much estrogen can create an increase in breast cell division and cause tumors to grow. This is why they've been linked to cancer and reproductive issues.
Parabens have also been found in marine animals. This suggests that they are washing into streams, lake and the oceans as run off from products we use.
Again, none of the Home Made Simple products contain parabens so I check another family health and safety box.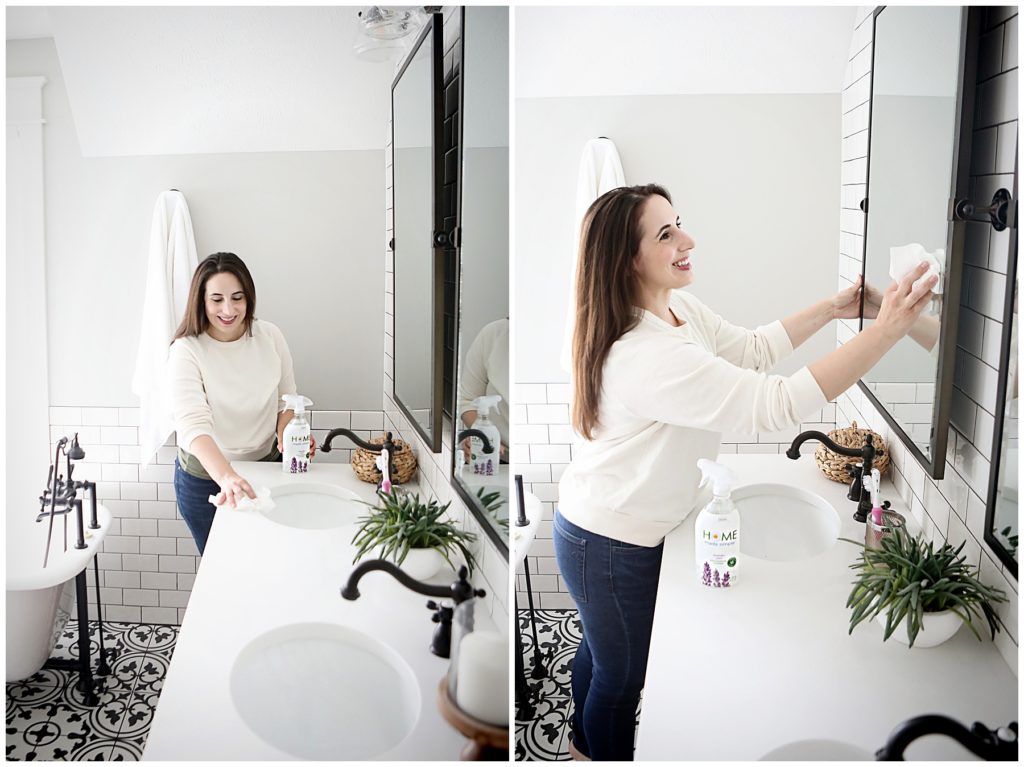 No phthalates
There's a good chance you've never heard of this but for the die-hard natural movement, they are a no no. They are a group of chemicals that are used to make plastic harder and yet more flexible. Sometimes they are also used in solvents. They can be found in many, many products including detergent, flooring, adhesives, lubricant oils, plastic clothes like rain coats, garden hoses, inflatable toys (Hello giant pool floaties!), packaging, toys, medical tubing, plastic automotive parts, shampoos, hair spray, soap, nail polish and more.
Effects
According to the United States Centers for Disease Control (CDC), the effects of low levels of phthalates are really unknown. However, they have shown some effects on the reproductive systems of lab animals. To that I say, "No thank you!"
Luckily, Home Made Simple products don't use these so I feel safer using their products without family. I've had enough of my own reproductive problems that I wouldn't want to wish these issues on anyone else. And when the CDC tells you there's not enough research out there, that's a good enough reason for me to pick products like Home Made Simple.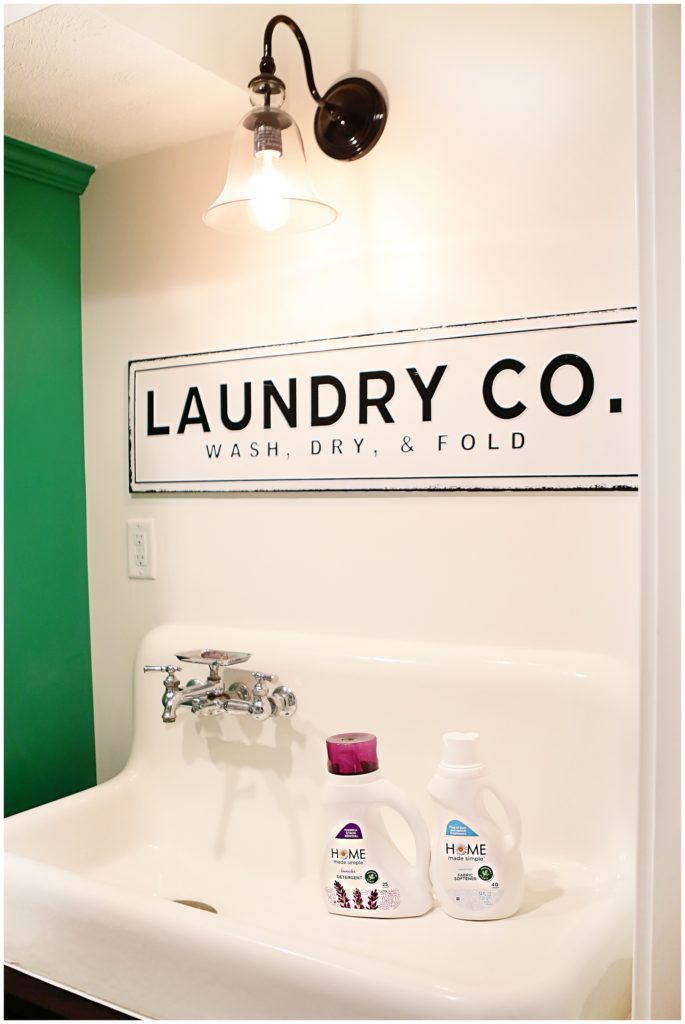 All of these points, make Home Made Simple a simple a choice for me. Currently their range of products includes:
Laundry detergent
Dish soap
Multi-surface cleaner
Hand soap
You can find them at Meijer stores and other retailers. Check them out today and let me know what you think!
For more home articles and cleaning tips, click here.