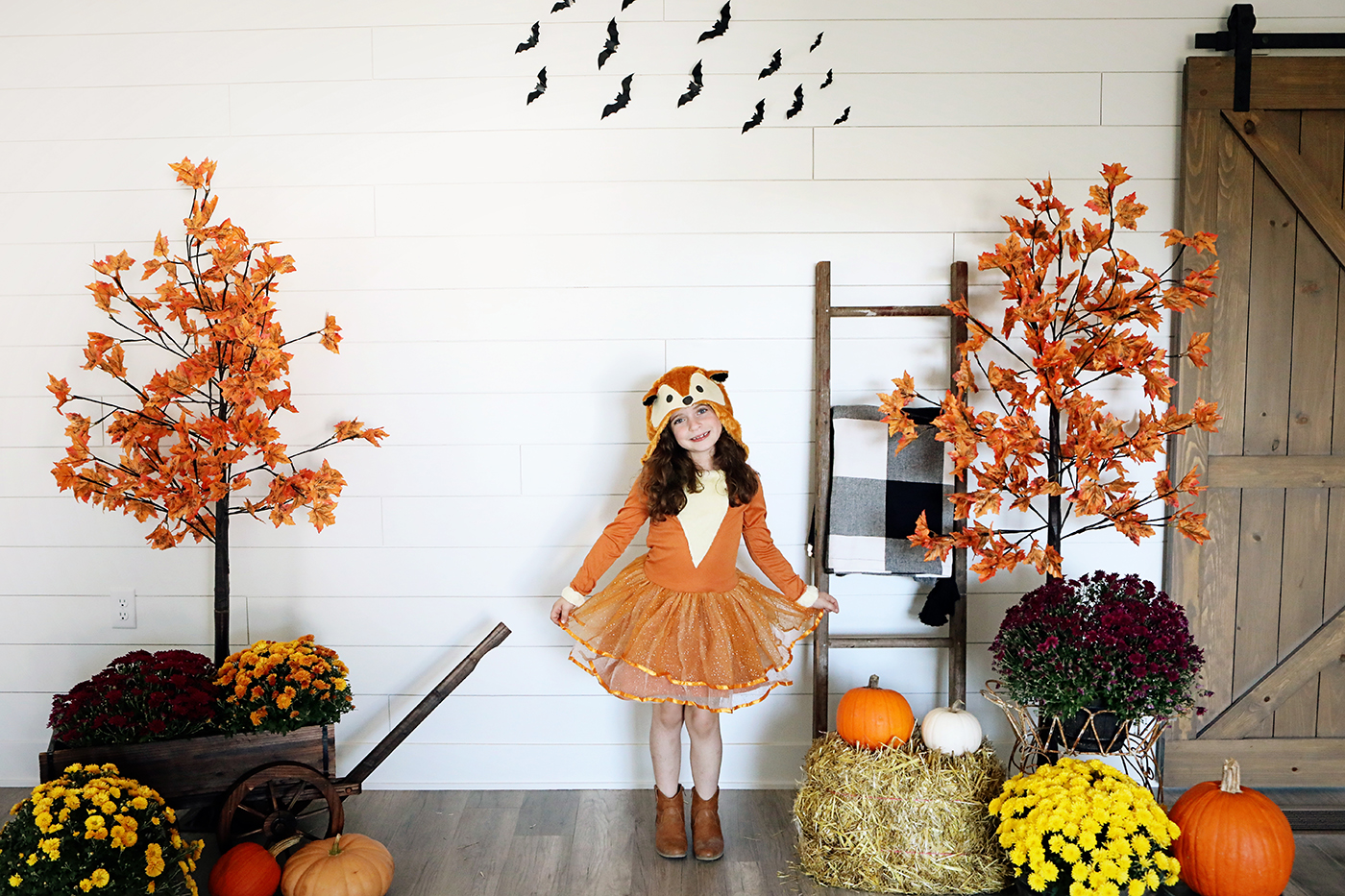 Halloween is quickly approaching and what better treat to give trick-or-treaters than their very own, hand-held memory?
Get to know your neighbors and give the kids in your neighborhood something to remember by setting up a Halloween photo booth display for the evening. It's also a great alternative treat for kids who have allergies and it's easy to do.
In partnership with FUJIFILM instax we created a fun Halloween photo booth with the instax mini LiPlay that my kids loved, and we all got into. Here's how we did it.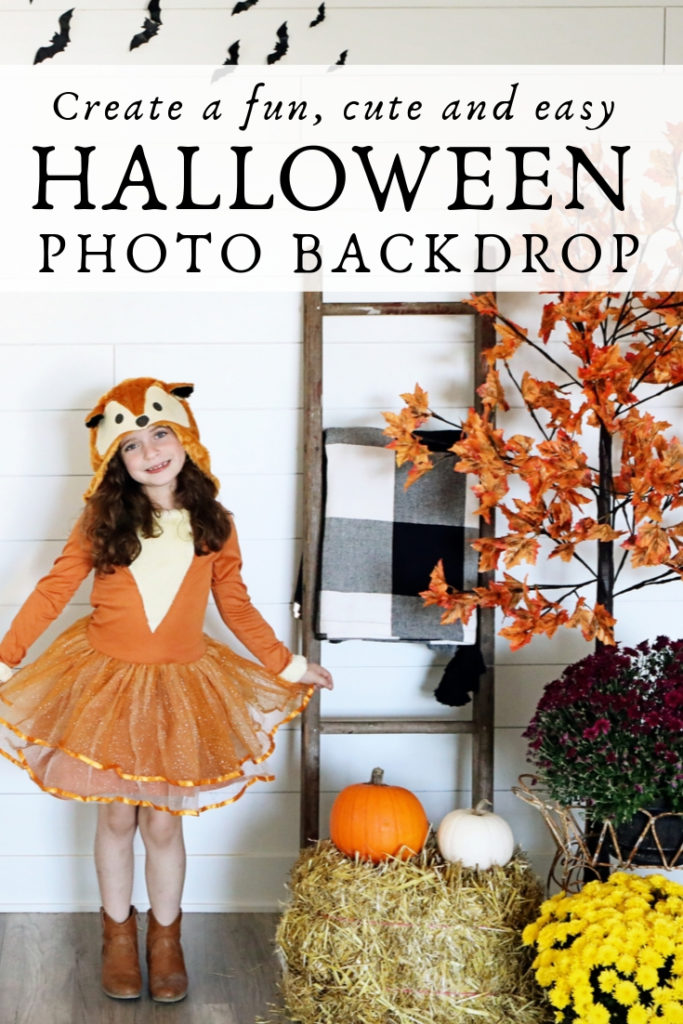 instax mini LiPlay
Before you start you'll want to make sure you have the instax mini LiPlay, which is a hybrid instant camera and printer that incorporates both print and digital technologies. This means that you can print out the photos for the trick-or-treaters and then send a digital copy to their parents.
You can use camera mode to take the photos and then the display screen to select the best image to print, which is always helpful when everyone wants to pick the best one. The direct print function will allow you to use the LiPlay as a smartphone printer too so you can print photos from your camera roll if you choose. There's also a feature to add fun frames and filters to your prints.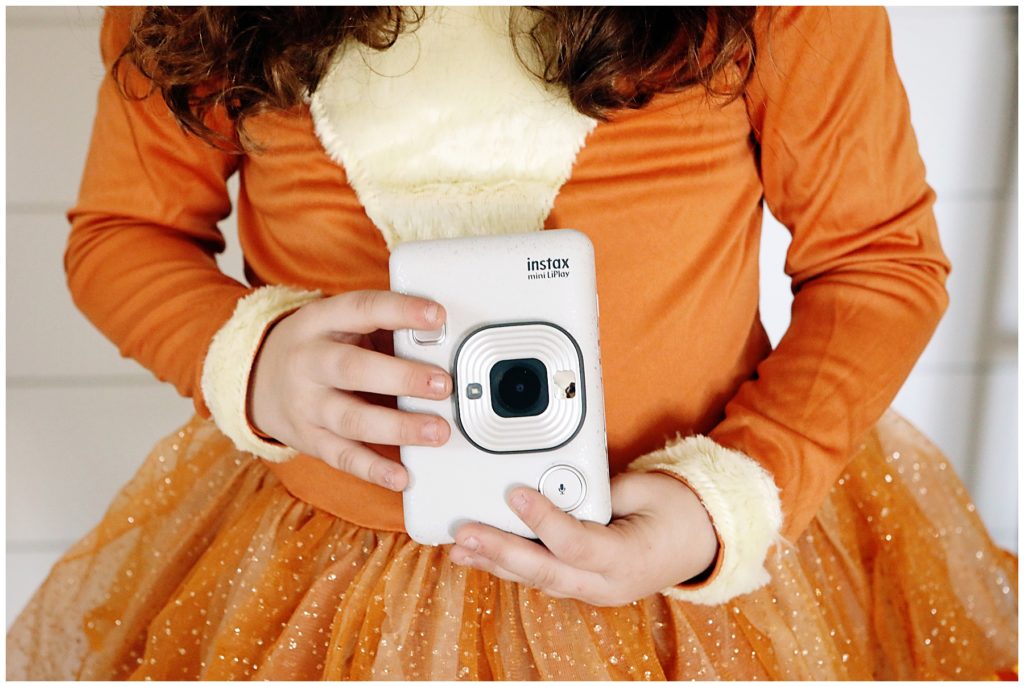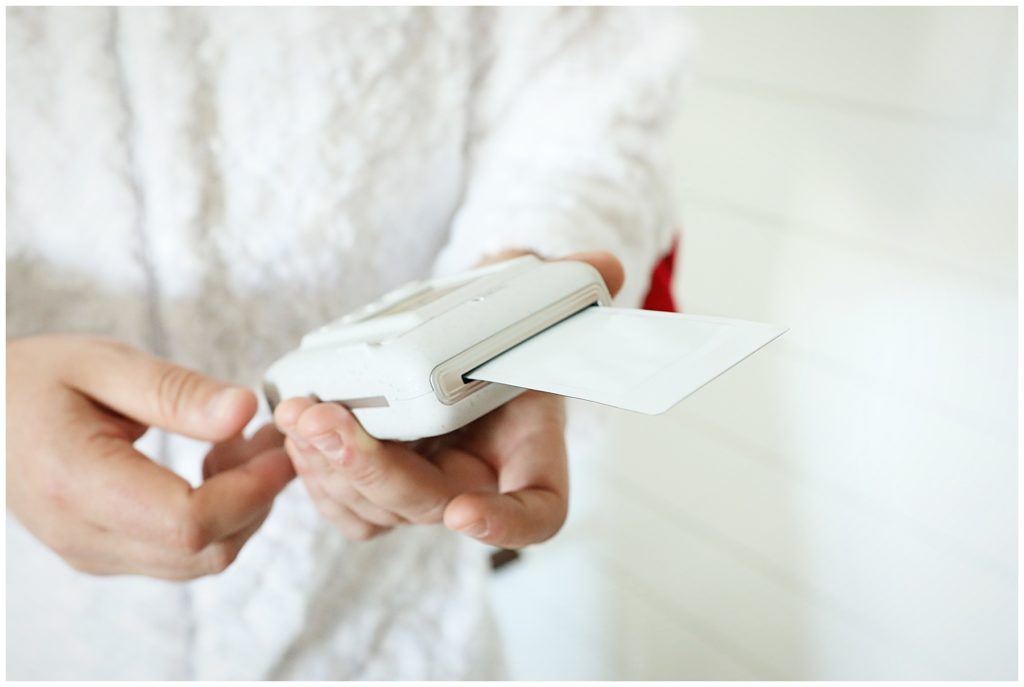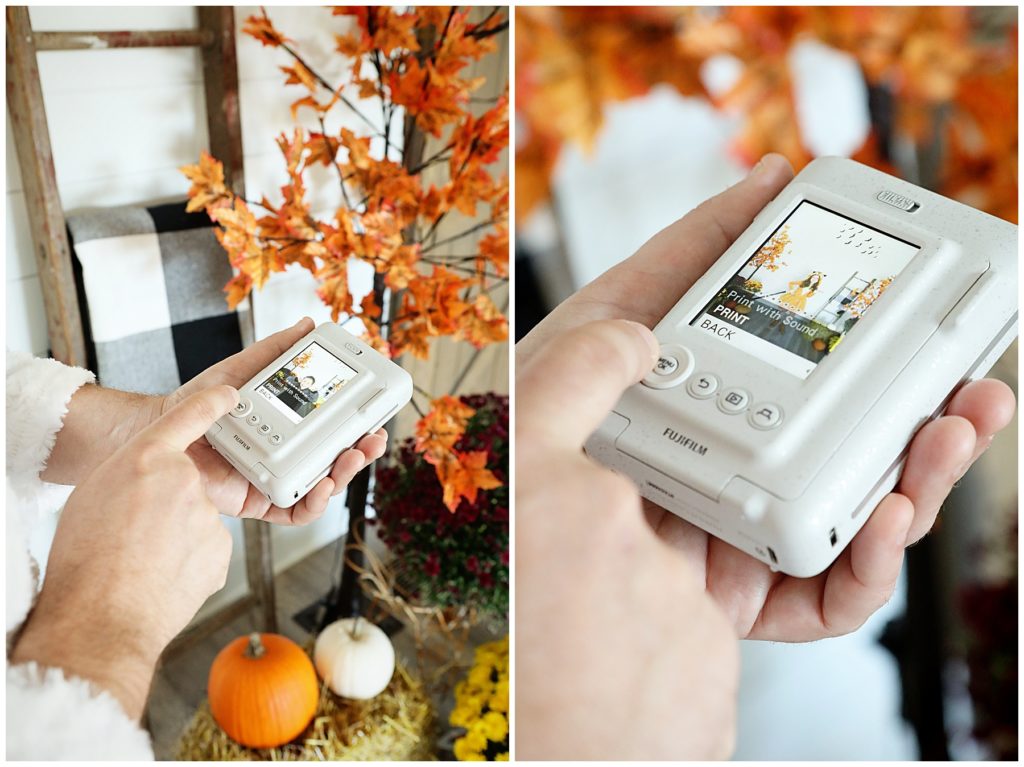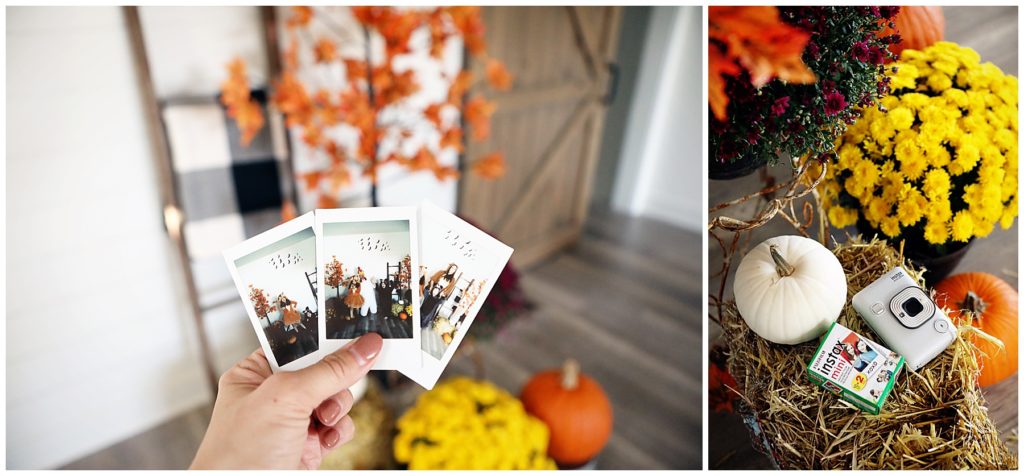 Blank Space
Find a space in your home or in your yard to use. This was fairly easy for us because we just renovated our barn and have an empty room with nice shiplap walls. HOWEVER, I realize that most people aren't in this position.
Look around and see what spaces will work for you. Maybe you have a wall in the dining room with some pieces that would be easy to move, or the family room. Or, even consider outside as an option. The siding on a house would work perfectly, a wooden fence around the yard would be great or you could even set up in the middle of the yard so there is no specific background.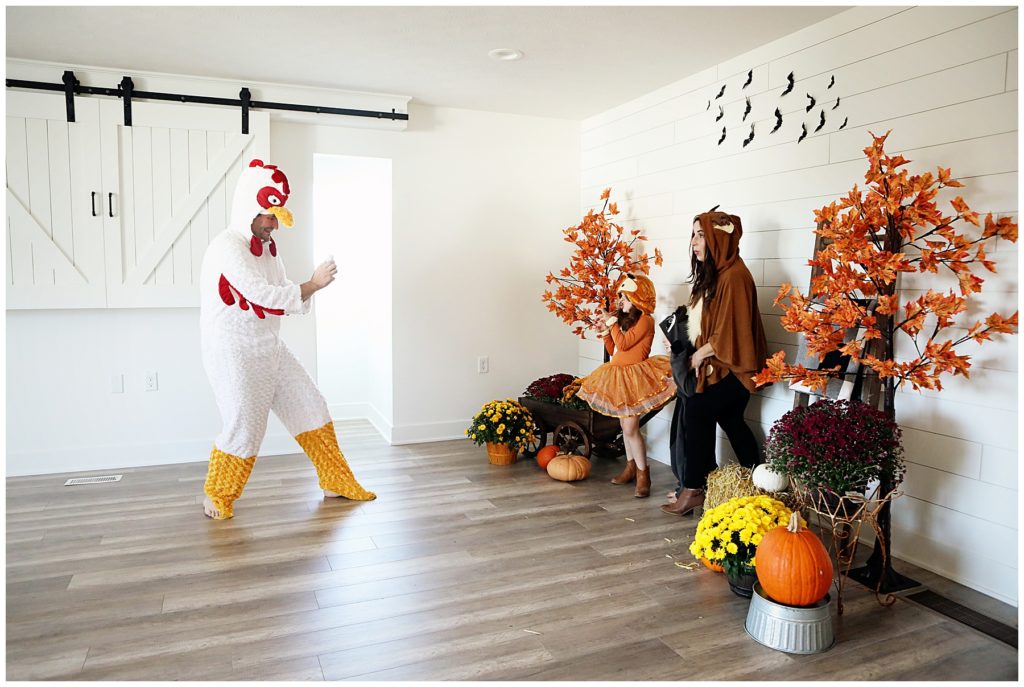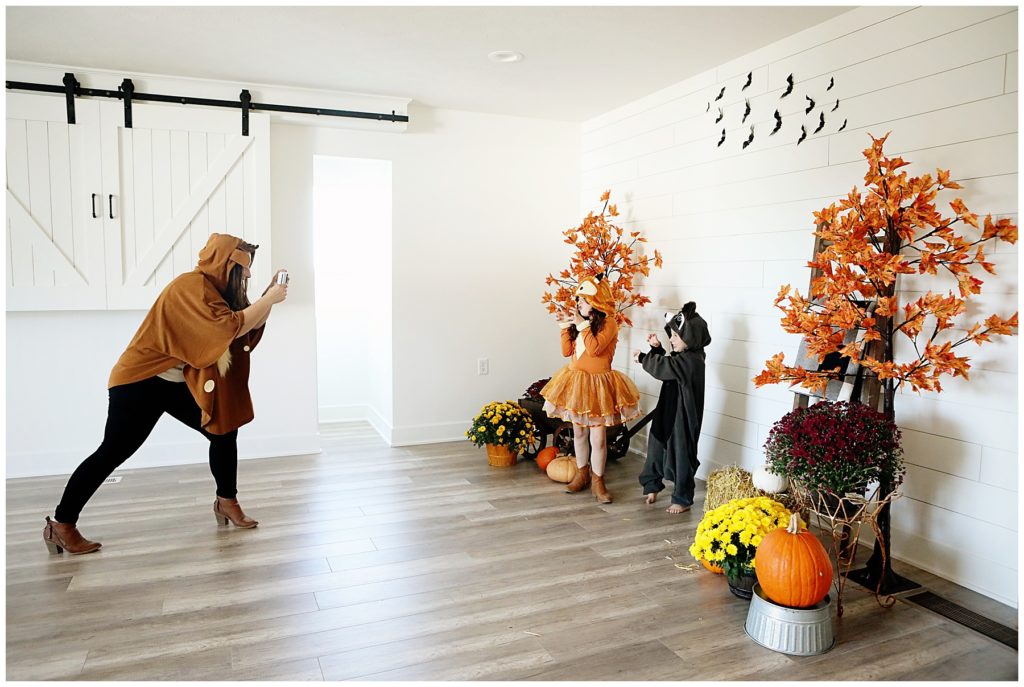 Think about your dimensions and your final photo
When constructing the backdrop, you want to make sure that your spaces are all filled. So think about how a photo will print out using the instax mini LiPlay, how it will appear in square mode for Instagram and how it will look in vertical or horizontal frames.
You want to ensure you leave space in the middle for people, but you also want to make sure there's height to the display so taller people, like my husband, won't feel as though they're sticking out of the set up. For this I used the sugar maple trees (which I was elated to find since our home is Sugar Maple Farmhouse), the sticky bats and the ladder.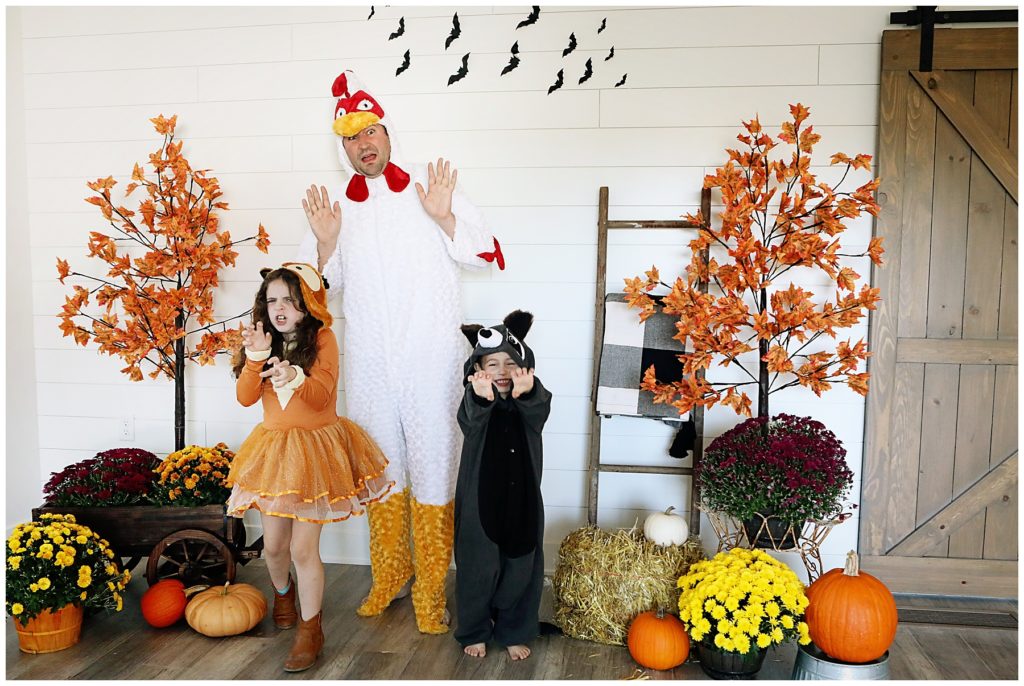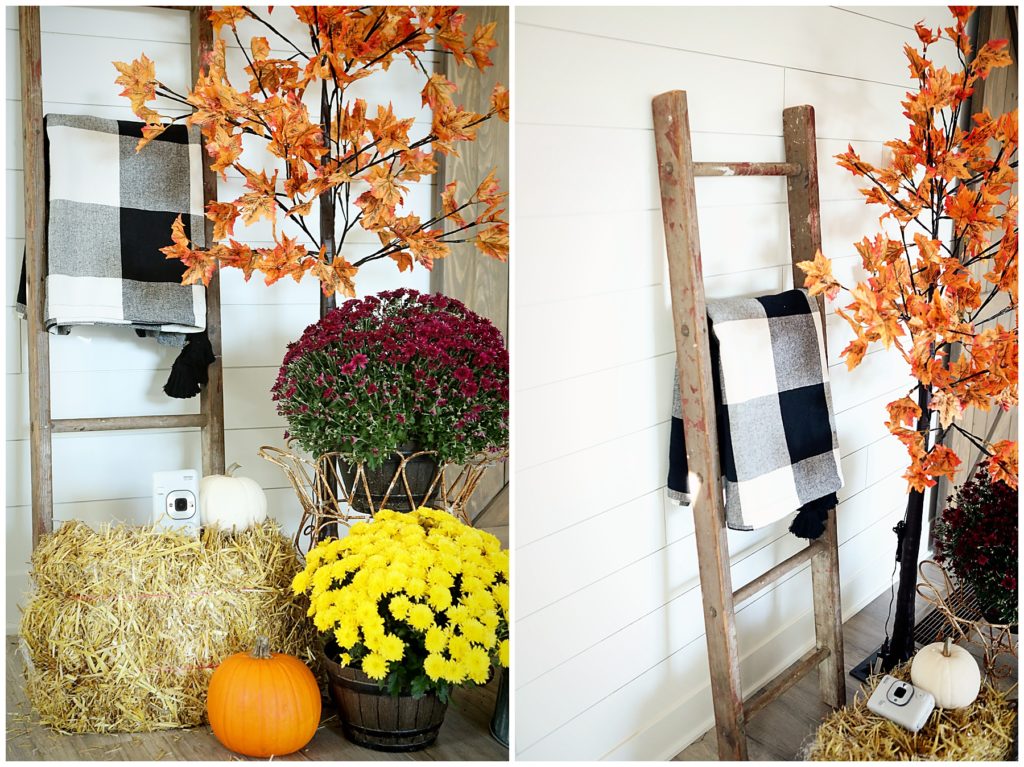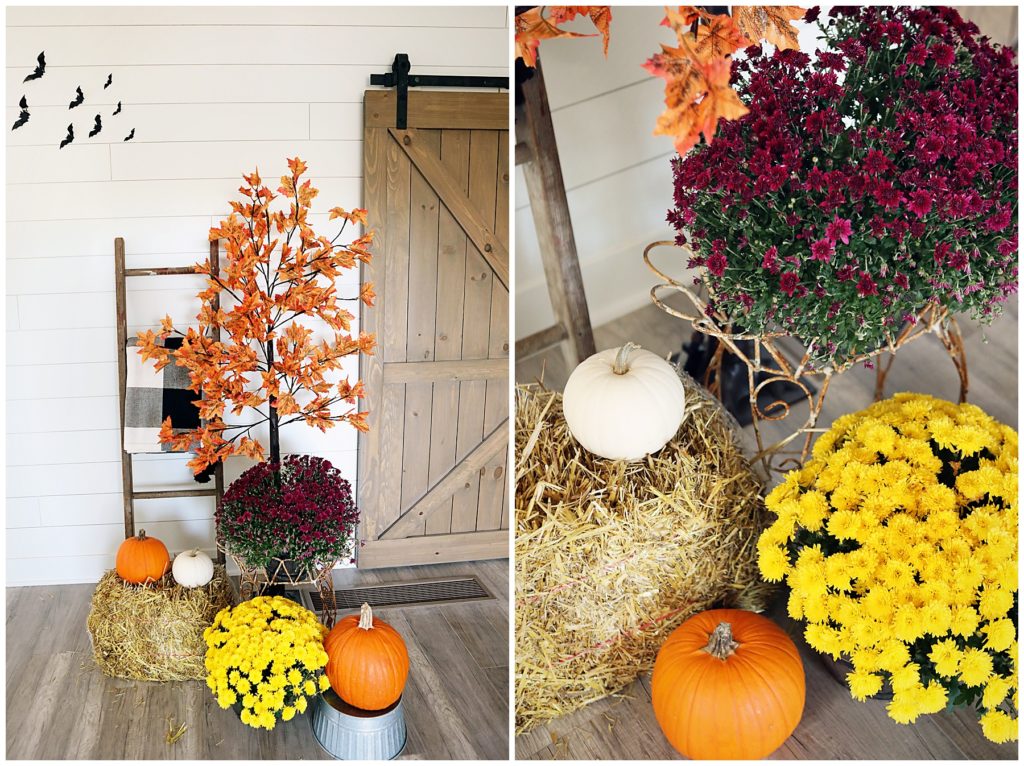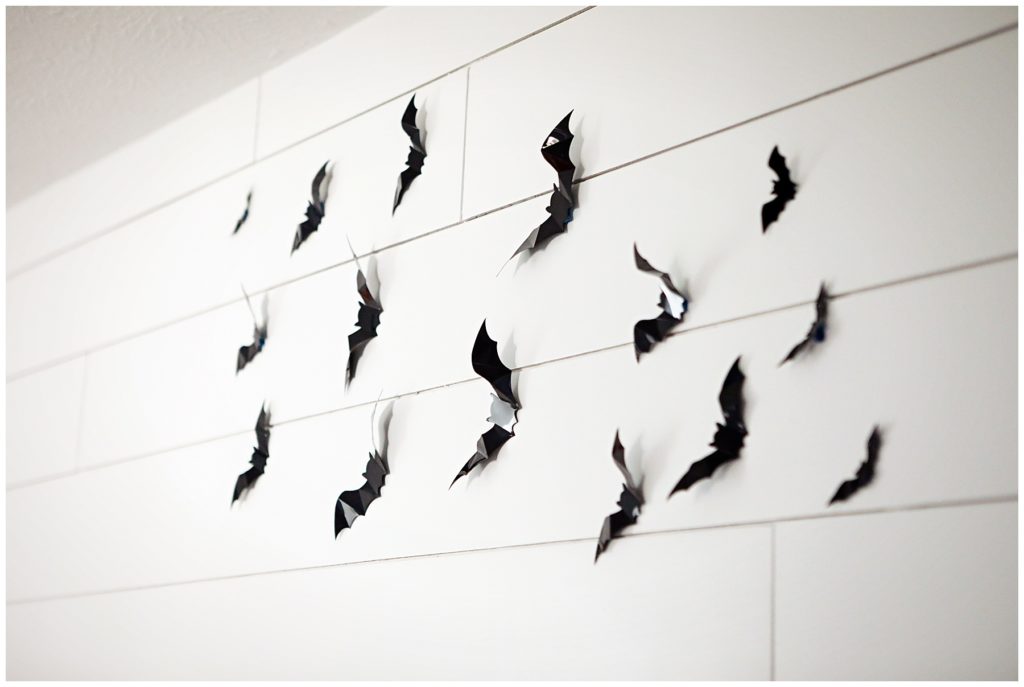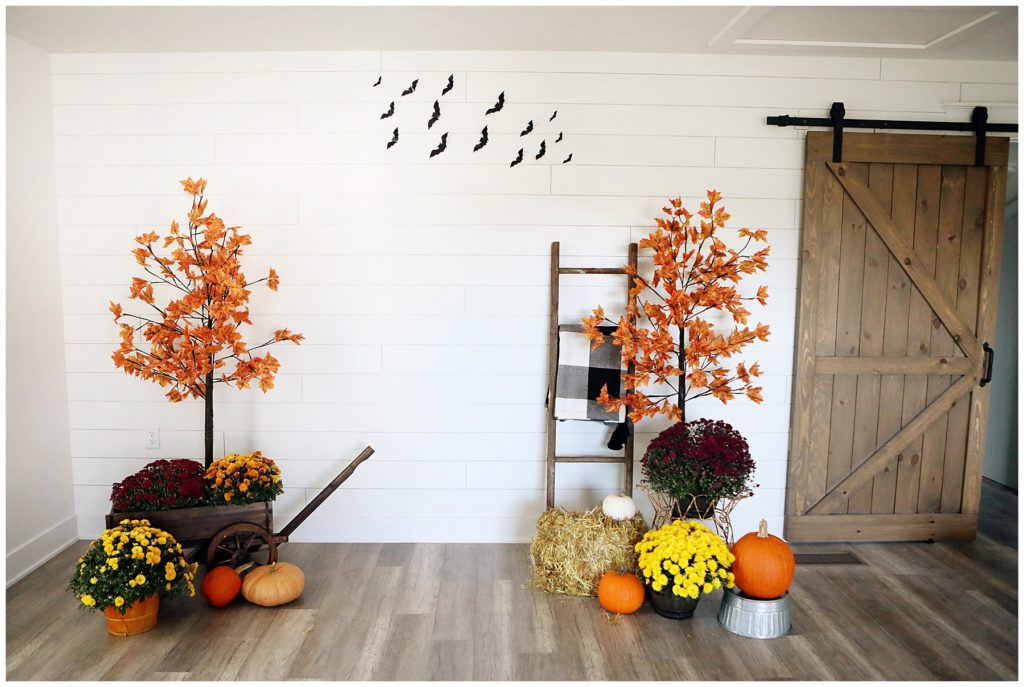 You don't always have to buy new things
When most people start to think about making a photo booth space, they think about the things they have to buy to fill it. However, I'm a big fan of using found items or things that you already have. It reduces the cost of projects and it makes your space feel individual.
For our backdrop area I already had the ladder, the blanket, the pumpkins and the silver bucket that one of the pumpkins is on top of. Some of the items were purchased earlier this year, and others I had on hand from other projects.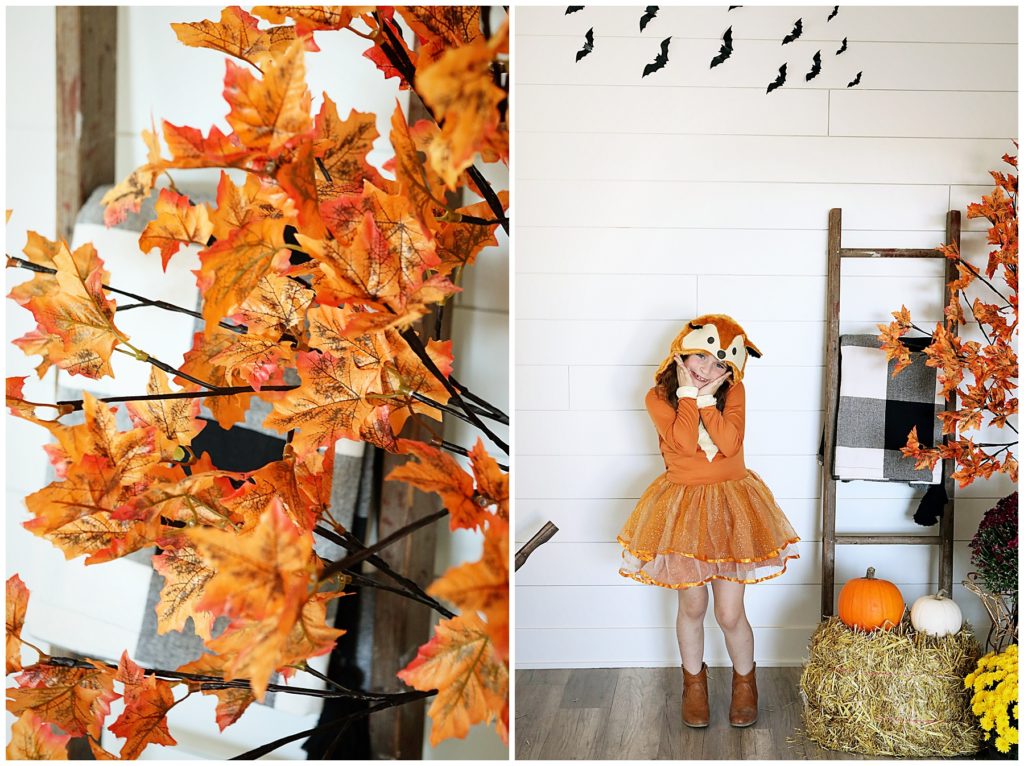 Use real flowers and/or pumpkins
I'm a big fan of using real flowers to build out spaces. Since mums are the flower of the season and pumpkins are plentiful, you can usually find some on sale the week before Halloween. If you buy them much earlier they will be full price so unless you need them for something else just wait until closer to the day.  You don't need a lot either. That's the benefit of decorating a small space.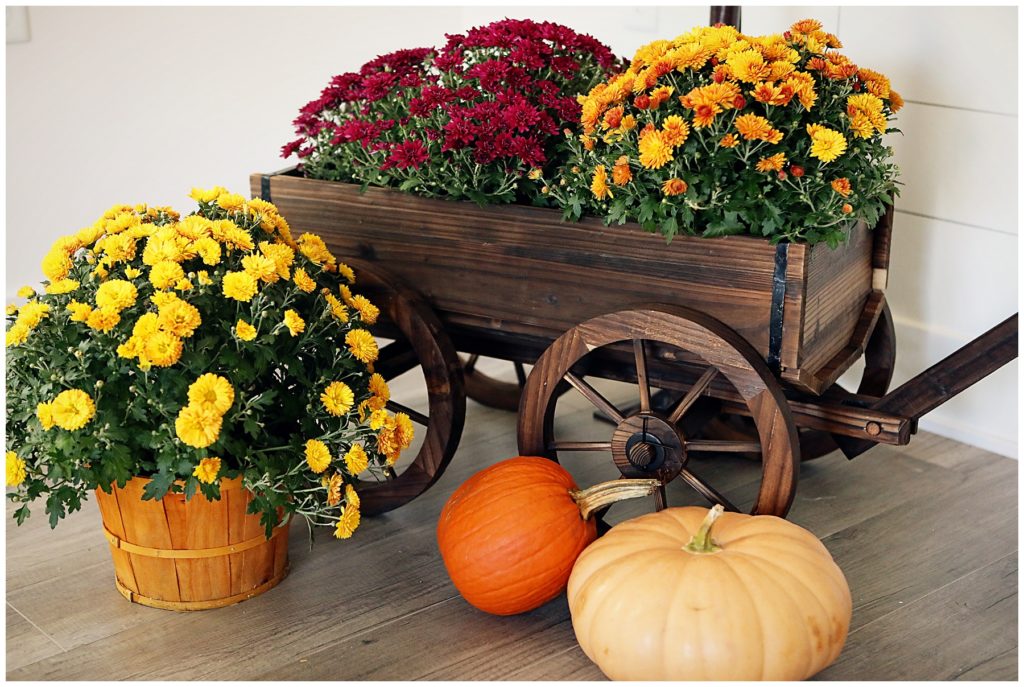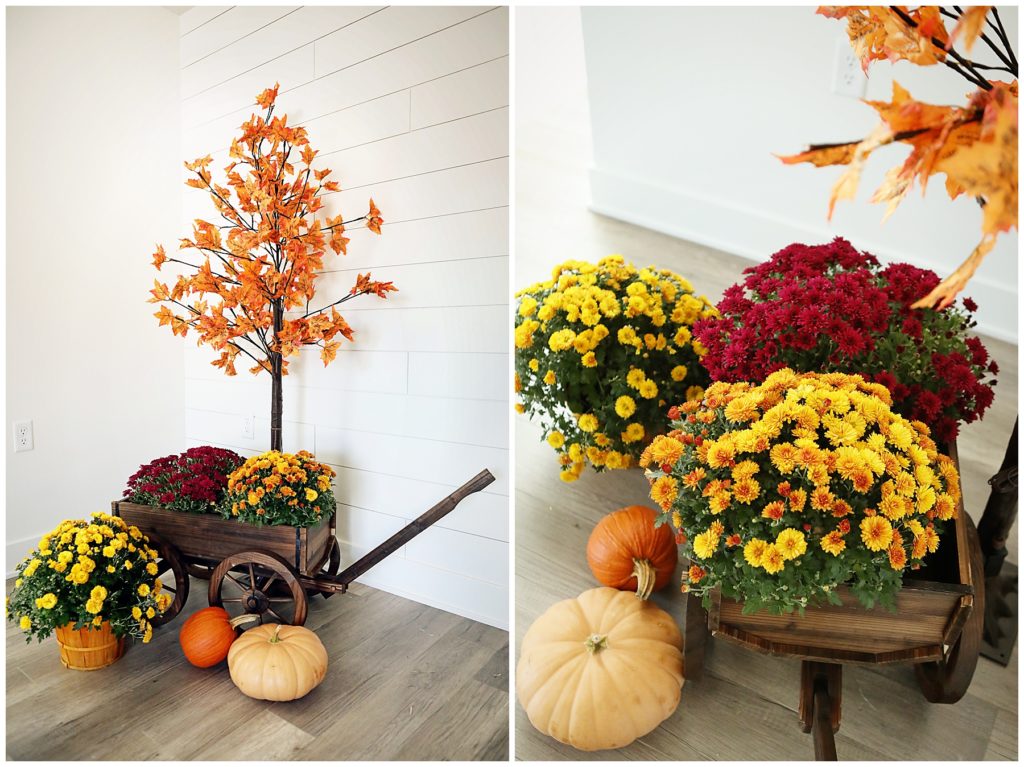 For more information on the FUJIFILM instax mini LiPlay, click here. It comes in gold, black and white, and it's perfect for all holidays. In the past we've also used it for birthday parties!
If you want to use elements that were in our Halloween photo booth find them all here:
For more fun Crafts & DIY, click here