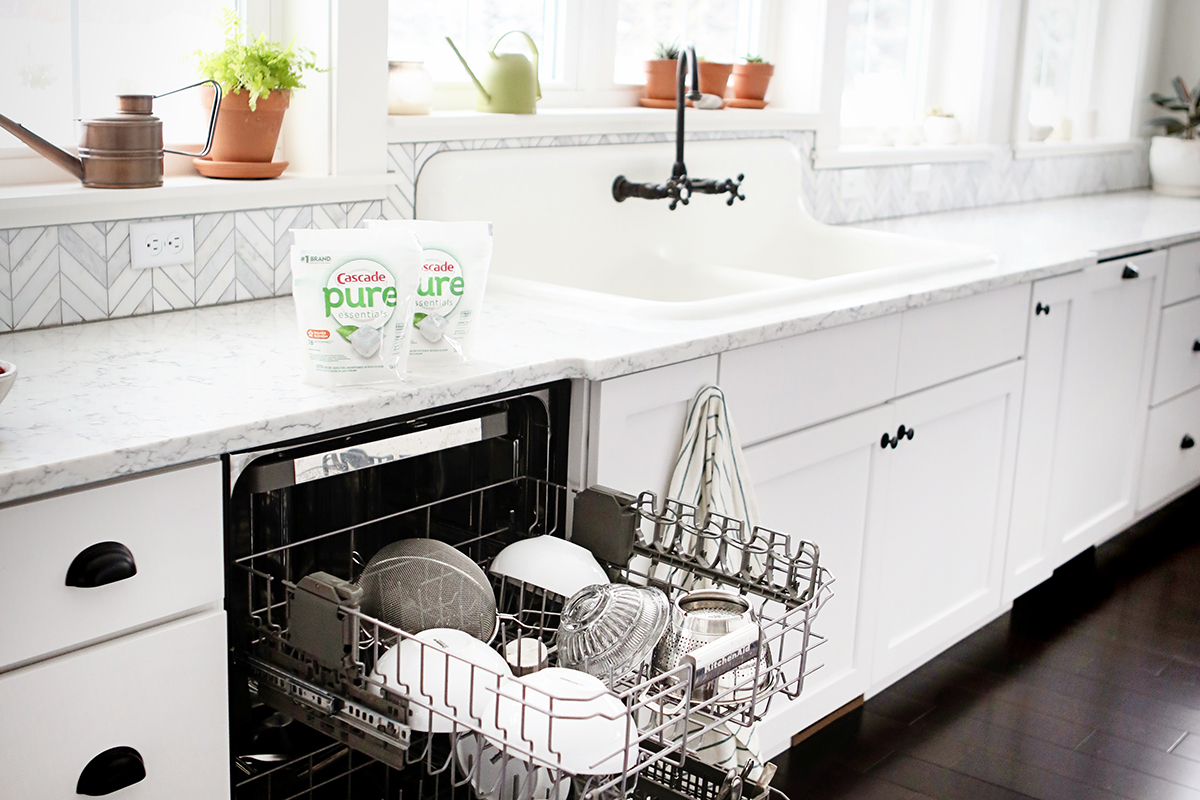 When it comes to life today, we like to make sure we're doing some of the busy work faster and more efficiently so we can spend more time on the things that matter. Dishes are one of those "busy work" kind of things.
Admittedly, I create a lot of dishes. With all the cooking I do for our family and for this blog, I'm constantly in the kitchen and, well, constantly making dirty dishes.
In fact, we have two dishwashers, but I still seem to be able to fill up the sink with a variety of knives, bowls, pans, baking sheets, spoons and cups every single day.
And when life gives me dirty dishes, I turn to Cascade.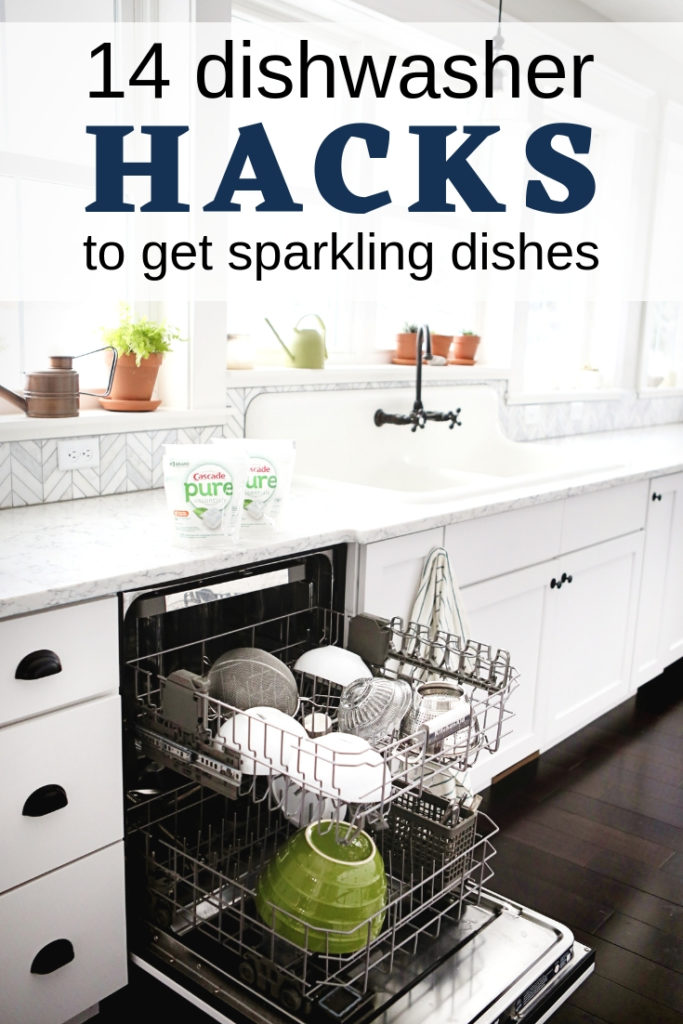 Cascade has been a part of my family all my life. My grandma uses it, my mom uses it and now I use it and I'm thrilled that this brand I trust now has a product that feels like it was made for me as a mom.
New, Cascade pure essentials are free of phosphates and chlorine bleach and made of 1/3 biobased ingredients. This new, simplified formula still meets my needs by getting the dishes clean – including on baking dishes and stuck-on messes.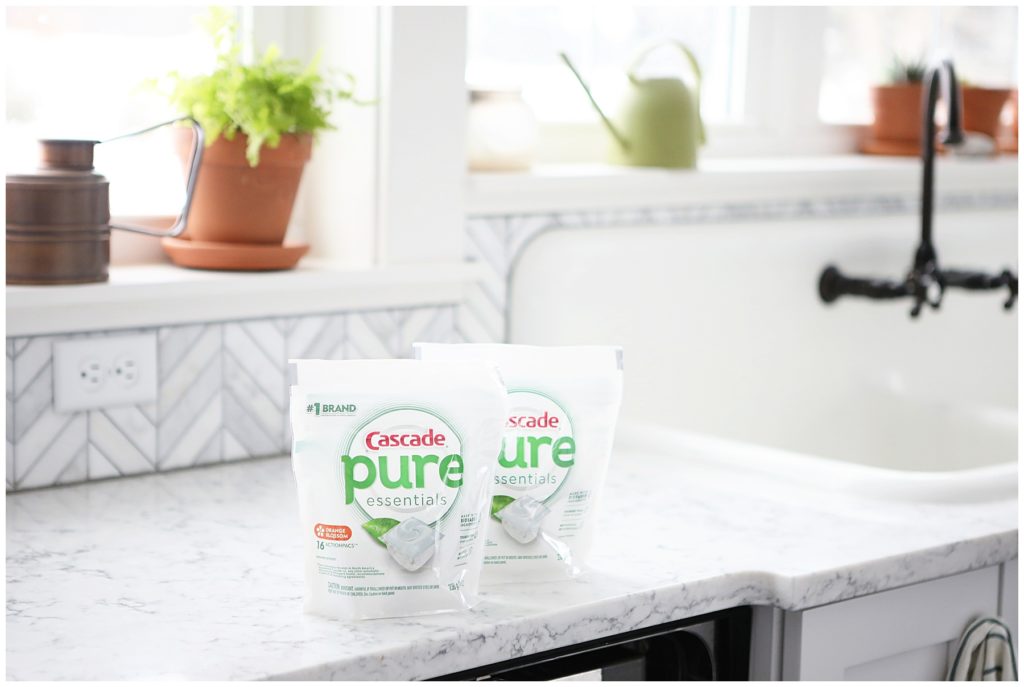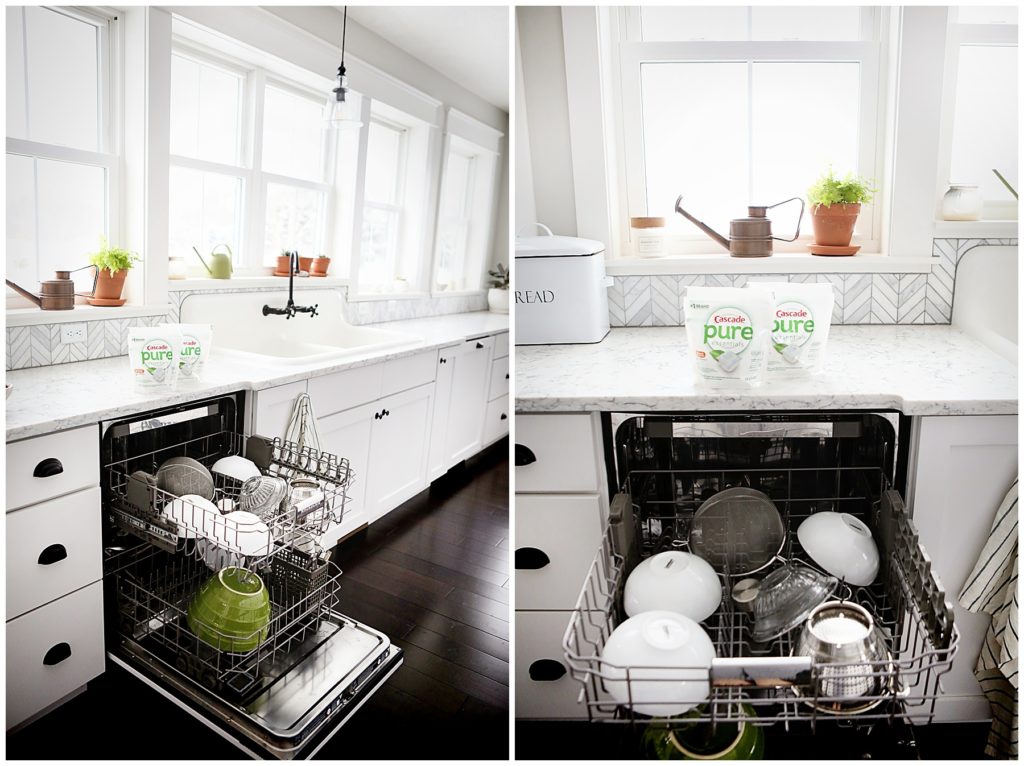 That said, doing the dishes has never been my strong suit. I like to make the mess. Luckily, my husband often picks up my slack here.
However, together we make a good cooking and cleaning team and there are some things we have done over the years to make doing the dishes more efficient. I've partnered with Cascade pure essentials to share these tips with you below. Take a look and tell me which ones you use below.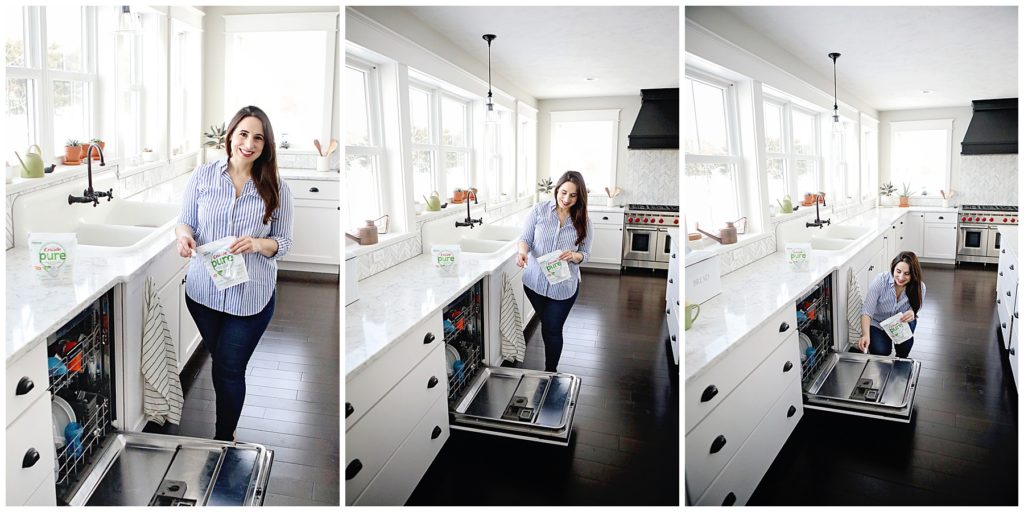 1. Use a mesh laundry bag to hold smaller, oddly shaped items that might fall through the cracks.
2. Place knives in handles up so that they can be easily removed when it's time to unload.
3. Load spoons and forks in an alternating fashion – with some handles up and some down – to keep them from nesting. This will result in all of them being cleaner overall.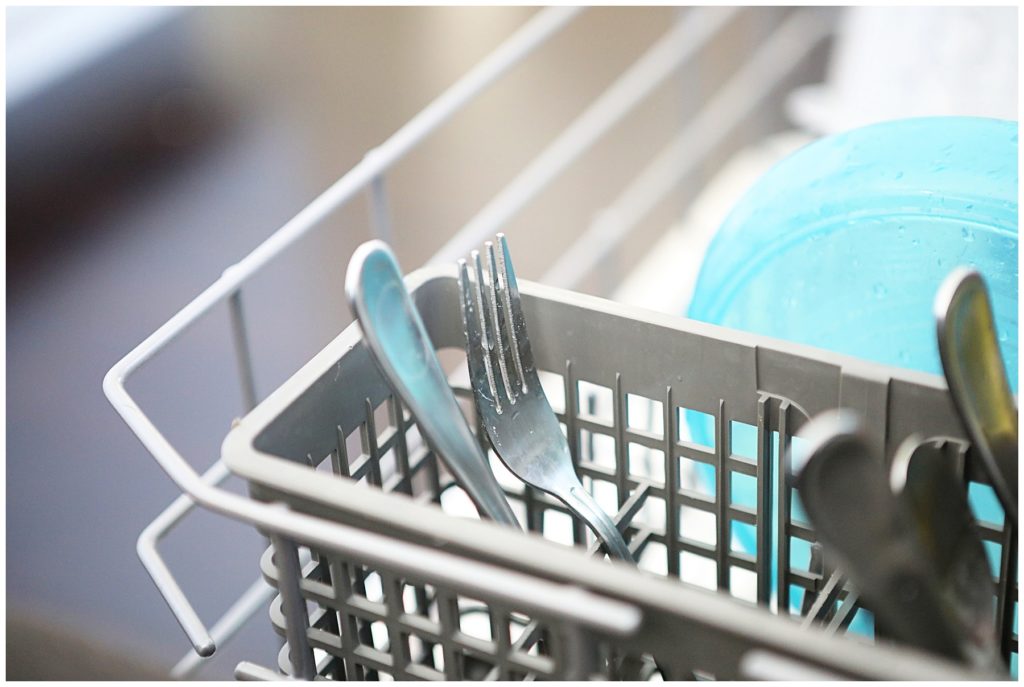 4. Load utensils by type so they're easier to unload when you're done. This makes unloading a snap and also makes it easy for kids to help out.
5. Place dishes facing toward the center of the washer, not away. Positioning them this way puts the dirtiest part of the plate facing the water sprayer.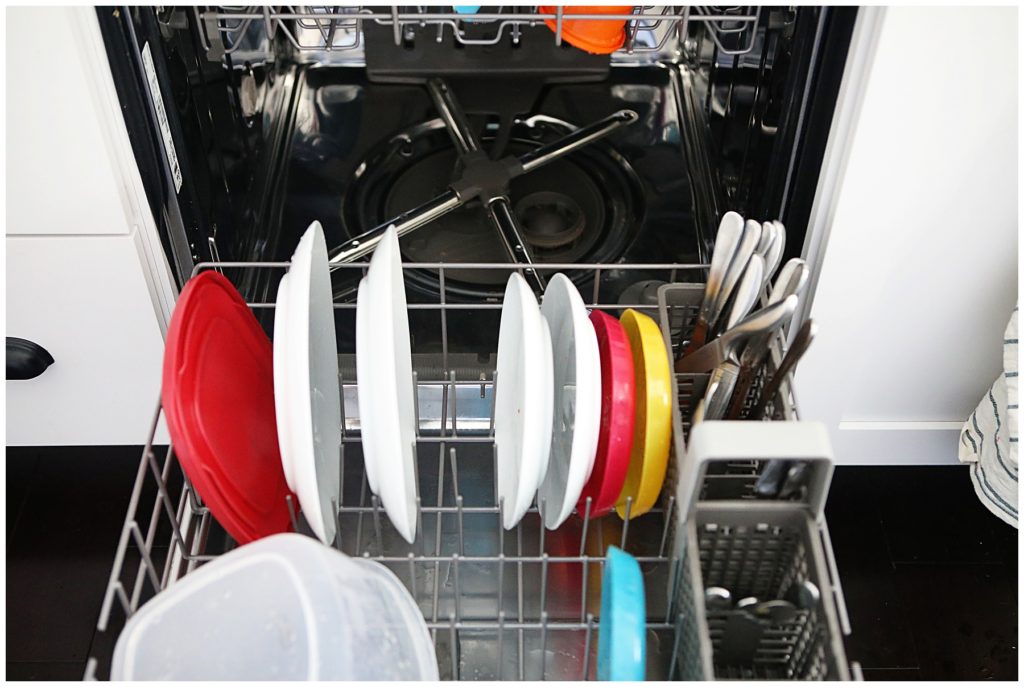 6. Run hot water in your sink first. This gets the hot water flowing through your pipes. The cold water will hit the sink first and then the dishes will get the water once it's warmed up.
7. Use a dish washer detergent that's free of phosphates and chlorine and lets you skip pre-washing like new Cascade pure essentials to get the dishes sparkling. This will be better for your family and skipping on the pre-wash helps you to conserve water. After all, Earth Day is just around the corner on April 22. 🙂
These new dishwasher detergent ActionPacsTM are also Cascades only dye-free liquid top and the perfumes in the two formulas – Lemon Essence and Orange Blossom – are infused with essential oils.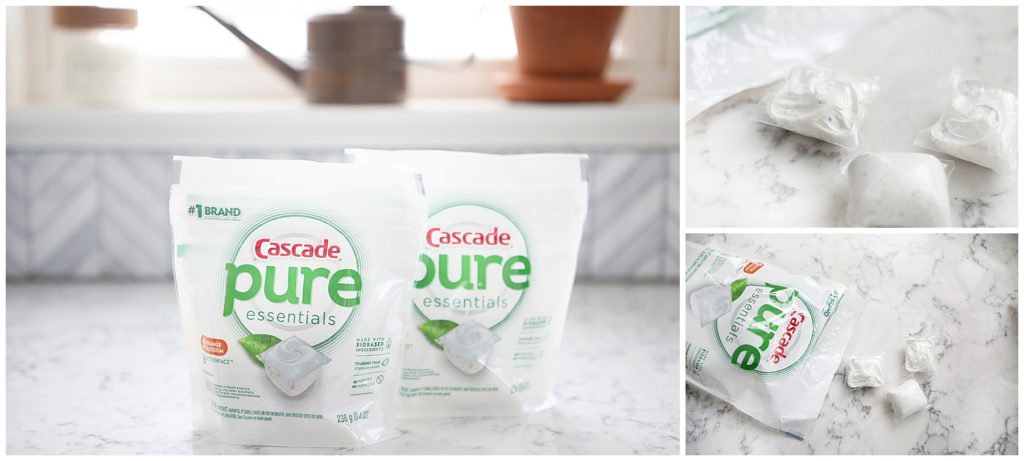 8. When placing glasses on the upper shelf, put them between the dishwasher tines and not over them. This helps to save space and clean glassware better.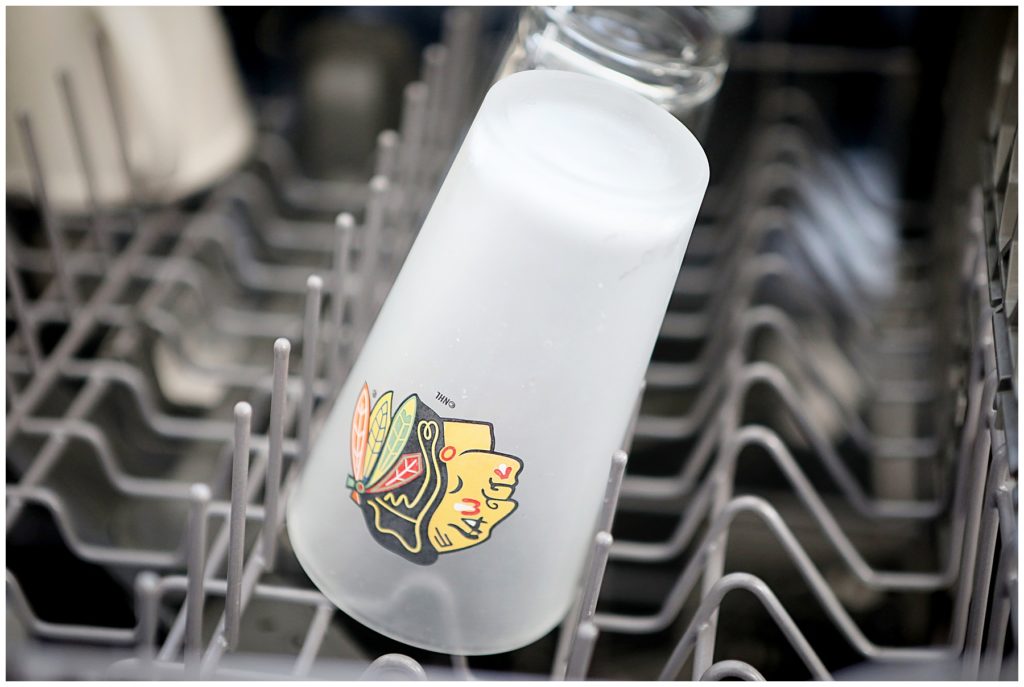 9. OR, you can use the bottom rack too and place glasses between plates and other heavier items. This will help to use up small spaces and allow for better cleaning.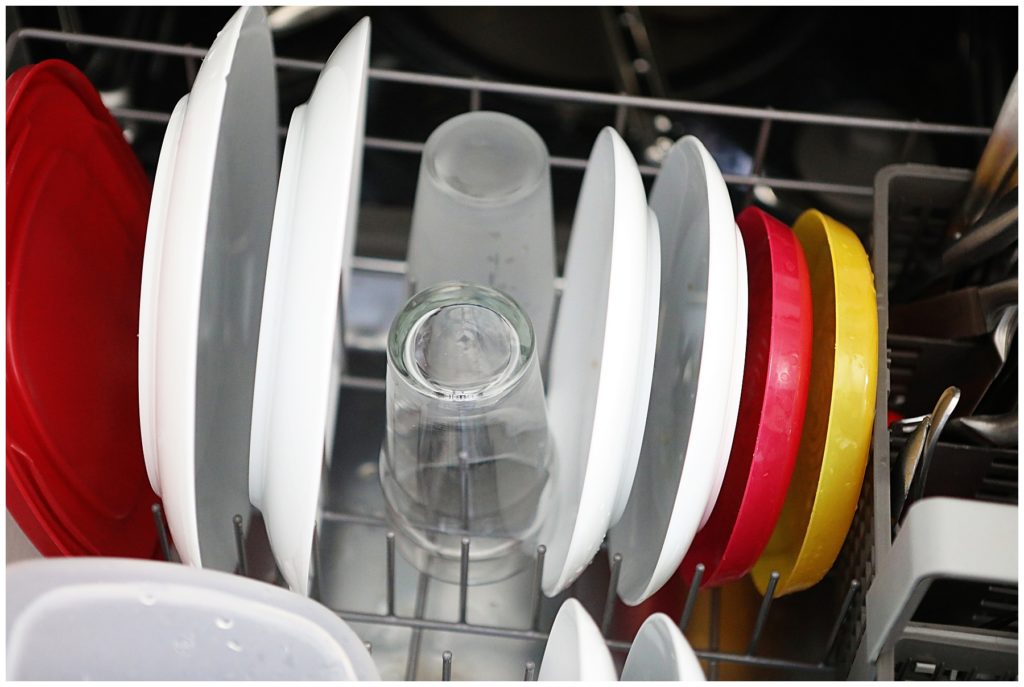 10. Make sure the holes of the spinning arm are clear so that water can run through them effectively. You can use a toothpick to do this just be sure to not scratch the spinning arms.
11. Lace spoons through the handles of coffee cups. This will help to keep them in place so they don't fall through to the lower level.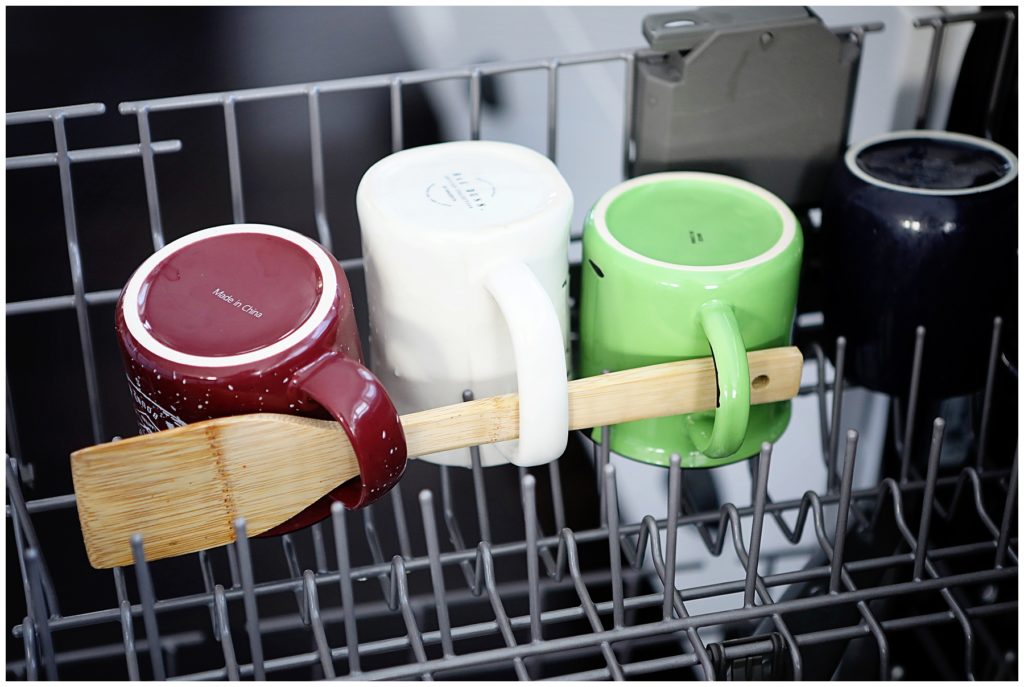 12. Clean brushes and sponges by placing them on the top rack of the washer. I actually didn't know you could do this until my husband started doing this. At first, I thought it was gross, but it makes complete sense that the dishwasher and Cascade would be able to clean these items just as well as it cleans the dishes. You can also wash kids' plastic toys by running them through the dishwasher.
13. Running plain, white vinegar through the dishwasher will help to sanitize it after a particularly dirty load and get rid of any smells. This is something you can do monthly to keep the smells at bay.
14. Start the washer each night before bed and empty it in the morning. Starting the washer before you go to sleep allows you include all the dishes from that day in the load. Unloading it in the morning allows you to have clean dishes to use for the morning and space in the washer that's all set for the new day's load.
You can find the new Cascade pure essentials dishwasher detergent ActionPacsTM at Meijer. Bags are available now and tubs will be available starting April 14. Through the month of April receive $1 off a bag or a tub using Mejier's mPerks App AND in honor of Earth Day on April 22, Meijer is offering Buy One, Get One 30% off all Pure Essentials from 4/14-4/20. The offer is available at check out.
For more cleaning tips, click here. For more home blog posts, click here.