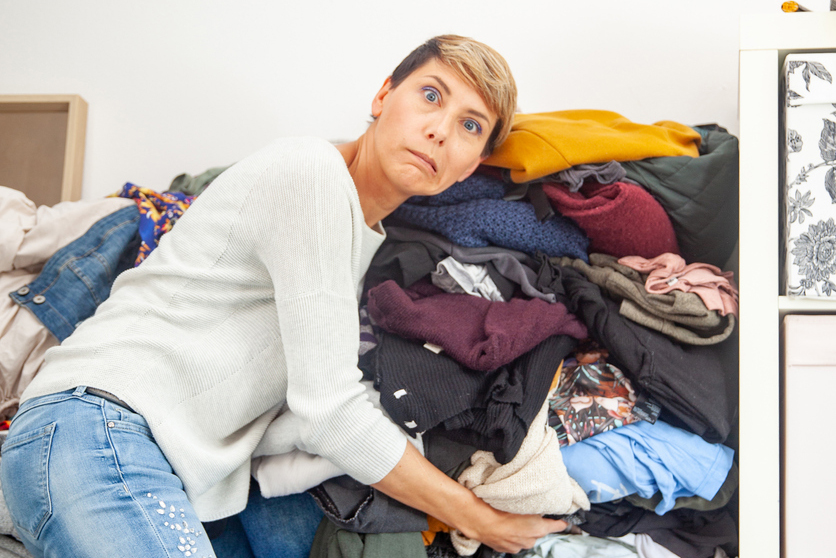 The holidays are fast approaching and while most people like to pull out all the holiday décor this time of year, there's something I like to do before we deck the halls: purge.
I know what you're thinking…
"I have enough to do right now!"
"Can't I do this after the New Year?"
"I like all my extra crap."
Here's the thing though, there are some major benefits to decluttering your life before the holidays versus waiting until the New Year.
The period of time between November 1 and January 1 is always a bit brighter and a bit more magical, but if you have too much stuff all around you, life can also feel a bit frazzled and stressed too.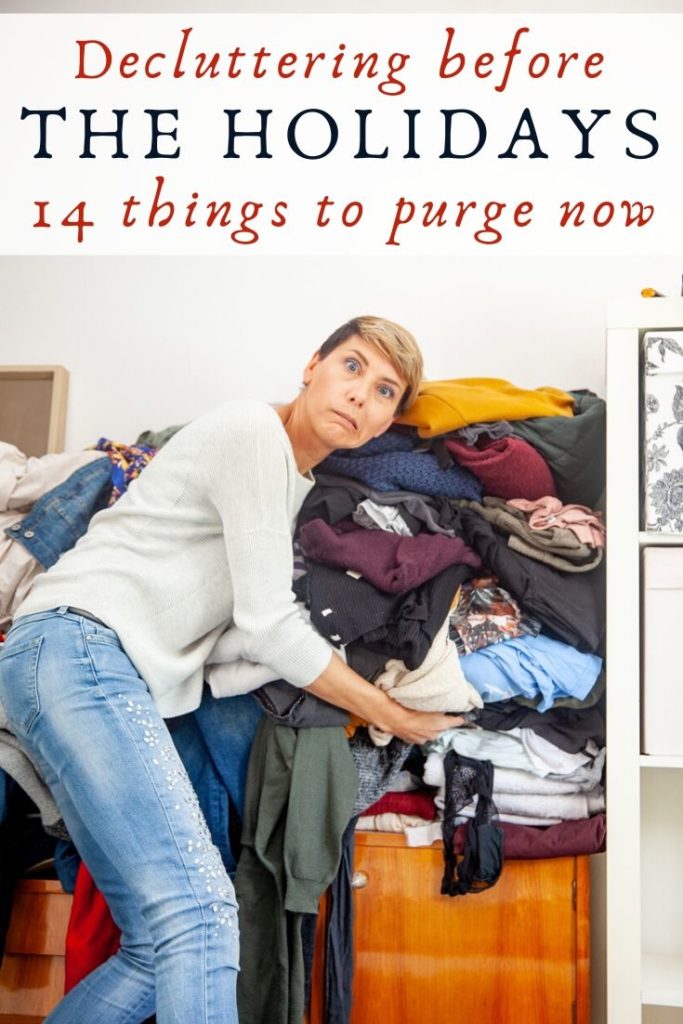 With an influx of things on our to-do lists and jam packing our calendars each weekend, I find it helps me mentally to clean everything out and lets me breathe a big sigh of relief before we haul out the holly.
Here's a quick list of items I like to purge when decluttering for the holidays.
Toys
If you have kids, I feel like this goes without saying. This is a perfect time to get rid of all the junky, little toys that don't seem to have a place in your child's life but somehow always appear on your living room floor. Think McDonald's toys, broken toys, pieces of toys that have broken off or refuse to stay connected, dolls that are no longer played with, stuffed animals, Barbie shoes (These NEVER stay on! Why do they keep doing this to me?), markers that no longer work, toys they've out grown, broken crayons, dress-up clothes, etc.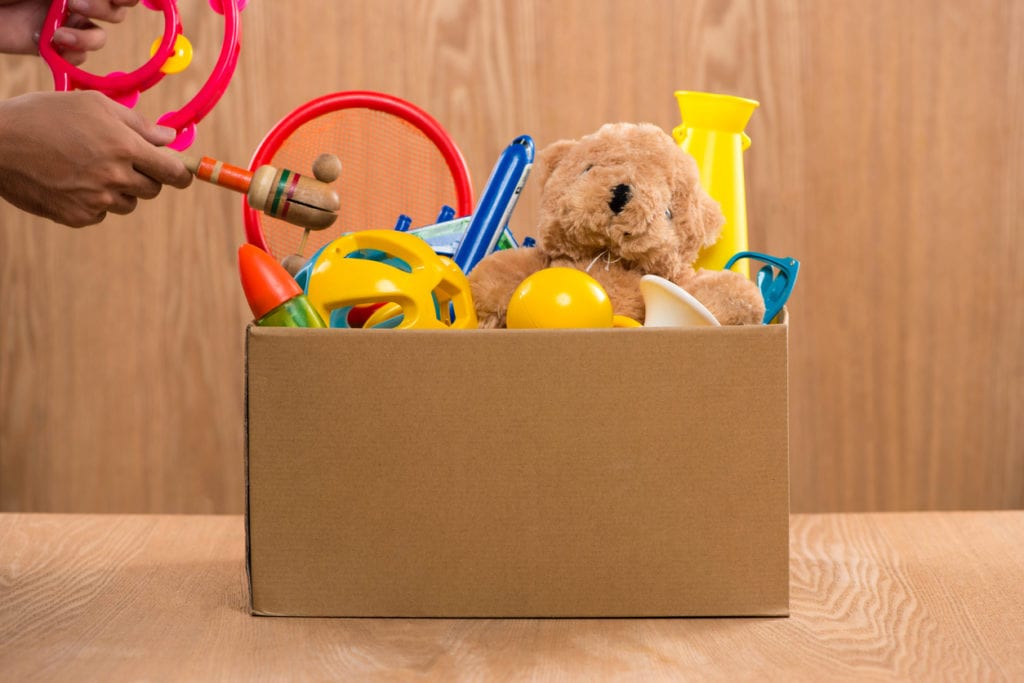 Since, more than likely, your kids will be getting more toys for Christmas you really don't need all this extra stuff hanging around that is probably cluttering up your daily life.
And the best part? If the toys you're ready to purge are still in good shape then you can donate them. Donating them will allow someone else to provide their babies with a good holiday. Whether you give them to a local church, Goodwill or the Salvation Army – donating will allow them to make another child happy. Decluttering can be a win win.
Clothes
Similar to toys, this is a perfect time to go through and purge the clothes you no longer need for ALL FAMILY MEMBERS. Specifically, if you have little kids, you know there will be no way they will fit into the same size of clothes they wore this past summer in subsequent years. Start there. Get rid of any and all summer clothing you know will not work next year. Get rid of any old winter clothing from previous years that you've held onto.
My friends and I have a system where I give them a lot of my kids' clothing once they've outgrown it. Most of my daughter's clothes have now been worn by two of my friend's daughters too. It's cute to see and it makes me feel like they were really worth the money.
This same concept can be applied to tweens and teens, and don't forget your spouse and yourself.
Side Note Confession: I've had some clothing in my closet for years that I refuse to get rid of for some reason. However, as we are getting ready to move this year, and as I've realized I will probably not have a "normal job" ever again, I finally started decluttering and packed it up.
Again, like toys, you can donate the items that are in good shape and help someone in need keep their babies clothed.
Old Coats
Don't forget your coat closets. This was the first year I included a purge of my coats along with the kids (I'm a coat hoarder) and it felt really good. Some I've had for years (Dare I say decades?) thinking I would wear them again or they would come back into style. The fact is, I'm no longer a Size 2 and really have no desire to be that size again so why am I holding onto a coat that fit my college-aged body?
Like the toys and clothes, you can also donate these, and this is SO important in the winter time. Anything that helps someone else is a good thing, but in the wintertime some people really need the extra support to survive. This is one easy way to help.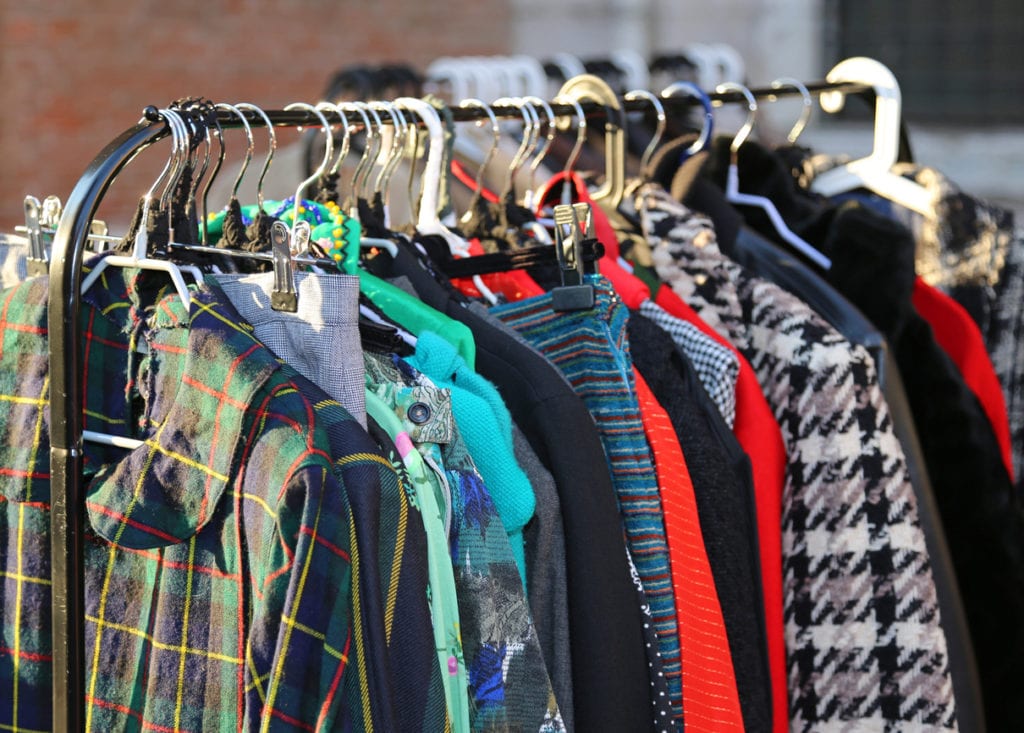 Cookie sheets
This item might be a surprise, but this is the perfect time of year to get rid of old cookie sheets that are just gross now. You could try to clean them but you know some of those things are just never the same again. It's the perfect time to purge them and pick up two or three new ones for cookie baking season.
Mismatched Silverware
Are you even an adult if you don't have a drawer full of silverware that doesn't match? Or are you a real parent if you don't have 1,000 old baby spoons? Where do all the real forks go?
If this is you, let it go and throw it away. You can grab a new, inexpensive matching set of silverware for the holiday season and entertain your guests without being embarrassed by your cutlery.
Old plates
My husband likes to keep old, broken plates and it drives me crazy. Chip in the 10-year-old, scratched up IKEA plate? Perfect! Back into cabinet you go!
This is how he thinks and even after we bought a new set of plates and bowls three years ago from Crate & Barrel, he is still hoarding the old IKEA plates I purchased when I rented my first apartment. He's also broken a few of the Crate & Barrel Plates in between.
This year, I will be throwing out all the old plates when he is at work. They're not only unsightly but they could actually be considered dangerous. I don't like to serve anything on them and they get used for random, miscellaneous tasks like cutting up dog food or being used as a microwave only plate.
Also, since so many of the stores will have discounts after Christmas, it will be the perfect time to replenish my plates.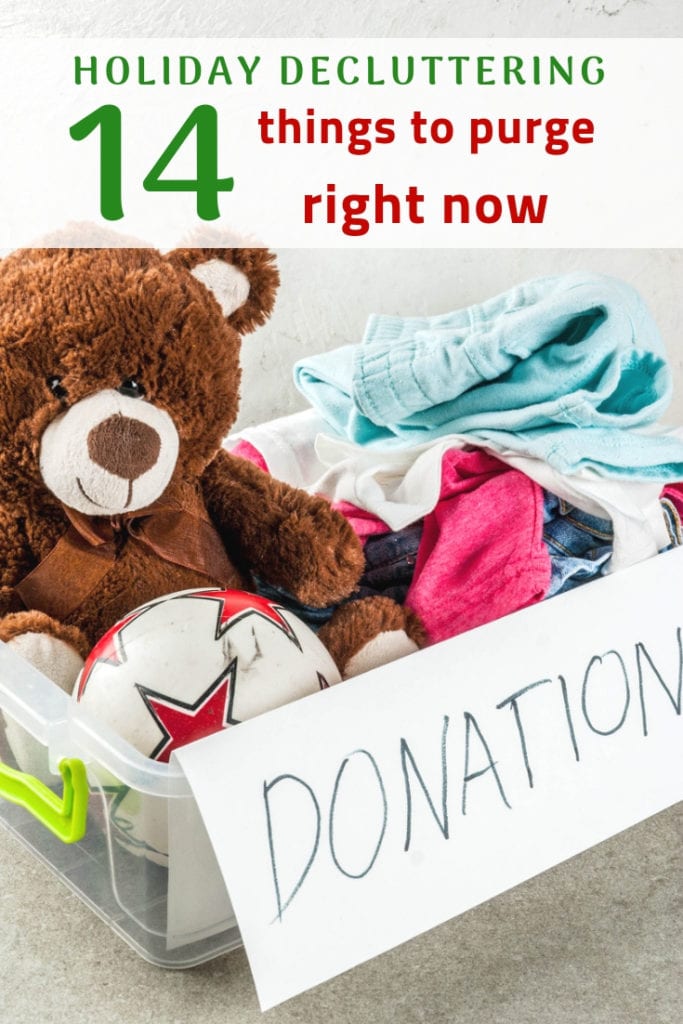 Cooking and serving utensils
How many wooden spoons is too many? Twenty? How many metal spoons is too many? Also 20? I ask because I seem to be a cooking utensil collector to the point that I can't even open the two drawers in my island unless everything is perfectly place.
Decluttering this space has felt good. I don't need all these spoons, especially the metal ones since they generally scratch the bottoms of pots. I'm betting you also have too many cooking and serving utensils…right?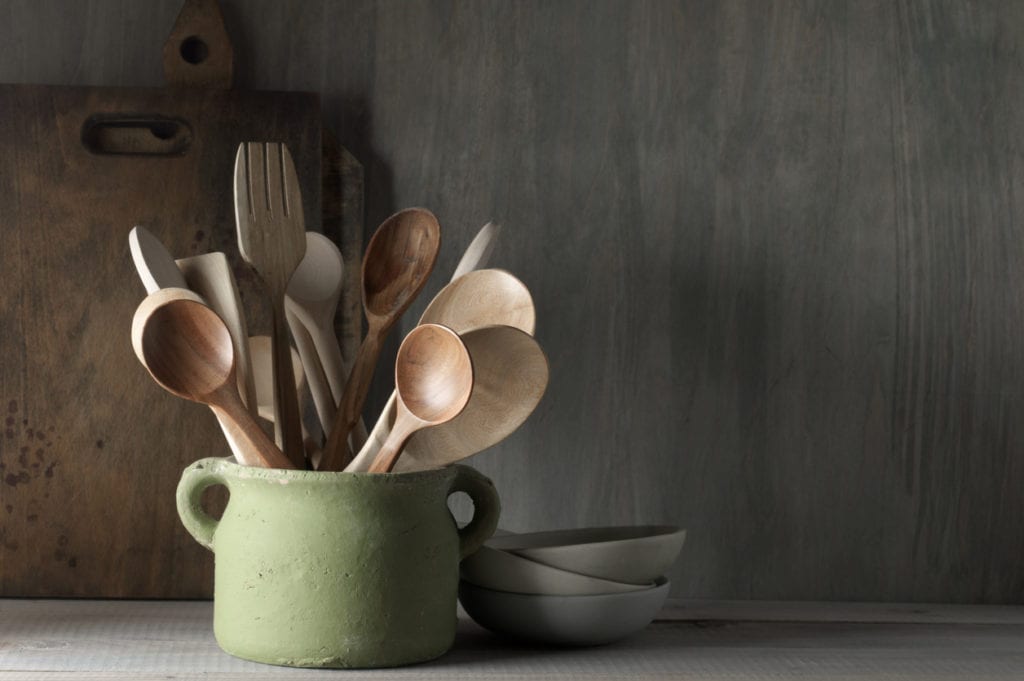 Pantry items
I try to clean the pantry out three times a year and this is one of those times. I hate when people look in my pantry and it looks like the cans have multiplied like rabbits and random granola bars or packages of fruit snacks are strewn about.
Get rid of canned food you may not need and donate it if it's still good. Throw out anything that's expired, clean out the crumbs in the far back corners of the shelves and reorganize everything a bit so it looks tidy and neat for your mother-in-law…because you know she will go in there and judge you.
Refrigerator & Freezer
Similar to the pantry, you need to give the refrigerator and freezer a good cleanse before the holiday season. Not only will people – including guests – be looking in those appliances more often but if you're hosting you will need to store more things in the freezer and refrigerator than you may do on a normal basis.
Throw out old food and condiments that are expired or a just looking yucky. Wipe down shelves and drawers if a cleaner safe for these appliances or, even better, put them through the dishwasher if you can.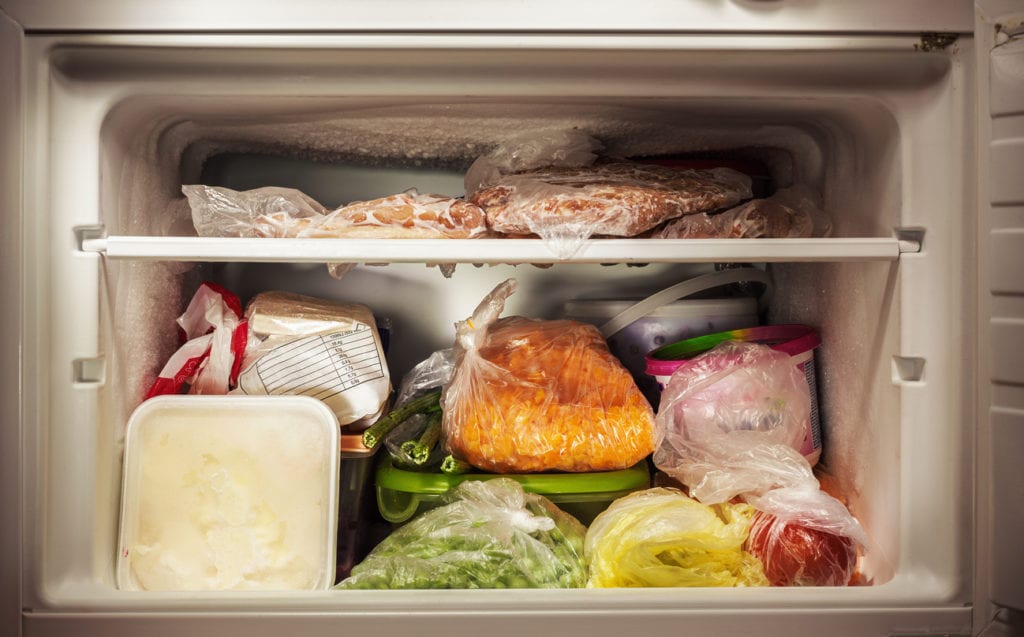 School papers and other art
My daughter loves her papers. She loves school worksheets and draws constantly, and I love it. I really do. I just don't love it when they are sticking out of every drawer in her room or the art drawers that we share…or when I see them all shoved under her bed. If you're child or children are like my favorite girl, do yourself a favor and teach him or her how to purge a bit too.
Keep only his or her favorite papers and art. Let your child be a part of the process unless you just think it would be counterproductive. Create a keep pile and a toss pile.
If you have a sentimental attachment to some of these things too, create a keep and toss pile for yourself. In the past, items I want to keep have been packed up in Rubbermaid tub and put into basement storage. While I love knowing I have these items, I don't need to see them every day. Putting them in a tote versus a regular box helps to keep them safe from any pests or basement issues I might encounter.
Books
Ok, I'm going to let you know straight up, I rarely purge books. But, I like the idea of having a beautiful library someday. I also don't read books on electronic devices so I already have a somewhat large collection.
That said, there still might be some things you can get rid of.  Every year we seem to come across a book or three from college or grad school that's far out of date and full of useless information on something that no longer exists or that has greatly evolved. I'm looking at you Social Media Marketing For The New Generation…2008 edition…
At this point, I'll let go of a book or two.
That said, I know some people don't like to keep books around once they've read them, so this makes them perfect for this list. Again, you can donate them or arrange a swap with friends to get some new reads on your list.
Pet toys and blankets
Raise your hand if you dog or cat has a chewed-up, disgusting lovely that they are attached to. My current dog isn't like this (because she is 16 and likes to sleep, eat and snuggle only now) but our dog that passed away a few years ago was. Every year she had a favorite lovely or three that she would rip to shreds. It is time to send those things packing and ask Santa for some fresh victims.
Likewise, pet blankets and beds tend to get gross too. We just threw away our dog's current bed because the inside foam would make washing it a nightmare and let's be honest, it's the foam that needs to be cleaned the most.
If you're having guests over no one wants to see a grungy blanket or bed and no one wants to play fetch with a toy that literally looks like a dead animal.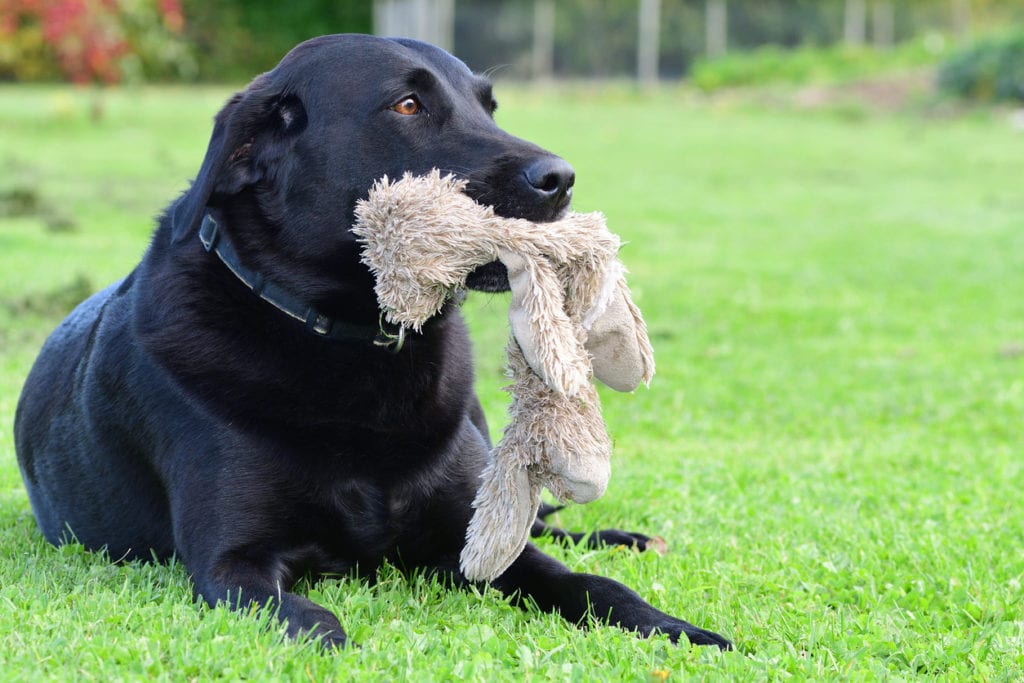 Extra garage garbage
You might not even consider this but now is the perfect time to purge the garage, especially since you're getting rid of all this other stuff. You don't want spring to roll around and find your husband has rescued 5 chipped and cracked plates from the dumpster.
Not only that but there is still a decent amount of yard waste that you will have in November whether you are cleaning up leaves, a garden or just cutting back bushes.
Get rid of old bikes, outside toys that your kids have grown out of. Add in anything else that just makes your garage look like a hoarder's paradise.
Organize it at this time too.
This is really important because if you live in a place where there is snow and below-zero temps in January and February. You want to make sure you can fit your car or cars in the garage. Not having to step outside to heat up a vehicle on one of those days is really invaluable.
Old holiday décor
What? Why is this on the list?
So, I know we all have holiday décor that we love. We also may have holiday décor we bought when it was popular to have a pink Christmas tree or an upside-down Christmas tree or something equally as questionable. Get rid of all of that.
I know each year I purge my collection a bit. Your style will change over the years and so will the style of "in" holiday décor…but that upside-down Christmas tree is crazy so just purge it already.
For more home blog posts, click here.