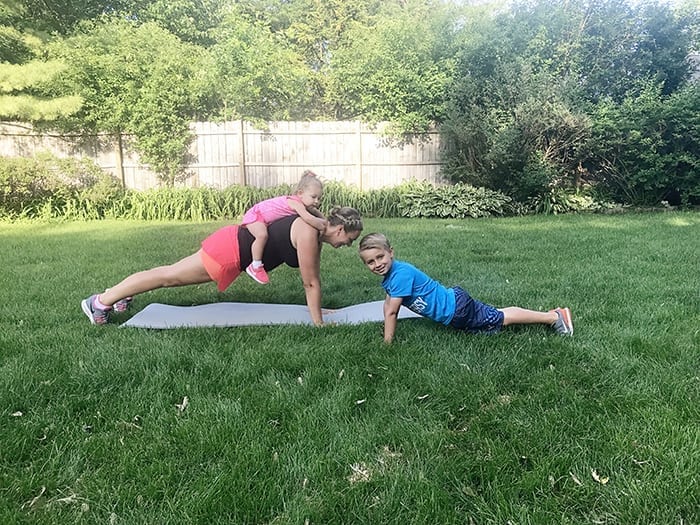 I used to workout at a gym. Then for a while I PAID to workout at a gym that I never actually went to. For some, the gym is a healthy break mentally and physical, but for me, as a stay at home mom, it felt like punishment. I hated trying to squeeze in a workout between naps and trips to the park. Ultimately, I accepted the fact that, for this season, the gym is not a good fit for me.
I still want to work out though, so I have been forced to find ways to fit it in at home, or often the workout happens at a park while my kids are playing. I love getting to incorporate physical activity into my day instead of scheduling my day around my workout time.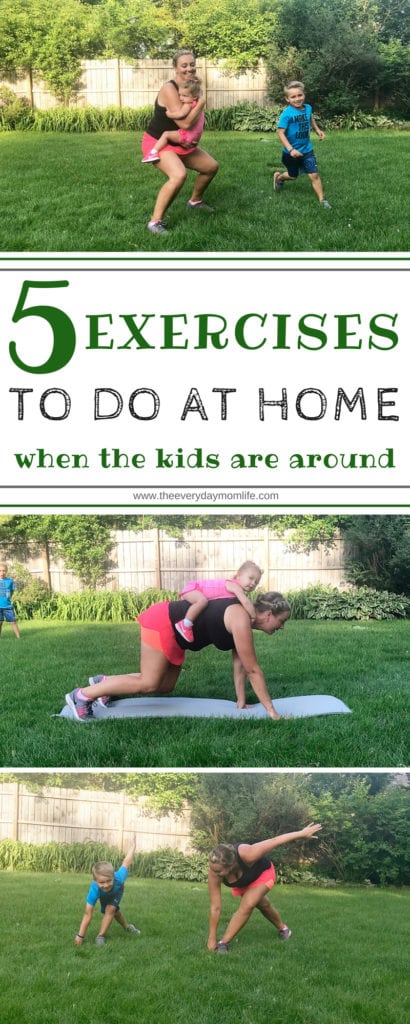 Working out with my kids feels like play time for them. I love that they join me and are forming healthy habits. I hope they will continue to see it as fun, and incorporate it into their lives as adults as well.
Sometimes getting started on what to do can seem hard. Do I run? Try a yoga video? Lift weights? The answer is yes! Do what works for you, what you can fit in or what seems fun so you actually DO it.
I have 5 exercises that I find work just about every part of my body that can be done just about anywhere. I can work a few muscle groups at a time which is really the hallmark of a mom – multitasking, right?
Exercises To Do At Home
Burpees
This is a great total body move that is both a cardio workout and strength building. Start by jumping while raising your arms above your head. Squat down and put your hands down on the ground and kick your legs behind you so you are in a push up position. At this point you can jump back up and do the move again or go ahead and do a push up since you are in position. Then stand up and do it again. And again. And again. And again…..

Plank
If you have never tried it and seen someone in plank, it looks like the easiest move. If you have tried it you know it is HARD. It works almost every muscle in your body. You start by getting in push up position. Straight body and look at the ground, keeping your head in line with your body. Don't look down at your feet. You can either keep your arms straight with your hands under your shoulders or rest on your forearms with your elbows right under your shoulders. There are many variations you can incorporate to spice it up. Tap your knees lightly to the ground as reps or try side plank where you stay in a perfect straight line but balance on one arm and turn your body sideways. I like to do plank high fives when working out with my son. We face each other and high five. It forces you to engage your core and balance on one hand, then the other as you clap hands. It makes us laugh and helps the time go by as we try to see how many high fives we can give without stopping.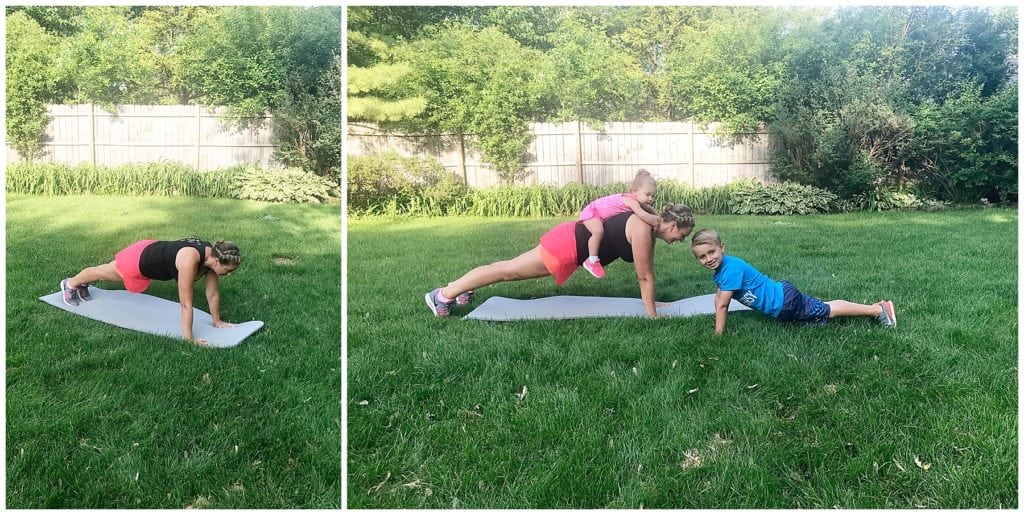 Squat Press
This is another move that will work your leg muscles, glutes, arms, shoulders and back. You can use weights, canned goods or my favorite: a child. Spread your legs shoulder width apart and hold your desired weight at your shoulders. Squat down keeping your bottom pushed back so that your knees stay in line with your toes as you squat down. Try to make the tops of your legs perpendicular to the ground so that your leg is forming a 90 degree angle as if you were sitting in a chair. As you stand up raise your weight above your head. If you are using a child as your weight I guarantee they will beg you to do this over and over again.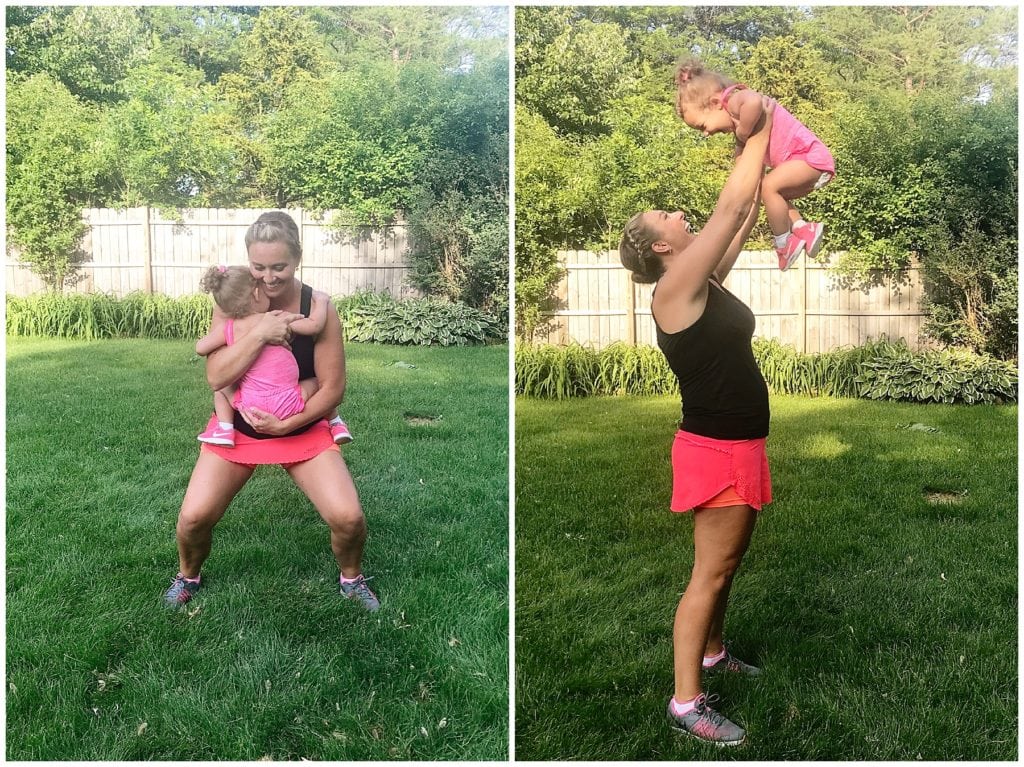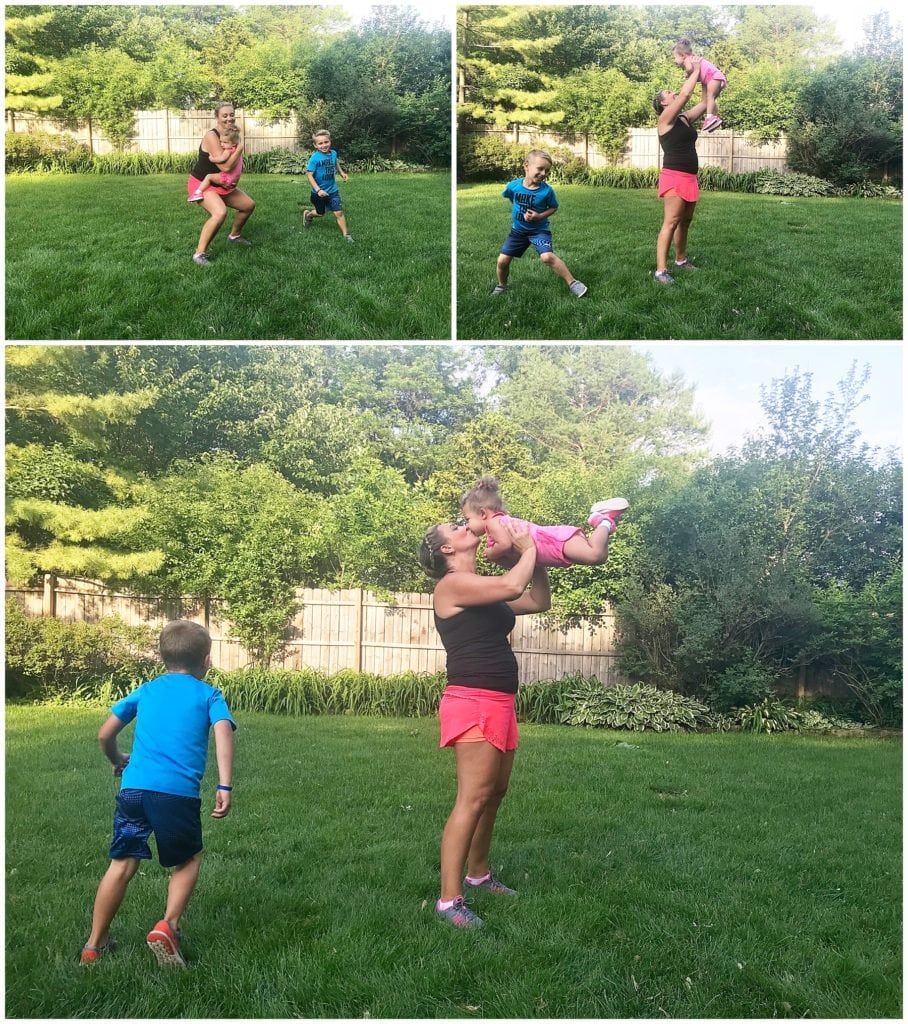 Inch Worm Push-Up
These are fun to do with kids. They look silly but a great way to get in cardio and a little strength training. Start in a normal standing position, then bend down and walk your hands out until you are in plank or push-up position. Do a push-up and then walk your legs toward your hands until you can stand back up. It sounds easy because it is simple moves but I guarantee you will find them challenging if you do enough!

Skaters
These are a fun cardio workout. If you are looking for a way to fit in some cardio while your kids nap or play at the park you can do these. Begin by jumping to one side and kicking one leg behind you while bending down and touching the ground on the inside of the foot your weight is on. Then stand up and jump to the other side putting your weight on the leg that was stretched behind you before. They are called skaters because the move mimics what a speed skater looks like when they are skating. These will get your heart pumping and allow you to get in a quick cardio workout anywhere you want.

I hope these moves help you fit in a great workout no matter where you are. Get your kids to do it with you and it will be even more fun! Working out is a great way to spend time laughing with your kids while you all get healthier together.
For more health and wellness posts, click here. For more mom tips, click here.