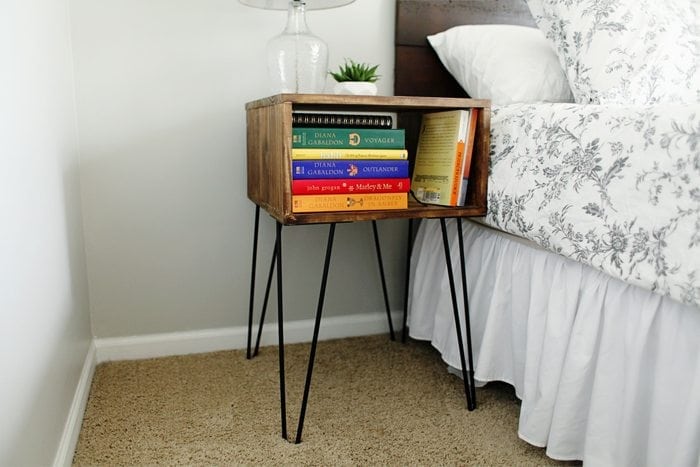 I've been meaning to get this post up for a long time now. We've had these gorgeous, d0-it-yourself, hairpin leg nightstands in our bedroom since sometime in July now but somehow this summer slipped away from me and here we are in fall. However, now that we've used these tables I'll be able to tell you more about the functionality so there's a bonus!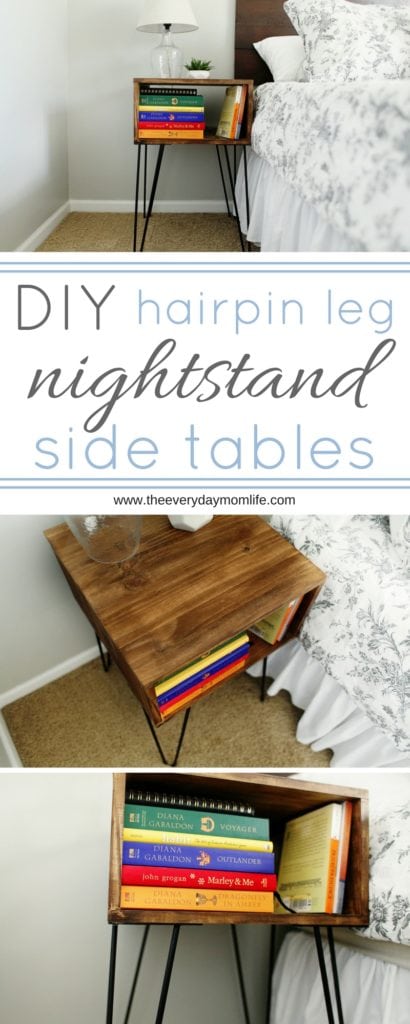 Earlier this year I had a dilemma; I wanted nightstands for my daughter's room. We had finally put her mattress on a bed frame and suddenly she seemed to have all this stuff she NEEDED next to her – water, stuffed animals, a light, the painting she made at school that day, a box of tissues, etc. Seriously, the list could go on and on.
However, as I began looking for cute, white nightstands that would match well with her room I kept coming back to pieces that looked a lot like the IKEA nightstands that were in my room. I decided that instead of buying her new ones, she would get our hand-me-downs and I would get something new for us. (Imagine that!)
Our bedroom had been majorly neglected since we moved it. It was the door we kept closed when guests were visiting and it's always the last to get cleaned. Being home now my brain is constantly turning with new projects and I decided to take on the room earlier this year. A big part of the room was deciding what I wanted to do about our side tables.
My style, if you could say I have one, is sort of a mish mash. I love the straight lines of mid-century modern, I love the colors and wood of farmhouse style and then like to pepper in other things here and there.
I came across hairpin nightstands or side tables in my search and fell completely in love. I did not want something with a lot of storage because I figured we would just stuff it with junk, similiar to our old ones. I also knew I wanted something simple and not overly frilly. I just wanted the tables to fit some books and look nice. These fit the bill.
Unfortunately, the bill would have been huge. I don't remember which site they were on but they were $400 each. When I saw the price tag I was completely disappointed. I turned off my phone and tried to lay down and sleep.
Like most nights though, my brain kept going. As I thought about those side tables more and more I decided the design was simple enough. They were just squares, right? I also checked on Amazon and discovered that I could buy hairpin legs in various sizes. That's when I decided it was time for a new DIY project.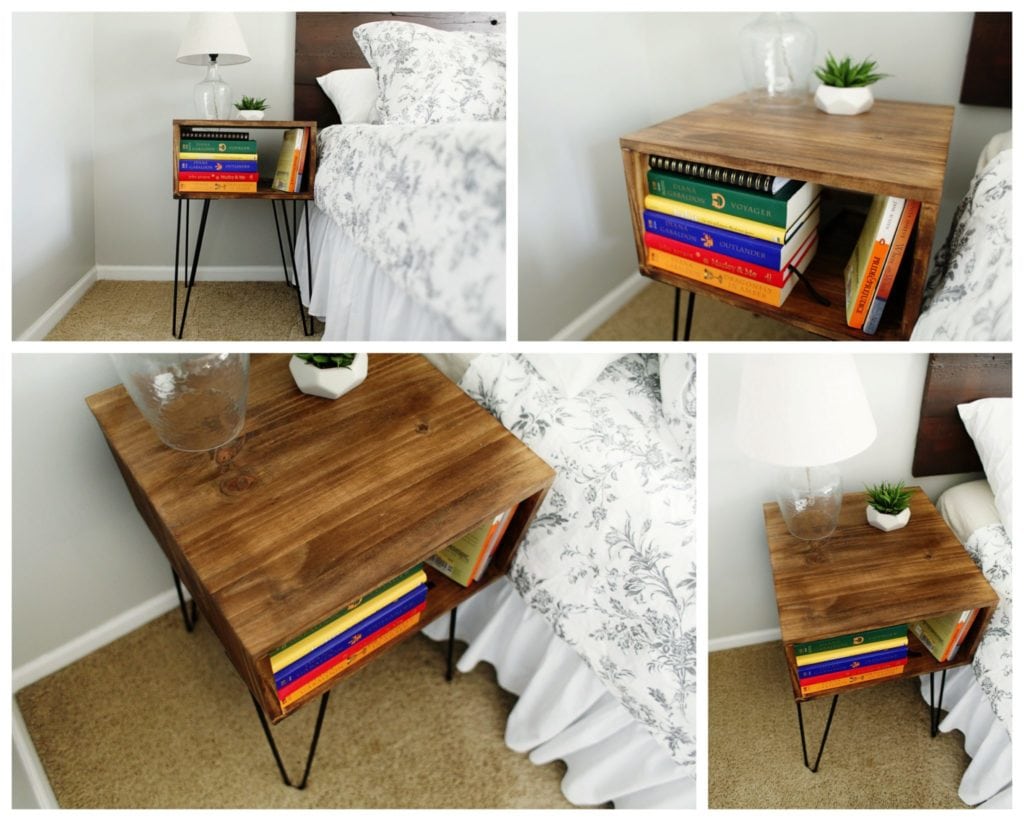 Materials for 2 Hairpin Leg Side Tables
4 pieces of wood 17.25 x 17 inches. I had these cut at the hardware store and you can too if you don't have access to a table saw.
4 pieces of wood 17.25 x 8 inches. I built these specifically to the height I wanted for my bed and made the boxes so that they would fit 8-inch, paperback books vertically.
8 hairpin legs. These are the ones I used.
24 screws
Can of wood stain. I used
Can of sealer
Wood glue
Sandpaper or hand sander
Corner clamps. Ideally 4 of these so you can do one side all at once.
Steps:
1. Layout all your boards and sand both sides and edges.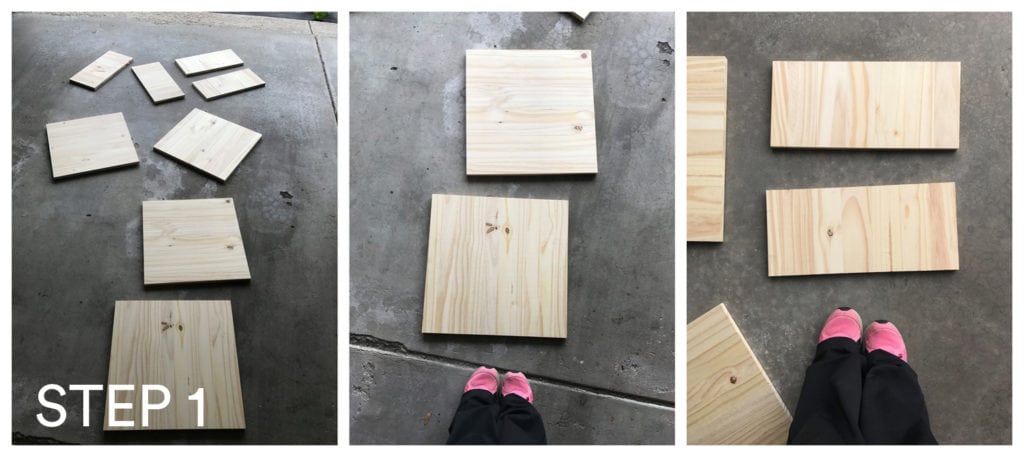 2. Run a thin line of glue on one edge of a side piece. Make sure it's in the place you want and then use your clamps to secure the two boards together. Repeat this with the other side. Let this dry overnight.
As a note, the wood glue will expand as it dries so make sure you don't use too much or you will be sanding glue off forever…like I was…
3. Once the first side is dry, flip it over and glue the second 17.25 x 17 piece on top of the two side pieces. Let it dry overnight.
4. Once everything is glued together, sand down any rough spots and each outside, side of the boxes.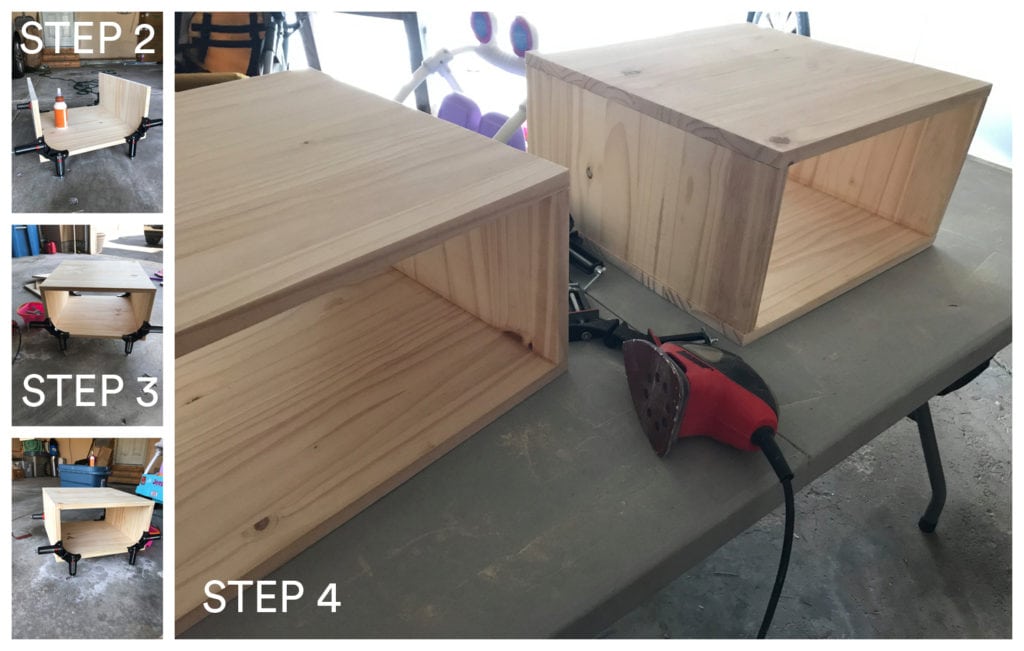 5. Test your stain color on a scrap piece of your wood. Use a couple coats so you can see various shades and decide how dark you want to go.
6. Mark the places where you will need to place your screws. Pre-drill the holes and then sand down any rough spots again.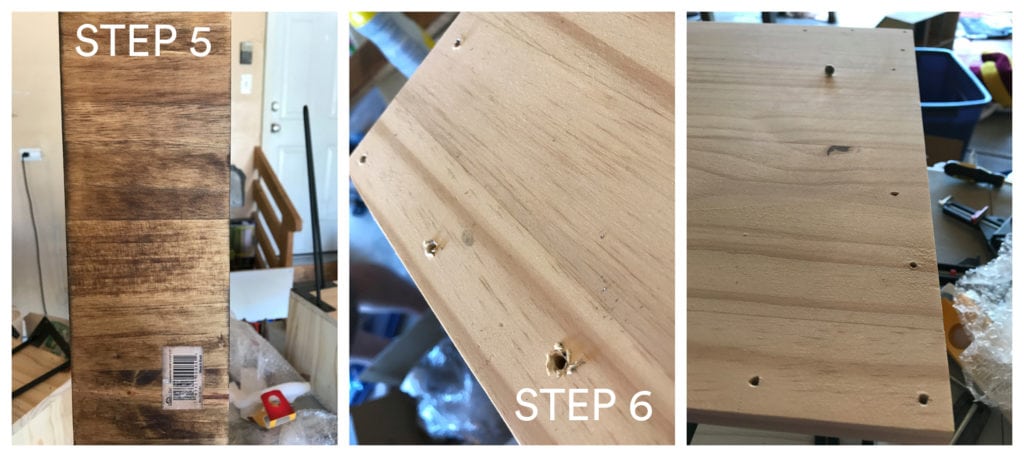 7. Stain the bottom of your box first. The box itself will be easier to stand when the legs are on. However, the bottom is not easy to do once this is done.
8. Screw in your first leg. Make sure you have it flush up against the edge of you box. I only used three screws on each leg. The tables were light enough that any more seemed like overkill.
9. Screw in additional legs.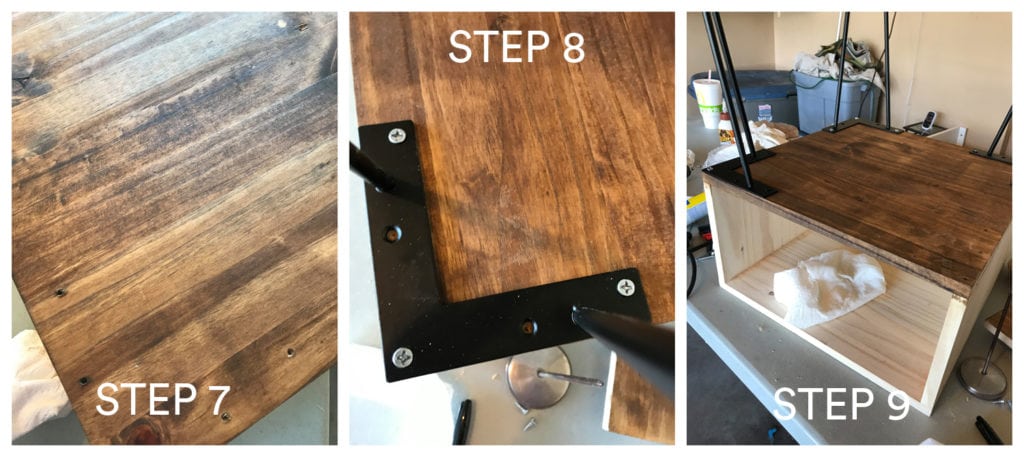 10. Cover your tables in your first coat of stain. Let that dry about 4-8 hours.
11. Add a second coat of stain. Let dry 4 – 8 hours.
12. OPTIONAL: Add a third coat of stain. Let dry completely.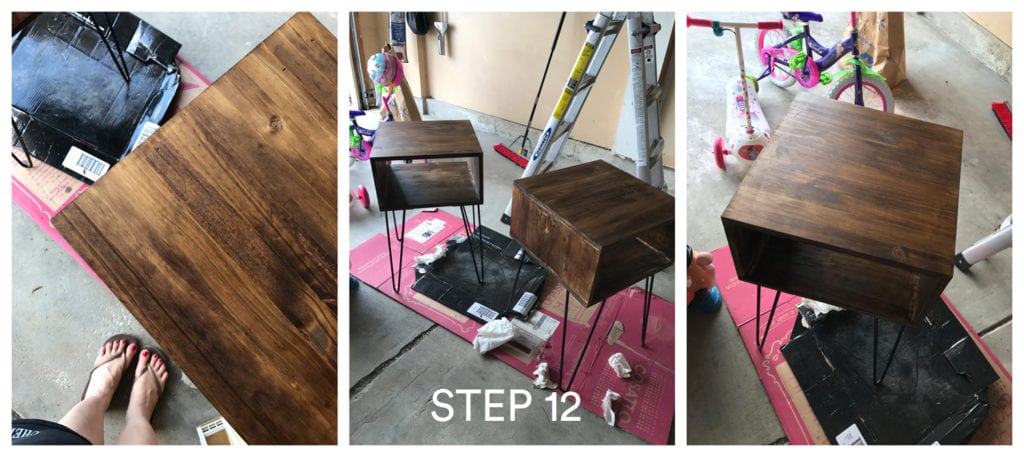 These really turned out better than I could have imagined. My total cost is as follows:
8 hairpin legs from Amazon – $110. (By far the most expensive part of this project.)
All wood cut at the home improvement store – $20
Stain – $8
Wood glue – $5.50
The total cost for the whole project was $143.50. Compared to some DIY projects I wouldn't call this one a cheap project. However, when you compare it to the tables I did want that were $400 each, it's a steal! I found tables similiar to these in stores soon after I made our's, but they weren't real wood and I love the look and feel of the real wood.
Overall I'm thrilled with these tables. I love that they can fit my books, provide a nice, sturdy surface and have the exact look I wanted for our bedroom. And, if I ever get board with them in this room I think they will fit nicely into other rooms of our house too.