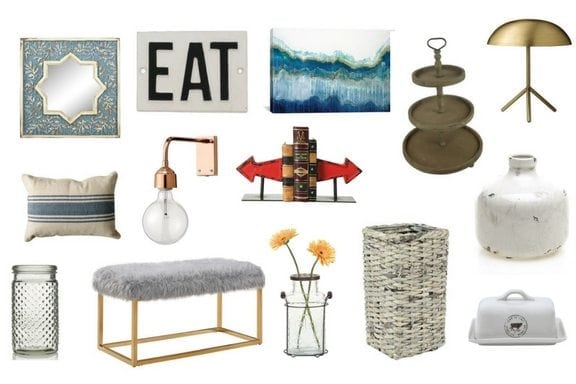 As I move through my house room-by-room, I'm often torn on what kind of home decor style is "me." I honestly love farmhouse style (although a version of it that isn't as rustic), mid-century modern that's making a comeback and a little bit of Boho chic.
Some would probably say I'm confused because you can't have more than one style but I think you can merge some of these without it looking off. I love the straight lines of mid-century mod mixed with the textures of Boho chic and the elements of farmhouse style that look so inviting and cozy. I've pulled together a few items I found from each style to illustrate how these looks can be used solo or in combination to make a style all your own.
You can find all the following pieces at Zulily, which I believe provides a unique shopping experience for people in search of just the right item for their home. These unique pieces will help your home stand out while feeling comfortable and stylish.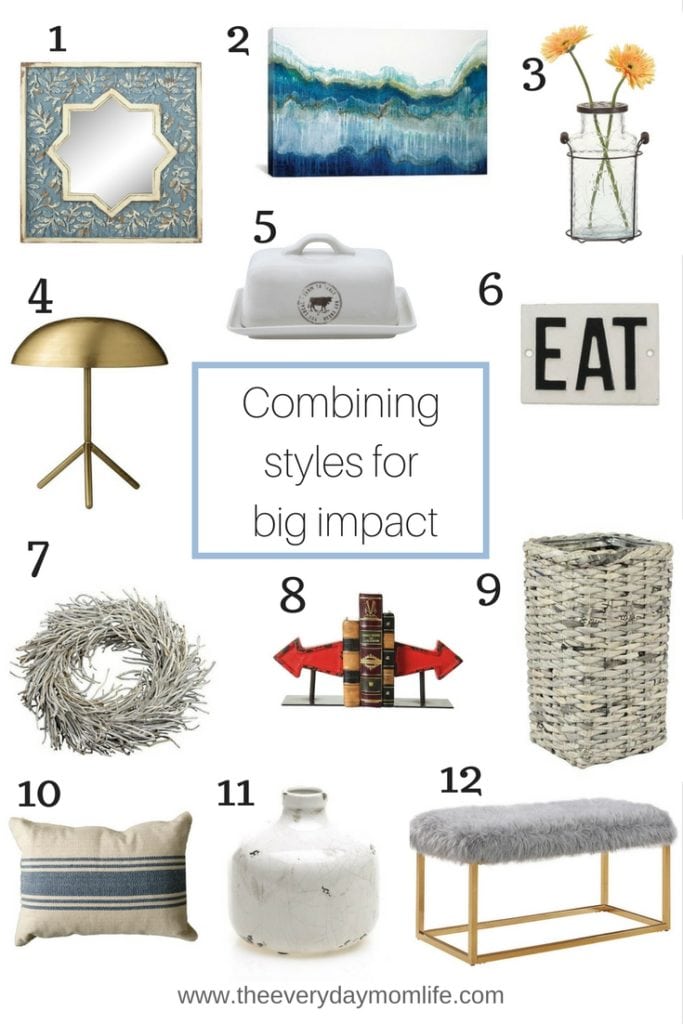 1. I love the detail and texture in this Boho mirror. The color is soft enough that it can integrate with other styles but still be a standout piece all on its own. You can find it here.
2. I generally have an issue with finding the right art for my spaces. I love this piece though. It's technically a wave according to the painting title but I don't always see that when I look at it. To me this piece is a nice splash of calming color that can still brighten up a space. I also prefer canvas over a framed print.
3. This is just the cutest little vase. I love how the glass is textured and the combo of the glass and metal give the piece so much character. You can get this little gem on my Maven board here.
4. Gold is so back for the home. Trends always come around again and I love this one. I adore the brushed gold look of this lap with the rounded edges and straight lines. It's the perfect piece to give your side tables or nightstands a little personality. Check it out here.
5. Mixing in quirky character pieces like this is just fun for me. I love the idea of setting a table and having this cute butter dish being an element. Something about this just says, "home," to me. Here it is.
6. I've been looking for letter exactly like this for my kitchen! I love the straight lines of the letter and I like how they are all capitals. If you have been following me then you know about a year and a half ago we refreshed our kitchen. While I love how our kitchen looks I still need to add little touches like this one to give it more personality.
7. This wreath is all about cool warmth to me. Somehow I feel like it conveys both of those ideas at once. The texture makes it warm and inviting but the color leaves it neutral enough that it can be worked into most decors. Grab this beauty here. It's perfect for fall!
8. This is maybe my favorite piece that I've found. I love using pops of red or orange among neutrals to give a space more life. The fact that this is still a bit aged helps it fit in with farmhouse elements, but the lines lend themselves to more mid-century, even though it's really neither in my opinion.
9. This basket is perfect for magazines, fireplace logs, a plant stand and more. It would look perfect topped off with for green palms in a corner or filled with your favorite magazines for those relaxing nights. You can find it here.
10. This pillow looks cozy to me and the colors and design allow it to be versatile. I want a couple of these for the couch in my family room.
11. This jug is just perfection. I love everything about it from the shape to the weathered look to the size. It's screaming out for some dainty flowers or some mid-sized palms. If you need it too, it's here.
12. Last but not least there is this bench. I think it's gorgeous and glam while still giving you elements of mid-century modern and Boho. It can be perfect for an entry way, in a dining room or at the foot of a bed. Grad it here.
If you liked these pieces you can shop all these looks and more here.