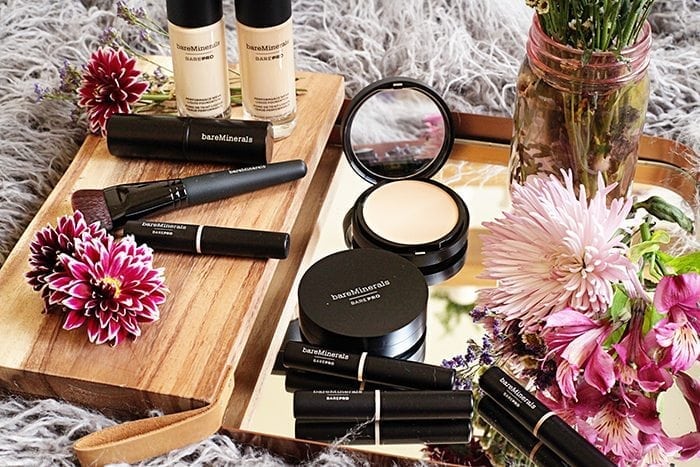 I don't often post about make-up here and there's two reasons for that.
1. I'm very strict about using make-up products that are cruelty free. A few years ago, I found out the main brand I was using, a very popular brand and one that I had been using for about a decade, was using suppliers that test on animals. They gave me the excuse that they can't control their suppliers.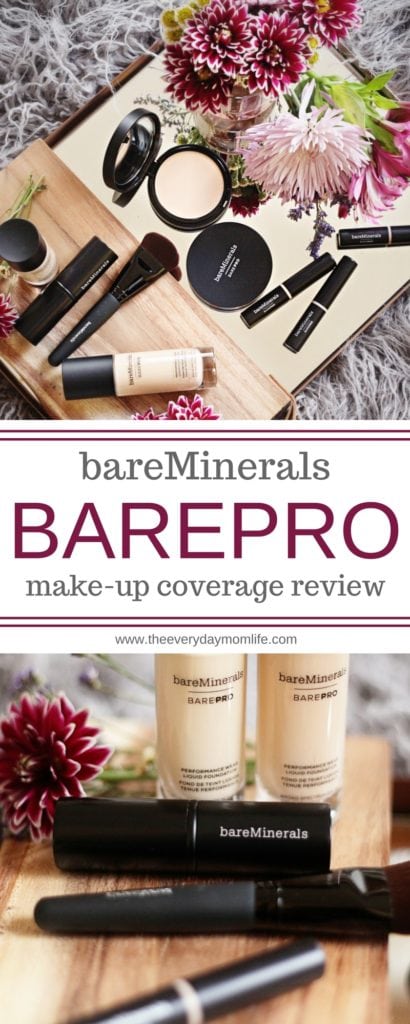 I'm sorry but that answer is not good enough. I used to work for a large, fast food corporation. Whenever we found out that one of our suppliers wasn't adhering to proper animal rights policies, we would require them to shape up and dump them until they did or permanently. If a brand is important enough then they can sway or even dictate supplier actions.
2. I'm fiercely brand loyal when it comes to the products I put on my face. While I like to dabble in some products for fun, I always go back to products that are foundations for me. Maybe every now and then I work a new one in, but I don't over-hall my routine a lot.
Now that all that is out of the way, I do want to tell you about the new bareMinerals line of products called BAREPRO that I had an opportunity to try at an event last month and have made part of my permanent, every day-use collection.
I use bareMinerals products on a regular basis for a few things. There's a gorgeous eye color pallet I received from them around Christmas time that I use daily and I've been using their pressed powder since last summer. Their products have evolved since I first used them (think 2005) and I now find them luxurious. I love the pressed colors available and that they're mineral-based.
When I received the BAREPRO collection I was extremely excited to use it to hide a few flaws. I have leftover pregnancy mask, an inconsistent skin tone and some discoloration under my eyes that I like to hide. I was thrilled to be able to try the line that boasts full coverage and offers a liquid foundation, 16-hour full coverage concealer, and a weightless pressed powder
Read my take on each of these below.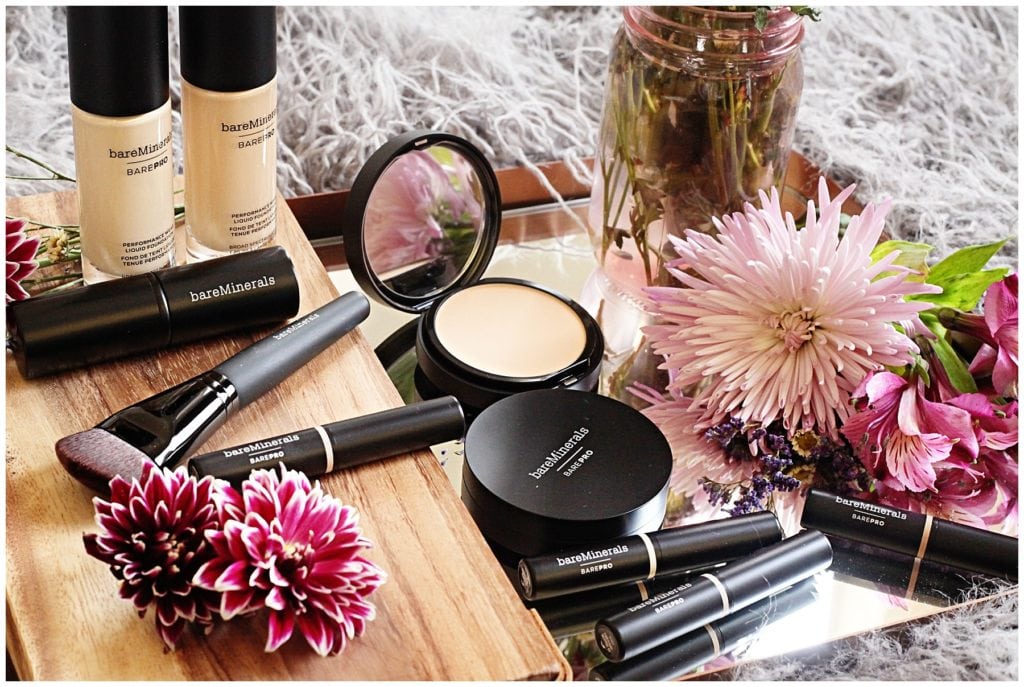 BAREPRO 16-Hour Full Coverage Concealer
Claim: The new concealer is available in 15 colors and is crease-proof and waterproof, which is great since summer is coming. It's made with antioxidant-rich raspberry seed oil, black current seed oil and sea lavender to help keep skin hydrated.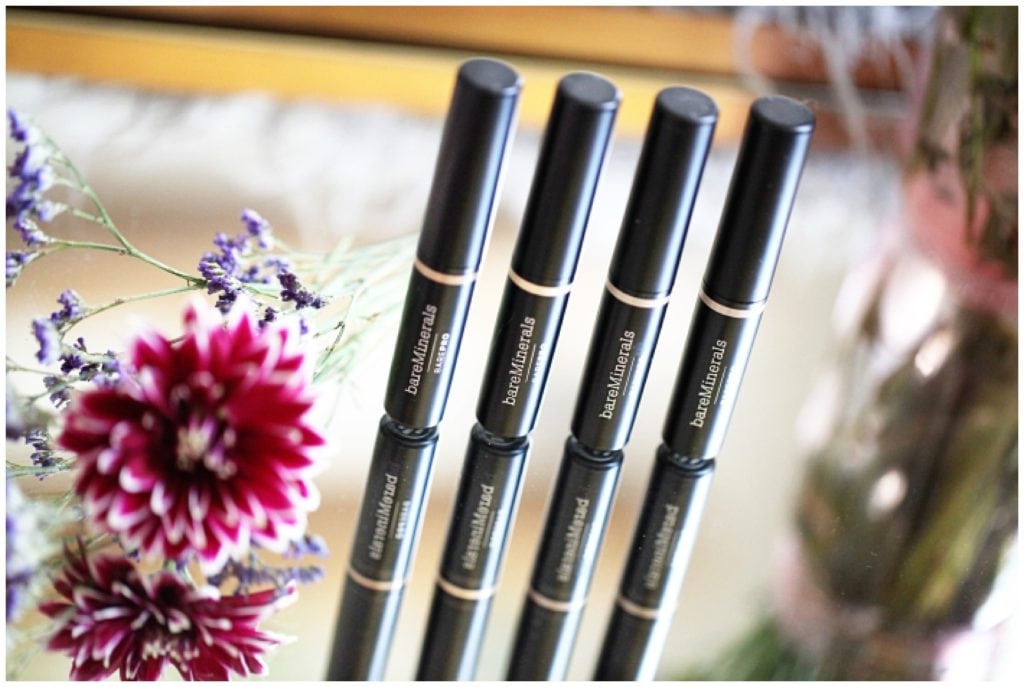 Thoughts: I loved this concealer. I really felt like it covered my problem areas well. As you can see from the photos I have an olive undertone to my skin but with some red as well and the pregnancy mask is on my left (your right) check bone. I felt like this concealer evened everything out and gave me a great base for the foundation.
I used the color Fair/Light Neutral 03.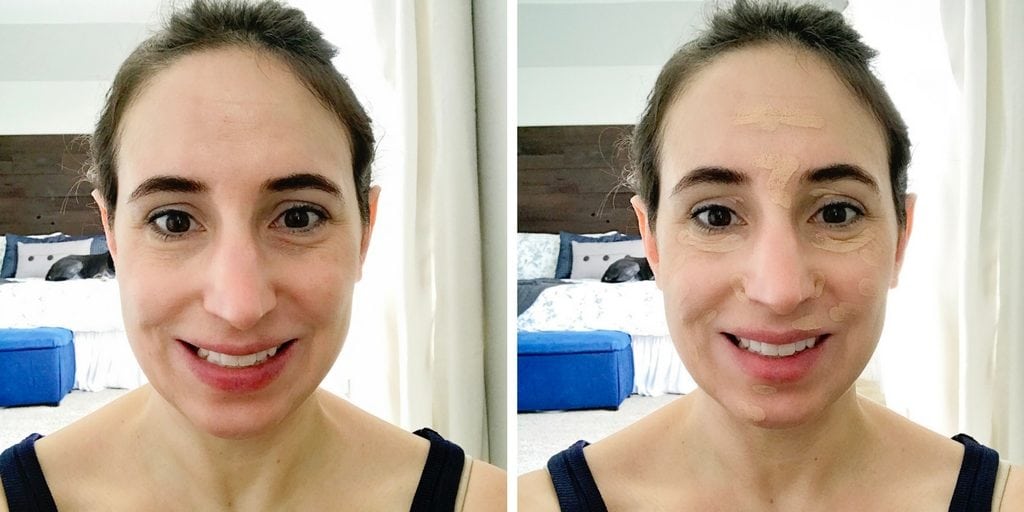 BAREPRO Performance Wear Liquid Foundation
Claim: The liquid foundation is hypoallergetic, non-comedogenic and non-acnegenic formula. It claims to be transfer resistant, which is great if you have kids or collars on your coats. It includes papaya enzymes which it calls a skin-improving ingredient. It is available in 30 colors.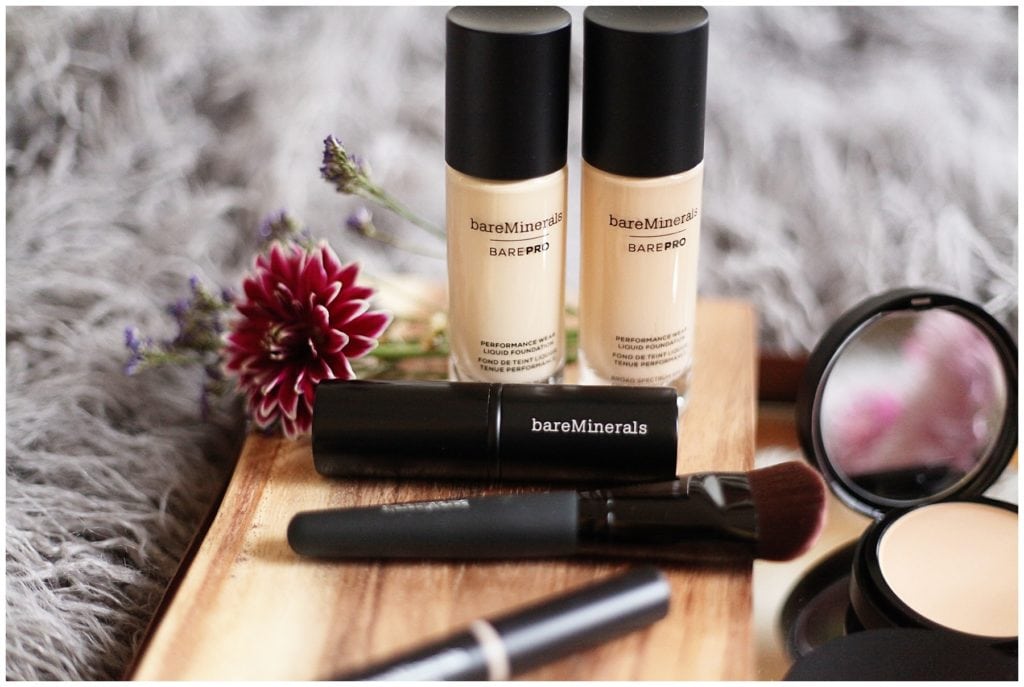 Thoughts: When I pumped this out I thought it was a bit runny. However, it covered really well and felt good going on. I did put it on with their brush which was also great. I'd been just using my fingers lately, but I much prefer the brush. As it claims, it doesn't appear to come off on my kids, but I'd like to wear it a bit more in warmer weather to see if that holds true.
However, this is a product I'll continue to use. I liked how it felt on my skin and it didn't seem to be overly dewy or dry.
I used color Warm Light 07.
BAREPRO Performance Wear Powder Foundation
Claim: The powder foundation is available in 30 shades and guards against the cakey look by giving you a weightless coverage that lets your skin breathe. It's made with a combination of vitamins and minerals that are said to reduce the appearance of pores.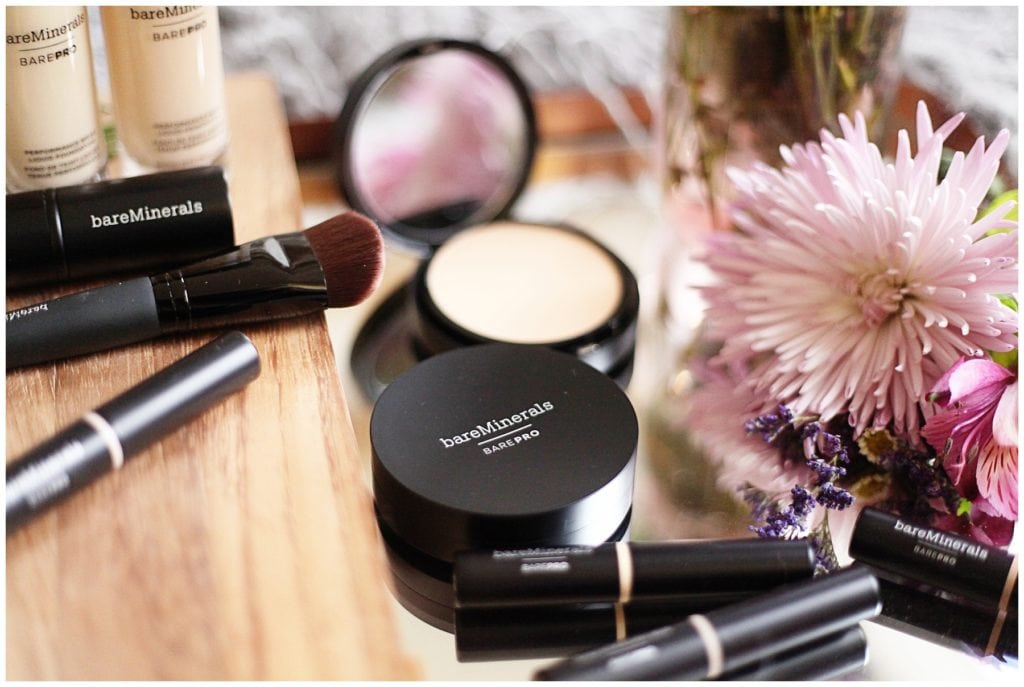 Thoughts: I didn't love this product. I wore it on top of the liquid foundation so maybe that's my issue, but it felt a little heavy. As previously mentioned I wear the pressed powder so in my head I was probably thinking this should feel the same. In bareMinerals' defense, this is a foundation not powder.
My face is also really dry right now due to a medication I am taking. I felt that this product almost made that more evident and it maybe because of the pad that was being dragged over my skin. I prefer using the brush and using the dab technique.
I didn't feel the coverage was as good as the liquid foundation but this would be good to have in my purse so I could touch up throughout the day.
I used color Aspen 04. They only sent me two colors and they were different from the liquid foundation colors. This one seemed to be lighter than the other, so I went with it.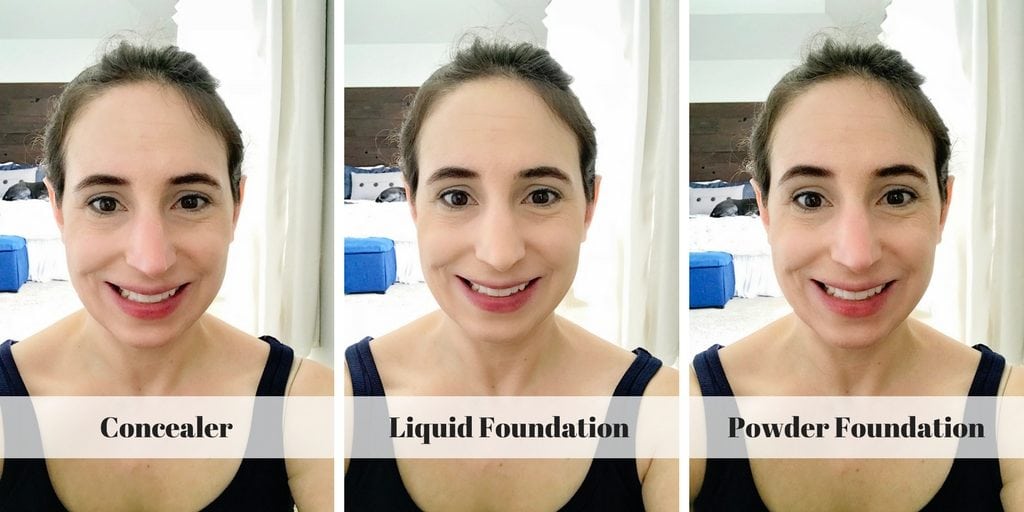 Overall bareMinerals BAREPRO Impressions
You can see in the photo below that the BAREPRO collection was great at concealing my face issues. I'm going to continue to use the liquid foundation and the concealer. I think they will be great on a da-to-day basis when I usually only wear those two items and maybe some blush. Since I have the powder foundation I'll continue to carry it around in my purse like I suggested above and see if I get attached to it over time.
For more lifestyle posts, click here.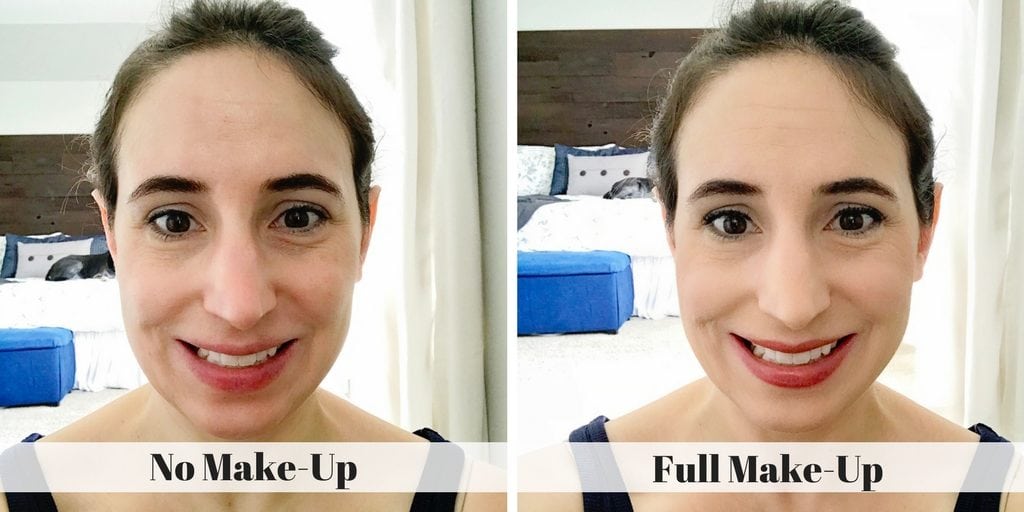 Concealer: bareMinerals BAREPRO16-hour Full Coverage Concealer in Fair/Light Neutral 03.
Foundation: bareMinerals BAREPRO Performance Wear Liquid Foundation in Warm Light 07.
Powder Foundation: bareMinerals BAREPRO Performance Wear Powder Foundation in Aspen 04
Blush: bareMinerals Gen Nude Powder Blush in Call My Blush
Eye Shadow: bareMinerals colors from the Holiday Palette 2017 – Payday and Ecru
Lip Gloss: bareMinerals Gen Nude in Addicted
*mascara, lip liner and eye liner by Urban Decay