In mid-summer of 2017 I made myself a promise. I promised I would be in the best shape of my life – physically, mentally and spiritually- by the time I am 40. To me this meant being conscious of my eating choices and making better decisions, trying new things, making working out a priority for me and overall finding a center and balance in my life that would allow me to be content with myself and my place in the world. I have two and a half years to go but I try to take baby steps towards this goal every single day.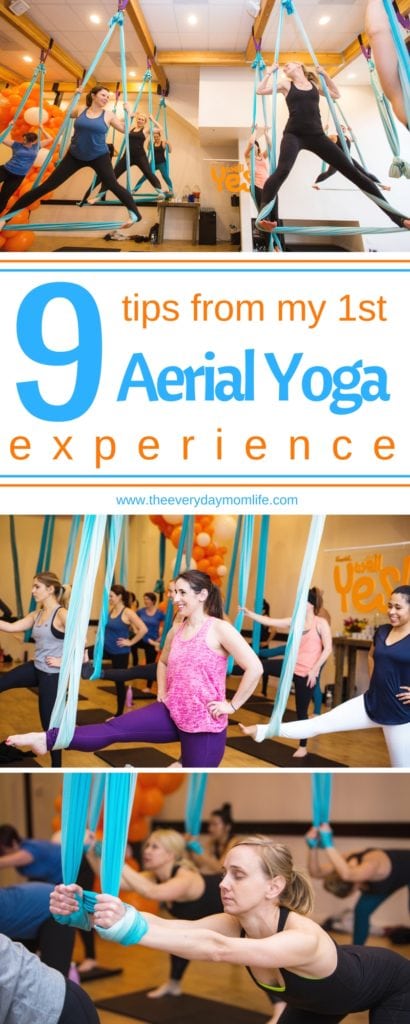 I'll be perfectly honest with you. It's a struggle. I love food. I'm one of those people who has a lot of fond memories of family and friends that involve sitting around a lunch or dinner table.
But, I also do love to exercise and I love the energy that you get from being around others in the same zone, figuratively and literally.
Aside from being a runner, I try to incorporate new types of activities and foods in my diet. I'm also one of those people who will try any food (maybe sans bugs) and will give most workout programs a shot.
When Well Yes!® soups asked me to be part of their Chicagoland event to celebrate future Moments of Yes, I jumped at the chance. Their soups are some of my favorite lunchtime options with nutritious ingredients like chicken with no antibiotics, kale, sweet potatoes, quinoa and they don't contain any artificial colors or flavors.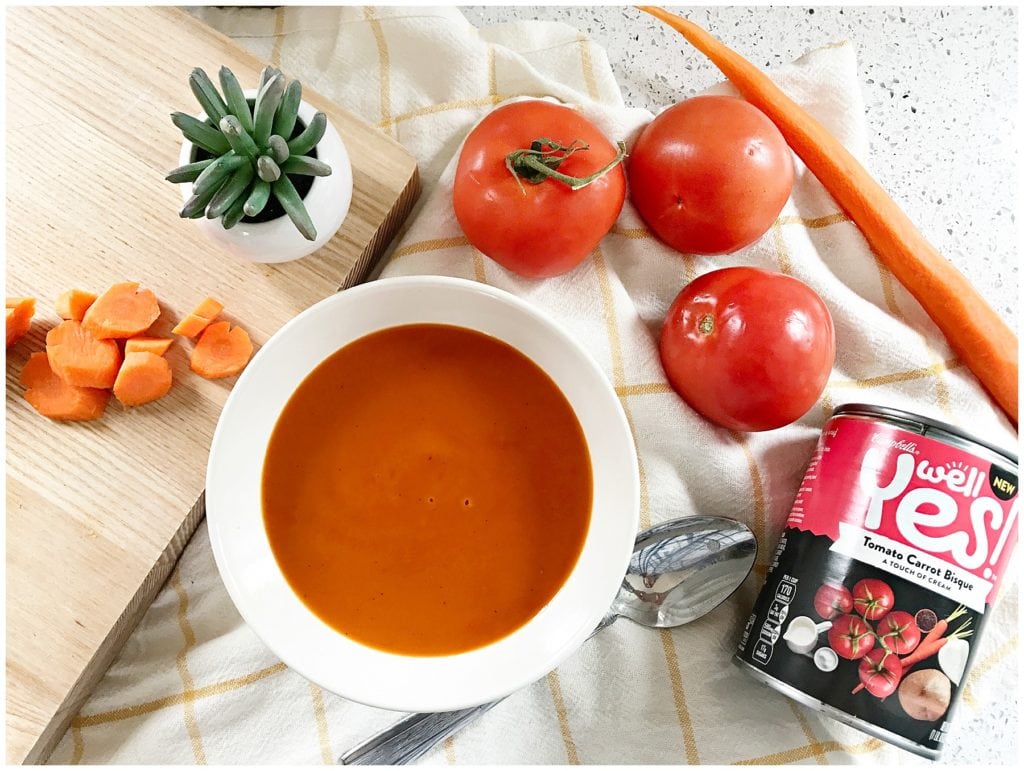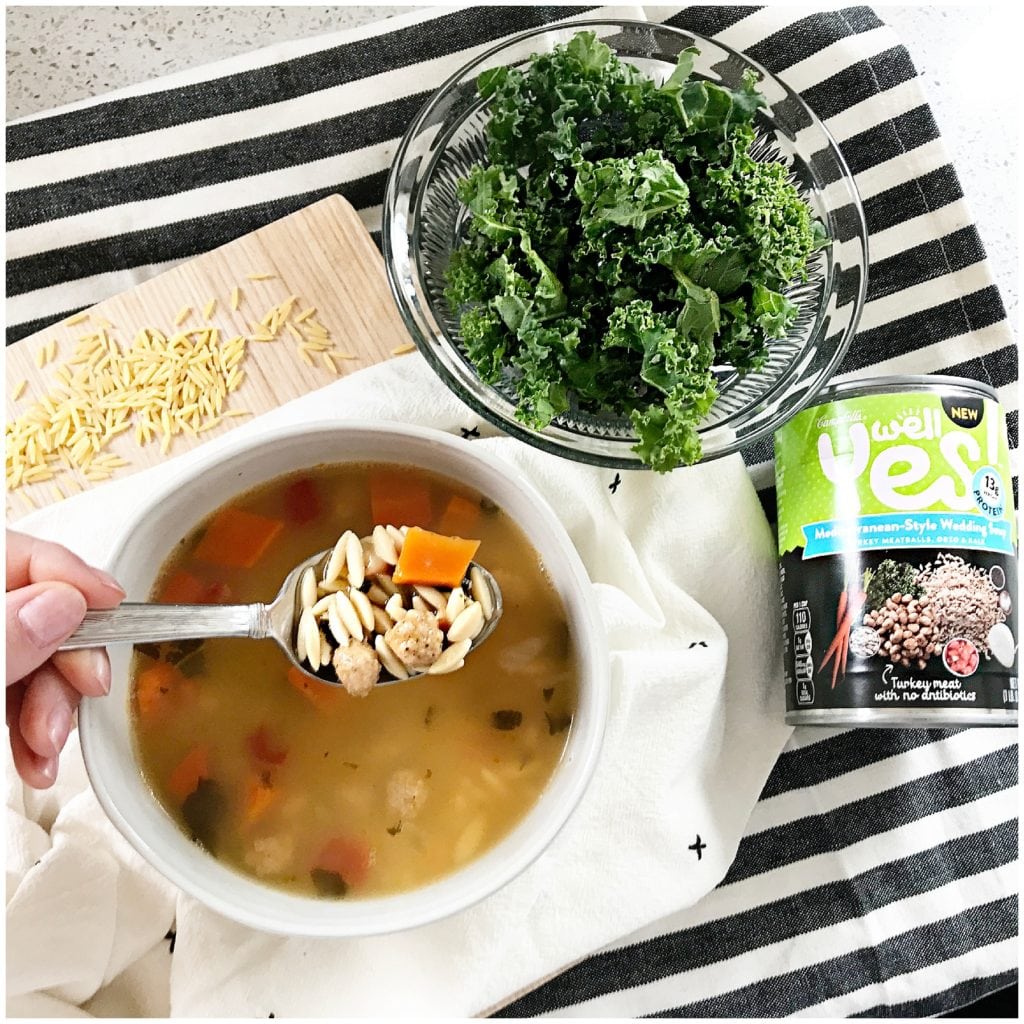 I also loved the idea of creating these future Moments of Yes. That idea aligns with my personal future goals and the promise I made to myself last summer.
Oh and it included a chance to try aerial yoga, which I've been wanting to do since watching P!NK perform at the Grammy Awards in 2010. Let's just say I was a bit less graceful than she was and the workout left me sore for days.
However, it was incredibly fun experience and something I would love to do again. I also feel so grateful to have had the experience with two of my best friends.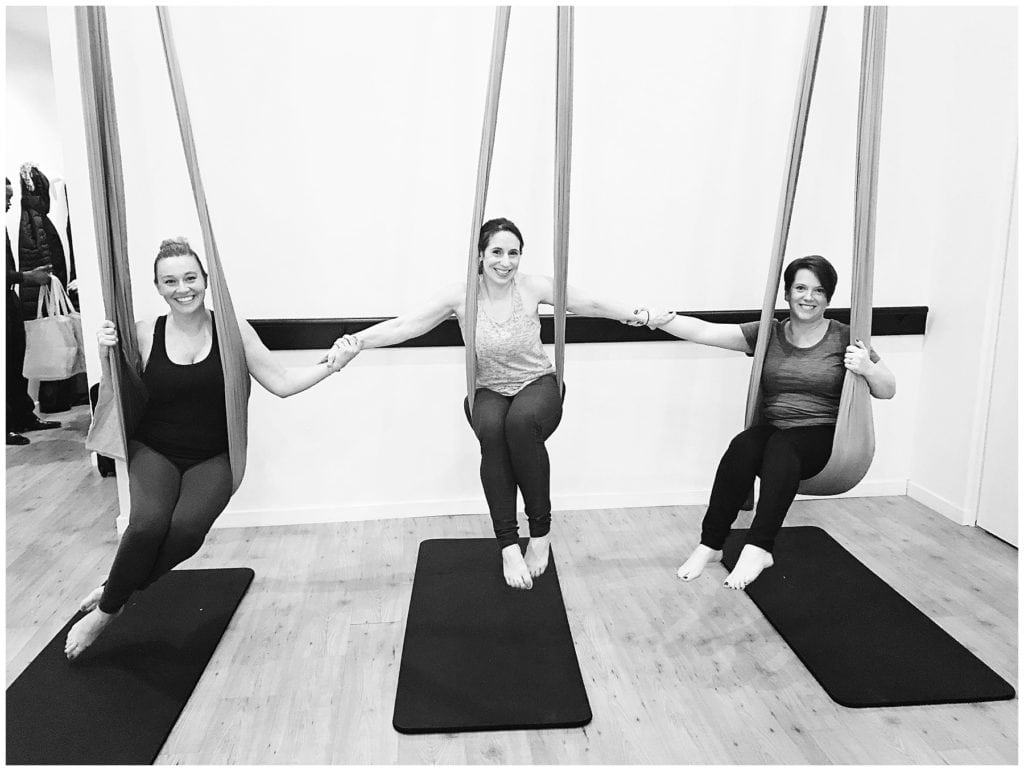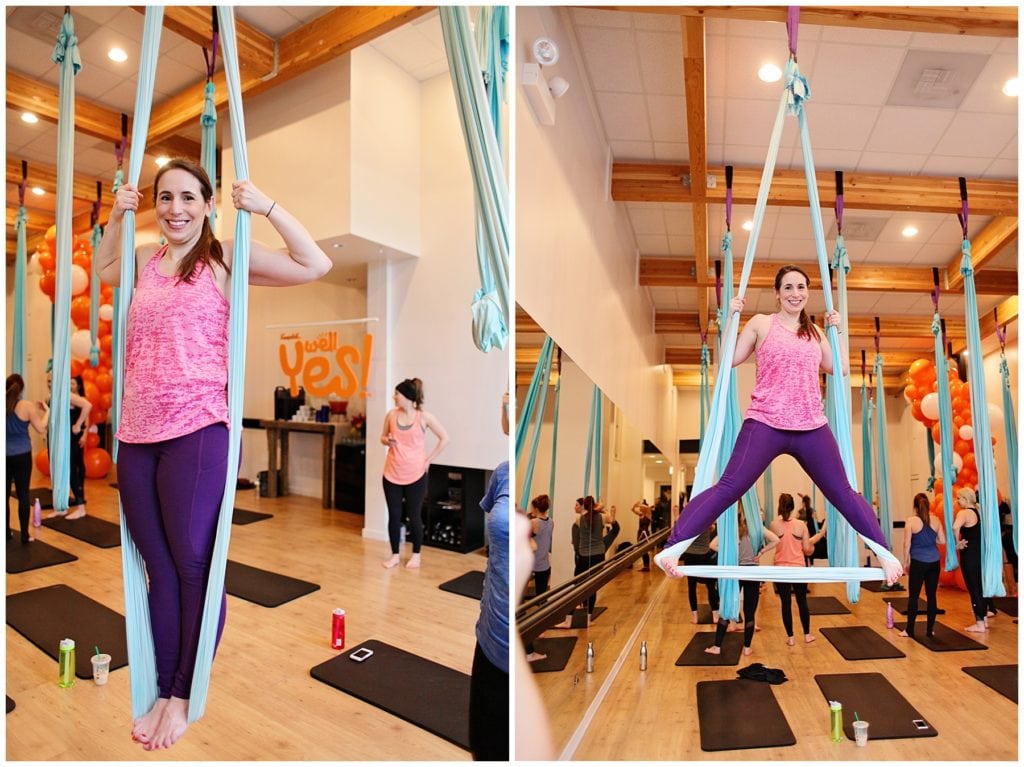 We arrived at Air Aerial Fitness in Lincoln Park, Chicago one Sunday morning ready to go. The aerial studio was simplistic and beautiful with a combination of natural wood features and the silks that hung from the ceiling. The Well Yes! Décor made the whole place feel festive and lively.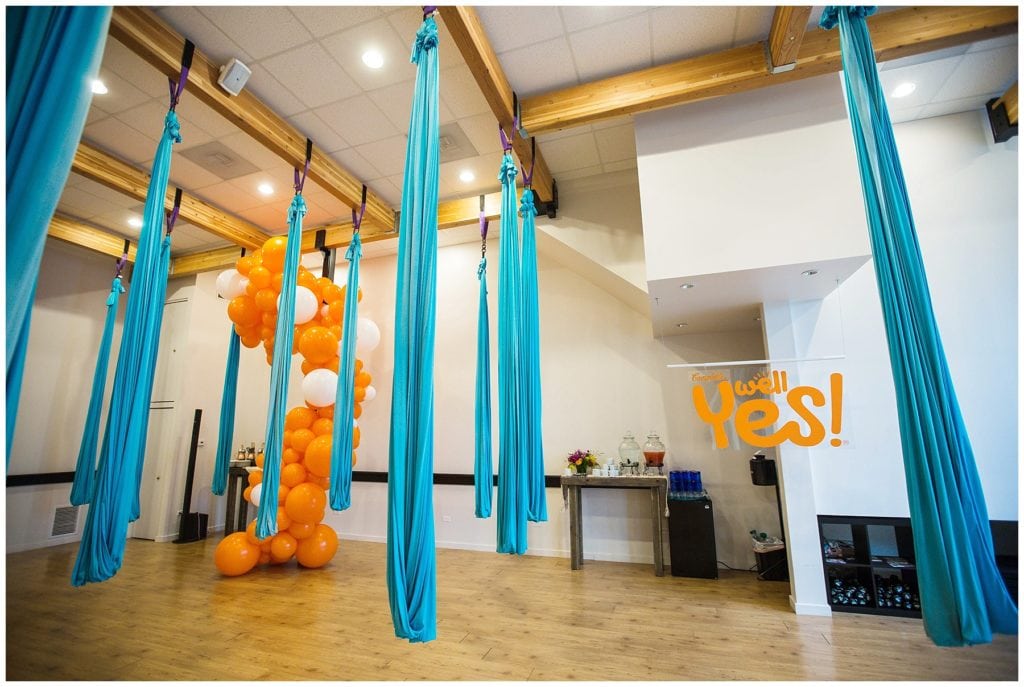 Before the class started we were each escorted to silks that were an appropriate length for our heights and then we each had a chance to sort of play around with it before class started and things got serious.
If you follow my Instagram stories then you know I run all the time. However, this did not prepare me for this class! In fact, it showed me that I have some pretty serious deficiencies when it comes to working out other muscle groups. Balancing your own body weight when swinging from the ceiling and using it as the weight your lifting is not an easy task!
Nevertheless, I loved this event. It was fun and the instructors were light-hearted, which was great since so many people in the room were newbies. Everyone was successfully able to get up in the silks and had a chance to fly.
Here are some learnings and tips I would share with anyone looking to try aerial fitness during their Future Moments of Yes.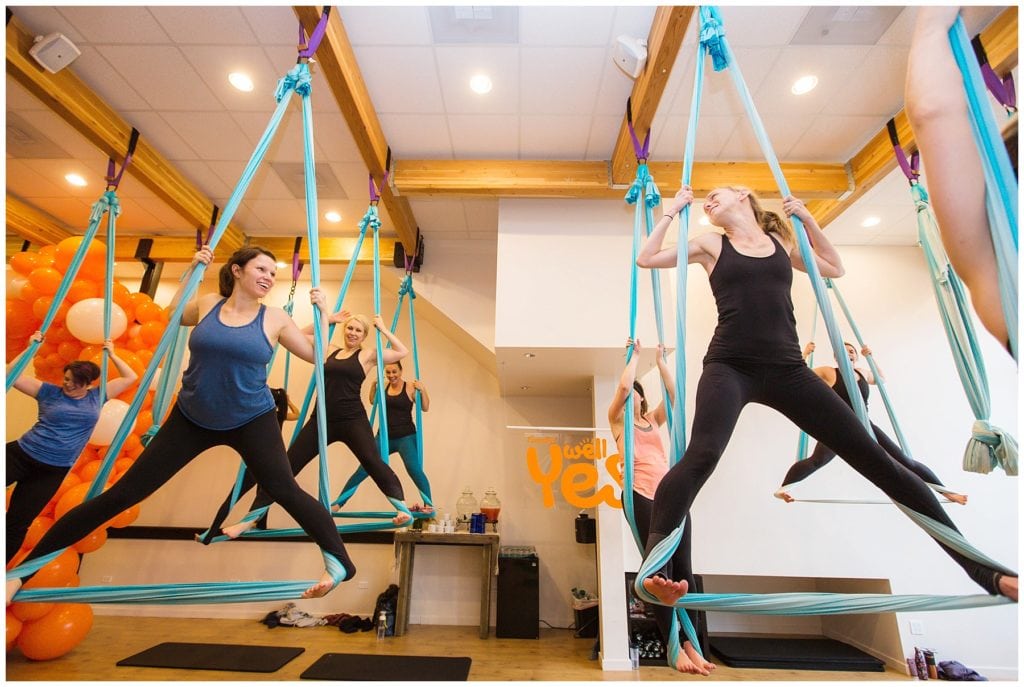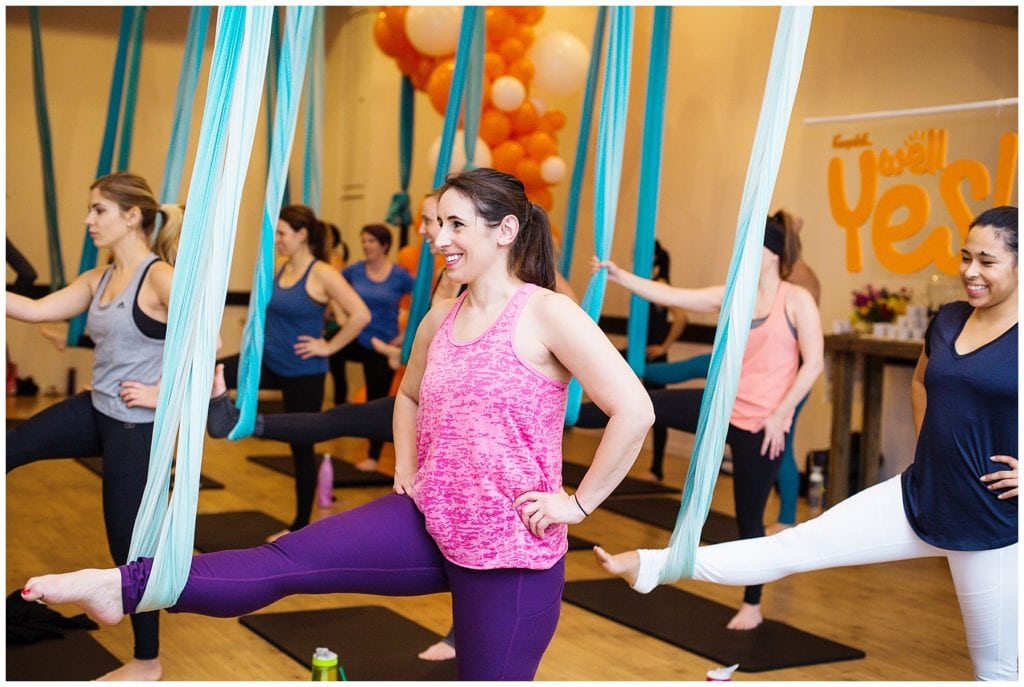 It's not as hard as it looks
This is something everyone can do, despite your fitness level. Full confession: One of my friends almost never works out. She was able to get up in the silks and do the aerial work as well as the mat work. She certainly hurt the next day but that's to be expected.
It's exactly as hard as it looks
I know these seem to contradict the first one but hear me out. If you think this is going to be an easy workout it's because P!nk and others have made it look easy. This is a SERIOUS workout. The workout itself is fun, but you will sweat and your muscles will feel it. There were several times when I was up in the silks that I could feel my legs shaking from the intensity.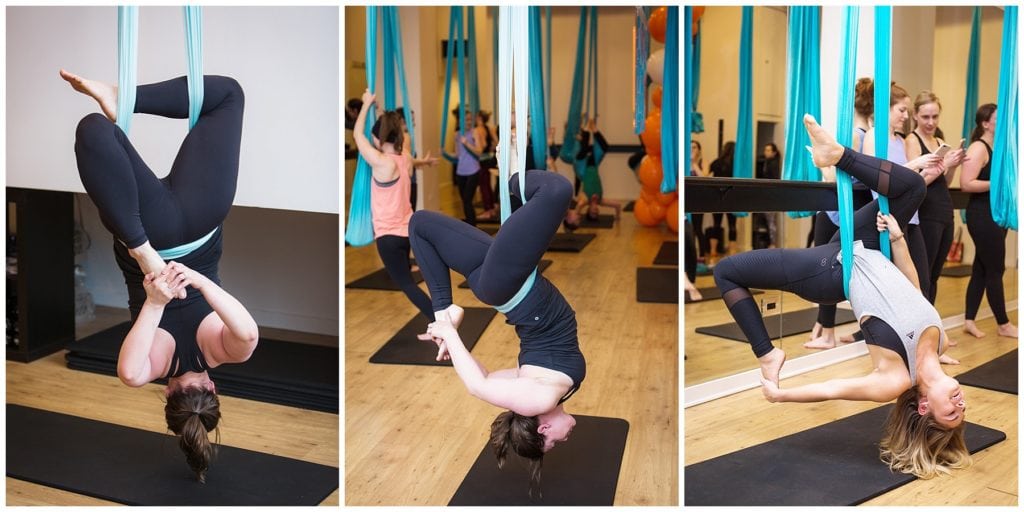 Wear fitted clothing
I like to wear flowy tops when I work out, but that's not ideal for this. You need to have form fitting clothing so it doesn't get in the way while you move through the silks.
Get to class early
So we actually arrived an hour early and they were still setting up. So we left and came back about five minutes before the class started. I would recommend getting to class 20-15 minutes early, especially if you're new. That way you can introduce yourself to the instructor, talk to them about your skill level and find a silk that will be the right length for you.
Don't eat too soon before class
I wouldn't recommend eating a lot before class. Maybe have a light meal an hour ahead of time but this isn't something you want to do on a full stomach. After class we had a lovely brunch with Well Yes! Soups, quiche and some pastries, which was a great way to end the experience. Well Yes! is a line of soups made with nutritious ingredients that have been crafted with care. All Well Yes! soups are made with non-gmo ingredients and contain non-bpa lined cans, making them both a delicious and nutritious option. Find more Well Yes! inspiration here, and check out their great coupon offer to save 50 cents on any two Well Yes! soups here!

Realize the silks move
So I get motion sickness easily and this summer I had a bout of vertigo for several months. Going upside-down was something that was difficult for me because of these two factors. I mentioned taking a non-drowsy motion sickness medicine the next time I took a class. The instructor said people get used to it. My inner ear never seems to get used to anything though so when I try it again I will try motion sickness meds.
Prepare to be sore
We took this class on a Sunday and I felt my muscles tightening up that night. Remember to stretch and prepare for some of that soreness, especially if you're like me and tend to only workout one muscle group.

Realize you don't look silly and uncoordinated
I fully believe this fear is what keeps most people from trying new things. So many people are afraid to try something out of fear they will look ridiculous. Concentrate on the workout. Concentrate on the movement. You may struggle at moments but everyone is there struggling with you and you're not alone.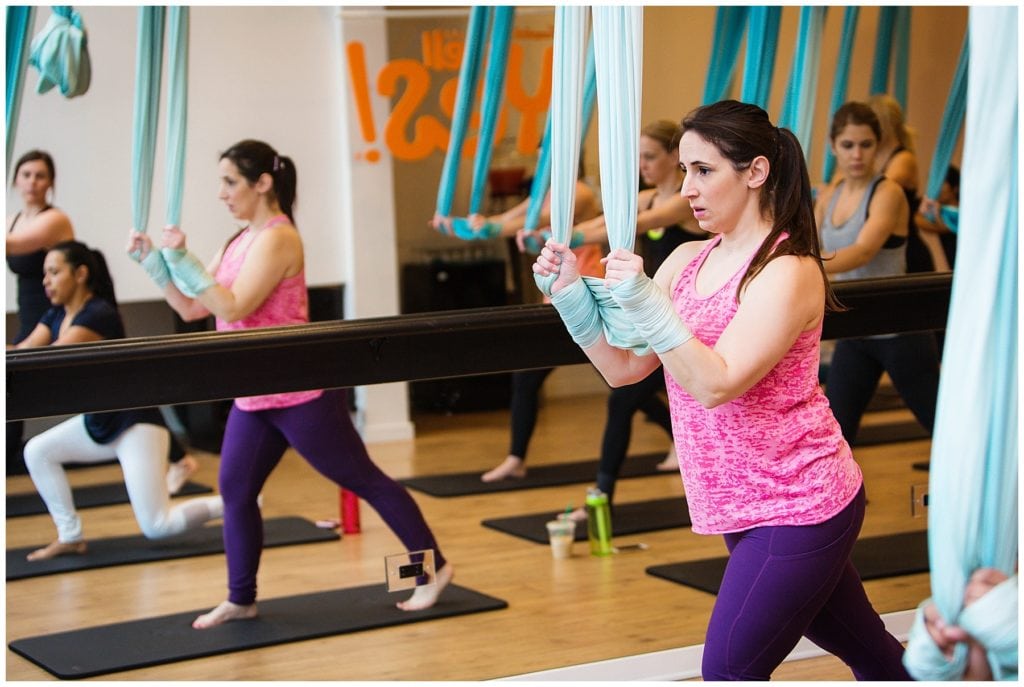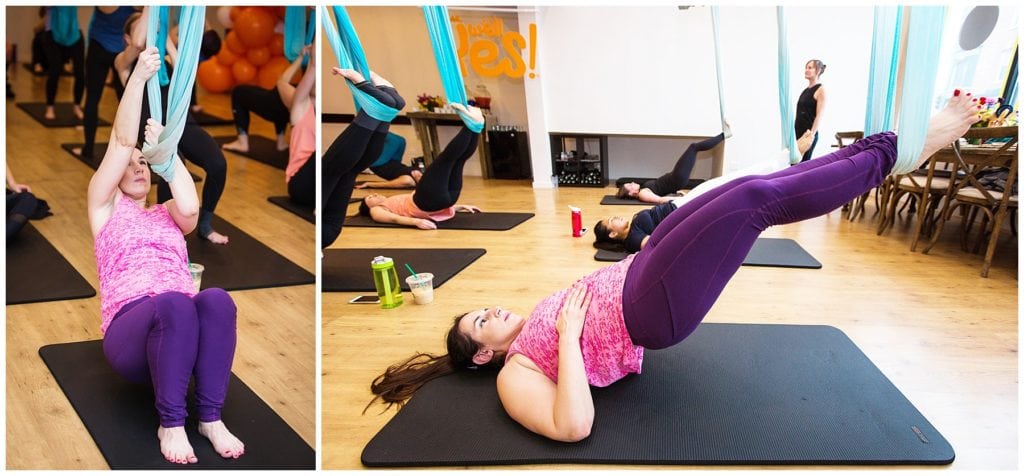 Have fun
Even when here are moments when you or someone else messes up, laugh it off. Find a class that allows you to have fun versus a class that asks you to be quiet and serious. That might be good for experienced aerial fitness gurus, but most people will need a little levity as they are levitating above the ground held up by fabric.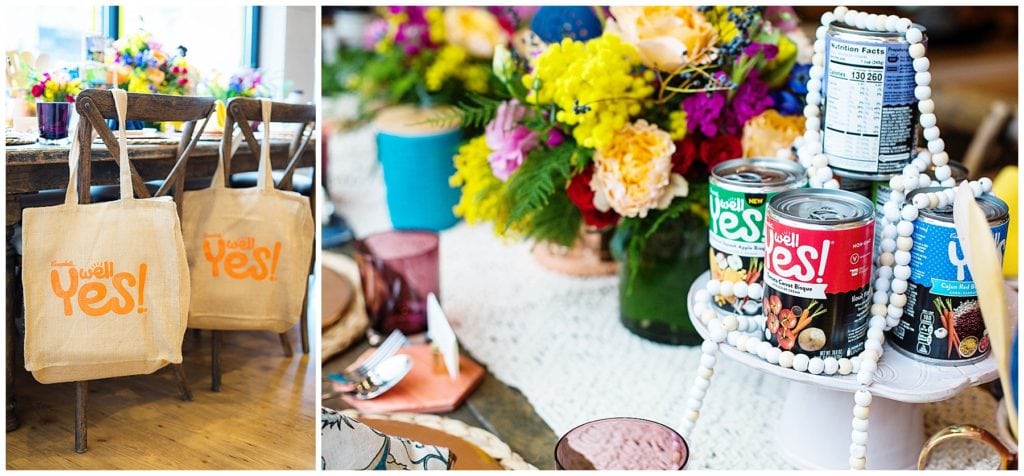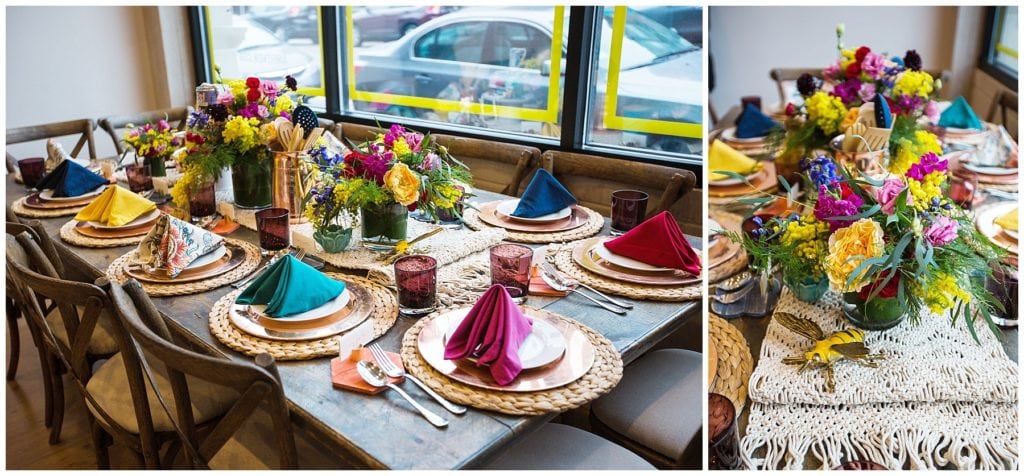 Those are my biggest learnings from this fitness experience, but there was so much more to it than that. As I mentioned after the session we had a beautiful, delicious lunch. We had a chance to relax, meet the other participants and chat about life as moms.
Being able to connect, laugh and understand exactly how another mom feels when they talk about the funny antics of their 2-year-old creates life's largest moments of yes.
What is your moment of yes for the new year? Enter the #WellYes2018 sweepstakes below for a chance to win up to a $500 gift card! It's as easy as clicking, logging in, and sharing your moment of yes!
#WellYes2018 #Sweepstakes (1/15 to 2/16)