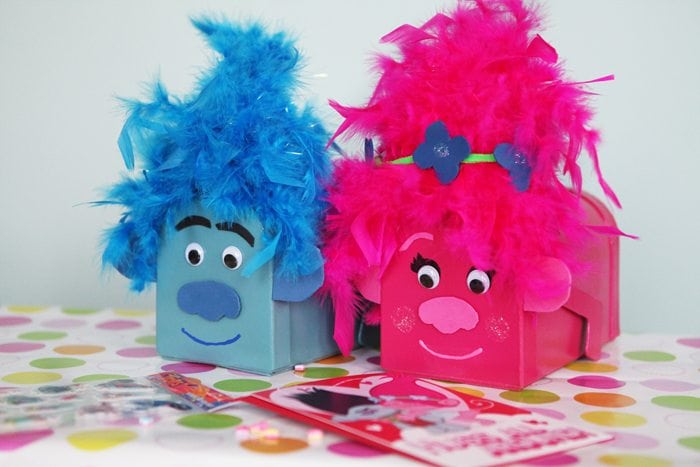 My daughter has been obsessed with the Dreamwork's Troll Movie since we saw it at the theater this fall. The week before Christmas she told me that Equestria Girls (a My Little Pony/person hybrid that she had loved for a year) were not longer "in her heart" and that Trolls were now "in her heart." I wanted to tell her that you can't just change it up on Santa like that, but instead I hurried to Target and bought her a few, little Troll dolls.
At any rate, we have been living in the Troll village ever since – we listen to the soundtrack (Justin Timberlake is now a household name here), watch the music videos and dance around the living room and of course play with the dolls.
Now that Valentine's Day has come around I knew she would somehow want to incorporate the Trolls. The last few years we have made a card box at home and this year I wanted to do something a little more special for her and her brother, whom she has roped into her obsession and love of JT.
I knew I wanted to make Poppy and (happy) Branch Troll boxes for them so I set off to the craft store with an idea in my head. It changed a little since my original plan but I'm thrilled with the final outcome! Check out the results below.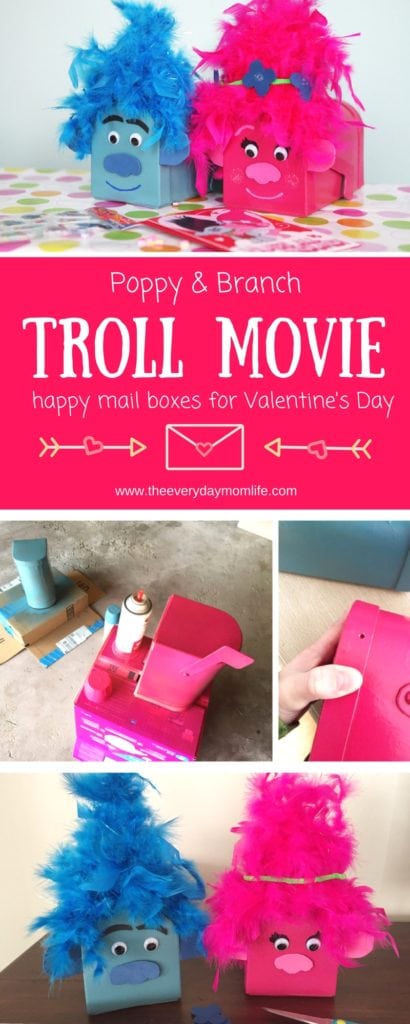 You will need:
Cardboard mailboxes or cardboard boxes
Dark pink and grey/blue spraypaint
Pipe cleaner – Color doesn't really matter but I also did pink and blue in case any of it showed.
Feather boa in pink and/or blue (they sell these at the craft store in short sizes)
Foam paper in pink and/or blue
Google eyes
A sharpie
Puffy paint in pink and/or blue and clear glitter
Steps:
1. Spray paint your boxes in a well ventilated area. (Meet my garage floor.)
2. Punch holes in the sides of your boxes with a screw driver and hammer. I originally tried a hole punch but the cardboard was too tough. Also, since these open I made the decision to put the hair on the part that opens. If I hadn't then the hair would have been too far back relative to their faces since there is a lip on the lids.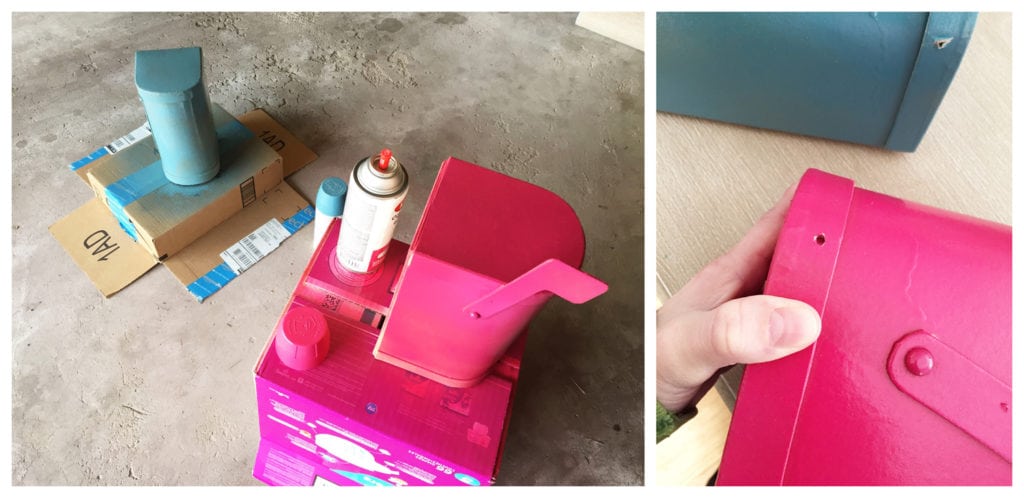 3. Thread your pipe cleaner through the holes on both sides and make a point on the top.
4. Thread your feather boa through the pipe cleaner back and forth. Start at the bottom and tie it so it holds. Once you reach the top tie it again. Just be careful with it as the box opens and closes. It will be fairly secure but you might have to bend it back into shape.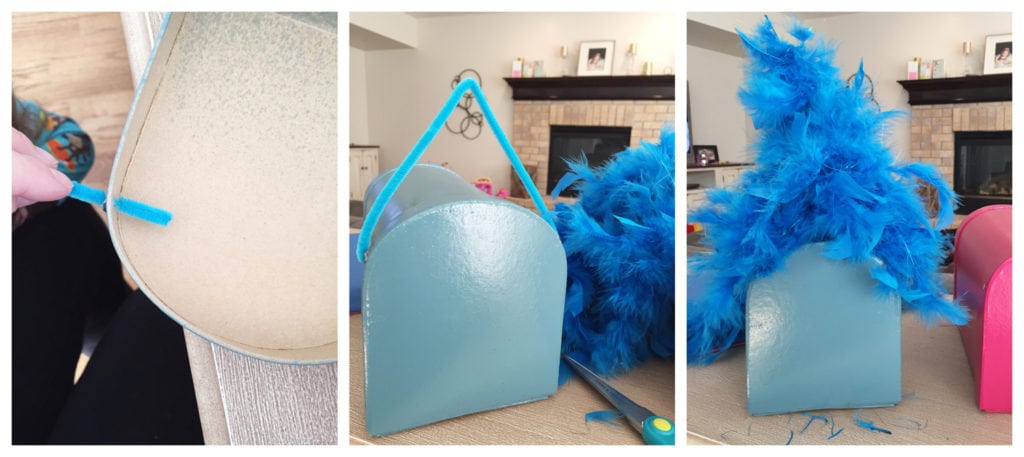 5. Use your foam paper to create noses, eye brows and ears. You can use glue but I still all these pieces on with tape in case I wanted to remove anything. The ears will need to be taped as you can see in the visual below.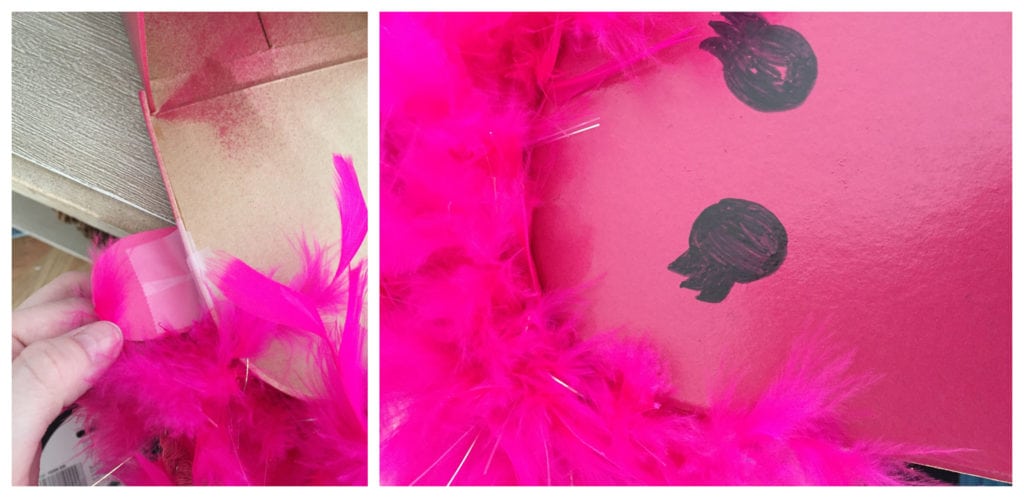 6. If you're making Poppy, use the Sharpie to draw black circles for her eyes and eye lashes. Let dry. Glue the google eyes on so they stay secure.
7. Again for poppy, I used two pieces of green pipe cleaner to form her headband. Then I taped the foam flowers to it.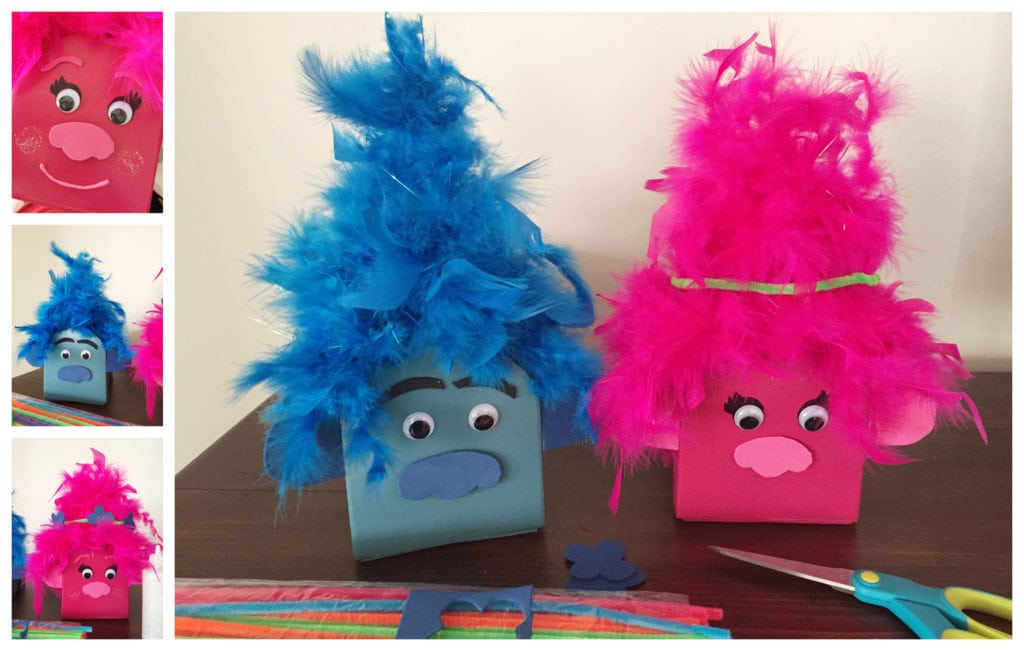 8. Using puffy paint, draw on their mouths and add any glitter embellishments like I did with Poppy's cheeks and centers of the flowers in the final photos.
That's it! All said and done it was much easier than I thought it would be. I always feel like I have these pictures in my head of how things should look and it never really ends up that way. This time, it did.
My daughter is ecstatic with the results and she wants to decorate the inside all Poppy pink now too. She can't wait to bring it to school and show her friends.
If you try it let me know how it goes! And, if you already have a box for your child for this year, pin this. Based off the success of the first one you just know Dreamworks will be making a second one.
Happy crafting!
Check out our DIY & Craft Section for more fun ideas.