The things that my daughter has learned at her pre-school/daycare fascinate me. Some days she comes home asking me if we can go camping in the woods so we can have chairs by a fire and marshmallows on sticks. Other days she comes home singing a new song, babbling about a new book that you read to her or chatting about a new animal. (Apparently, her favorite animal is a zebra.)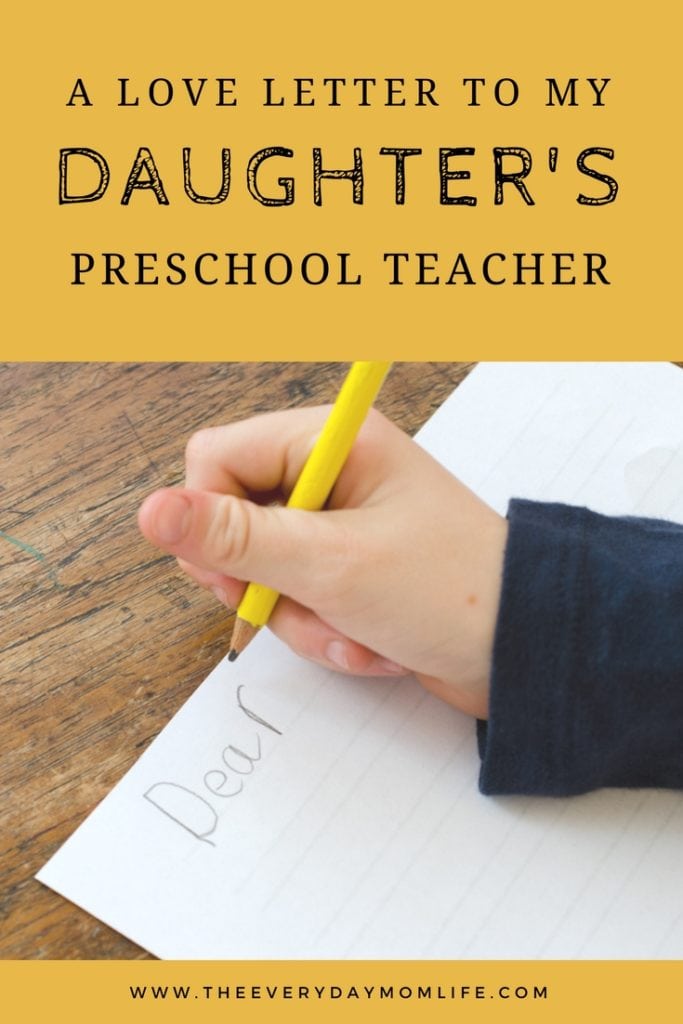 A Thank You Letter For A Teacher
Recently, she came home and showed me how she can write a K, the first letter in her name. Even as I type that, my eyes are tearing up and I think about how big she is getting. I think about her as a baby and how this once tiny person is growing into a big girl. I also think about you, dear preschool teacher. I think about what you went through to teacher her how to write that K.
No matter how much I love her, I recognize that it takes a special sort of person to be able to teach a child how to write. Let's be honest, it takes more patience than I probably have in my entire body. But you, you have done it.
Today, my daughger came to me and gave me a Valentine's Day heart she had colored on. On the front she said it was a picture of an air pup from Paw Patrol (Of course it was.).
On the back though, there was magic. On the back was not only her K, but also an r (lowercase) and an A (uppercase). It also looked like there was a Q, which is the first letter in our last name.
I was honestly floored when I saw these letters lined up in a row in an attempt to spell her name. I mean, I'm not sure when I learned how to write my name, but I'm pretty sure it wasn't by 3.5-years-old.
At the beginning of the school year, we were working with her on just letter recognition, just as all the other kids in class were. Today she recognizes those letters enough and has the pencil holding skills to put it all on paper. I was a small part of that. You were a large part of it.
So, this is my very, very long way of saying thank you. For all of the things you teach her every day, I thank you from the bottom of my heart and I am eternally grateful to you. The woman she will one day become is inside that pint-sized body today and every time she writes a letter for her entire life, I will know that began with you.
For more motherhood moments, click here.