By Guest Contributor: Alicia Dolan
Life was moving along happily. I was married, had a career and a little 2-year-old boy and then BAM! I was a single mom. Now granted it did not exactly happen that way but we can skip the long drawn out story of how that all came to be for now.
Fast-forward to 2017 and I have a handsome, sweet, loving and hilarious 6-year-old little boy. We have used the past 4+ years as mommy and me time and although it is much harder than I could have ever imagined, it is also that much more rewarding.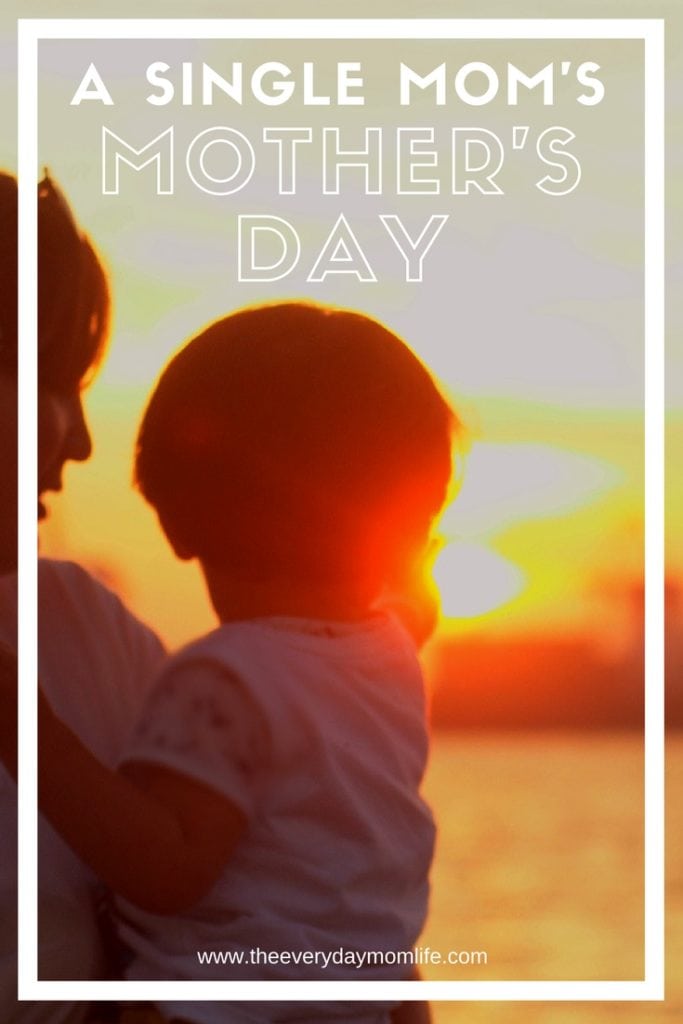 Mother's Day is always a bit difficult for me. I lost my mom a few years ago and celebrating it has not been the same since. Not only that but being a single mom often means you are a bit forgotten on this holiday. I don't get to visit my mom but we do always stop by and say hello to my stepmom who has been in my life since the age of eight.
Of course there is also the awkwardness of my relationship with my ex-mother in law. She was and still is like a mother to me. I do however have to hear my ex-husband complain about the fact that "she's not your mom, why do you need to visit her." (Don't even get me started on Father's day which makes my stomach churn a bit because I play the role of mom and dad 90% of the time and get zero credit for the dad part.)
Mother's Day came around last year just like every other year in the past. My son had spent this particular weekend with his dad, which is a miracle considering how little time he spends with his son. I requested he be returned Sunday at breakfast time so we could spend the day together.
He was delivered to me that morning and I had planned to go play at the park or maybe even go swimming, which is something we both enjoy. He gave me a big hug and then looked at me and said something I will never forget.
"Mom, I wanted to get you something for Mother's Day but no one would take me shopping for you. I am sorry".
Right then and there my heart broke into a thousand pieces and I had to fight back losing it in front of him. He had little tears in his eyes and I could tell he felt so disappointed that he wasn't able to make this day special for me.
I gave him a big hug and told him that we were going to have a great day. I asked if he wanted to sit at the table and make me a special card before we left for our adventure. He immediately perked up at the thought of an impromptu art project. We sat at the table and worked very hard on my Mother's Day card and I thought a lot about what all of this meant for both of us.
He was only 2-years-old when his dad left and although he knew what it was like to have both of us together, his memory of that is very faint and distant. Now at the age of 6, I am blown away by the things he says and how perceptive he is. I am amazed that at the age of 6 he wants this to be my day. He is so sensitive and wants to make me happy.
We sat at the table and worked for a while on the card and it was the most special card I have ever and will ever receive. I didn't ask him much more about his weekend or any details about what had taken place in regards to him wanting to shop for me. It made my blood boil to think that his dad would turn down a request to take him shopping, even if it was to just get me a card.
The day was still hard for me, the thoughts of him feeling disappointed plagued my soul, I still get choked up thinking about it. As moms, or maybe even just as women, we don't ever want our children/friends/family to feel disappointment. I would give pretty much anything to take that moment and memory out of his brain as if it had never happened but since I can't do that, I decided to make sure it never happens again. I asked him if next year we could shop for my Mother's day gift together.
"Uhhh yea, that would be awesome!" he stated.
Ok great, now we have a plan. I don't need a gift for Mother's day but being able to make him feel special WHILE making me feel special is the perfect solution for this situation.
Unfortunately I was also forced to think about not wanting him to feel any disappointment on Father's Day. I am not sure if my tone has been clear but thinking about buying something for his "father", and I use that term loosely, gives me the feeling of a semi-gag reflex. I will have to be the better person and do what is best for my son despite how much it pains me to participate in something that is for someone who is so un-involved in his child's life.
Father's Day came along and I took my son on a special trip to the craft store so he could pick out something to make for his dad. I had to grit my teeth a little while wrapping everything up for him but the look of total joy and excitement he had when he gave his dad the gifts made it all worthwhile.
Being a single mom is hard and with double mom and dad duties come a lot of sleepless nights, long exhausting weeks and an emotional breakdown every now an again. It is learning small lessons like this that help me to be the best mom I can be and try to proactively prepare for anything that might happen in the future. Going at this crazy job as a mother is very hard on your own, but you also get double the reward.
For more mom experiences, click here.