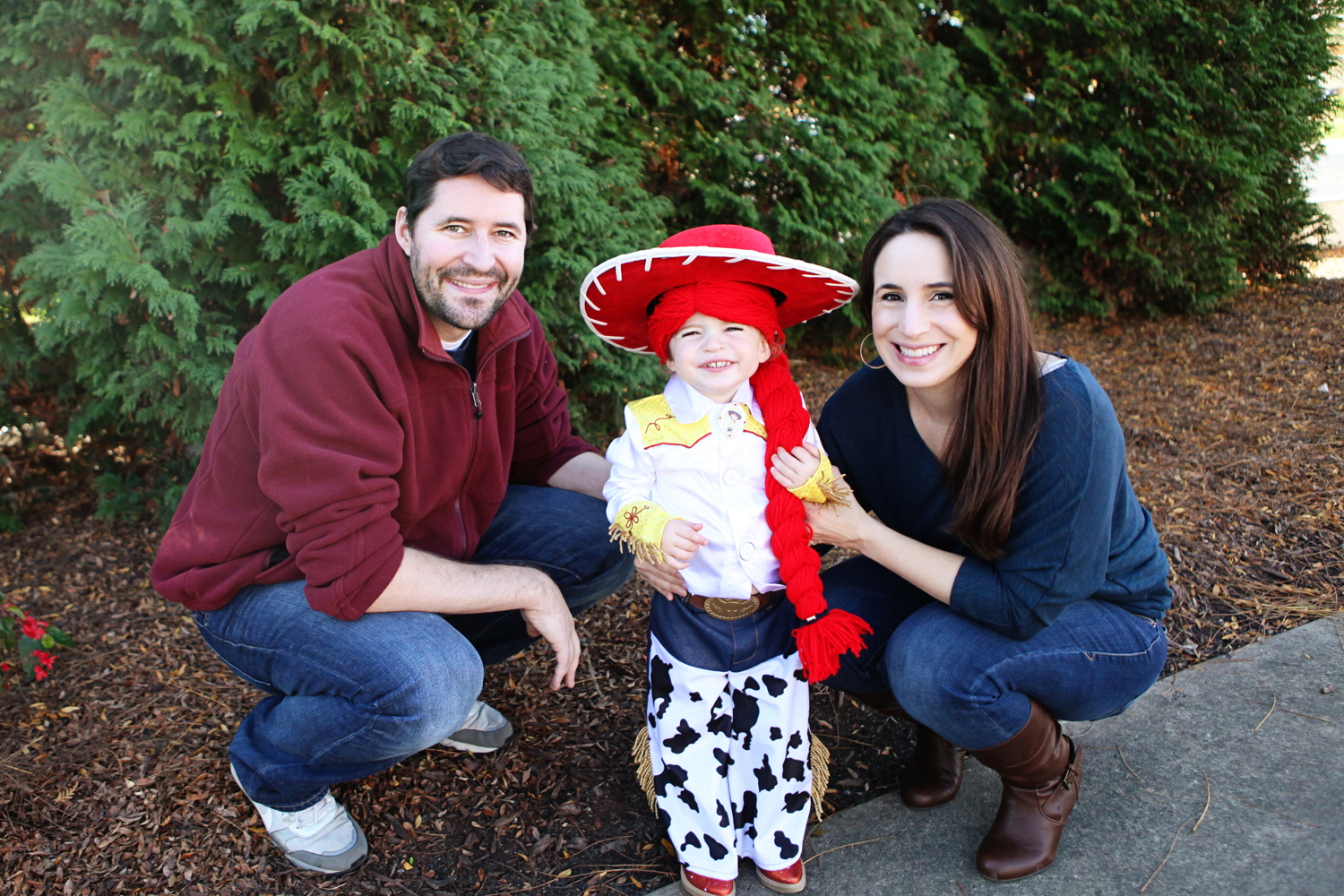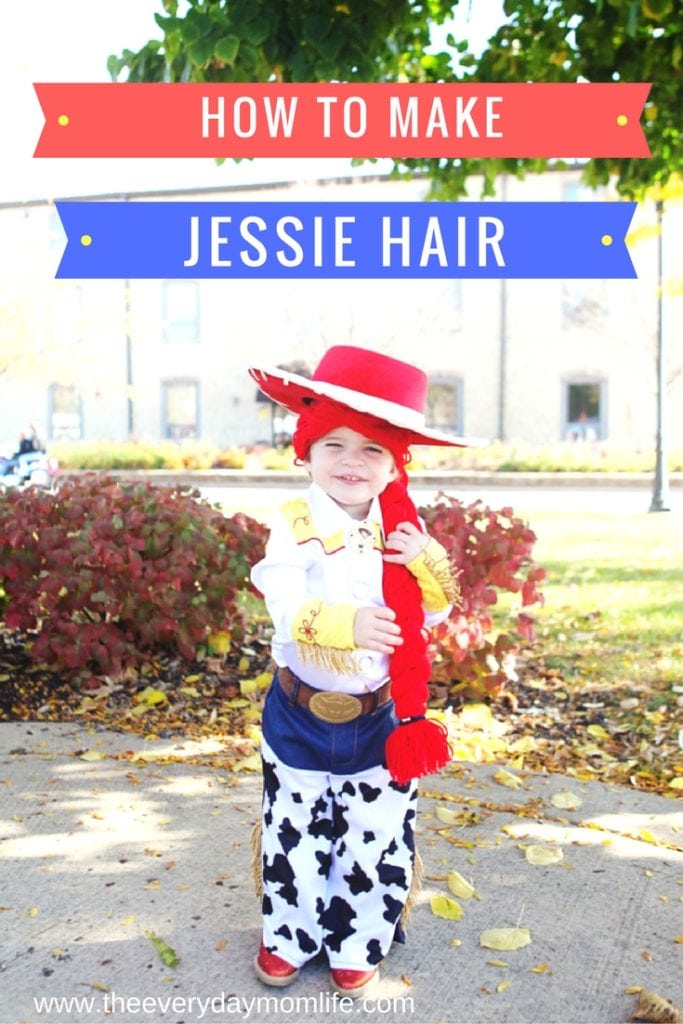 My daughter is opinionated. She is 2, so that's to be expected. However, I don't think this is going to go away. I see it as a good thing for her life in general and a frustrating thing for me in the future. I'm already dreading the fights when she is a teenager.
Because she is so opinionated, I decided I would let her pick out what she wanted to be for Halloween. She knows what she likes and what she likes is Toy Story, specifically Toy Story 3. We have watched it many times and every time (spoiler!) it makes me cry when the toys are almost burned up at the landfill and when Andy says goodbye.
My daughter has decided that Jessie is pretty much the most awesome character ever. She even rivals Elsa. So, when she told me she wanted to be Jessie, I thought, okay, I can get behind this. In fact, I was determined to make her an awesome Jessie. I wanted the costume to be just right – shirt, pants, shoes and hat. I decided to get it all. And yes, I bought it. I didn't sew her costume.
There were two reasons for this:
I received a sewing machine for our engagement and it is still sitting in the box. I'm not sure the last time I even touched a sewing machine.
I made peace with the idea of purchasing costumes last year. I'm okay with this now.
Last year, I was still photographing weddings like crazy and I was exhausted. I had just started consulting too at my current place of employment and just felt like I didn't have the time. I had a lot of heartburn over this. I wanted to be "That mom." That mom who has it all together. That mom who can make anything. That mom who can have a career and raise her baby while channeling her inner Rachael Ray and Martha Stewart on a regular basis. You know, that mom who does it all.




As I was stressing over the fact that I didn't know if I could be "That mom," a friend of mine said something that released most of my guilt.
"I figured I could either buy a costume and then spend more time with her (her daughter)," she said. "Or I could make a costume, which I would probably work on while she was awake and it would take away from me spending time with her."
Done. I liked that rational. I like hanging out with my kid. I immediately hit purchase on the Pink Poodle Costume she wore last year and gave up the guilt. That costume was the most adorable thing I had ever seen and it looked homemade.
This year, I am working an average of 50 hours a week for my current employer and I'm still photographing. I decided to go with the same school of thought that I had last year and save myself the time and the guilt.
However, it wasn't until after I bought most of the costume that I realized my kid's hair just didn't scream "Jessie hair." My daughter has short, super curly hair. It's beautiful and I'm jealous. It's taking forever to grow longer because it has to grow three times as long to see the length due to the curls. I know in the grand scheme of things, the hair doesn't matter, but I thought if I could make it easy enough, I would make her some Jesse hair. Away to Pintrest I went!




There I found a Pin to this blog with instructions for making Rapunzel hair. I decided I could do this.
My supplies included:
Red tights
Red yarn
Red thread
One needle for hand sewing
Floral ball – This was my add. No idea what the name of this actually is, but you can't sew this on your kid's head and I wanted to see the shape as I sewed it.
Instructions (Modified from the original post.)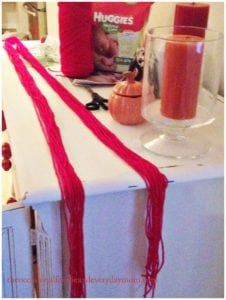 1. Fit the tights over your child's head and tie the legs. Cut the legs off.
2. Cut the lengths of yarn twice the length you want so you can fold the "hair" in half and make sewing easier.
3. Once you are done cutting, comb through the yarn so it isn't tangled. This will make your life easier.
4. I tied each end of the yarn with a ponytail holder to keep it from getting messy. This was not in the original post, but really helped me from getting it tangled as I worked.
5. Find the middle of your "hair" and lay it out across the head-fitted tights on the floral ball.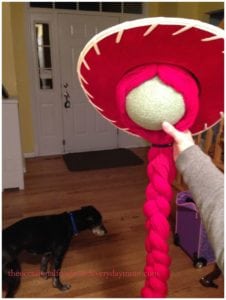 6. Push your sewing needle up through the tights about an inch from where you want the "hair" to have a "part."
7. Bring needle forward and wrap it around of the bottom front of the hair and tights to create the center part.
8. Sew to secure as needed. I sewed the part a few times to make sure it was secure and defined. Then, I also sewed hair down the sides of the tights so it would lay right. After the first run wearing the costume, I went back and hand-sewed the hair on the rest of the head area in a few spots. It just wasn't laying right without it the extra security.
9. Undo the ties on each end of the hair and put hair in a ponytail at the nap of the neck.
10. Braid hair!
These are the final results! How cute is she!?!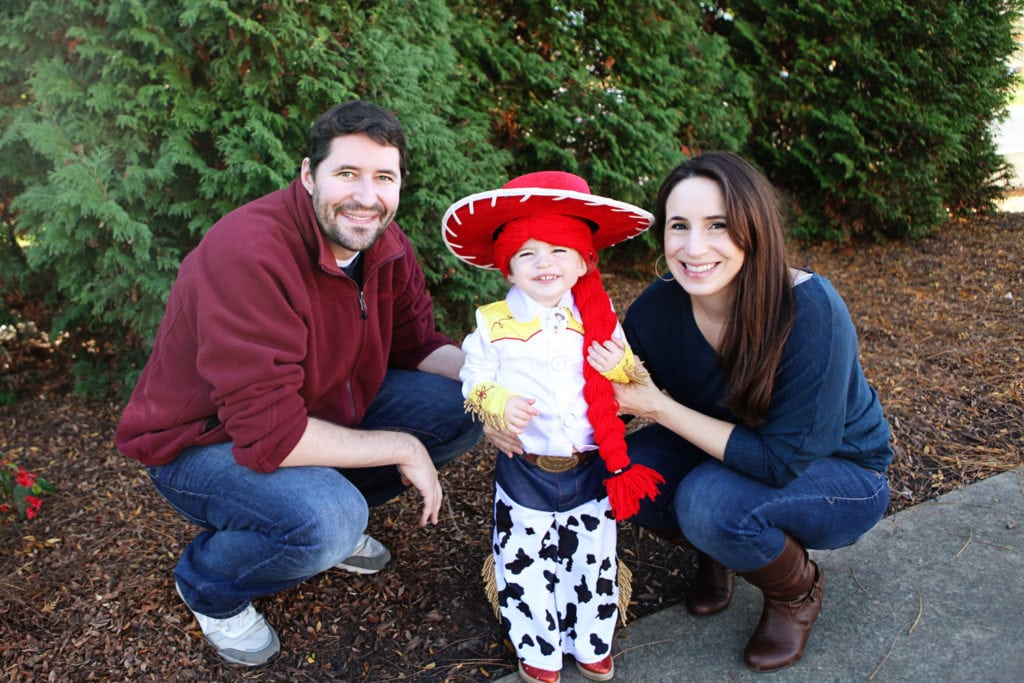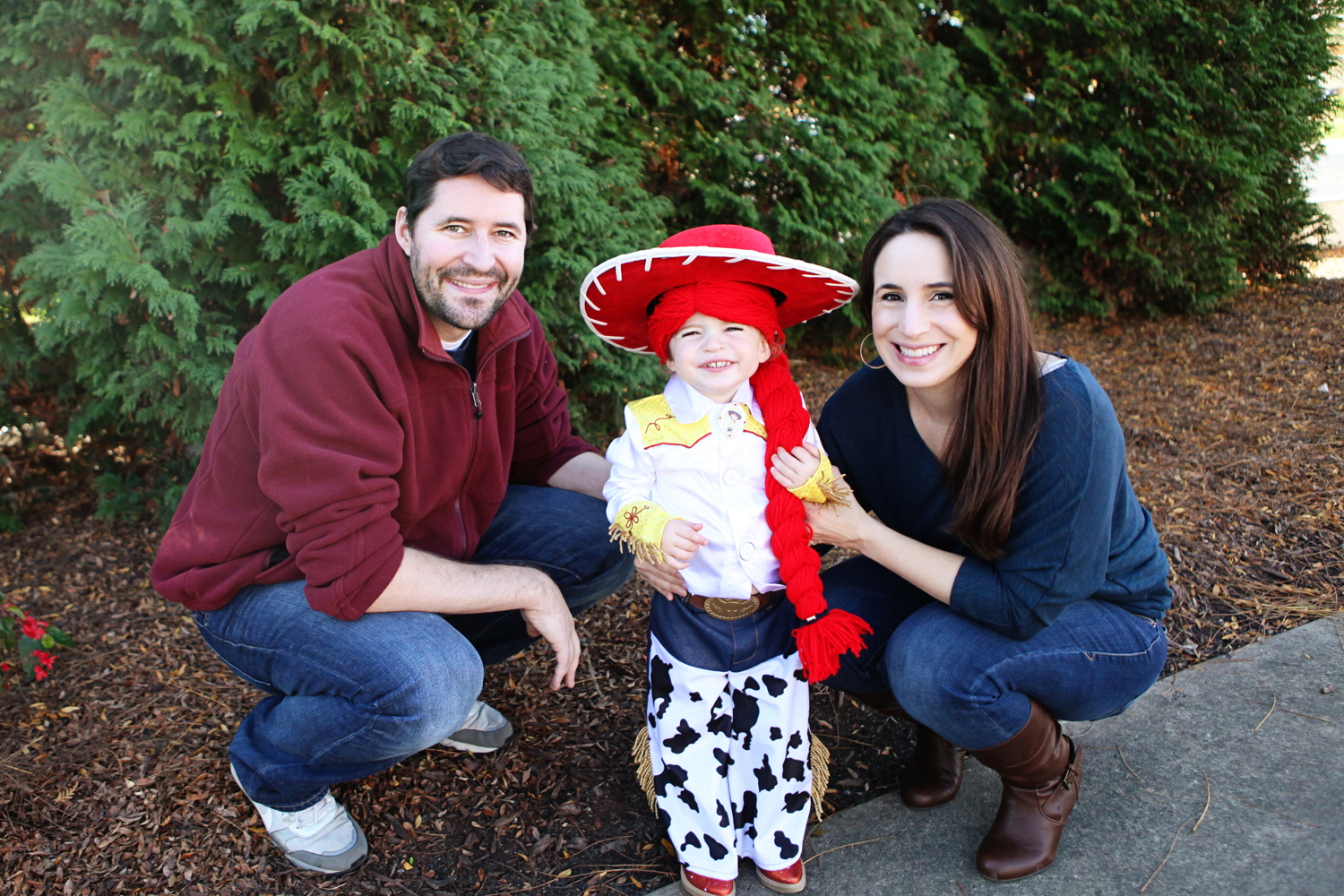 I realize the hair is a little longer than Jessie's but I wanted to squeeze a little princess in there. My daughter was so good about wearing the hair too, which was great because when it did come off her real hair looked like a bit of a hot mess.
She even looked cute from the back!
We received so many compliments on her costume and I'm pretty sure the hair made it happen. 🙂 Even though I couldn't be "That mom," this mom felt proud. The best part about it all was that my favorite girl had a world of fun trick-or-treating at the businesses in our downtown area and she was happy. She also somehow kept that white shirt clean. Let's be honest, that's sort of a miracle all on its own.