Now that we are officially passed my son's first birthday, we are in the toddler zone again. It's funny watching how different he is at this age than my daughter was. He is so much more active, always on the move. She would sit an play with toys, he runs with them.
However, there are some things that they have both really loved and I wanted to share them with you.
1. The Little People Bus/Tractor/Airplane/Dump Truck/Fire Truck/Etc.
Basically, any of The Little People vehicles have been a big hit for us for a coupe of reasons. 1. At the toddler stage kids are still putting things in their mouth and all the vehicles come with Little People that make perfect chew toys. 2. All of these things move on wheels and both my kids have loved pushing them around or watching me do it as I make the vehicle noises. No matter which vehicle you go with, your child will certainly love it. They all make some sort of noise when you put the people in the driver seat, which is fun for kids and not overly loud for adults. We just got the Fire Truck for my son's birthday and it is so cute. The ladder goes up and down, which both my kids think is fun.
2. Leap Frog Shapes and Sharing Picnic Basket
We got this toy when my daughter was just past six months, but my daughter still plays with it. We use the food in her kitchen now, but as toddlers both kids have loved packing this up with things and then pulling everything out again. Equally as fun is when they carry it around the house unpacking it in random spots. While we have lost some of the parts over the years, the basket itself is still floating around my family room and amazingly hasn't skipped a beat with it's audio. Shockingly, it is still going strong without a battery change.
3. Little Tykes Discover Sounds Sports Center 
My son is so funny. Very early on he has had a love of balls. I don't remember my daughter being like this, but already he is throwing and loves to put balls  in thing. This basketball hoop has provided him some entertainment already in life and every time he rediscovers it he spends time playing with it. He loves to just drop the ball through the hoop, listen to the music it plays when you make a basket and dance. It's pretty much the cutest thing in the world. My daughter hasn't shown any interest in this toy so it is the one thing my son gets all to himself, which is a very rare occurrence here.
4. Fisher-Price Little People City Skyway
Speaking of toys that my son doesn't get all to himself, this Little People Skyway is one that always becomes a toy that needs to be shared between them. I have to say, this is a really fun one. For some reason even I enjoy watching the different ways the little cars will take as they travel down the different ramps. I'm always amazed at how far they end up flying. My son is really at the perfect age for this. He now really tries to get the cars on the track and let them go down. He doesn't have it just yet, but another month or two and those tricky wheels that trip him up shouldn't be a problem anymore. The little extras here are cute too. There is a filling station, a traffic light that you can change and a few other components that make this toy a win.
5. Leap Frog Musical Rainbow Tea Set
My daughter had this and we used to play with it all the time. I believe it is now in with all her kitchen toys so she can properly serve us tea while she serves us whatever she is making for "dinner." It plays cute songs whenever you pour it, it lights up and the "tea" moves. The idea behind it is to teach some manners, counting and a few other skills that don't feel like skills at this age. It's never too early to start learning please and thank you though.
6. Little Tykes Gas 'n Go Mower
My son is currently obsessed with pushing things around my house. He received this for his birthday and absolutely loves it. It is the perfect height for him and the balls inside it pop as he goes. He can pull the cord and hear the "engine" rev-up and it comes with a little, red gas can. I love that there are no batteries needed for this toy. With as much as he uses it, I feel like we may be refilling it constantly. If you have any children in your life turning 1 soon, I'd seriously consider getting this as a gift for them.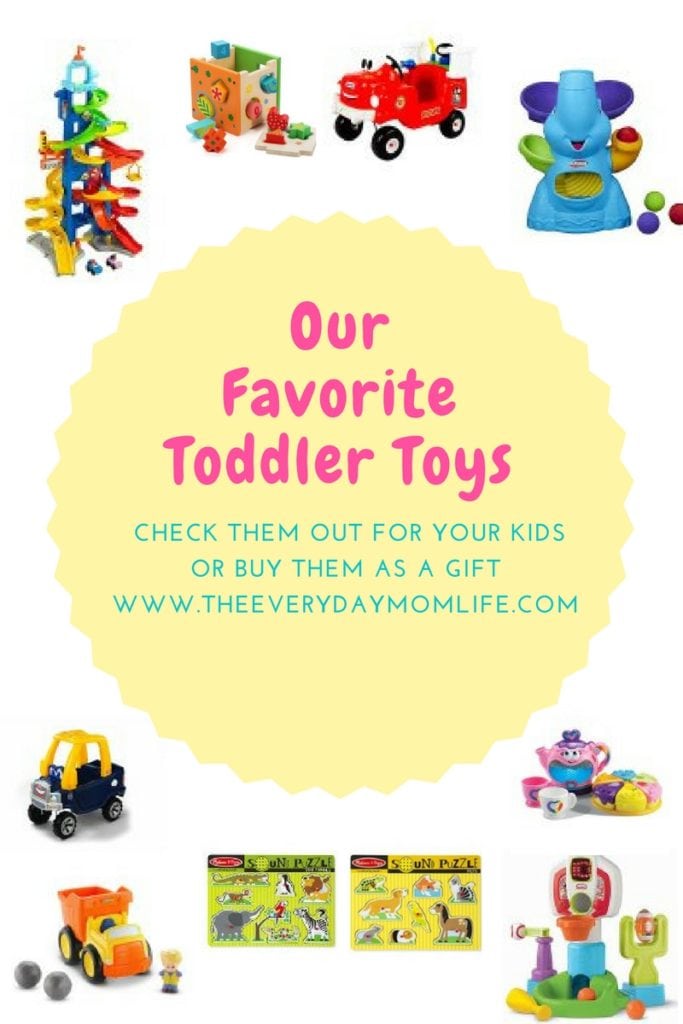 7. Playskool Poppin Park Elefun Busy Ball Popper
This guy has been a very fun toy in our house and keeps the kids busy. The elephant has music that plays while it pops balls out of it's trunk. The balls either pop out completely or float on the air that is coming out of the elephant's trunk. It is a completely delightful toy for the kids. The balls aren't big enough to fit in kids; mouths so it is extremely safe. Even if you don't have a ball handy, my kids have loved putting their faces above it's trunk while it is on. That has become a game here. And, the best part is that there are replacement balls you can buy in case those things roll away.
8. Cozy Coupe
This is by no means a new toy in the world of toys. Apparently it has been around for 30 years. We bought this for my daughter's first birthday and she loved it for years. I loved that it had a floor for the bottom so when she was just over one, we could put the floor in and push her around. Once she was older, we took the floor out and she could walk it around all on her own. She also liked to push it from the back. She would get everything together – a hat, her purse and some fancy shoes – and push her car throughout the house. At first we had it in the house, but now it is an exclusively outside toy. I like that it can be both. They also have a couple variations of this. There is a pink one, a truck and a police car.
We bought our son this firetruck for his birthday and we really enjoy it. However, unlike the Cozy Coup, it doesn't have a floor you can put in, which I didn't know before buying. He loves being pushed around in it and it has quickly become his favorite toy but we do have to be careful when pushing him. A good difference is that it has a water feature and you can fill up the water canister with water on a nice, hot day and use the "hose" to put out fires.
9. Melissa & Doug Wooden Puzzles with sound
I have LOVED these. It is so fun watching my kids' brains work as they try to figure out how place the animals or vehicles in their spots has been fun. They enjoy the sounds that the puzzles make when they get the piece in and the pieces are large enough and have round enough edges that I don't worry
about them choking on them or hurting themselves in some way. I also love that the puzzles are wood. the hold up much better than board puzzles and we have had some of them for years now. I will say that as the batteries start to go, or when you shut off the lights for the night, the puzzles will go off if all the pieces aren't in. This scared the crap out of me the first time it happened and sounds very loud when the rest of the house is dark. Motivation to keep all the pieces together. We have this zoo animal puzzle and these pets, but you can also get these vehicles and even a Mickey Mouse version.
10. Shape Sorting Toys
We have had a few of these over the years and I like this one and this one. The Fisher- Price one had five shapes that kids can sort and the plastic is nice and rounded making it very easy for kids to get the shapes into their holes once they have them lined up correctly. They also are nice and bright. Because this is a toy they can pick up and carry it makes it easy to take it from room to room, and both kids have liked shaking it and making as much noise as possible with it over the years.
If you are a fan of wooden toys, I've heard this sorter is really fun. We don't have it but it might end up under the Christmas tree this year for my son. Not only is this toy wooden and use the same shape sorting concept as the toy above, but it incorporates numbers and you can use it as a block or as individual boards. This will also keep kids busy past the toddler age and can easily become a great toy for a pre-schooler too.
That's it for this week! Keep this list in mind if you guys have a birthday coming up for a special little person in your life. I know if feels far away, but Christmas is just around the corner too!
Have a great weekend, everyone!