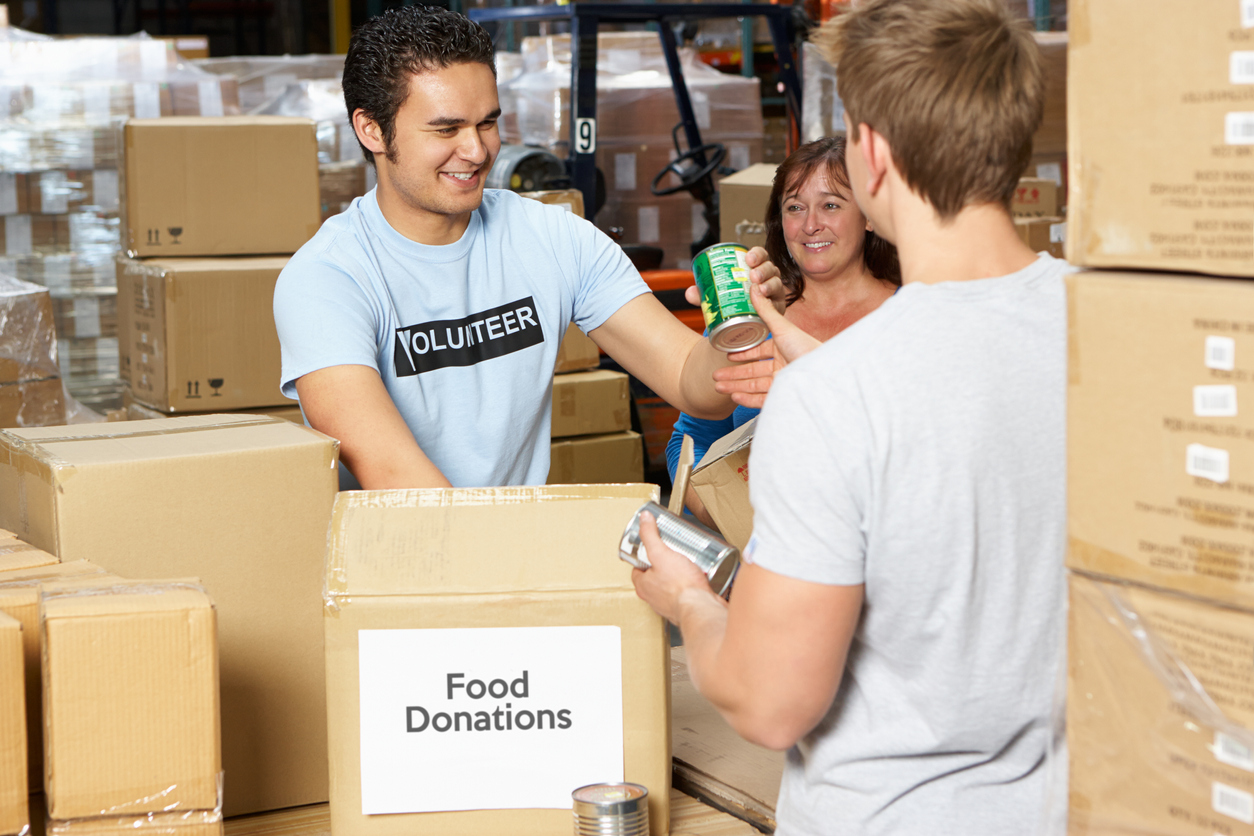 As we enter the holiday season, I always like to take stock in the love and gifts we are lucky enough to have in our life. I don't specifically mean material things, although I do like to give thanks for those too. Instead, what I'm always most thankful that we have the means to provide  the necessary things in life.
We have a house, so we have shelter. We have jobs so we have heat, water, clothes and food.
Each year I'm reminded that during this season of giving, there are a lot of people out there that aren't lucky enough to have these things. And while giving and donating is important year-round, I always have a heightened awareness during this magical time. I know it's not magical for everyone, especially for those struggling with hunger and wondering how to feed their children.
This year, we will be donating clothes as we always do each season, but I also am planning to donate food too. We moved to Michigan last December and while I love my little farm, this area isn't as well-off as the area we moved from. A lot of the families in my daughter's school struggle and it breaks my heart to think that they might be struggling to put food on the table since it's such a basic need.
I've done some research on the food banks in our area and I wanted to share some of my learnings with you. If you plan to donate food this year, find my tips along with some dos and don'ts for donating. Also, it should be noted that there's a different between food panties and food banks. However, for simplicity purposes, we've used the term "food banks" to apply to all.
Food Bank Dos and Don'ts
Before you visit to donate, check the hours of your local food bank. Many of them have special hours or are only open certain days when staff or volunteers are available.
Never donate opened food to food banks. While you might think you're conserving, they can't accept bags or cans that have been previously opened or punctured or dented. Unlike clothing, there's nothing anyone can do with used food.
Do not donate expired food. If you shouldn't be eating it, neither should anyone else.
When it comes to refrigerated foods, check with your donation center. Some food banks can take these foods and are really grateful to have them. Others do not have refrigeration and are dry facilities. Always call first.
Food like apples, potatoes, bananas and other fruits and vegetables that don't need to be refrigerated are always welcome.
Food banks will not accept your homemade goods, no matter how good the soup is or how lovely grandma's cookies taste. Always opt for pre-packaged foods when donating.
Unlabeled foods are also not excepted. Think cans that are missing the wrapper or other similar items.
Sometimes food pantries don't except items in glass jars like pickles or pasta sauce. Check to see if your local food bank allows this or not.
Check with your local food bank before you decide to donate frozen foods or any frozen meats. Again, some of them might have refrigeration and take these items. Others might not have it available.
Specialty items like soy sauce or other condiments are nice, but when donating really consider the staples people need from day-to-day. Volunteers try to put together boxes that are well-rounded for nutritional purposes and often times items like that just don't fit.
What food banks need the most
Canned proteins like chicken or tuna
Canned fruits and vegetables. Think beans, peas, carrots, potatoes, tomatoes, apple sauce, peaches, pears, oranges, etc.
Canned pasta sauce and pasta noodles
Shelf stable milk and milk alternative likes soy and almond milks. Also, if they have refrigeration then they may also accept milk from the dairy section.
Lunch box items like juice boxes, granola bars, fruit snacks, small containers of fruit and apple sauce, crackers, etc.
Cereal lower in sugar
Oatmeal
Rice, ideally whole grain or brown
Bread
Dried fruit
Peanut butter, almond butter, etc.
Pancake mixes that only need water
Spices including basil, oregano, cinnamon, thyme, rosemary, etc.
Salt and pepper
Cooking oils such as canola oil, olive oil and vegetable oil
Formula, infant cereal, diapers, wipes
Shampoo and conditioner
Toothbrushes and toothpaste for adults and kids
Hand and body lotion
Lip balm, especially in those colder areas
Seasonal donations
Consider donating these additional items during the holiday season
Frozen turkeys (check with your facility)
Canned cranberries
Canned fruits
Baking mixes that require only water
Chocolate and other candy
Pre-packaged cookies
Candy canes
Keep in mind that during the holidays it can be especially rough because kids are out of school. Those children might be relying on the free lunch they get as their one good meal for the day. The same applies to summer break.
Finding our what's needed
Also, if you don't know what to give, a lot of food banks will list what they need most on their website or have a phone recording with the details. Also, know that you can give monetary donations to food banks if you don't know exactly what they might need most.
For more information, or to find a food bank near you, visit Feeding America.
For more parenting and kid experiences, click here.