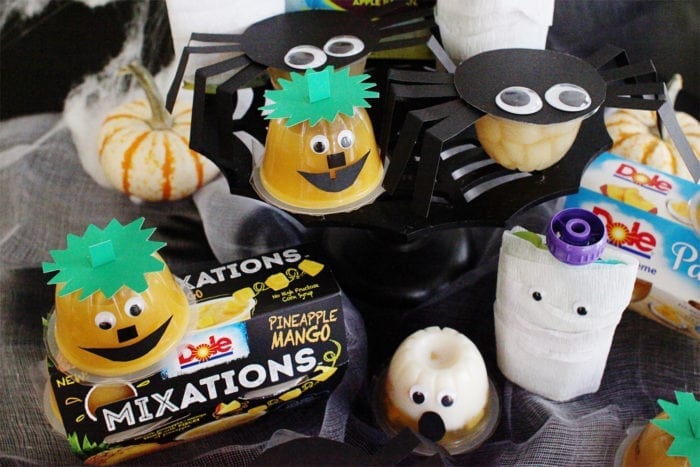 With Halloween fast approaching everyone at my daughter's school is talking about parties with friends and dreaming about all the treats they're going to get to eat.
However, if you feel like the kids in your life are going to get enough candy to last a lifetime, I have pulled together some fun and unique Halloween snack hacks for you that will still be a treat without creating candy overload.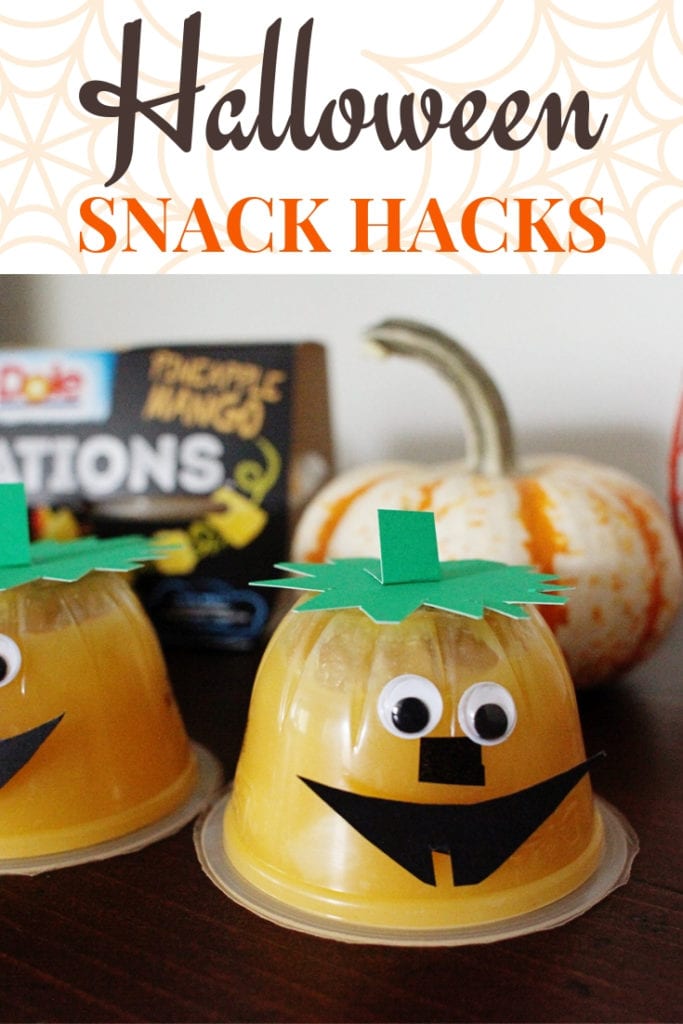 These snacks combine the goodness of Dole Fruit Cups, Mixations, Parfaits and Fruitocracy squeezable fruit pouches with some friendly Halloween faces to give your kids and their friends a delicious, spooktacular treat. When my daughter came home and saw these she immediately began asking to eat them versus the candy that someone had dropped off on our doorstep the night before. Sometimes a pair of googly eyes can make all the difference when it comes to selecting a snack for kids.
These are perfect for school parties, at-home Halloween parties or even to give out on Halloween to a few, select trick-or-treaters. Check out the step-by-step instructions for these snack hacks below.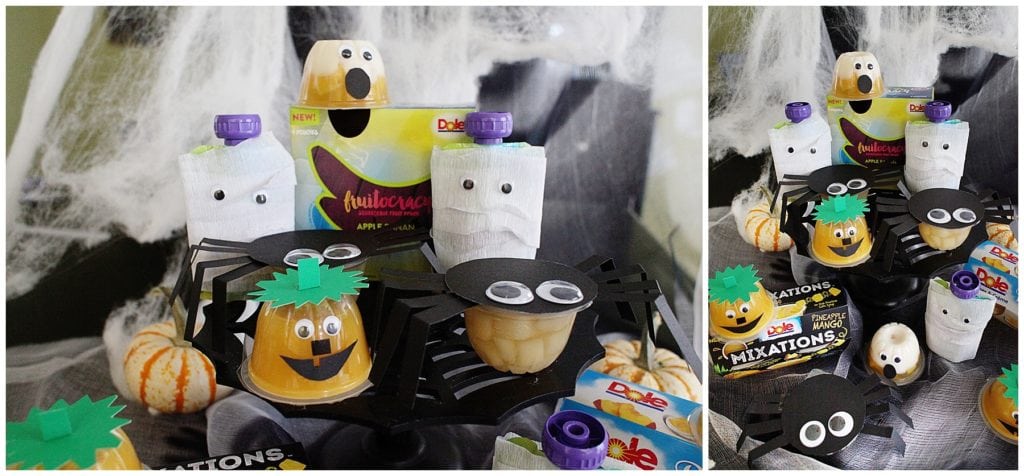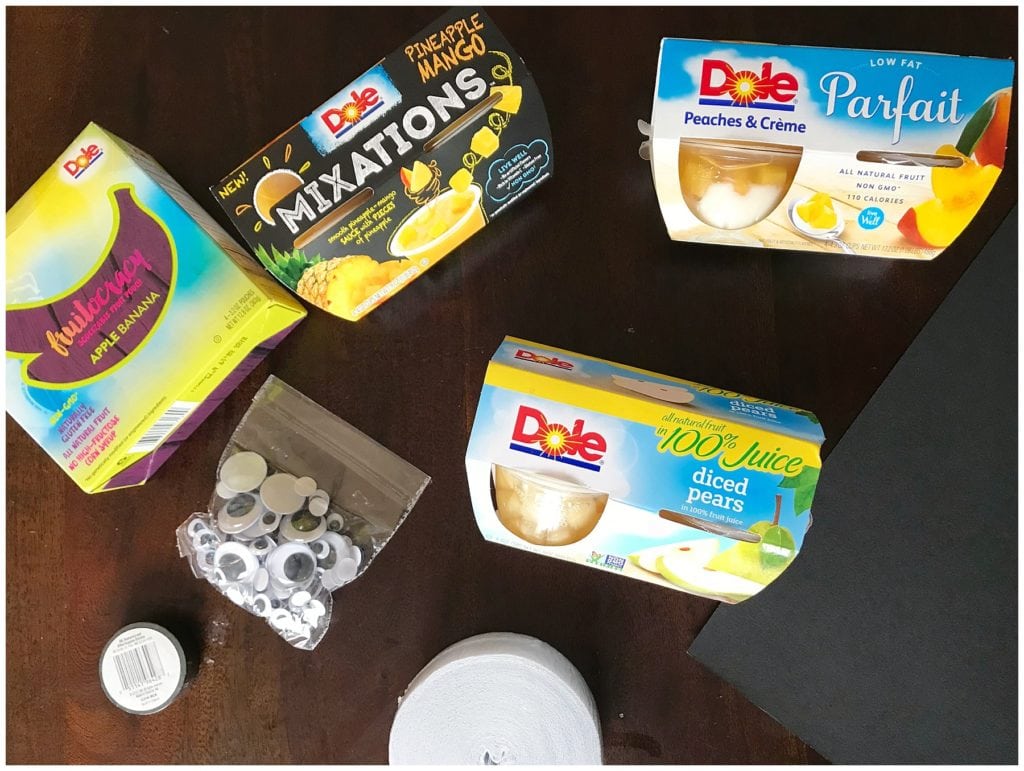 Supplies for all projects include:
Dole Fruit Bowls in 100% juice
Dole Mixations (Which is like an apple sauce using different fruit. I used the Mango and Pineapple kind.)
Dole Parfaits (I used the Peaches & Crème.)
Dole Fruitocracy Squeezable Pouches (I used apple banana.)
A package of googly eyes. I was able to find a package with multiple-sized eyes, but you can all use one size across all projects.
Craft glue
Clear tape
Black washi tape
Black poster board or construction paper. I used poster board because I had it already and I liked the way it held up more than construction paper.
Green poster board or construction paper.
Chalk marker
1 package of white streamers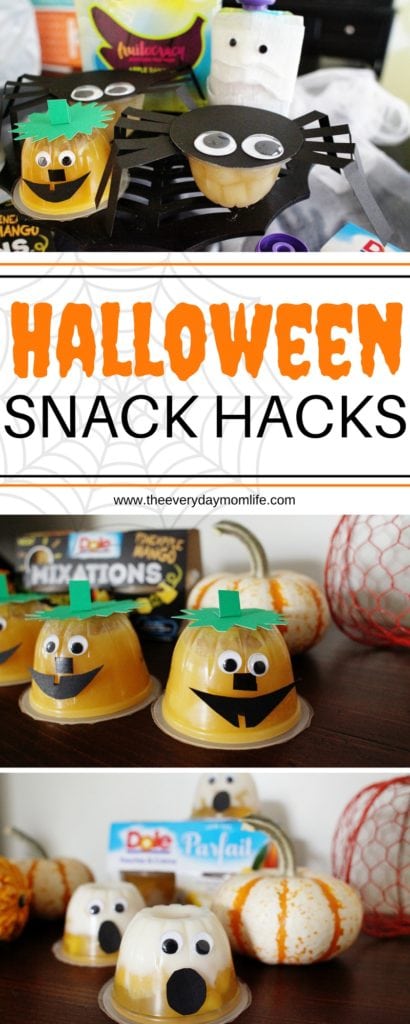 I thought of this idea first as I was deciding what to use. It was born out of two concepts: 1. My daughter loves these pear fruit cups in 100% juice. 2. My daughter hates spiders. J As I started thinking about how I would do it the concept was also simple enough. I decided if I had to make 24 of these there was no way I could afford to do something overly interact and detailed.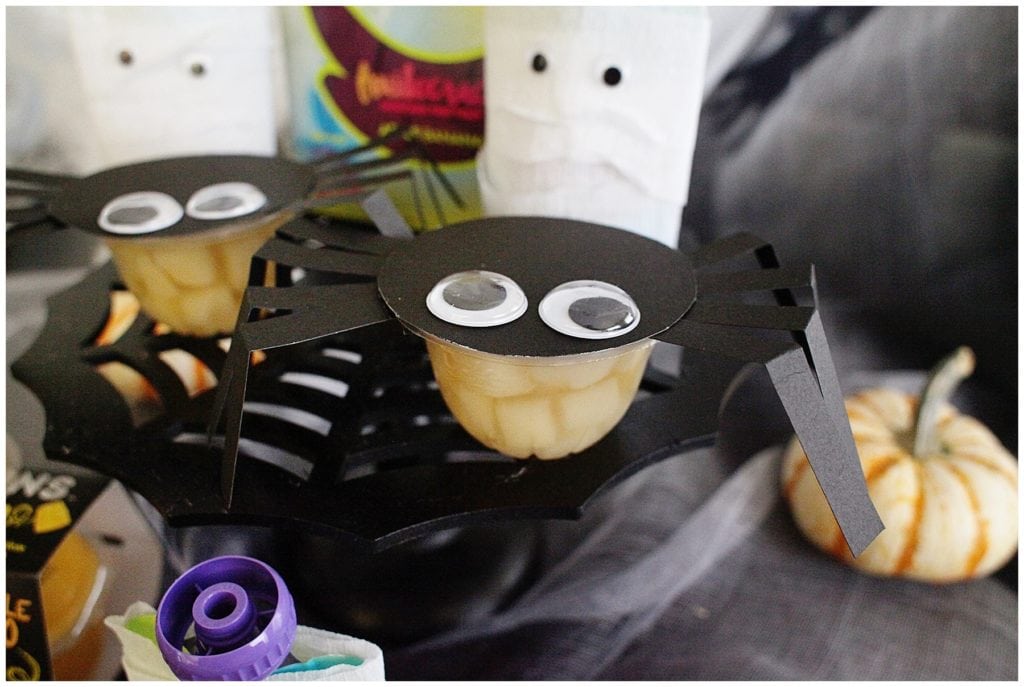 Steps:
1. Outline the top of the Dole Fruit Cup on the black poster board using the chalk marker.
2. Cut out the circles just outside the marker line.
3. Use the black poster board to cut out 2 ½ inch legs for the spider. You need 8 for each spider. I cut a square of about 2 ½ inches by 2 inches and was able to get four legs from each of these.
4. Tape the legs to the top of the fruit cup. Make sure the tab to open the fruit cup in in the back of the spider.
5. Tape your circle to the top of the fruit cup, making sure to cover the spots where the legs are attached.
6. Glue your googly eyes and let dry.
7. Bend your spider's legs so it looks more realistic.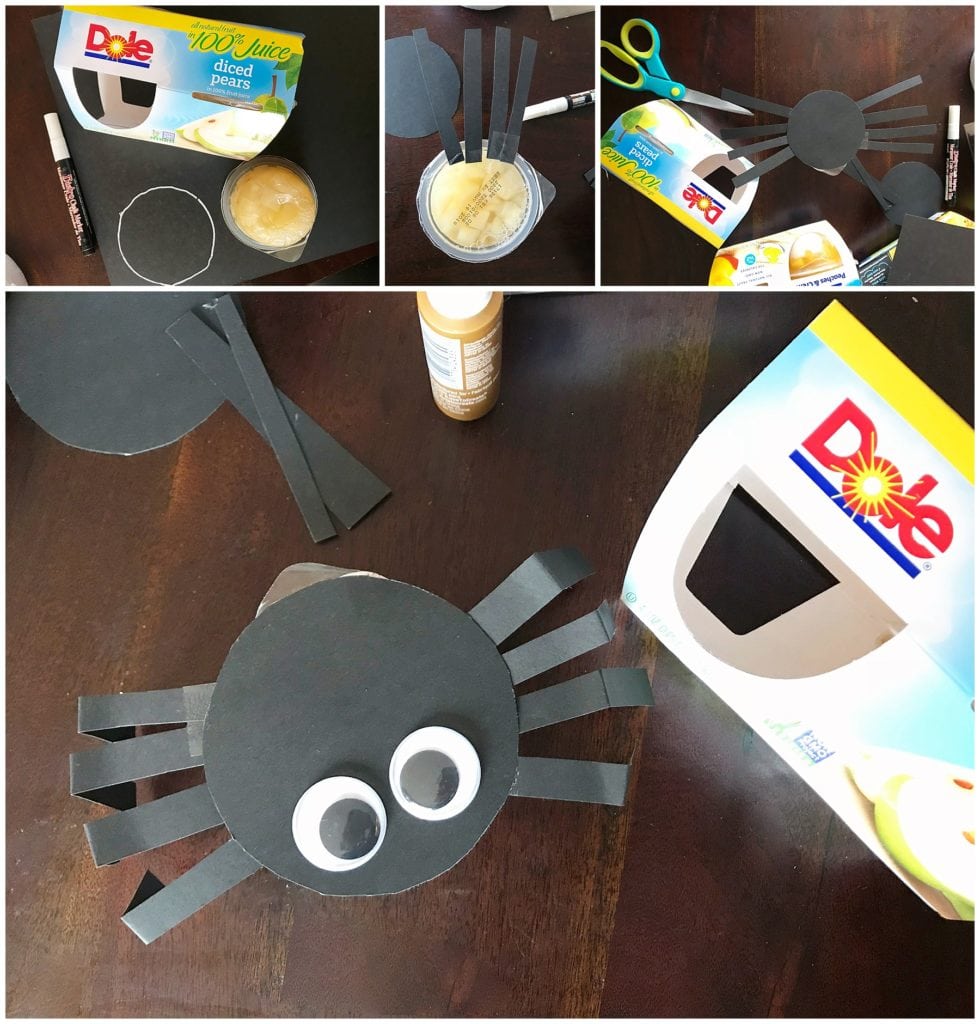 I loved the way these little guys turned out and I loved that using the Dole Mixation cups made the pumpkins look mostly orange versus just using a fruit cup. This was the first time we had these and my daughter loved them! So did my son, which is wonderful because he seems to live on air and milk.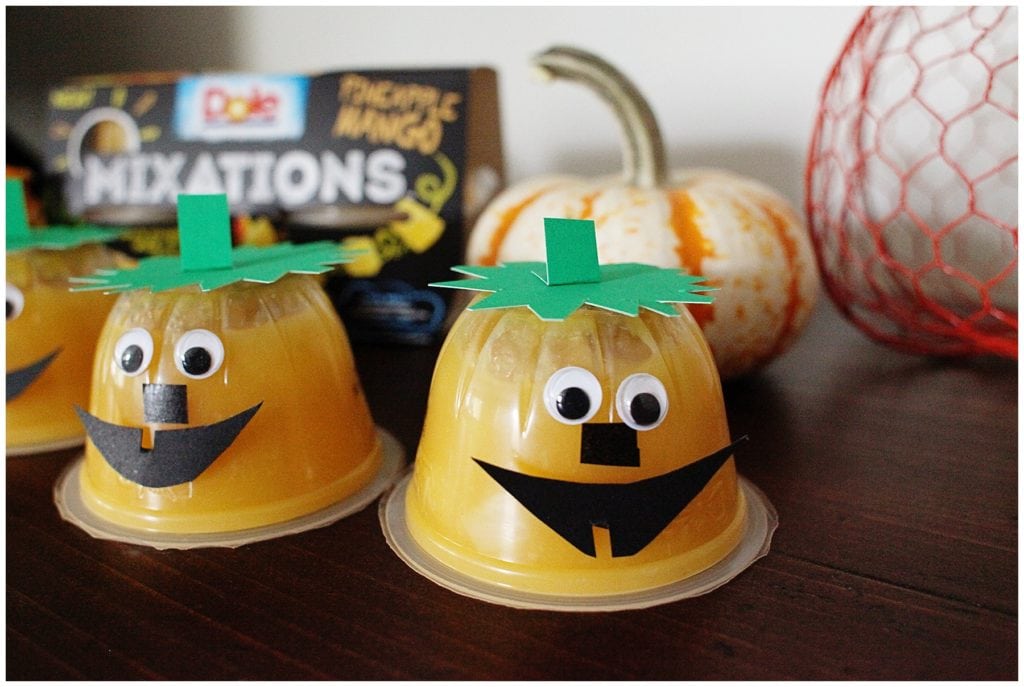 Steps:
1. Use the bottom of the Dole Mixation cup to loosely draw a circle. You want this a little larger than the actual bottom of the cup so make sure you make it slightly bigger. You can use the top of the fruit cup as a guide and the size should be perfect.
2. Cut out your green circles and trim little triangles around the perimeter. This will become part of your pumpkin's stem. Tape it to the BOTTOM of the Dole Mixation cup.
3. Glue on eyes for your pumpkin.
4. Using the washi tape cut a square or another shape for the pumpkin's nose. The square was the easiest.
5. Using the black construction paper, cut out the mouth shapes. I did all smiles because I wanted them to look friendly. You can make any shape you like though. Tape the smiles to the cup. I tried glue but tape worked best.
6. Tape the green, spiky circle you made earlier to the top of the pumpkin. Cut a stems and tape it on top of this. I folded it in half to have a spot to take as well as enough "stem."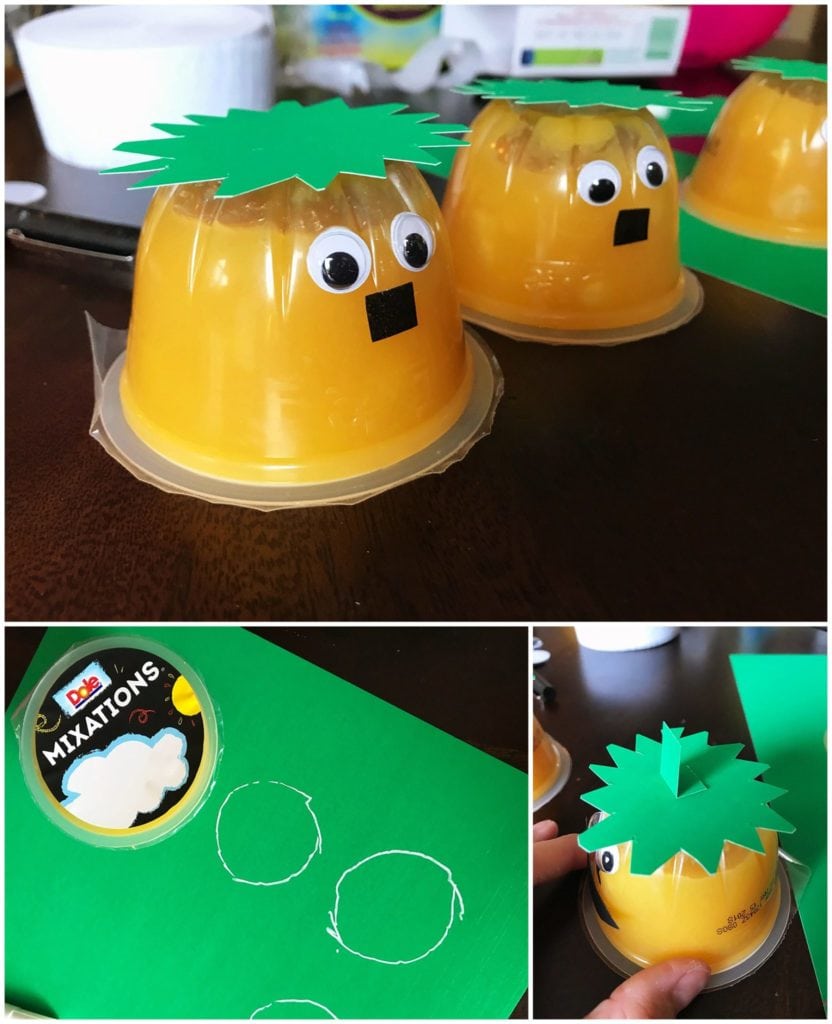 These are incredibly each and they also make for easy transport if you want to take them somewhere. Each one took me just a few minutes. These are a staple in my home because they are so convenient and so delicious. They're also super convenient for school parties since there is virtually no mess to clean up.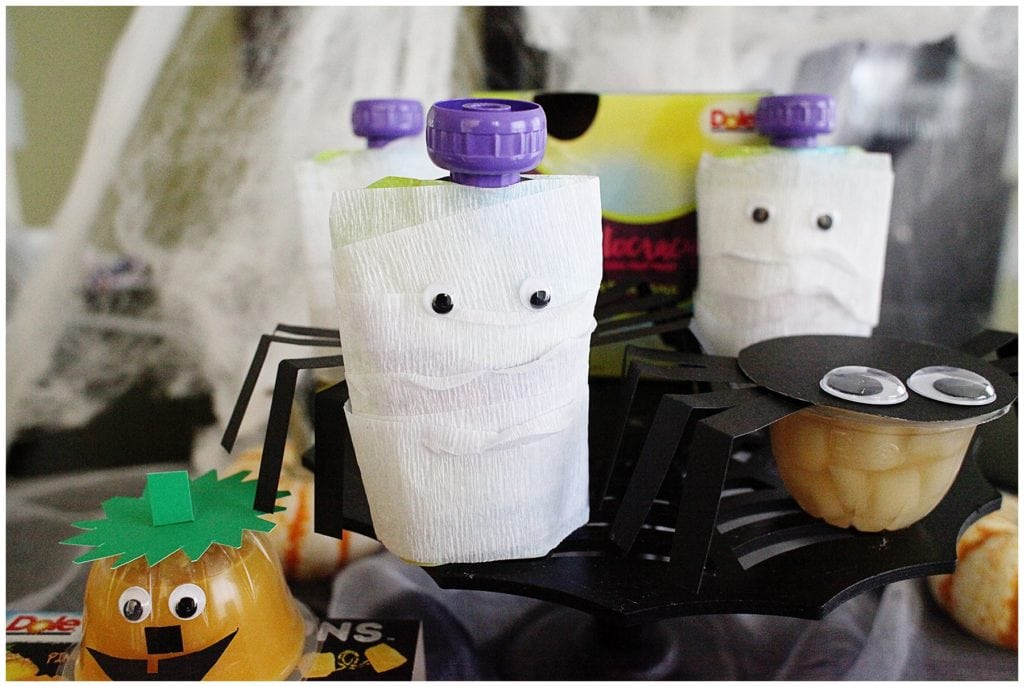 Steps:
1. Cut about 16 inches of the white streamers. Tape this to the back of the Dole Fruitocracy squeezable fruit pouch.
2. Wrap the streamers around the pouch until the surface is completely covered. Make sure to layer it slightly as you go.
3. Tape the end to the back of the pouch.
4. Glue on eyes and when they're dry turn down select spots of the streamers to give the "bandages" a little something extra.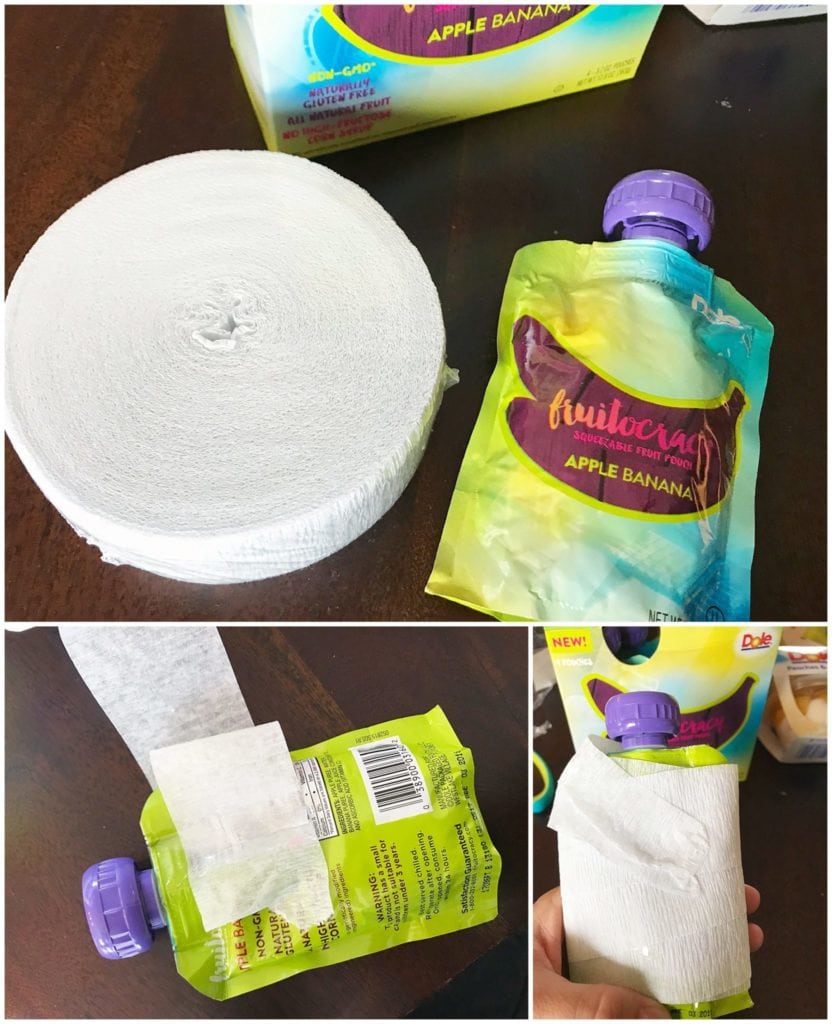 This one is by far the easiest! If you need a cute snack in a hurry this is the one to go for.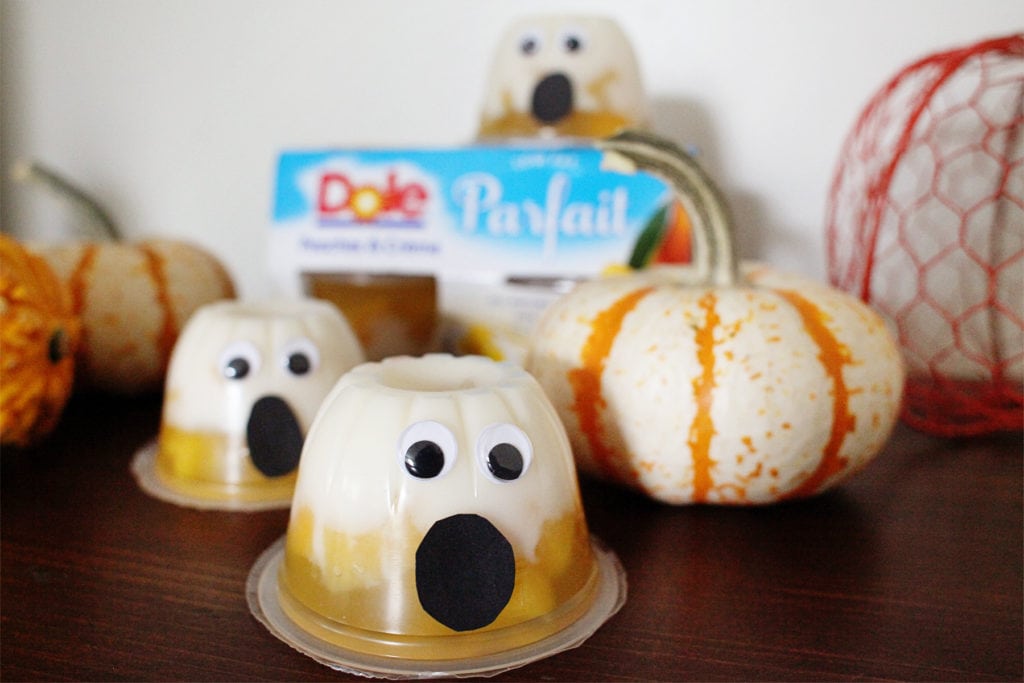 Steps:
1. Flip the Dole Parfait upside down.
2. Glue googly eyes to the front. Make sure the open tab is in the back of your ghost.
3. Cut out circles from your black poster board and tape them to the cups. That's it!
Which Halloween Snack Hack is your favorite?
For more fun crafts, click here. For more food ideas, click here.