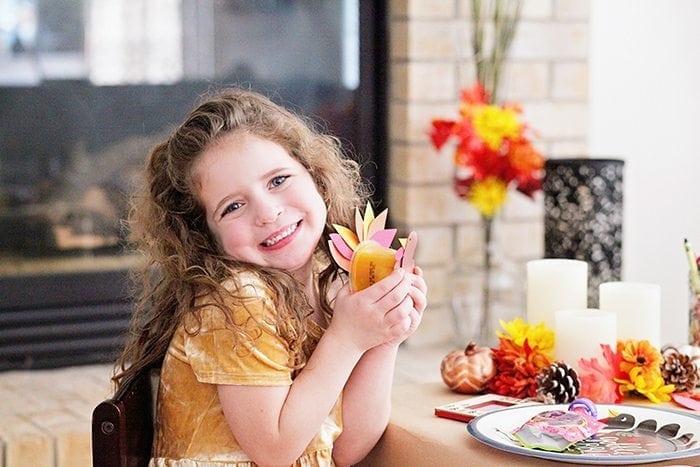 With Thanksgiving happening soon I know everyone is busy planning out the final dishes they will serve, buying food, thinking about the turkey and making sure the house feels festive and warm. But there's one spot that can be overlooked in all the preparation for Thanksgiving; the kids' table.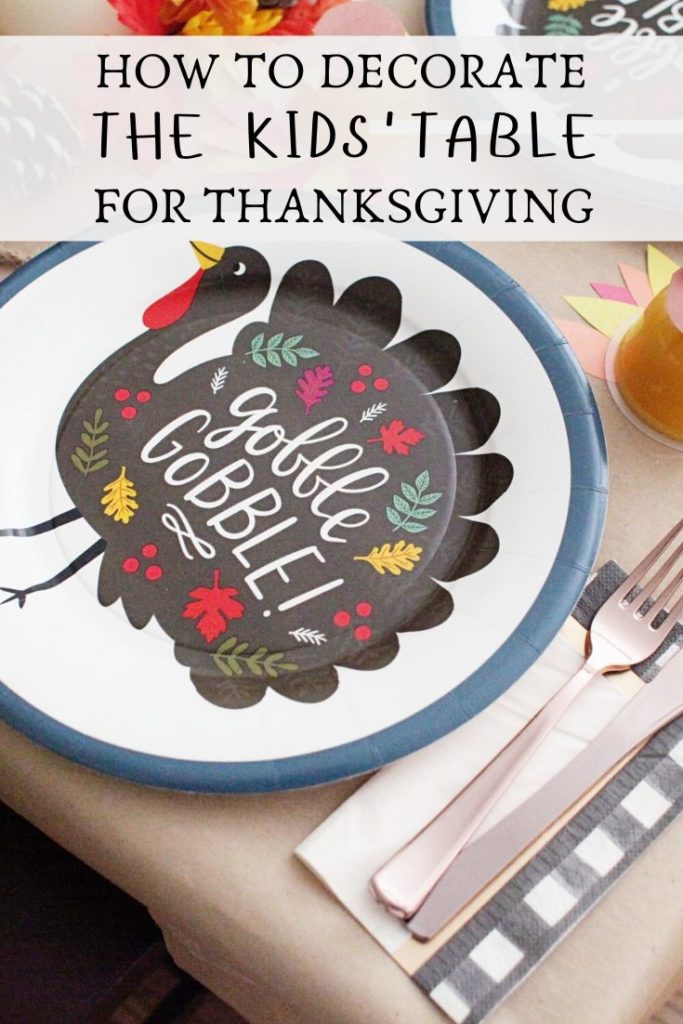 Ideas for a Fun Kids' Table For Thanksgiving
The kids' table can feel like an afterthought for a lot of people because you might think the kids don't care. However, my kids always love when I make something a little more special for them and my daughter has even started looking forward to it on holidays and birthdays. I love seeing the delight in their eyes when I take a little more time to do something for them with all the chaos the holiday season brings.
I, very easily, get caught up in the details of cooking and all the food preparation. But at the end of the day, I'm most thankful for my family and the gift of motherhood these children have given me. Taking a few extra minutes to make something more special for them during these big celebrations is the least I can do in return.
So I decided I wanted to make the kids' table feel more fun and make it feel just as celebratory as the adult table. The following ideas are a collection of things I have done or things I will be doing to make sure my little turkeys feel some extra love this Thanksgiving.
Make it kid-sized
If you have little ones, give them a little table. If there's one thing I've learned from having a son in food therapy it's that it is actually important for them to have a study place to sit where they can have their feet flat on the ground. Not only that but it also seems to eliminate a lot of the wiggling that happens when they're placed at the larger table.

Give them food they enjoy
Whenever the holidays roll around I seem to forget that my kids aren't going to eat half of the things that come across their plate because their palettes aren't that of an adult. The other 50 percent of things that they will eat usually consist of cookies, cake and pie, which, obviously, does not make for the most nutritious dinner.
To get something good into them I try to give them foods I know they will eat, like these fruit and veggie ouches. Both of my kids eat these and they're great to give them as a snack before the festivities get started or even as part of the meal itself.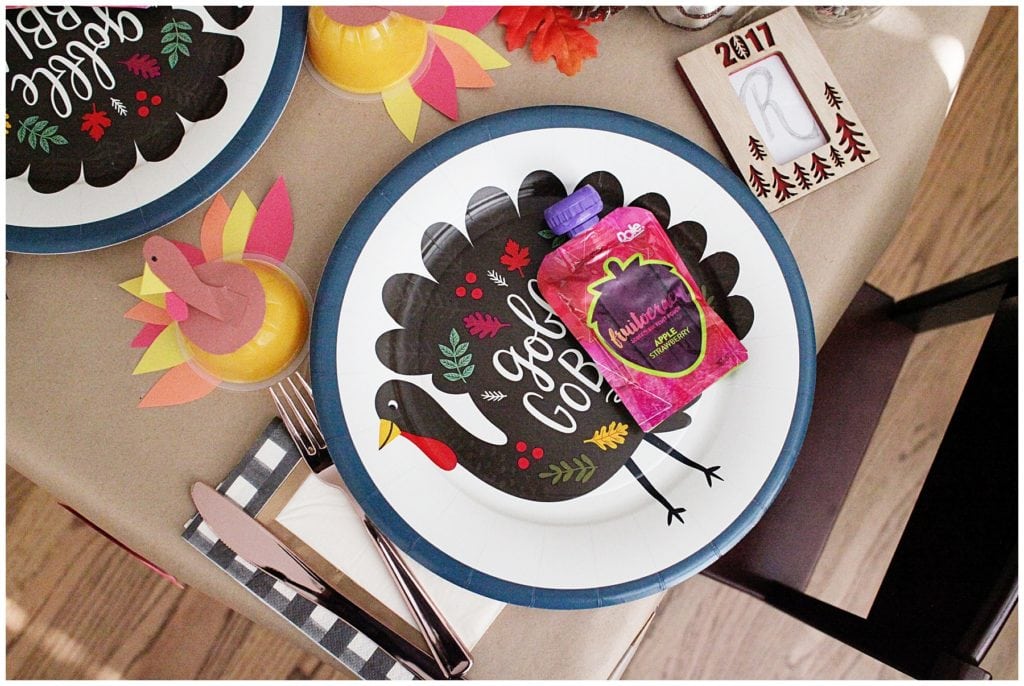 Make the food fun
I also love to make food fun for my kids when I have the opportunity. Whether it's just a normal day at home or a holiday to celebrate I try to make the good stuff special. For Thanksgiving, I turned their favorite fruit cups into little turkeys to make them more fun and festive. Here's what you need for this craft:
Fruit cups
Construction paper in brown, red, orange and yellow
Tape
A black market

Steps:
1. Use the bottom of the fruit cup as a guide for a circle on your brown construction paper. Tape that circle to the bottom of the cup.
2. Next cut out a brown sort of swish for the turkey's head. Think of it as a sideways, upside down raindrop. Tape it to the center of the brown circle.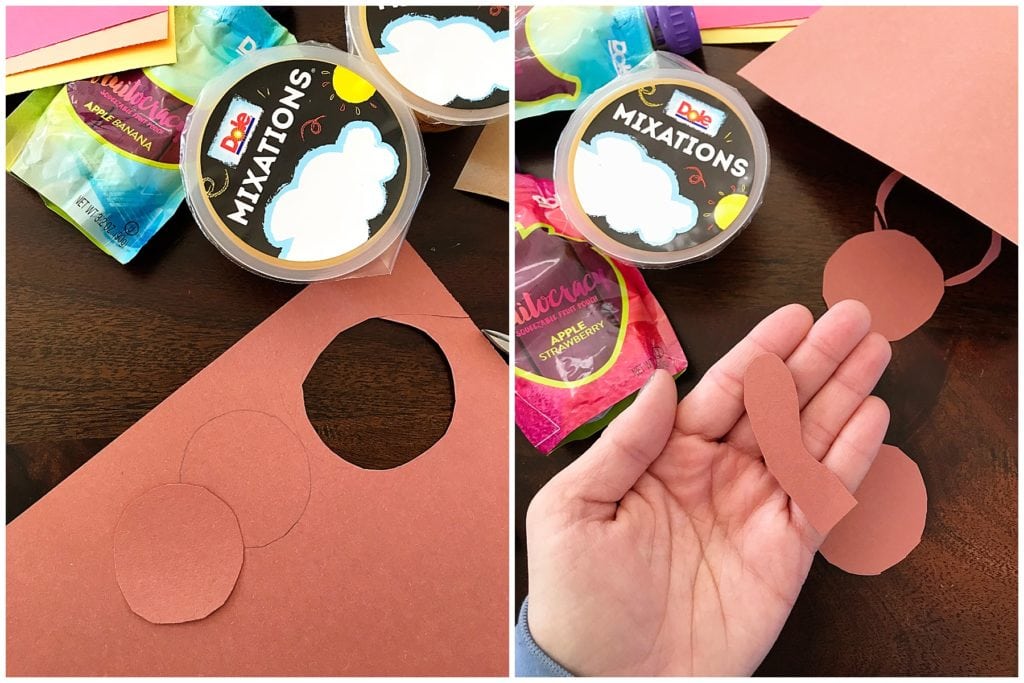 3. Cut out feather shapes from your red, yellow and orange construction paper. I put each piece of paper on top of one another so I could make them all roughly the same size and cut more than one at once. I used nine feathers for each turkey. Tape the feathers to the label side of the cup.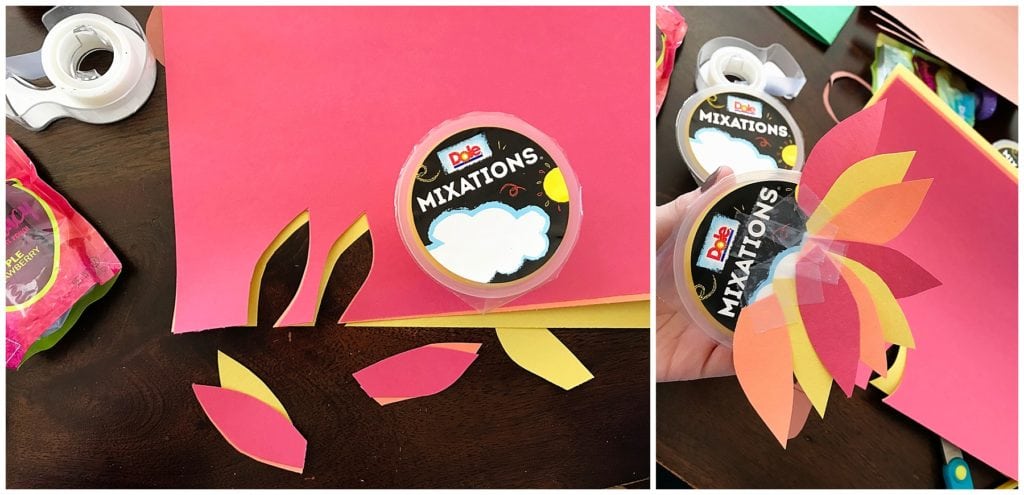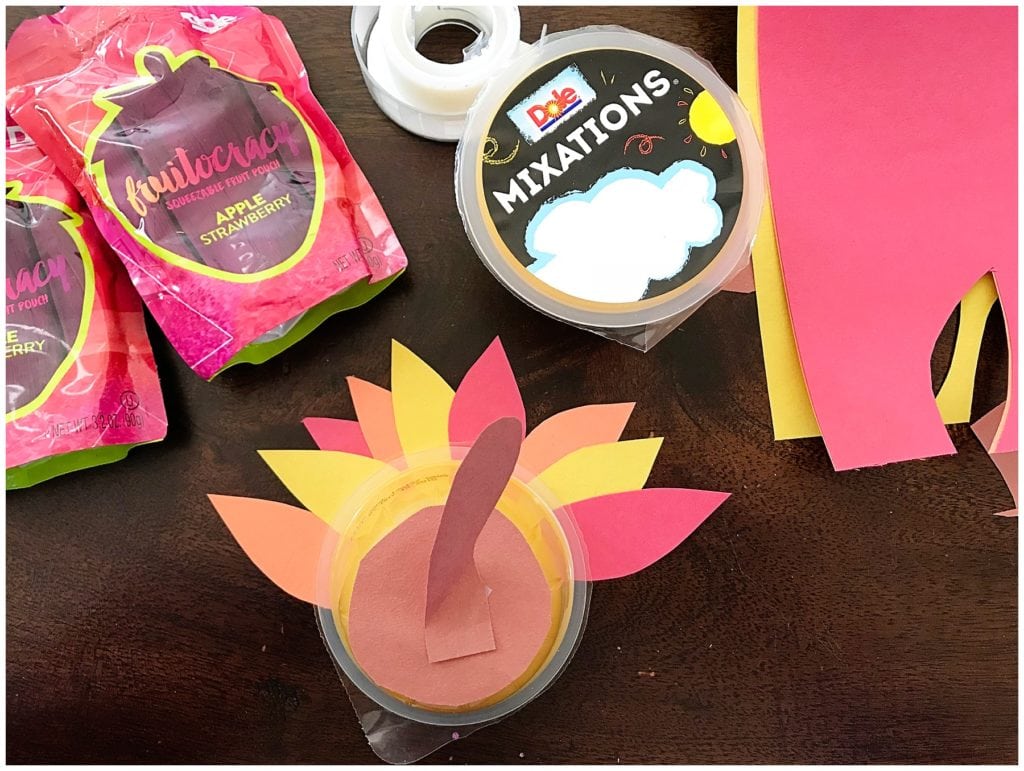 4. Cut out a yellow triangle for the turkey's beak and tape that to the back of the turkey's head.
5. Cut out a teardrop shape from the red construction paper to use as the turkey jowls. Tape this to the back of the back of the turkey's head.
6. Lastly, use the black marker to make an eye for your bird.
That's it! It's a quick, little craft that my kids loved and appreciated. They played with the turkeys and then, when they were hungry, torn them apart to eat them.
Make the dinnerware kid-appropriate
I know it can be tempting to break out the good china and silver for each holiday to make it fell magical and beautiful. And you should use the special dinnerware on a special day, just don't give it to the kids. My mother-in-law has these beautiful, little, glass goblets that she lets the kids drink sparkling grape juice out of at the holidays. One year one of the kids broke a glass and she was devastated.

My advice is to avoid the heartbreak and broken glass and make sure their dinner-wear is kid-appropriate. For us this means festive paper plates and sparkly silverware that can be tossed after it's used. As an extra bonus you won't have to add any of this to the dishwasher. You can find festive and fun silverware here and some cute plate options here and here. These plates are nice too if you want something more fancy and less colorful.
Let them be creative
Similar to the point above, I don't use a good table cloth for the kids' table. Instead, I found a large roll of brown paper that I used to cover the table and the kids can use as canvas. I really love this idea because it gets everyone involved in sitting at the table and is something you can do in between courses or before dinner that will help spur conversation and creativity. My daughter loves any chance to color so having the whole table to color on is like a dream come true. You could even do this on the adult table and just throw a nice runner down the middle. 🙂 You can find the paper here.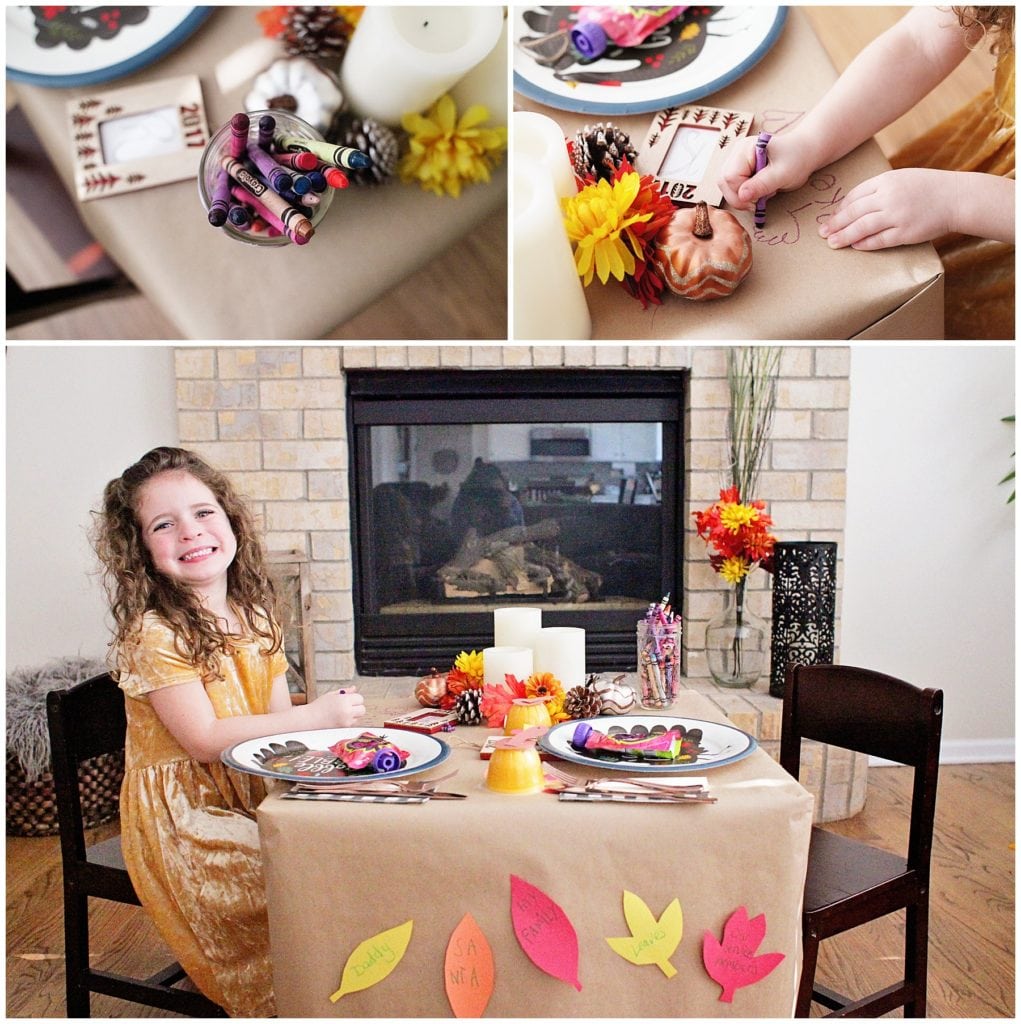 Don't forget to decorate
Just because it's the kids table doesn't mean that it has to barren of beautiful, fall decorations. Again just make sure it's kid appropriate. For the kids table, I use fake candles to give the ambiance of the adult table but make sure they're safe while eating. I then dressed the table with some fake flowers to complete a centerpiece look. Since my kids usually end up playing with whatever they can get their hands on, I saved the real and delicate flowers for the adult table. These roses would be cute and this sunset arrangement would be beautiful. Add in these cotton stems too for pure perfection.

Make it personal
To make the kids table feel special, versus a table that preteens don't want to be banished to, make it feel more personal. You can do this simply by adding fun place cards or something special to each seat. I used holiday ornaments that also doubled as place cards. This gives my kids something that's "mine" at the kids table while marking their place. It also gives them something cute to take away after Thanksgiving is over.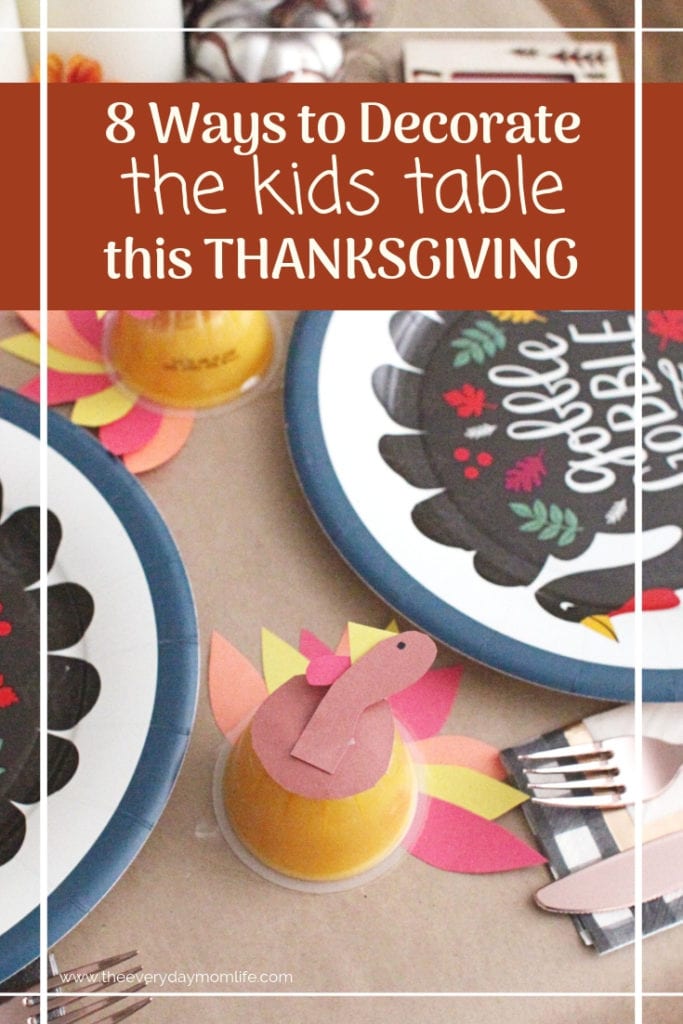 Remind them of the reason behind the season
Sometimes Thanksgiving can get a little lost in the shuffle of the holiday season. Christmas celebrations seem to start earlier and earlier and Thanksgiving can get a little eclipsed by the sparkle of the season. That said, I try to explain to my kids why we celebrate Thanksgiving and make sure they understand it too. Then I ask them what they're thankful for and we write it down. In the past we've written it on turkey feathers and decorated a door of the house. This year we are writing them on leaves and using those leaves to further decorate the kids table.

My daughter shocked me when she first said she was thankful for her family. It was a total mom win and one of those moments when I felt like I might be doing something right here. Then I asked her what else she was thankful for and she said, "Santa." Well, one out of two isn't bad and at least we were first. 🙂
My son, who is still a little young to get it, said he was thankful for leaves. Also better than something like toys or the tablet. My husband said our service men and I said daddy, meaning my husband.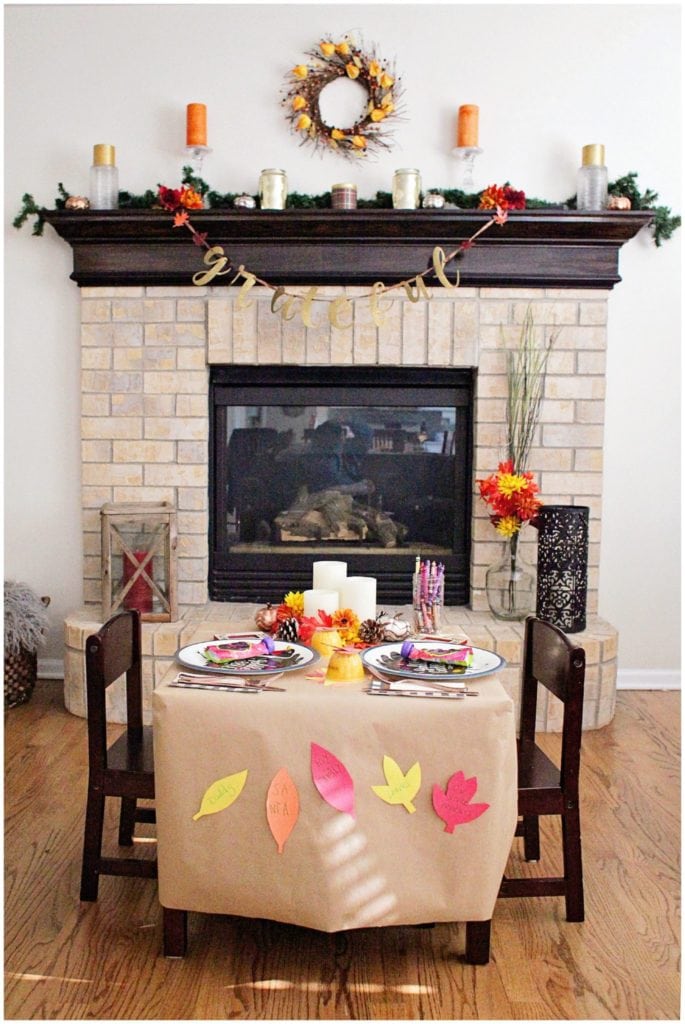 How do you make your kids' table feel special during the holidays?
Also, use your Thanksgiving leftovers to make this delicious soup the next day!