We are avid colorers in our house and I love a good, fresh crayon. There is just something about coloring with one that makes the whole activity seem better. Maybe it's because it is clean and new, maybe it's because it has a great tip for coloring or maybe it's because I'm a little anal. Whatever the case may be, fresh crayons make me happy.
However, in our house we have a problem. We seem to go through crayons like water. My daughter loves to color and draw so our crayons always end up well-loved, well-used and nubby. They all sort of look like the crayons you might find at the bottom of the crayon pile.
I got a little fed up with it a few Fridays back and decided to upcycle those old crayons pieces to make something that my daughter would love – rainbow crayons.
If you have a bunch of worn out crayons at home, this activity is easy to do and it breathes new life into something that a lot of people might throw away. These would be great as party favors, Halloween treats for kids who can't have candy and valentines.
Check out the steps below to see how fast you can turn your trashy crayons into treasure.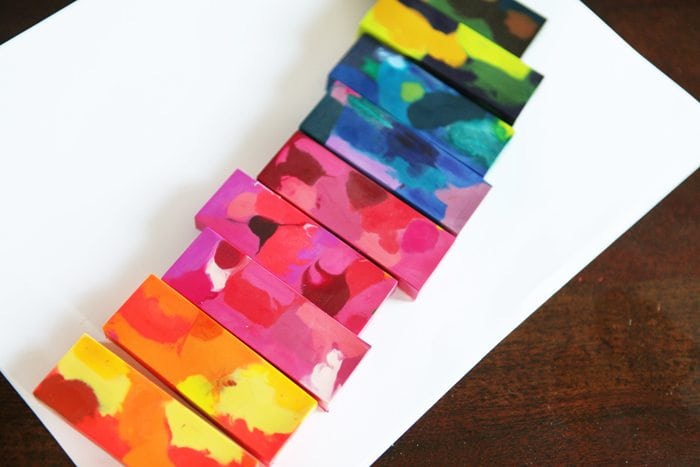 You will need:
Old crayons
A bowl of ice water
A silicone mold
Steps:
1. Gather up all the crayons you want to use in a bowl. Make sure you select a variety of colors so you can make the new crayons fun colors. We used some that had sparkles in them and that was a really fun surprise for my daughter.
2. Soak the crayons in ice water for at least 5 hours to loosen the paper. Once they are ready the paper will practically fall right off. You can do this overnight if you have little people who will go crazy with anticipation.
3. Once the paper has been removed, preheat the oven to 230 degrees and fill up your silicone mold with pieces of the crayons. Break the crayons down into smaller pieces if you need to. You might need a knife. Those things are shockingly durable when you actually want to break them.
I didn't have a silicone mold that I thought would work so I bought this one from Amazon. I wasn't exactly sure it would be the right shape and size, but I'm very happy with it. I wanted to make sure I made the crayons into a shape my daughter could actually hold correctly versus a weird shape. I fill each rectangle up with two rows of crayons and kept the colors coordinating in each compartment. I wasn't sure what would happen when everything melted and I didn't want to wind up with a black blob that wouldn't' get used.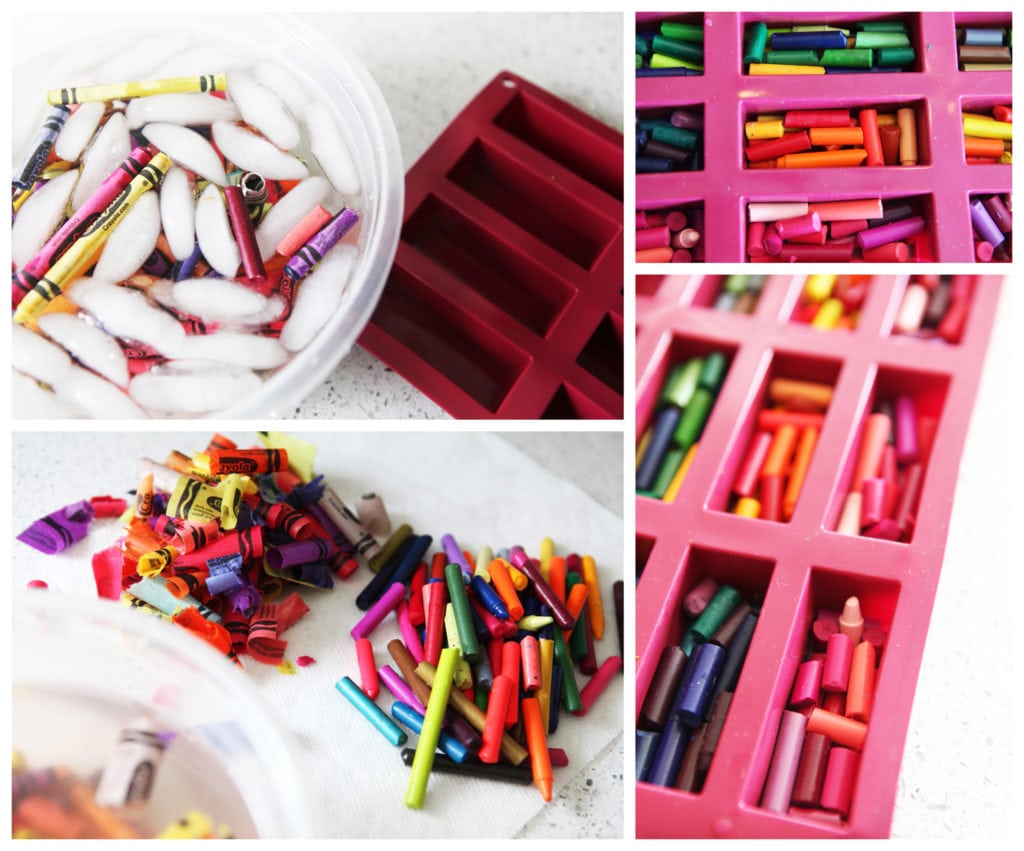 4. Put the mold in the oven for 15 minutes. I put it on a cookie sheet because the mold itself was very bendable and moved a lot. I wanted to be able to put it in and pull it out without anything spilling.
5. After 15 minutes, the crayons will have melted. Pull them out of the oven and let them cool for an hour. You can also then stick them in the refrigerator for an hour, which I did. However, I don't really think this was a needed step. They were cool to the touch before I put them in there.
In the photo below you can see what they looked like when they came out of the oven (left) and then what they looked like once they were cooled (right).

Lastly, pop the crayons out of the mold and enjoy!


My daughter was so excited to play with these when she arrived home from school. I made her wait until after dinner and used them as a bargaining tool. 🙂 She was delighted with these and loved how the colors kept changing on her as she went. She played with them for an hour that first night and continues to use them today.
I love how the shape turned out and how she was able to hold them somewhat normally. They were also perfect for crayon rubbings.
As an extra bonus, I love that I now have a mold that will be perfect for making chocolate bars and other cute, baked goods in the future. You can find molds in a bunch of different shapes and sizes. I see us buying these Lego ones in the future or these heart ones for Valentines.
Give these a try, mamas and let me know how it goes!
For more DIY & Craft Ideas, click here.