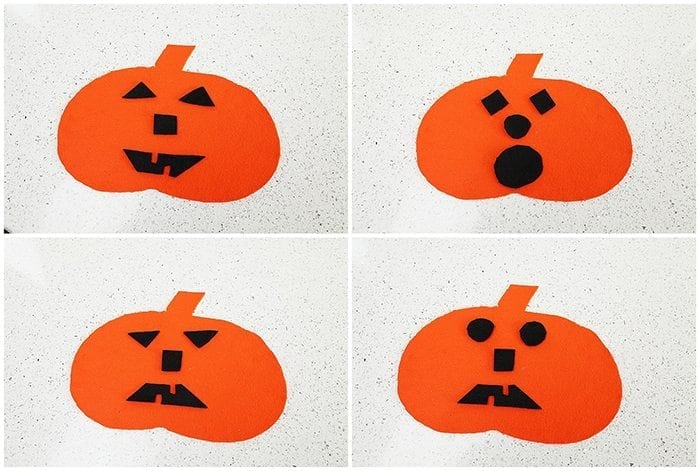 My son has been in speech therapy since August and while we're there I love watching him work on the activities with his teacher and seeing things click in his head.
Since he has responded so well to everything there I've been trying to do more with him at home to facilitate learning new words, and I love to use books as inspiration for those activities.
With Halloween on the horizon one of his favorite nightly books has been, It's Pumpkin Day, Mouse! You can see our copy is well loved.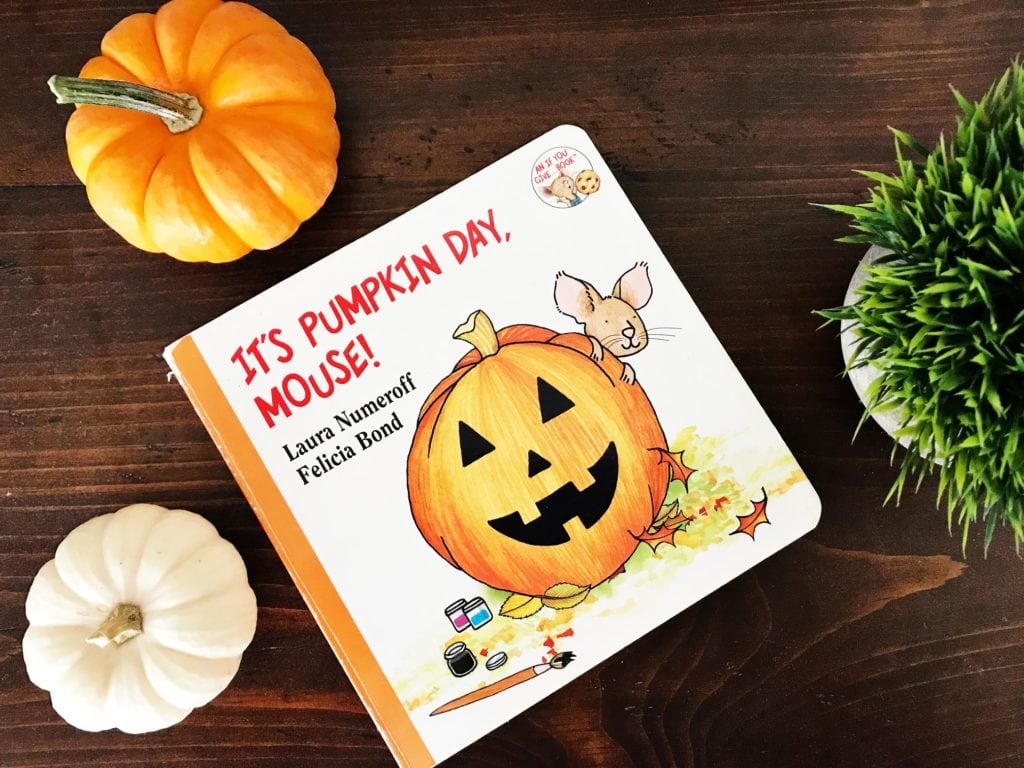 This book stars the famous mouse from, If You Give A Mouse A Cookie, and talks about the different faces mouse carves on his pumpkins – happy, sad, silly, surprised, etc.
I decided that I wanted to make a crafted based on the pumpkin faces as a festive way to talk about shapes and a way to discuss emotions. As a toddler I thought this last part might be important because he is going through ALL the emotions every five minutes.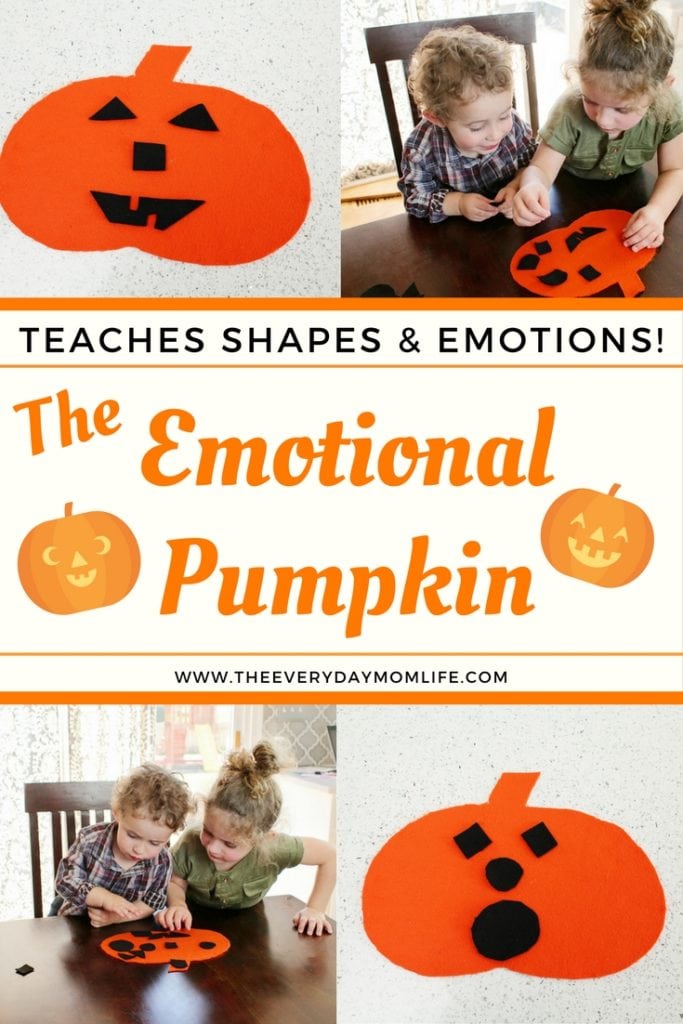 When my daughter was 2 she could speak in full sentences and tell me what was wrong with her. However, since my son's speech is delayed he hasn't been able to express himself as well. He can't always tell me what's wrong or what he's feeling and I hoped that this would help to allow him to understand the emotions better and possibly help show me what he was feeling.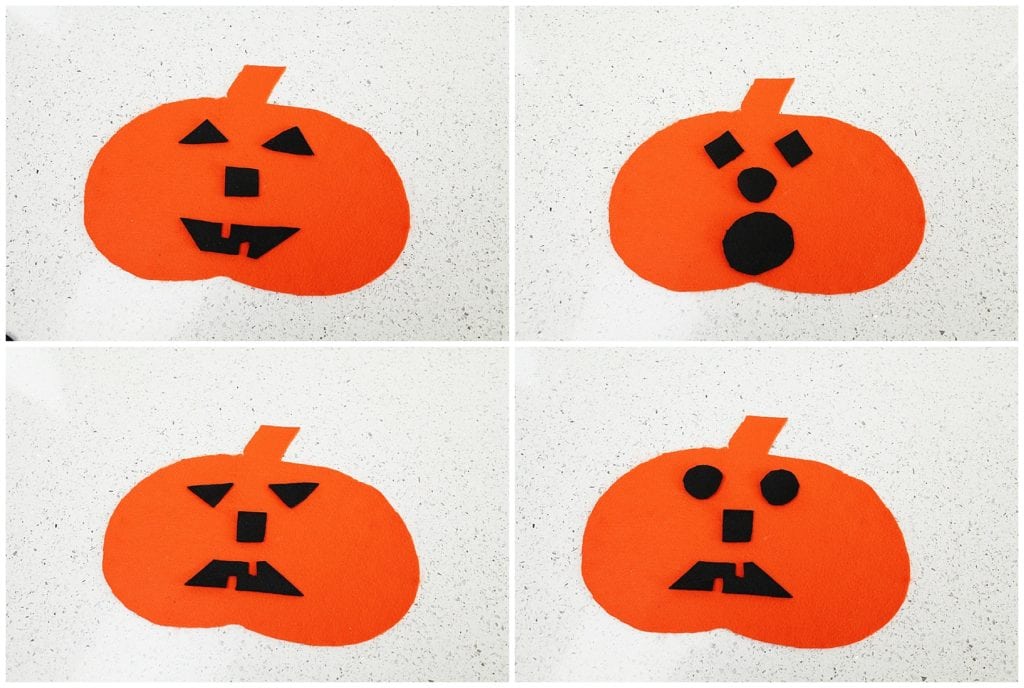 This turned out to be such a great project for us and for him. It would also be great to use with preschoolers as a group or individually.
Cutting out the pumpkin and the shapes only took me about 10 minutes and it was incredibly simple. Here's a video tutorial.
Supplies:
1 piece of orange felt
1 piece of black felt
Scissors
Cardboard
Chalk marker
Pencil/pen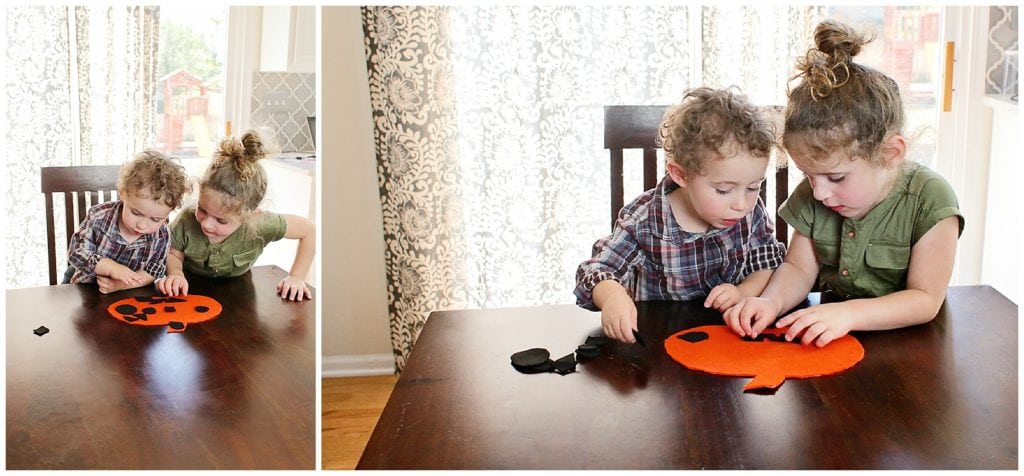 Steps:
1. Sketch out a pumpkin shape, stem included, on a piece of cardboard. Make sure the piece is sized appropriately and isn't larger than your piece of felt.
2. Cut out your pumpkin and then use your chalk marker to trace the pumpkin on the felt.
3. Cut out the felt pumpkin.
4. Cut out your different shapes. Make sure to include basic shapes and then if your child is a bit older you can include some advanced shapes (like a hexagon) if you have good scissors.
5. Let your child have the pumpkin and then explain each shape as you put them on the pumpkin. Go through the different emotions and see what shapes can be used to make certain emotions.
As you can see, not only did my son enjoy this activity, but my 5-year-old daughter did too. Since she is old enough to understand all the shapes she has been helping him to learn them.
She also helped to remind him to make faces on the pumpkin instead of just piling on all the shapes. 🙂 Although, that is also an option.
For more kid activities, click here.