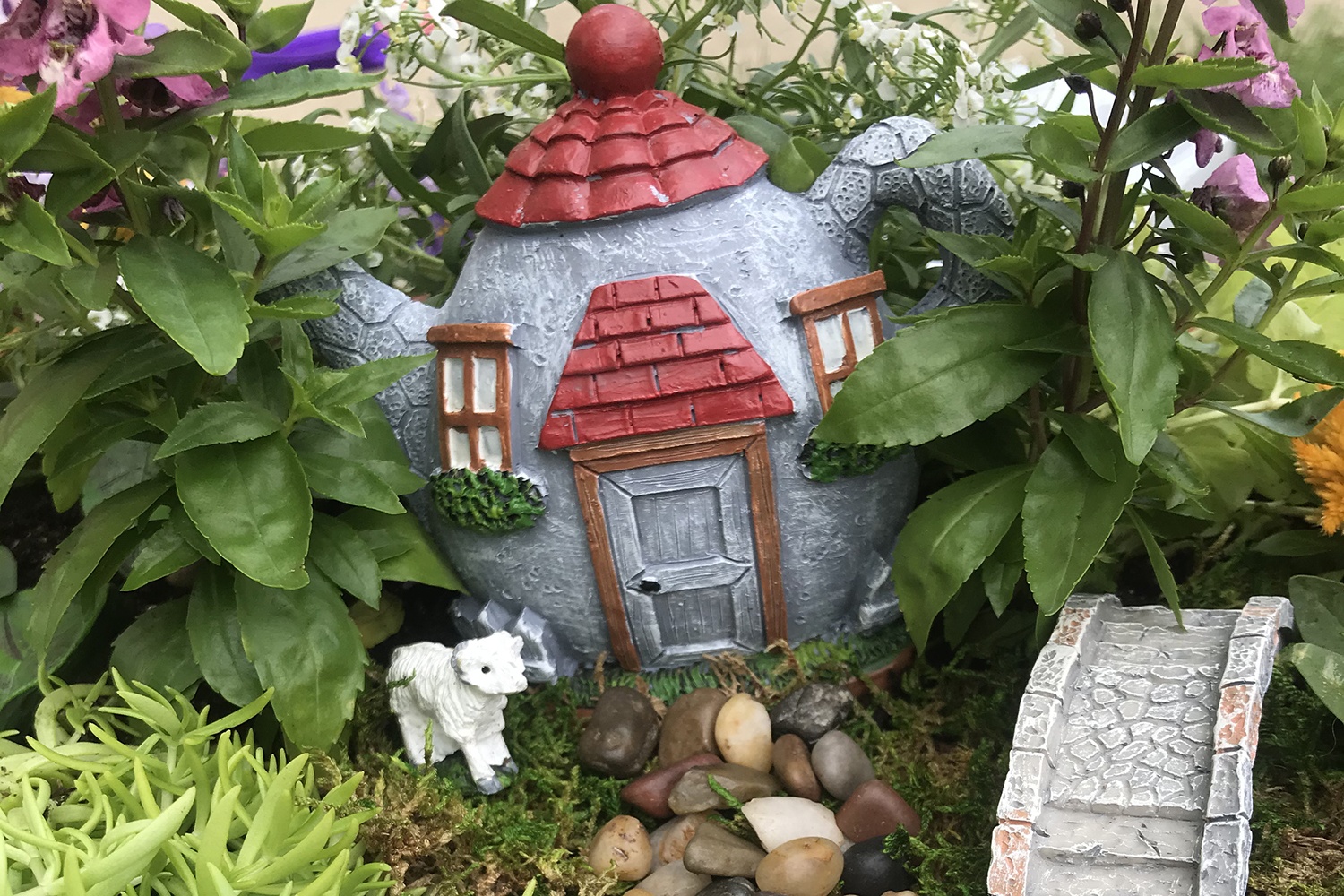 Tiny houses, toadstools, miniature bridges, and decorative stones. These are common things you will find in one of my favorite things – fairy gardens! My daughter and I love to make a fairy garden every year with different annual flowers. We were excited to get new  accessories since our old ones were pretty weathered from previous years.
Fairy gardens are easy to set up and so much fun to customize. I love incorporating flowers and green plants to our fairy garden each year. The more color and texture the better!
Where to plant your fairy garden
You can easily plant a fairy garden in a container or you can use the base of a tree that's in your yard. I may do both this year. I have even seen old wheelbarrows or bird baths used. Really just about any container will work. If you find a broken flower pot don't throw it away. Get creative and transform it into a mini magical garden.
What soil to use
I love using potting soil that has flower food mixed in. That way it's constantly providing extra nutrients to your flowers and plants. It's not necessary, but my gardens have always done well with it, so I just keep using it. It's what my mom recommended and she has a green thumb!

Flowers for the fairy garden
When it comes to what types of flowers and plants to use I like choosing ones that are colorful and easy to care for. My favorite flowers to use in fairy gardens are:
Celosia- These flowers come in bright beautiful colors and have a really fun texture
Supertunias- The color choices are endless! Purple, pink, coral, yellow, red, white and variegated. They all look pretty together too. I never think any 2 colors clash.

Exposure: Part sun to full

White Knight Sweet Alyssum- These white flowers are so dainty and fragrant. Butterflies love them too which is an added bonus!
Magic Show Veronica- This will bring some height to your garden with beautiful jewel tones.

The best plants for a fairy garden
My favorite green plants I like to incorporate are:
Lemon Coral Sedum- This plant is very hearty, is bright yellow/lime green in color and has great texture.
Goldilocks Creeping Jenny- This fun plant will spill and drape over the side of your container. It's so lovely!
Succulents- I love the variety that's out there. Hen's and Chicks, Pinwheel and Serpents are all great choices. Succulents are so easy to take care of too. I had one left over from last year's fairy garden that survived outside in the winter and is sprouting 2 new ones from it! I was able to re pot it in a new container and it now decorates our outdoor table.
Decorative Sheet Moss- This isn't a plant but still adds the texture of a mini forest. Best part is you don't have to worry about taking care of it. You can find it in most craft stores. I like using it to cover any bare spots.
Accessories for the fairy garden
We usually decorate our fairy garden with a mini fence, stones to create a pathway, a house or two, toadstools, mini animals like frogs, a bridge and of course fairies. It's also fun to use things you may have around the house or yard to create mini accessories. You can take popsicle sticks to make a picnic table. Find small sticks in the yard and glue them together to make a cute little bench or ladder.
This year my daughter had the best time collecting objects and turning them into miniatures. She came up with an idea to create a playground for her fairies. So she made a ladder from small sticks that extends down from the top of the garden to the playground. She created the playground in a shallow wooden box we had. She made a tire swing out of sticks and a random tire from a toy car she found by itself at a park a long time ago. I can get annoyed by the "treasures" she brings home but this one made me happy! She made a slide out of a piece of cardboard and more small sticks for the steps of the slide. We decorated the playground with artificial flowers. The other minis she made were a watering can from a pen cap she found and a tiny bird bath from a water bottle cap and beads. Her creativity was flowing!
Arranging your garden
I like to leave the middle of the container open for the fairy house and most the accessories. I like taller flowers in the back. Anything that drapes should be on the sides to give them space to spill over. Try not to overcrowd because these flowers will grow fast. Make sure your container is plenty big to allow for room for the flowers to grow.
This time of year is always so special for my daughter and I. I love that she looks forward to the entire process. From picking out the flowers, to planting them, to decorating with all the mini items. It's a great bonding time for us. I hope you have fun creating your own fairy garden. And remember, there's no right or wrong way to customize it. Just have fun and let those creative juices flow!
For more home and garden tips, click here. For more fun activities to do as a family, click here.