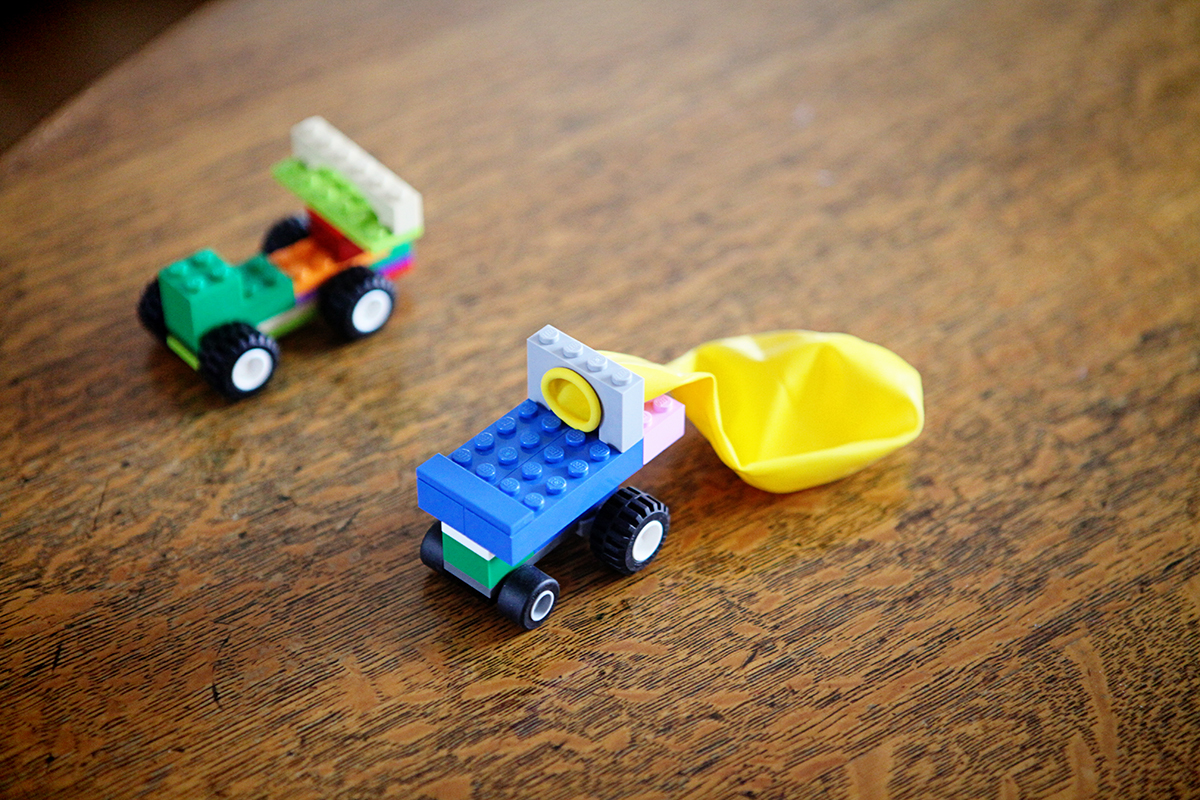 I love a fun project at home that's educational too. While I don't home school (and really think I would be horrible at it), I do enjoy fun projects with the kids when it comes to reading, art and science.
With the explosion of STEM activities (standing for science, technology, engineering and math) there are so many fun ways to teach your children concepts nowadays that don't require the use of books and a blackboard. STEM allows you and your children to get up close and personal and have a hands-on experience with learning in a way that traditional teaching methods haven't done – especially if they're being taught just to pass a test.
In partnership with Sylvan Learning this month I came up with a fun way to teach my kids about science and engineering by building Lego cars that "go" with balloons.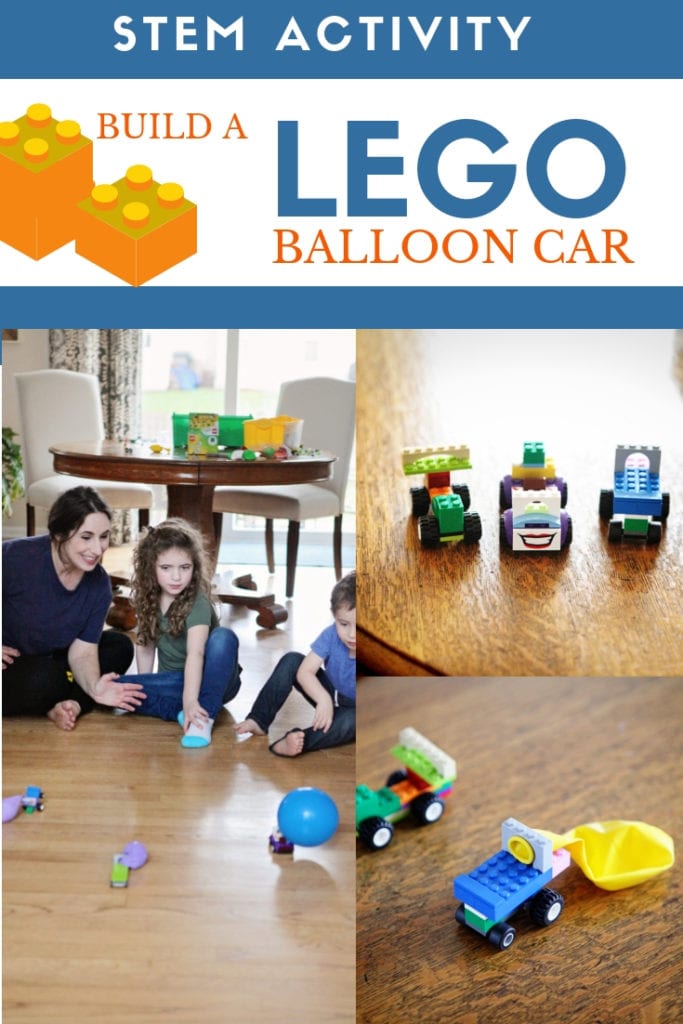 This project incorporates some of the concepts I remember my brother learning about in the Boy Scouts Pinewood Derby races. The idea is to make a car out of Legos that will be light enough and fast enough to win the race without falling over or falling apart.
This project is similar to the STEM projects your child might work on if they are learning with Sylvan.
From building robots to coding video games, the Sylvan Learning STEM programs help kids learn without emphasizing that they're teaching them. It's all about hands-on participation and showing them how fun science, technical projects, engineering and mathmetics can be when you get to work together to solve a problem. They have after-school classes, weekend workshops and even camps to help encourage your children to love STEM and Sylvan Learning is considered No. 1 for STEM learning in North America.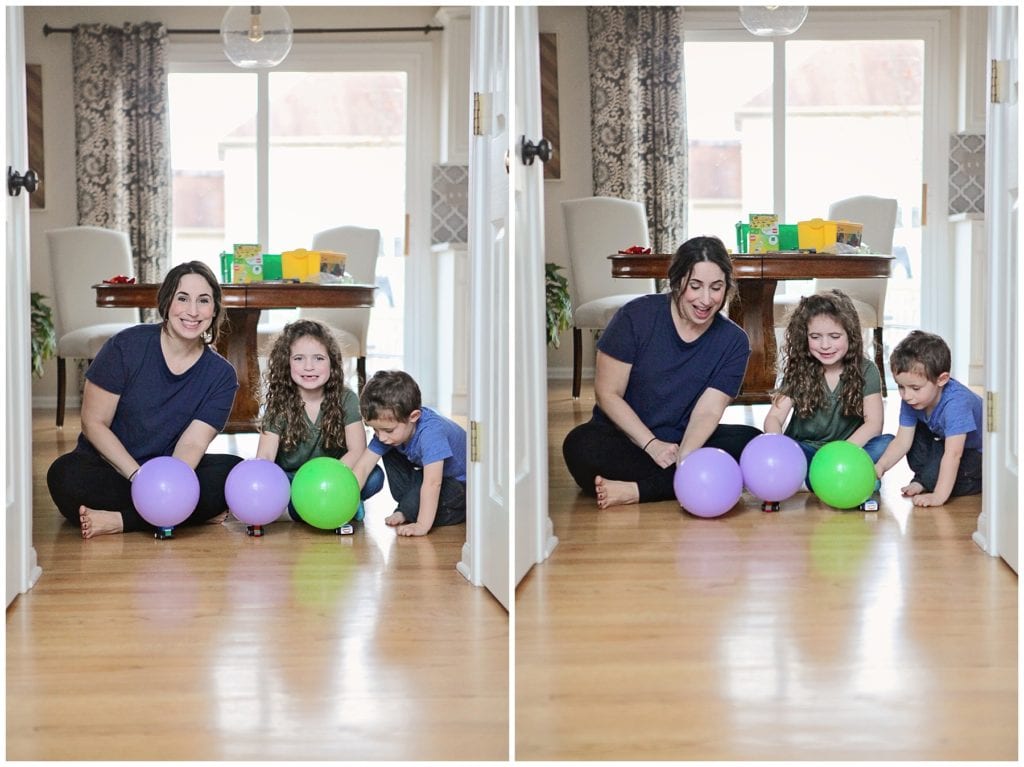 The Lego Balloon Car is an easy STEM project for kids of all ages. My 3-year-old was even interested in it, even if he didn't quite grasp the concept, and it was perfect for my 6-year-old. This kept them busy for about two hours at they built and then rebuilt cars. Dad even joined in on the action and you know it's a fun project if Dad voluntarily joins in.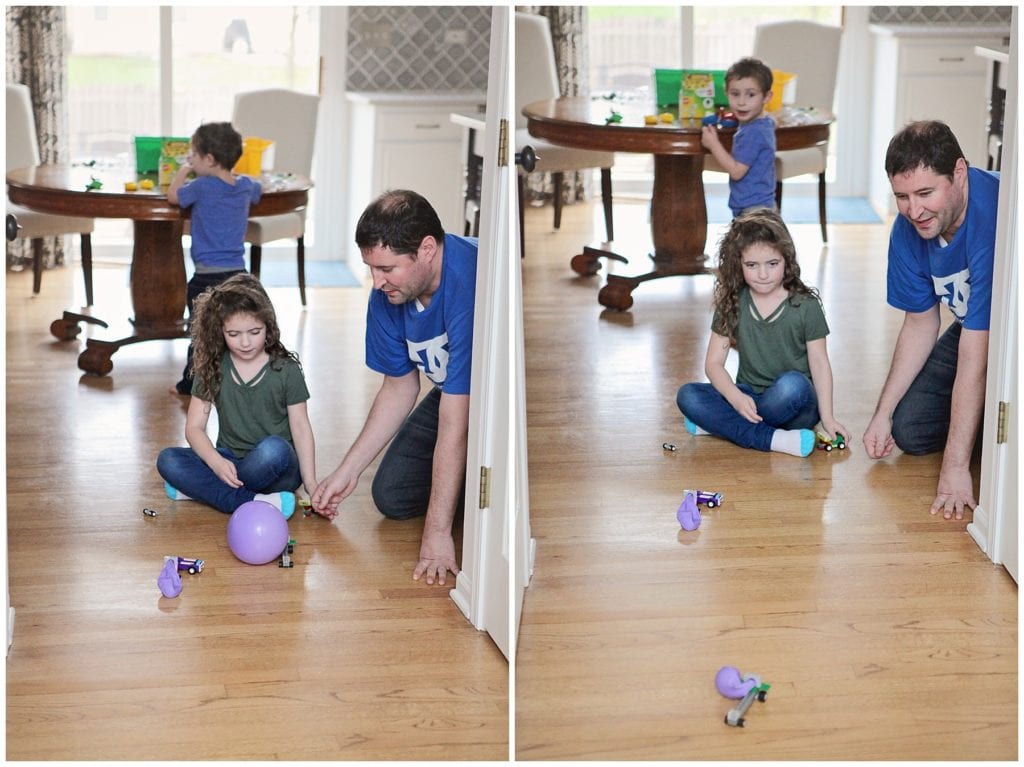 To create the Lego Balloon Cars you only need the following:
Legos
Lego wheels
Balloons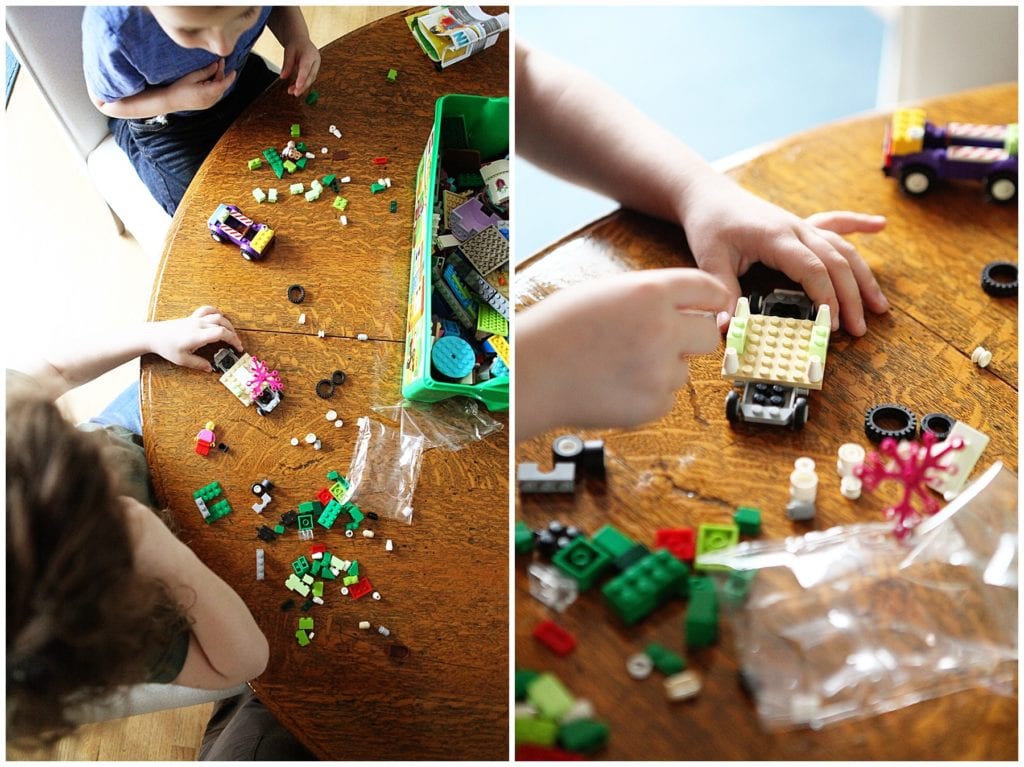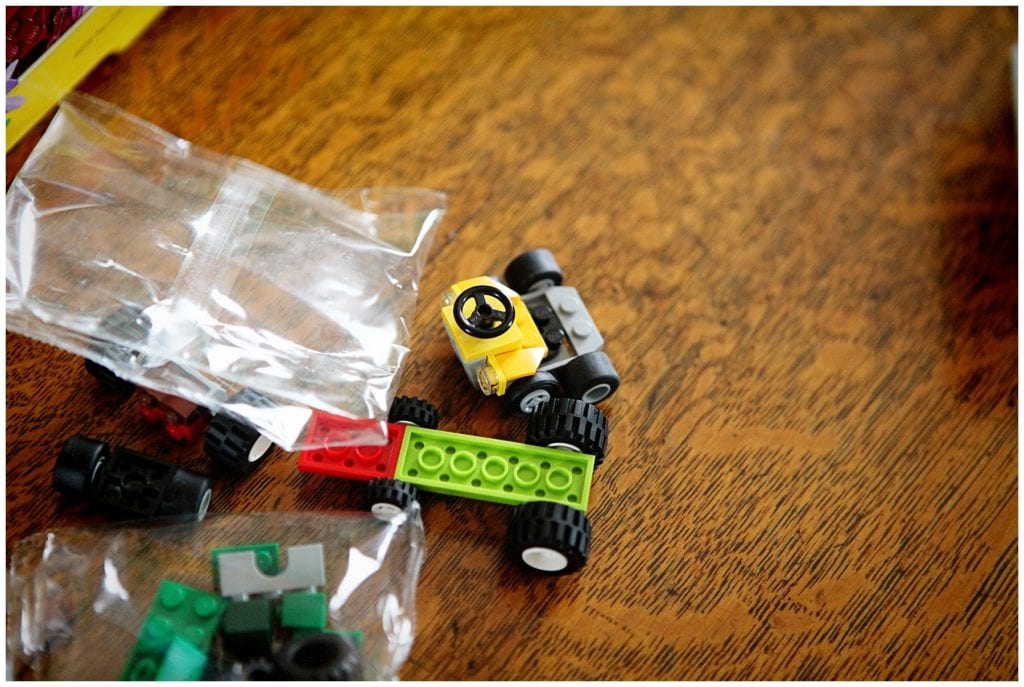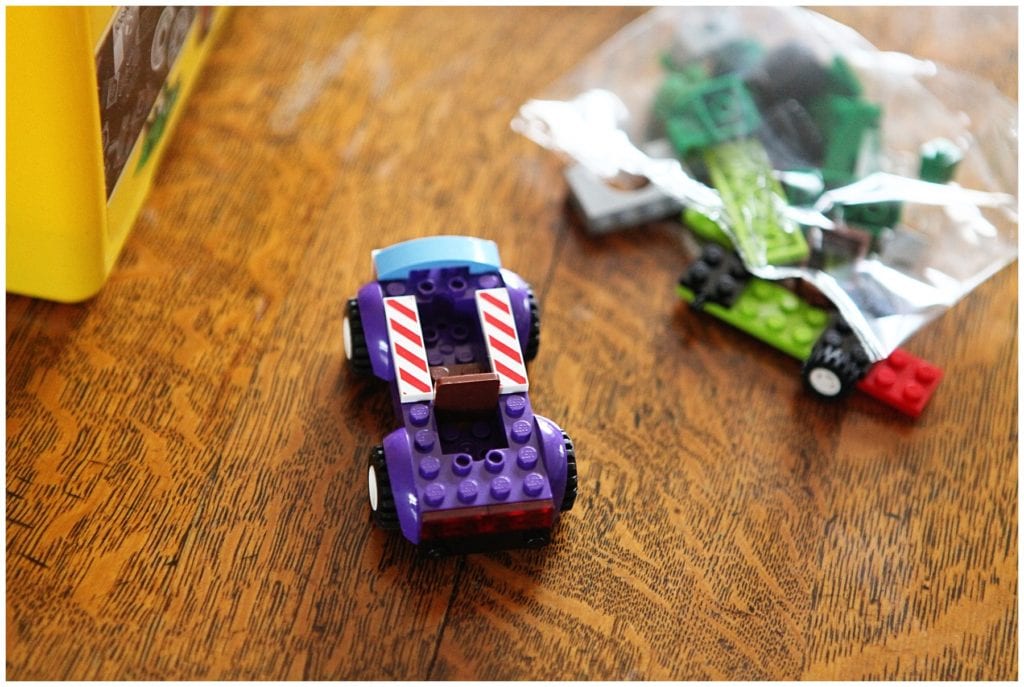 That's it! Nothing could really be simpler than this project.
To make the cars move you need to either use a Lego piece that's an arch or had a hole in it. If you don't have these pieces, you can also build one as I did in the photo below.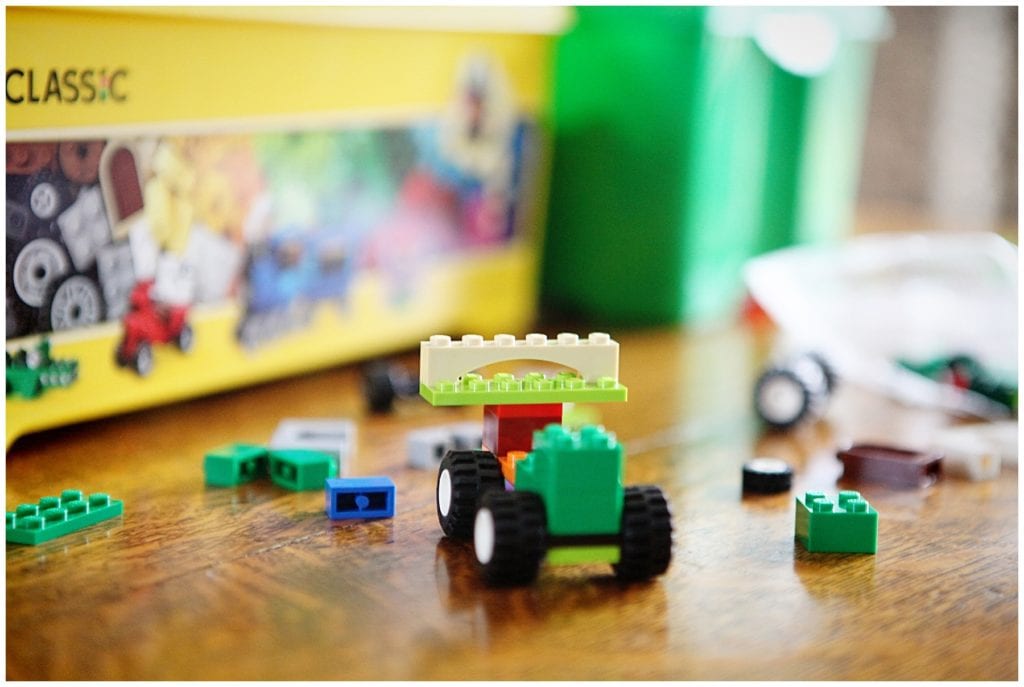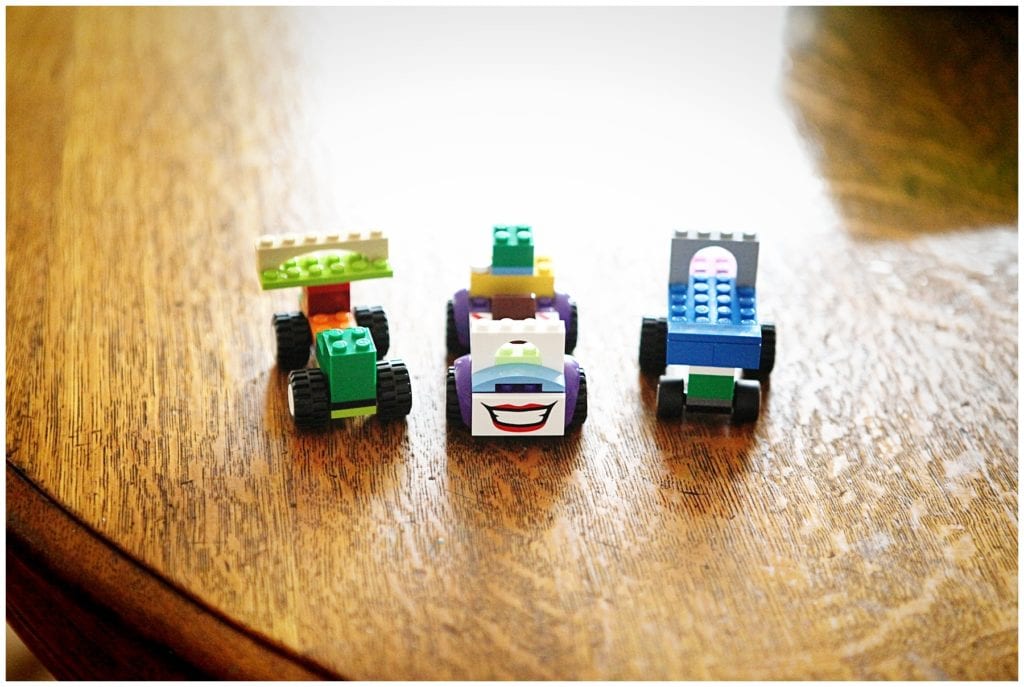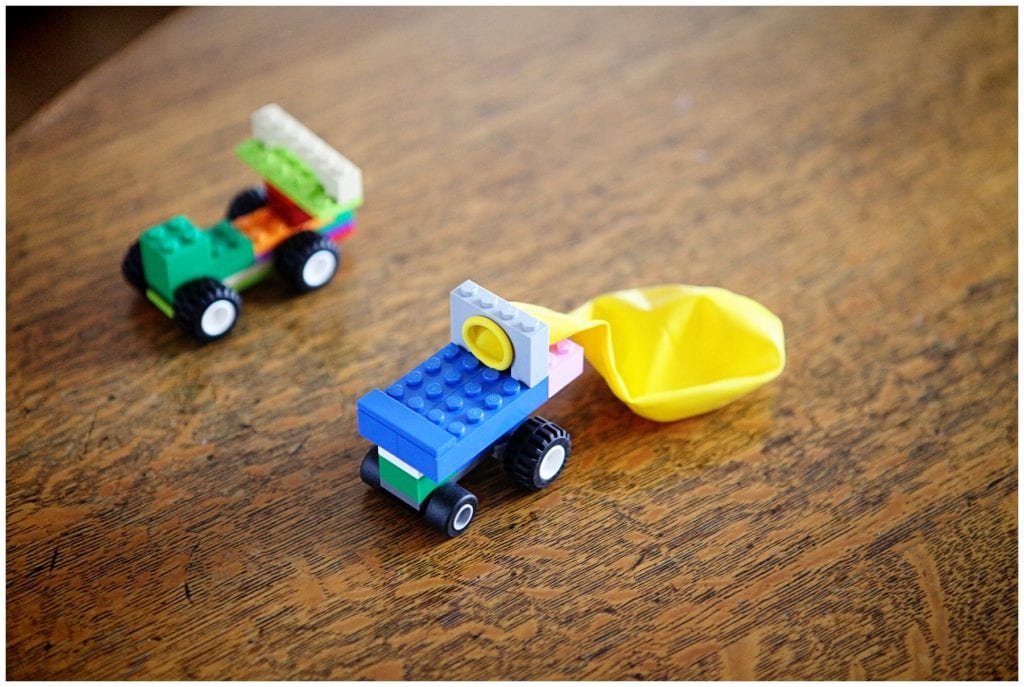 Let them take their time creating and testing things out so they can see what works by trial and error before you explain some of the principles to them.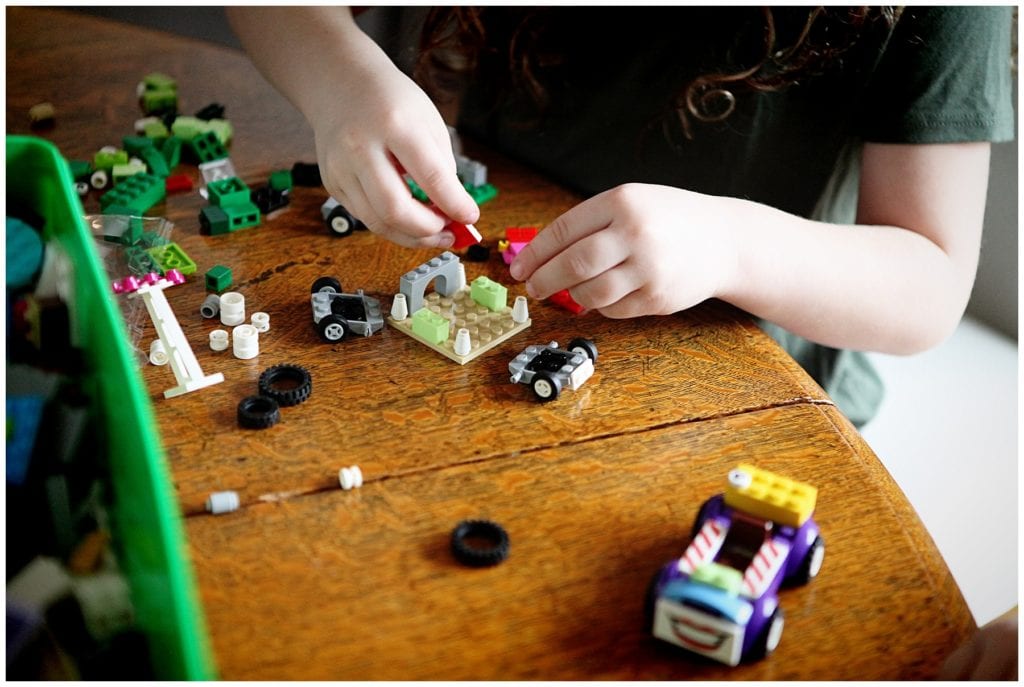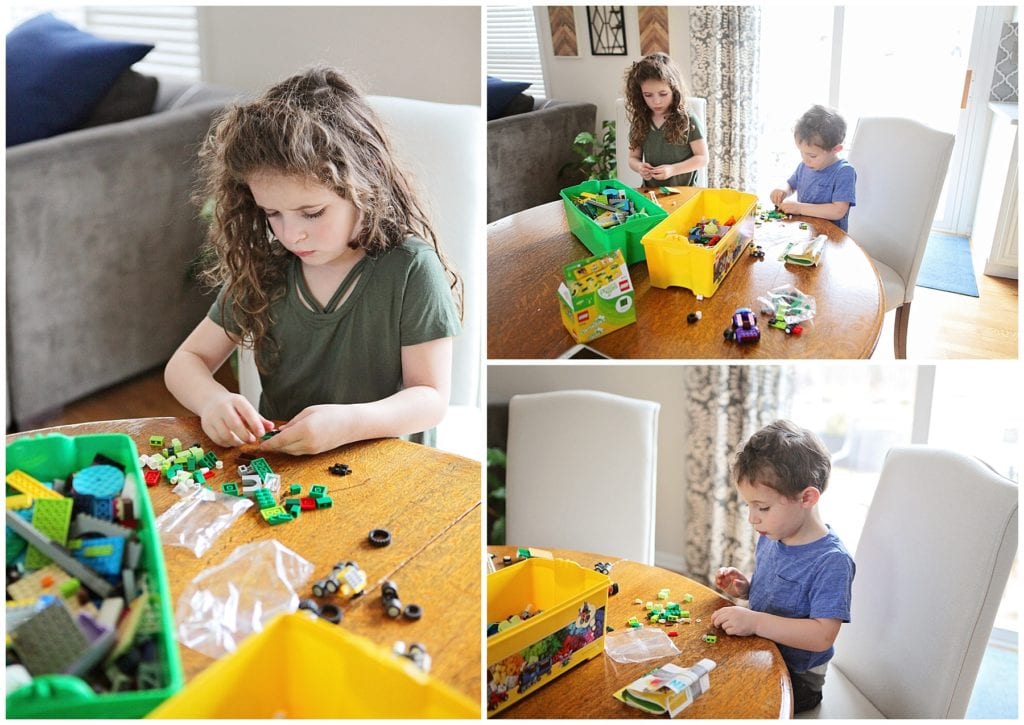 At first my daughter was concerned about making her car pretty and had some pieces on it that wouldn't allow the balloon to work correctly because it didn't fit when we blew it up.
She also made a really long car that snapped when we set it off down the hallway with the balloon.
As that happened, I started explaining the how and why behind what makes a good "car" in this case. She became less concerned about what would make a pretty car and focused on what would make her car fast – light enough to move but still strong enough to support the balloon, shorter in length and in height and no flair like Lego steering wheels or flowers to get in the way.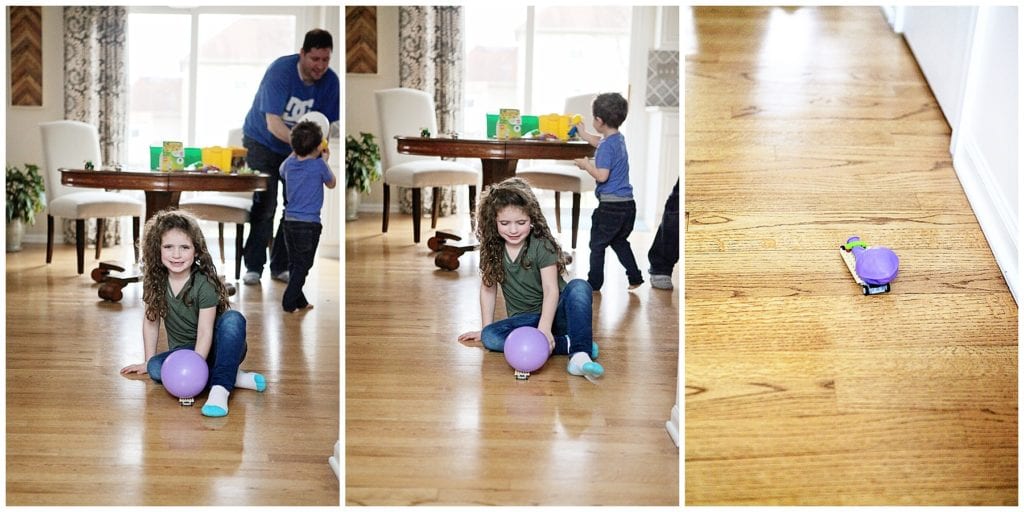 We also had to explain to my son that passengers couldn't fit. 🙂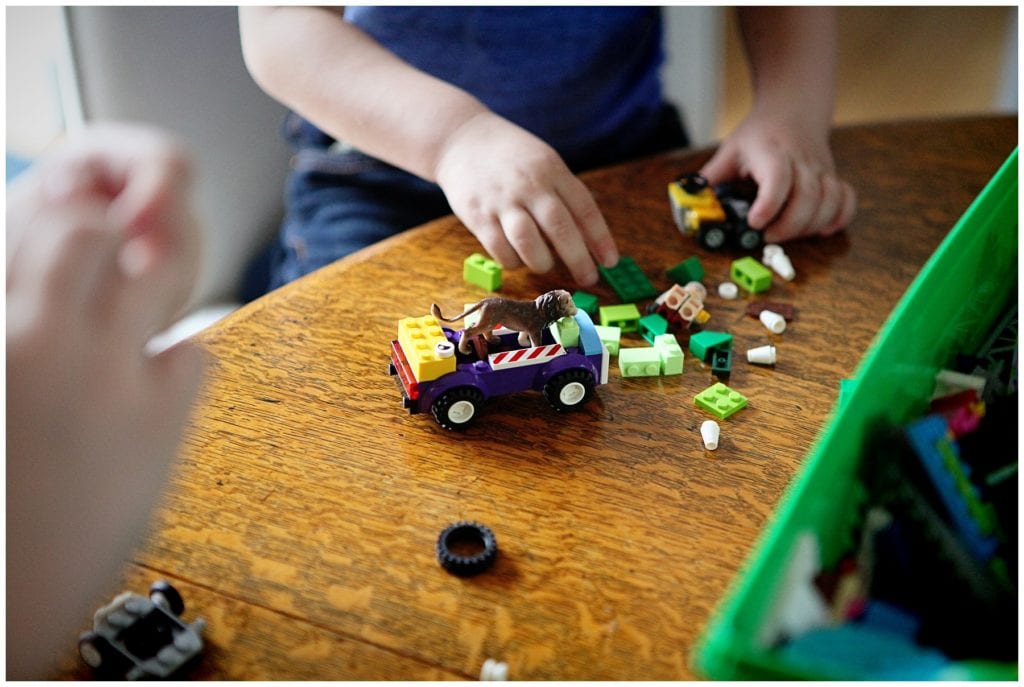 Once the cars are built, blow up the balloon and hold the end securely. Place it through the hole in car and then hold it until it's time to release them. You can do them one at a time or you can set them up to race against one another.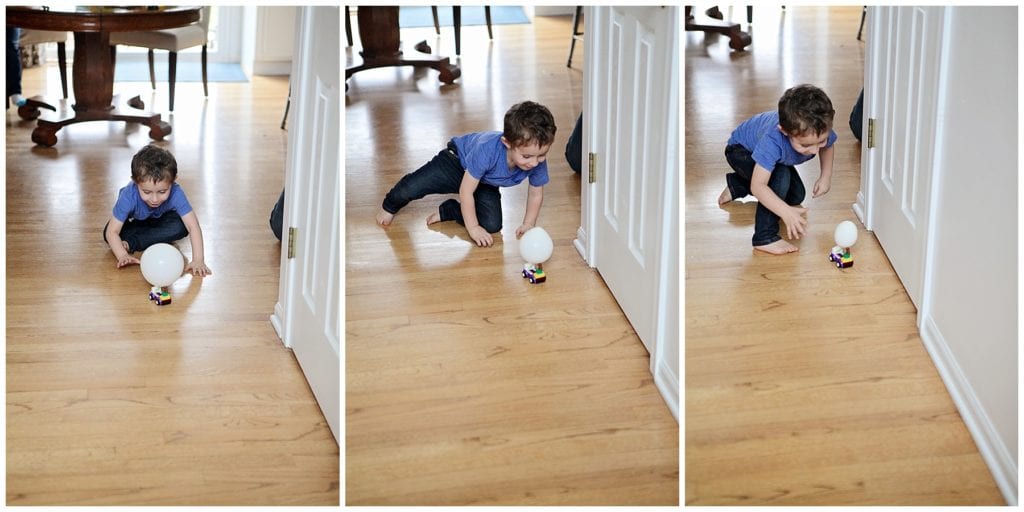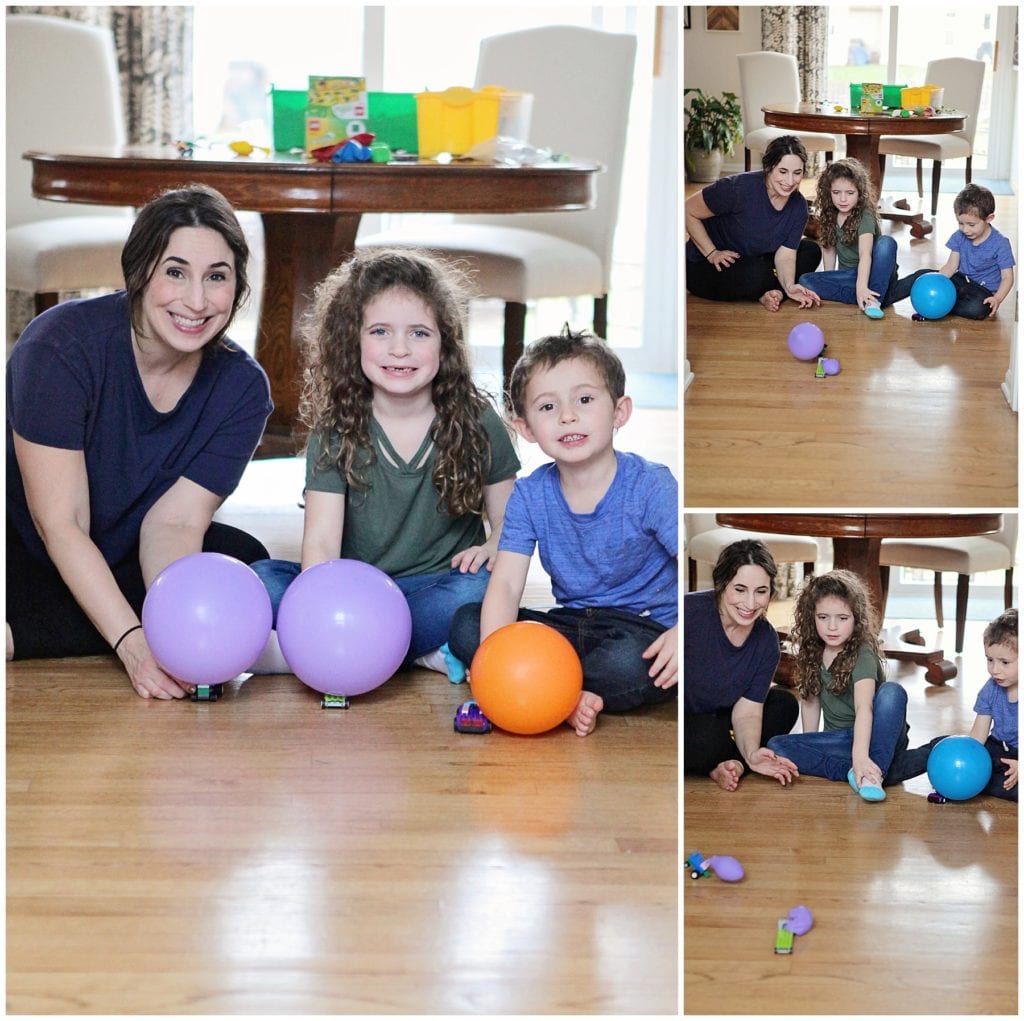 For more information on Sylvan Learning's STEM programs, click here.
Also, check out our post on 6 Ways To Inspire Your Children To Love Math!
For more activities, click here.