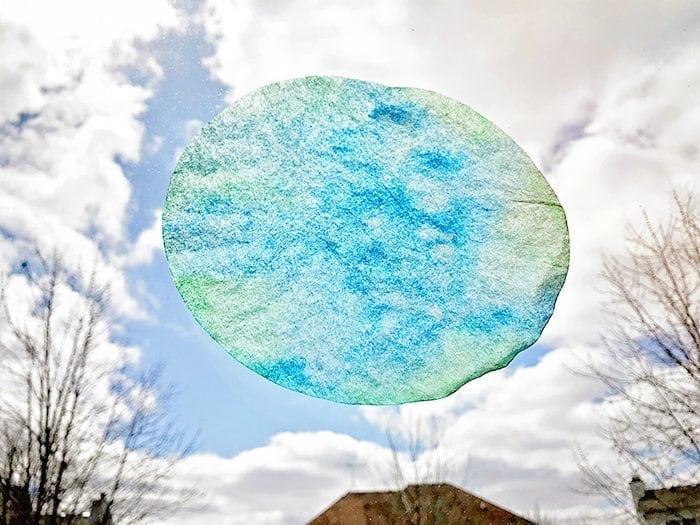 I have to give my kids credit. They're really good at listening to directions for a good ol' craft project.
My daughter has always been this way. She loves art and loves to keep busy with her hands. She's always drawing, wanting to paint and create. When she was as young as 2-years-old she would keep herself busy for a couple of hours coloring.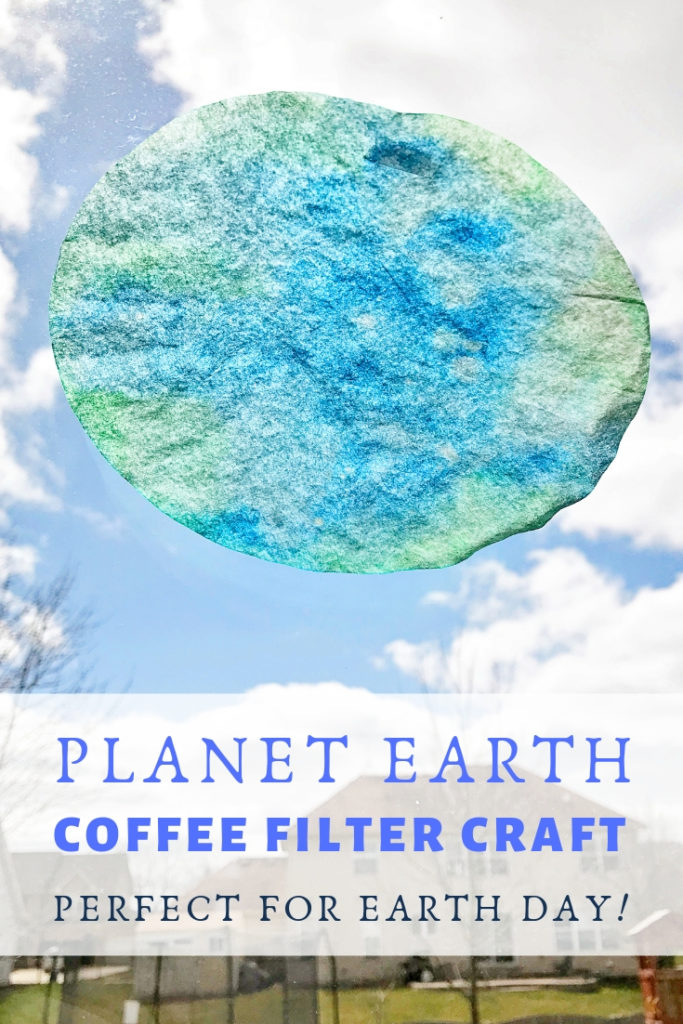 My son, on the other hand, is a force of nature. He's busy. He's everywhere all the time.
Until now though we haven't done too many art projects with both of them because he's usually a cyclone. However, when he starts playing with his little "guys" (which can be anything from Batman and Spiderman figures to army men, he'll also entertain himself for a good, long while.
At 2.5 though, I thought it was time to try to get his creative juices flowing too.
This Coffee Filter Earth Project is one of the easiest crafts I could think of that would be perfect for both of them. It involves three simple things: coffee filters, markers and water. Most parents know that anytime water is involved, the kids are in. My kids are no exception.
With Earth Day coming up I loved that this project helped me build on to our discussions about the planet too. Check it out below and find the learnings we gained from doing this project together and talking about our precious planet.
Planet Earth Coffee Filter Craft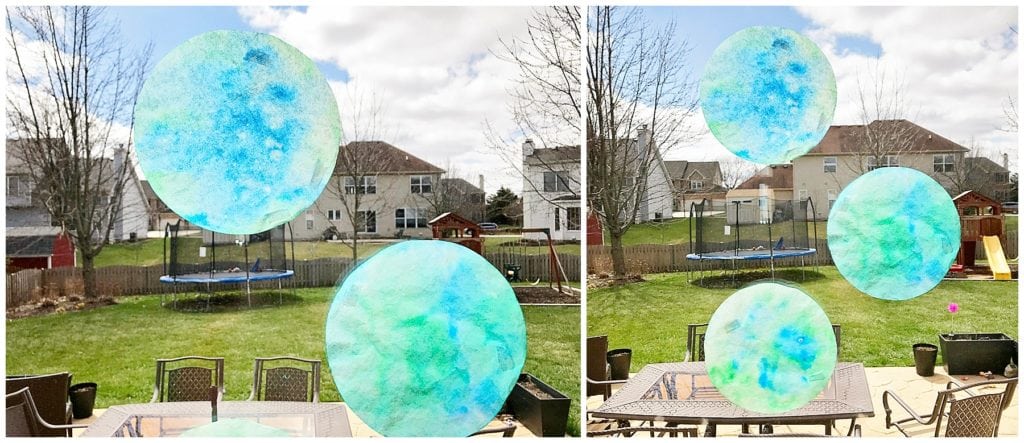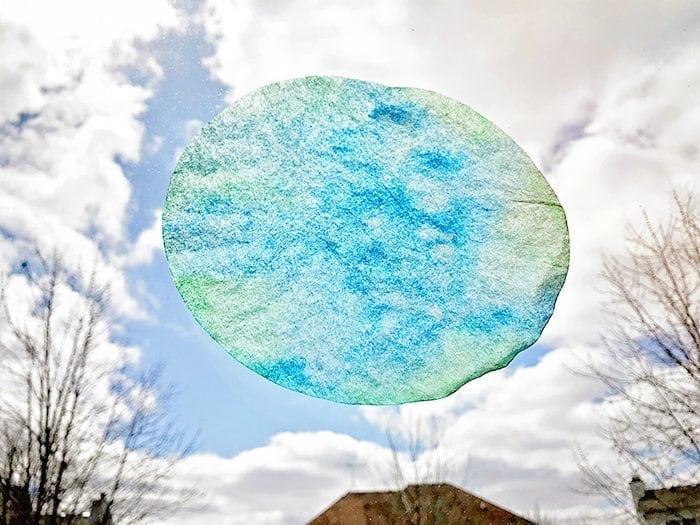 Supplies Needed:
Plain, white coffee filters
WASHABLE Green and blue markers
A spray bottle of water
Plate or table covering


Steps for Coffee Filter Earth:
1. Cover your table with craft paper, a plastic table cloth or use a plate or plastic placemat under these so your kids can scribble until their hearts are content.
2. Layout your coffee filters flat on the table or your plate.
3. Let your kids go to town coloring with the green and blue markers. Don't give them too much direction here because it will lend itself to the lessons you can chat about. DO make sure they cover the whole coffee filter with color though.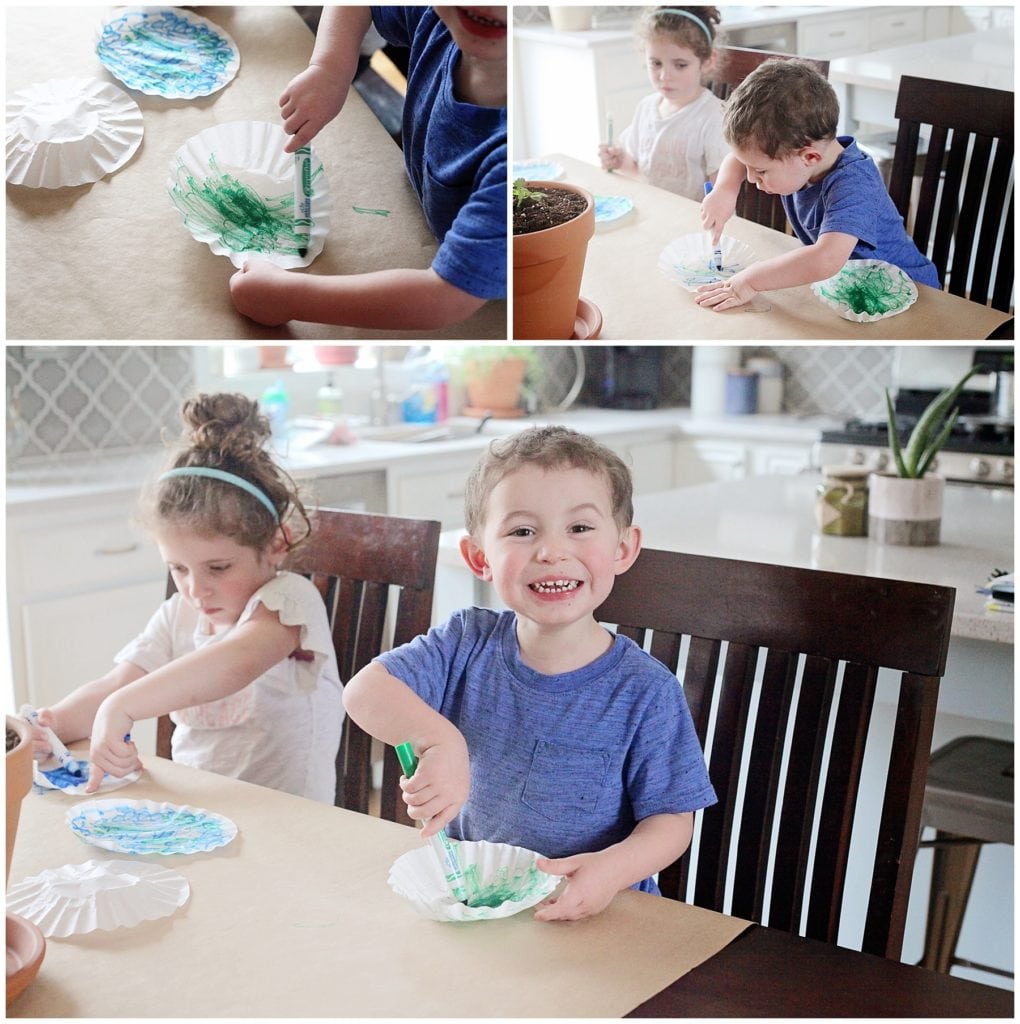 4. WAY 1 – Once done, take the coffee filters outside, hold them or pin them on a clothes line and spray them with water. They will drip so if you're holding them you will get marker all over your fingers. (Our's did not wash off my fingers as well as I hoped.) Just don't let all the color drip off. You want to saturate the filter but keep the color on it as much as possible.
Also 4. WAY 2 – OR – Spray them directly on your plate. Make sure you don't care about the plate just in case your washable markers are similar to mine and like to cling. Both ways will work.
5. Lay them flat on paper towels and a plate and let them dry overnight. Some of the color will continue to come off on the paper towel but that's ok.
6. The next day make sure they're dry and tape them up in your window.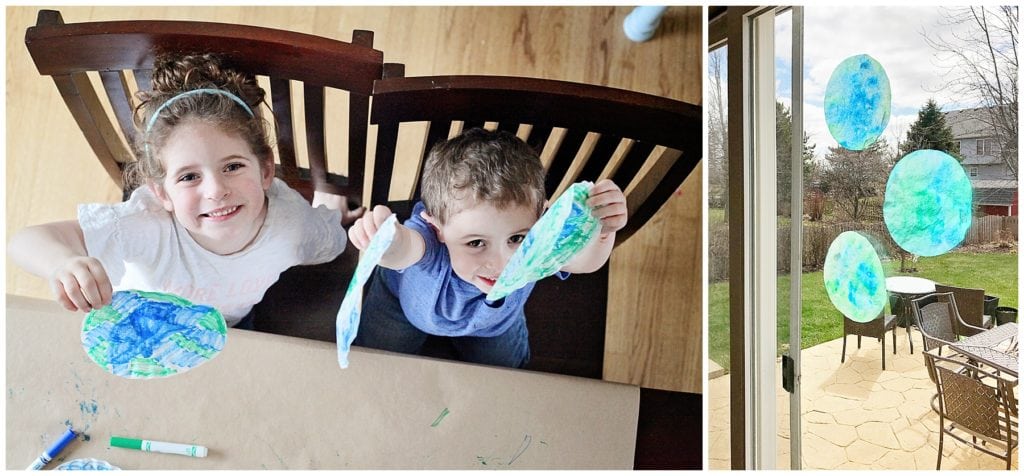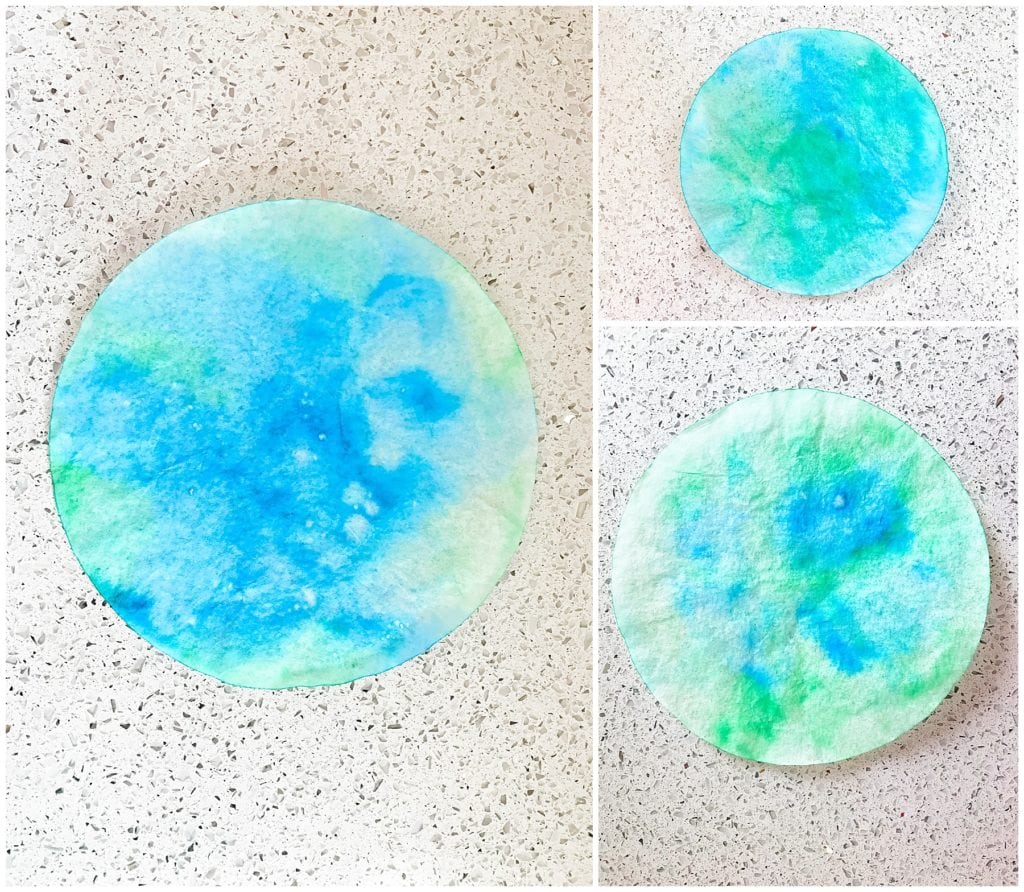 When the project is complete the marker will have merged creating beautiful, surreal images of little planet Earths. They almost look like what you would think astronauts would see from space.
I always like the idea of merging art and science so when we do a craft I usually try to talk to them about a bigger lesson that comes from it. My son is a little young for this part but my daughter was able to understand and have a good discussion around our Earths, the role of land and water and how people and the planet need both to be healthy.
Here are some discussion topics for this project:
Talk with your kids about how much land versus water they see on their planets. Based on how they colored the planets originally each one will be very different.
Discuss why it's important to have a good balance of both.
Discuss how animals use and need water.
Discuss how people use and need water.
Ask: How could life look different if we have more water on our planet now?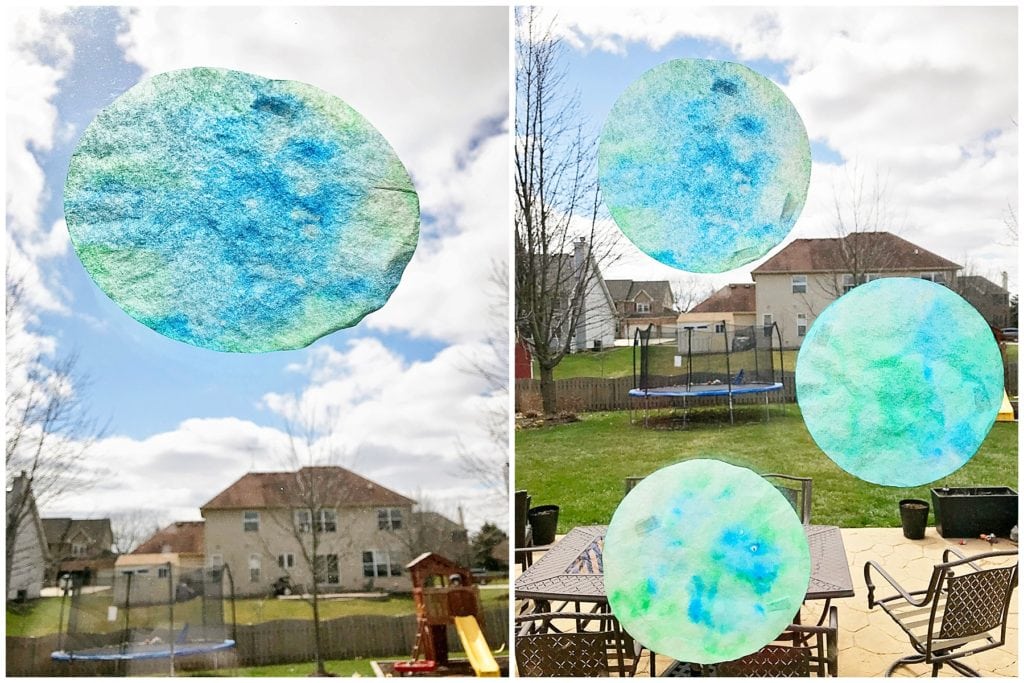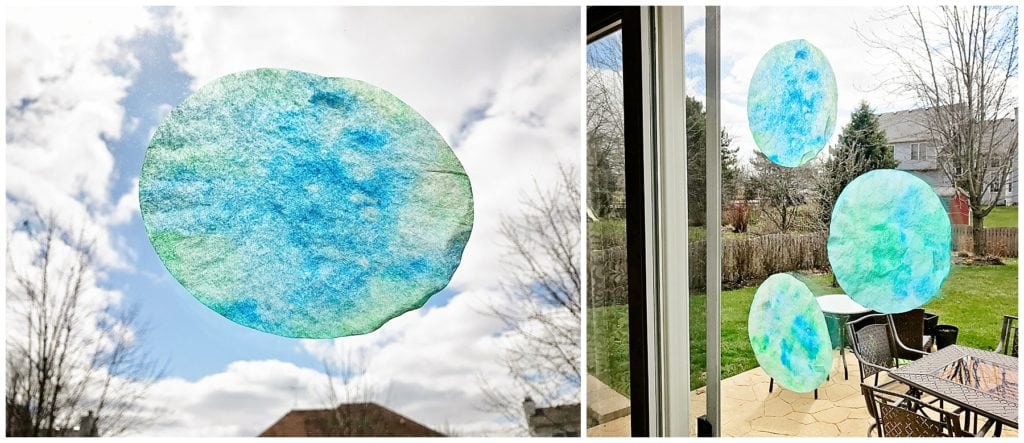 I hope you guys try this and have a blast with your kids. It's really easy enough for an older toddler and preschooler to do and interesting enough for a young elementary kids to enjoy.
Check out our slime planets for another great planet craft. Find all our other kid crafts and activities here.