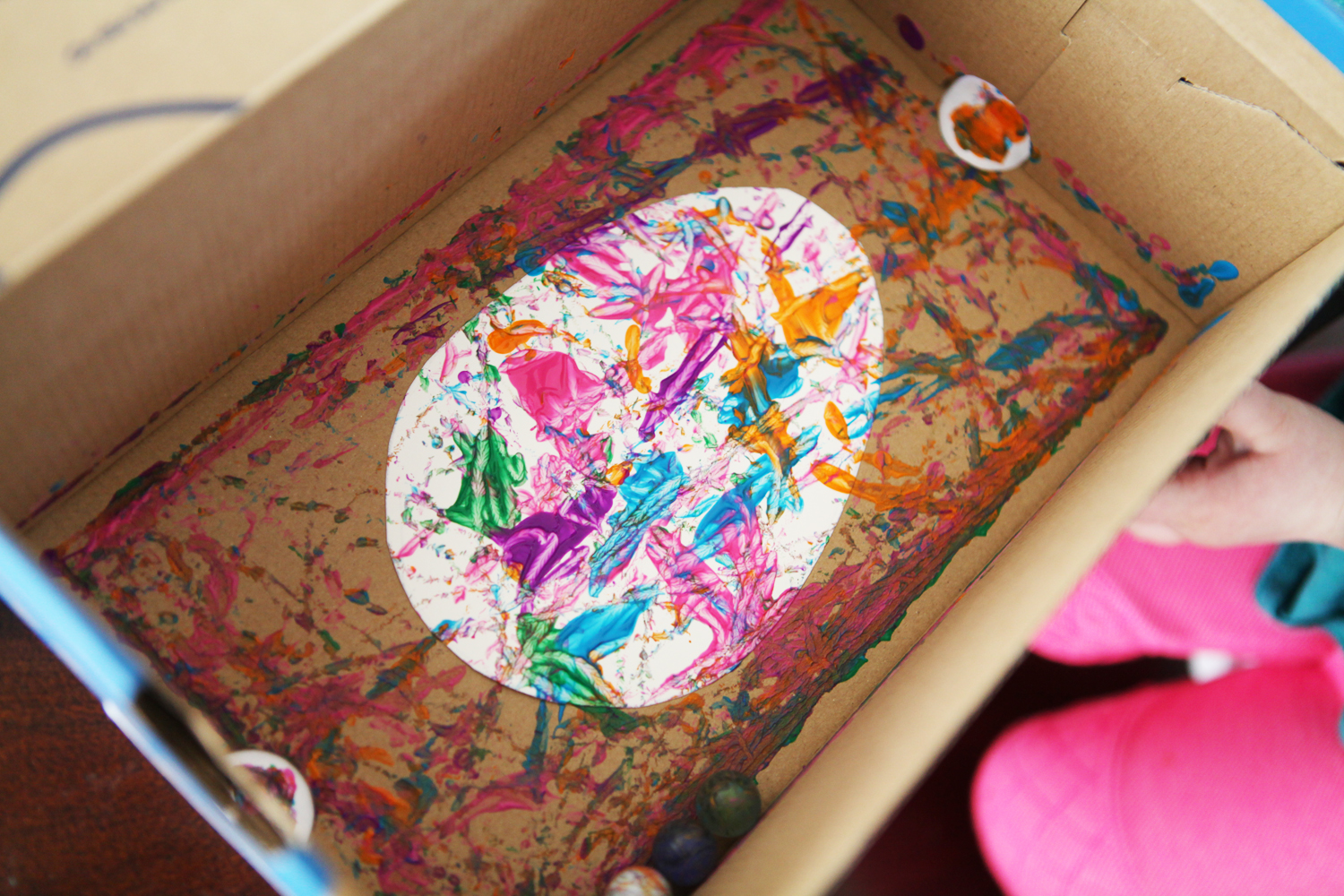 Since St. Patrick's Day was so close to Easter this year, I didn't feel like we were able to really enjoy the Easter decorations or have a lot of time for Easter craft projects. However, because my daughter loves crafting and art so much, I wanted to squeeze in one, quick project that I knew she would love. This Marble Egg Easter Craft was it!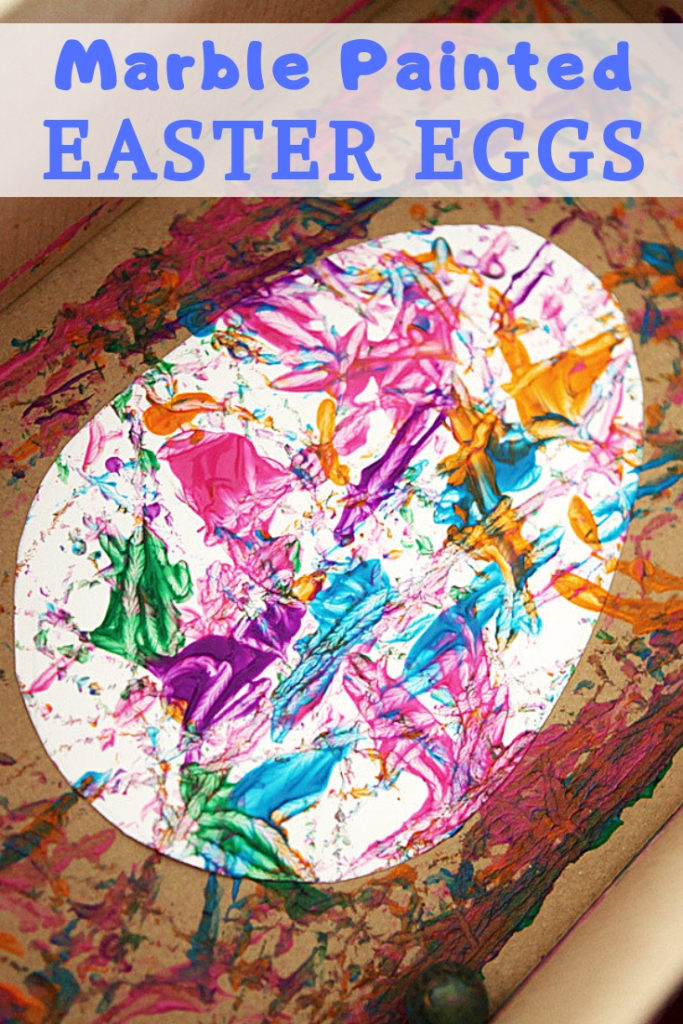 So, the other day we made Marbled Painted Easter Eggs. I remember doing this craft when I was in elementary school and had a blast with it so I knew she would like it. Best of all, it was pretty easy because we already had everything we needed at home. I bet you do too!
We were having so much fun that even my husband joined in on our little craft time to make an egg of his own. Follow the easy steps below to make these colorful and festive eggcellent Easter eggs.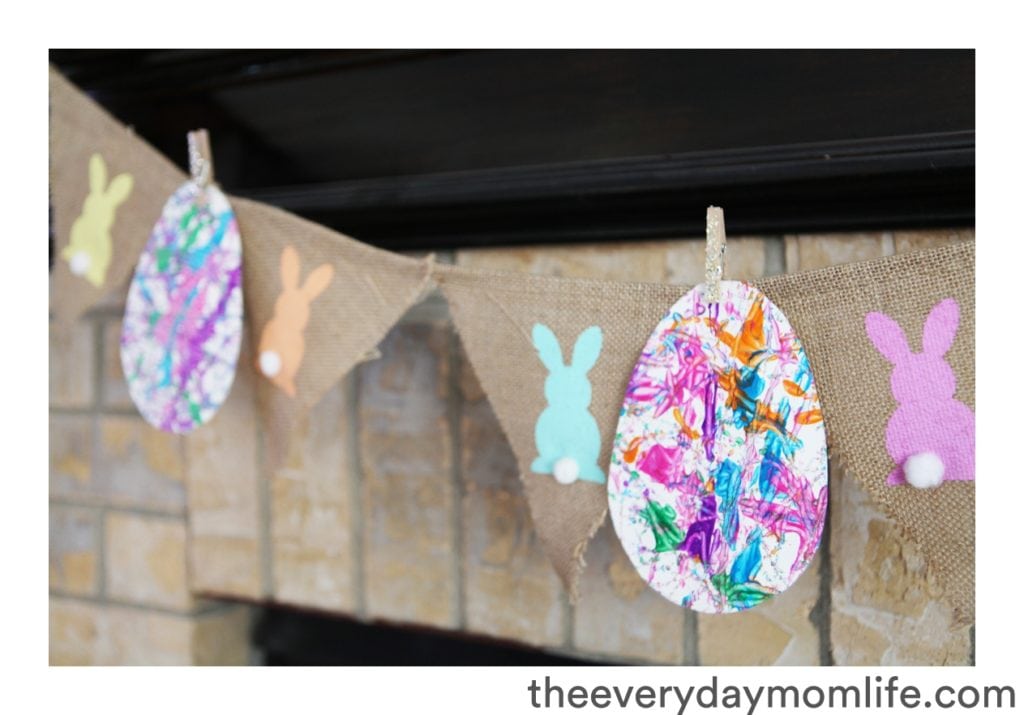 Supplies for Marble Egg Easter Craft
White paper. This Poster board works best but you can certainly use plain computer paper if that's all you have on hand.
Paint
A pencil/crayon
A shoe box
Scissors
Tape
A paper plate
Steps:
First draw out your egg shape on a piece of paper. I ended up using a small candy bucket we had here to make the bottom on the egg and then free-handed the top.
Cut the egg out and use it to trace additional eggs. Then, cut those out.
Tape your cut out egg to the bottom of the shoe box. One or two rolled up pieces should do. You want to be able to take it off afterwards.
Put a couple globs of paint on your paper plate and dip your marbles in them.
Pick up one marble at a time and put it in your shoe box.
Then tilt the box from side to side so that your marble rolls across the egg's surface.
Repeat until you have used all your colors and keep layering until you're happy with your egg design.
You can see my daughter loved the results!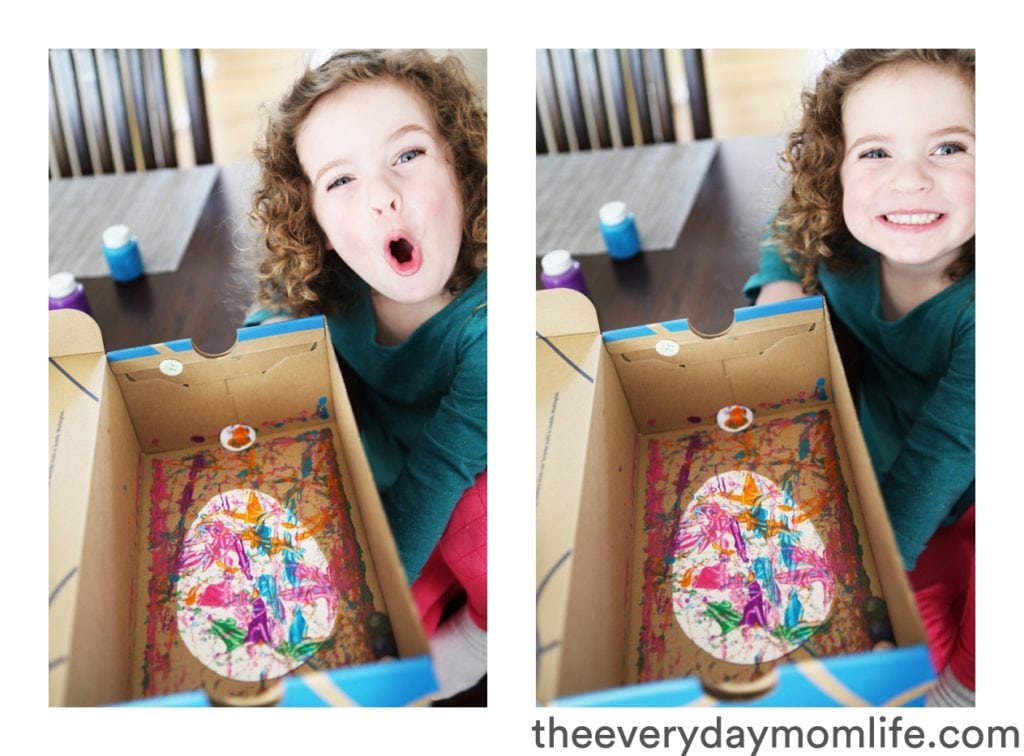 The second time we did this Marble Egg Easter Craft, we also put all the marbles in the shoe box and shook it like crazy. It also produced great results!
Of the eggs on the left, mine is the top one, my daughter's is the middle one and my husband's is on the bottom. The more colors you use, the more vibrant your eggs will be. Just be careful not to mix colors that will produce browns, unless that's the color scheme you are going for. I was iffy on using orange, but my daughter really wanted too.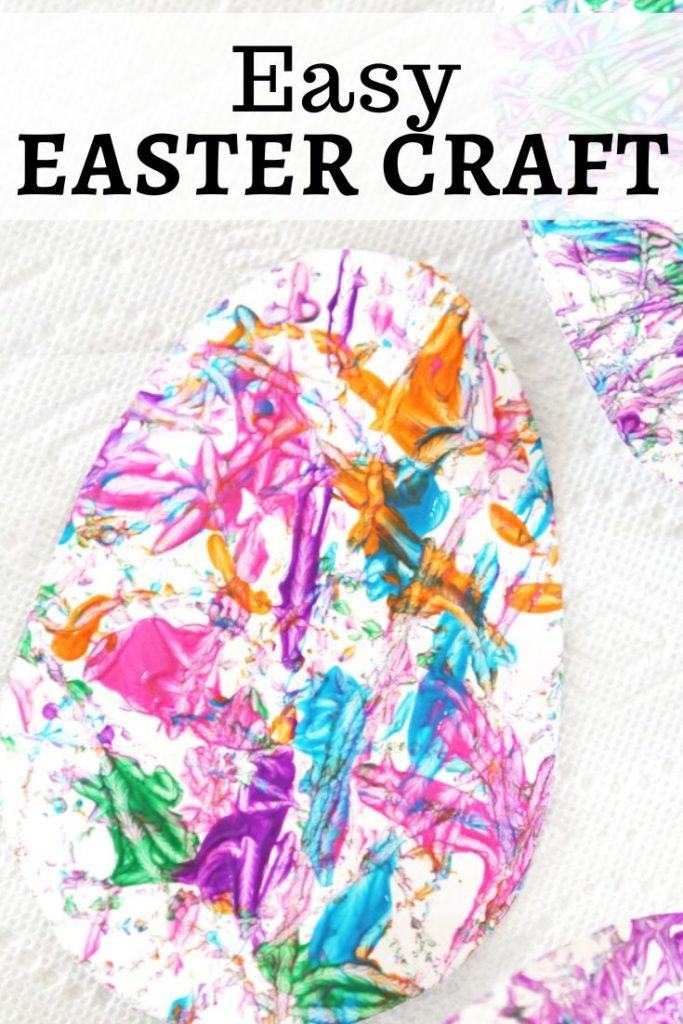 You can also use this as a lesson about primary colors and secondary colors if you want or if you home school.
Once dry, we hung all the eggs by the bunny banner on our fireplace so we could enjoy them as much as possible until Easter. You can also frame them and use them as Easter wall art, but we didn't have any spare frames.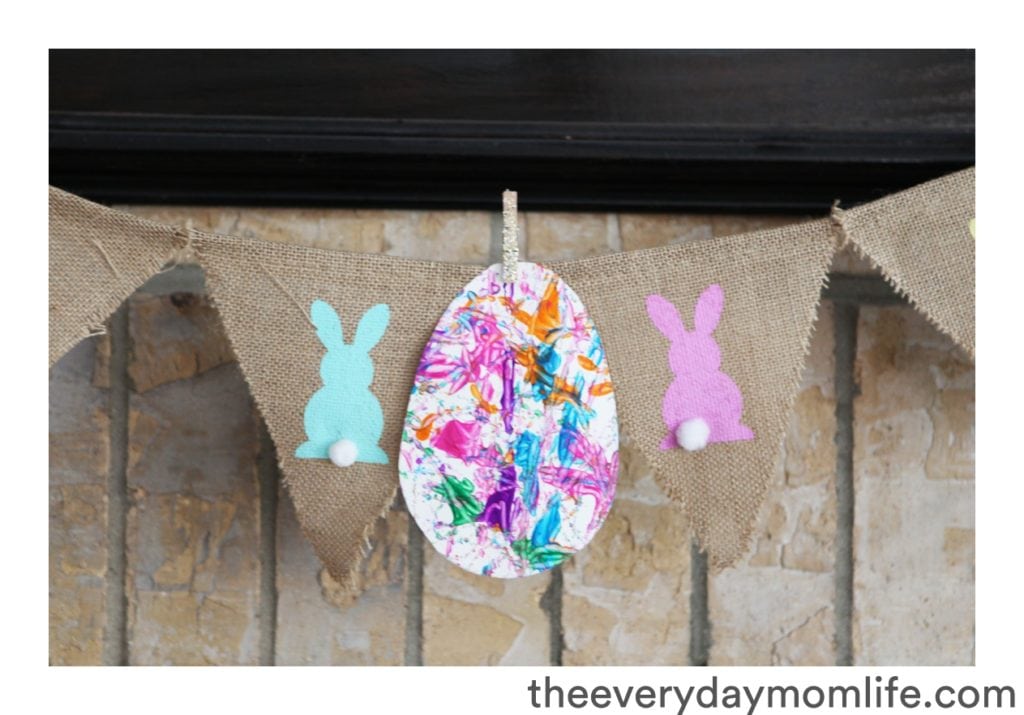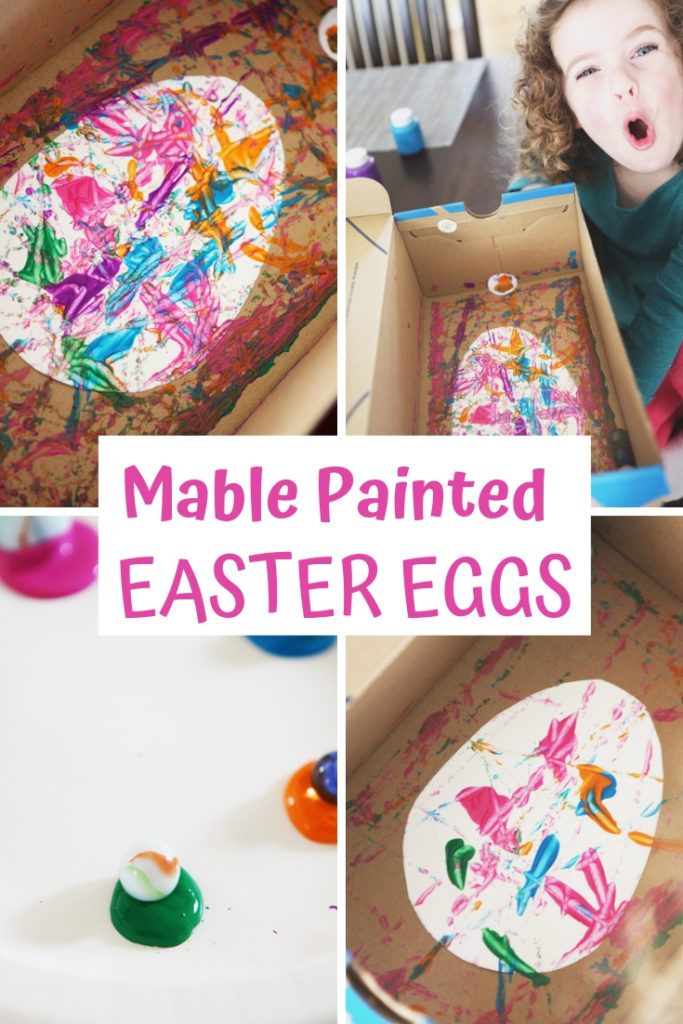 If you need some of the supplies for this, you can find them here:
For some fun ways to decorate eggs, check out our tie-dye eggs and our Washi tape Easter Eggs.
Have a Hoppy Easter, friends!