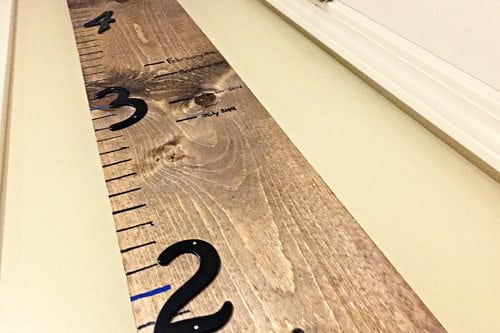 Last week, while squeezing into my bathing suit I realized how soon my 2nd baby will be here. I have just over 6 weeks (if she doesn't come early). I also realized that I have projects to do! I know how things get pushed aside with a new born, and now this time I will have a 3-and-a-half year old as well. I began writing down a list of things I need to accomplish in the next few weeks and on the top of my list was my daughter's growth chart.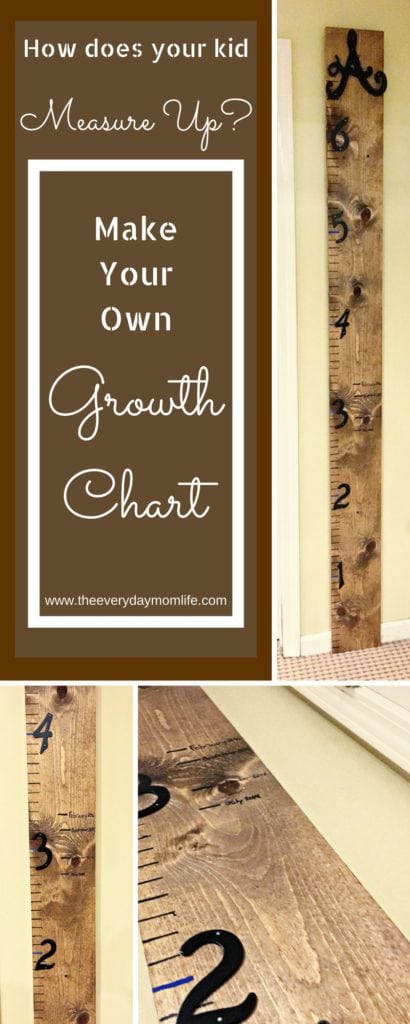 I feel like my son has grown another 2 inches over night. I need to mark his growth on the growth chart I made for him. He loves to stand proudly against the board and admire the mark I make and see what a big boy he is. I felt inspired to make one for him just after he turned one but didn't get around to actually deciding where to hang it until 6 months later.  The good news is, it's never too late to make it. I was at his 2 year check up when I realized that the doctor would of course have the record of his growth and just had them print it out for me.  I went home and marked them on my own chart and just like that, it looked like I hadn't missed any time at all.
When I made my son's chart I bought a pretty initial that I nailed to the top, and I want to do the same for my daughter's.  I decided to make them each their own so some day if they want to have it in their house to mark their own children's growth on it they can. The nice thing is, the entire project only costs around $15 and is really easy to make! I have made them as gifts for a few friends as well as my parents who wanted one for all of the grandkids.
Items Needed:
Stain or Paint color of choice…I had stain from another project left over that I liked the shade of.  I HIGHLY recommend the "oops" paint section of your hardware store to save money. You may just need to make a few trips to find one you like.  I make a habit of going to this section every time I am there.  If I find something I like I buy it to keep on hand incase a project comes up unexpectedly (like a super long nap that allows me to get something done on my wish list!). This is a great one.
Paint Brush if you are painting or staining your wood
Numbers 1-6 (I bought address numbers from my hardware store in a black metal)
Initial for top of chart. I also think it would be cute to use something in a theme you might like: small airplane, a crown or an animal. Make it suit your child.
Permanent Marker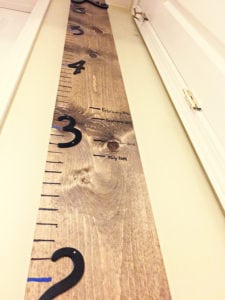 Steps:
1. Choose your piece of wood carefully. You want to make sure it is not bowed or damaged. I picked one with a few knots in it because I liked that look. I also chose a higher quality of wood so it would look a little more finished and not like a rough pallet board. I recommend having your hardware store cut the piece to size for you. Most do straight cuts for free. I needed them to so I could fit it in my car as well.
2.  Sand and stain or paint board if you want, you can also leave it natural if you like the color of the wood you purchased. Make sure you do thin layers so it dries faster and evenly.
3. Once dry, lay the tape measure on your board and begin marking short straight lines every inch. I made the inch marks about 1.5 inches long and the footmarks about 2.5 inches long.  I did mine in pencil first and then went back with the black permanent marker.  I also used a ruler as a straight edge to make sure the lines were perfectly straight.




4. Nail the numbers every foot on your piece of wood. You could certainly paint them or stencil them on as well.  I like the look of the black metal numbers standing out against the wood on mine. Silver numbers would look great too if you want it to be a bit more modern.

5. This one was the hardest for me. Choose where to hang it. I picked a wall in our basement. I started the inch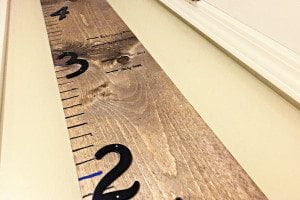 marks from the very bottom of the board so it can sit directly on the ground. I considered starting it at inch 4 so it would be hung above the baseboard but I couldn't handle the pressure of precisely hanging it.
I hope you enjoy making one for your kids too. I love being able to see how much my son has grown. I am excited for our little girl to have one as well. This is such an inexpensive, easy project. Now if I could just figure out how to make them not grow so fast…