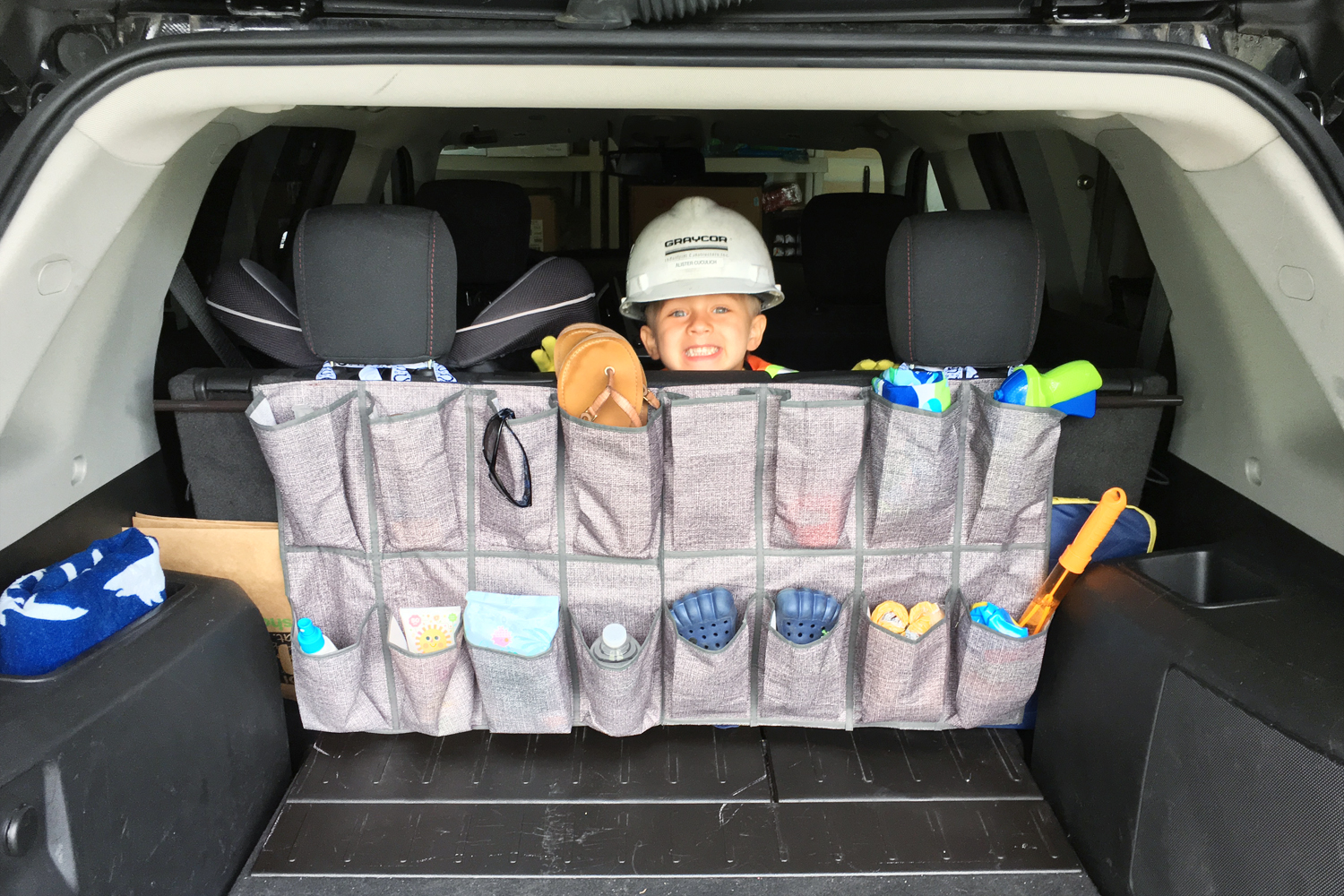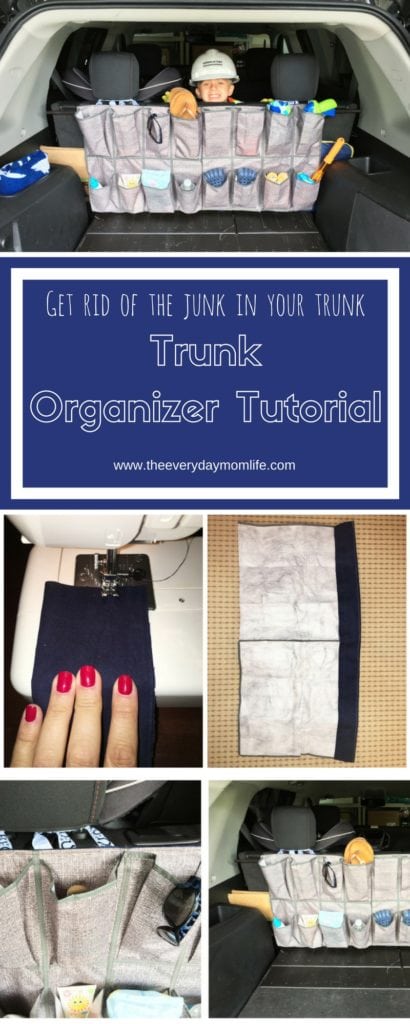 Do you ever feel like every time you leave the house you are packing for a week away? Sometimes the hassle of remembering everything makes the start of a fun day so much work it hardly feels worth it. I discovered a trick that has made our outings so much easier for me, and can help you too!
When we leave the house, I want the flexibility to stop and play if we find a fun adventure, or get an unexpected call to meet friends at a splash park. I don't want to make a trip back home to pick up things we might need, or worse, have to pass on an opportunity because we aren't prepared. This organization idea came to me as a way to make life easier for me, and more fun for my son.
When I first started getting adjusted to packing for two, I would just leave everything I would need in the car. It was always a mess and I would have to move a million things if anyone wanted to ride in our car. This drove my husband crazy, and after a few times of him "helping" me by cleaning out my car I realized I needed a better plan. I tend to feel a little territorial about certain areas…ok most areas. I was so mad after showing up places missing necessary items, like winter coats that my husband "thoughtfully" hung up, I set out to find a way to make my car organized so that everything we needed was where I wanted it and I didn't have to pack from scratch every time we left the house.




I discovered an over the door shoe organizer was an inexpensive, easy solution. I have remade this at the start of the last few summers, and they have lasted through the calendar year. At less than $15 for all the supplies I think it's well worth replacing once a year.
I will show you the steps I used to make mine. Depending on your vehicle you may need to modify it some.
Materials needed:
Fabric over the door shoe organizer like this
Dowel rod (I actually used an old curtain rod that I had in my garage.)
Piece of fabric to sew organizer to for extra support
Ribbon or rope to hang it in vehicle
Tools needed:
Steps:
1. I first lay out my shoe organizer and cut it so that I will have 2 pieces that are 2 rows of 4 pockets. In this case, the one I bought has 5 rows so I cut off the top piece to use for another project and will use the remaining 4 rows of 4 pockets. Here is a picture:
2. At this point I sew the two pieces together. I have a vertically shorter, horizontally longer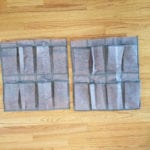 organizer that will now stretch across the back of my seats. So now it is 2 rows of 8 pockets. Depending on which organizer you buy yours may vary a little. Just make sure that you measure the space it will be in so that you don't end up having it lay flat in your trunk. Here is a picture of the two pieces just before I sewed them together.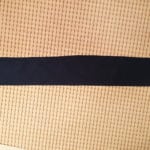 3. I often work on sewing projects so I always have a piece of scrap fabric in my craft room. In this case, I used a piece of blue cotton fabric that I can sew the organizer to for added stability. Since I buy a cheap shoe organizer it isn't a super-strong fabric. If you don't have scrap fabric, buy one piece, about 6 inches wide, by the length of your shoe organizer. Again, this will vary depending on which you buy. Here is a picture of my fabric scrap. (To the left.)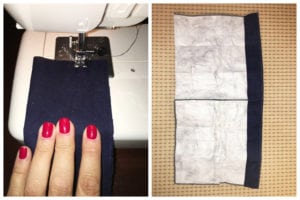 4. At this point fold the fabric in half and sew it. The fabric will function as the holder for the dowel rod. The next step is to sew it to the top of the organizer. It is lined up at the top and sewn behind the organizer. This is why the fabric you choose won't matter. You won't be able to see it at all. Here is a picture of the back of the organizer with the piece of blue fabric sewn to it. (To the right.)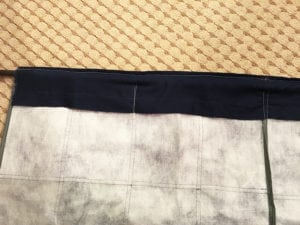 5. I also add a few stitches down the seams so that the fabric stays put. You can see that I used white thread on the blue fabric. I have to admit, my bobbin ran out of thread, and while I want this to look good it is mostly about function. If you are not great at the details, or can't sew well, it WON'T matter. Once you hang it, you won't see it. This project is about making your car function as a place to keep the things you need for your busy life. Here is a close-up of the back of the organizer. (To the left.)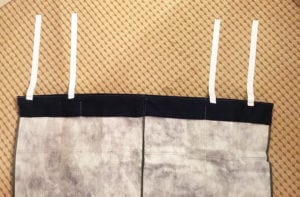 6. Next, I let my son choose from the extra pieces of ribbon I have left over from other projects. You can buy coordinating ribbon that looks beautiful or use anything you have lying around. He chose one with horseshoes on it because for this afternoon he decided he is cowboy. Cut the ribbon long enough to tie around the headrest in your backseat. Here is a picture of the ribbon sewn to the back of the organizer. (To the right.)

7. Now insert your dowel rod into the loop of extra fabric you sewed to the back of your organizer and tie the ribbons to the head rests in your car. The organizer will hang on the back of the seat and out of the way of your trunk area. Here is a picture of mine hanging in my car:

I find that I can fit a ton in this organizer. I am sure you will quickly realize all of the things it is nice to have with you. Here is what we have in ours for summer: sunblock, sanitizer, bug spray, wipes, pull-ups, sunglasses, swim trunks, water shoes for him and flip flops for me, bubbles, water gun, bottle of water and a few snacks that are ok after sitting in a hot car.
I also have a picnic mat that zips closed tucked behind the organizer and a towel in one of the side cubbies in the car. I love having the things I need without having to re-pack every day. My husband likes it because the car is not a mess. And most importantly, my son loves that I can say yes to stopping and playing a lot more because I have everything we need for a fun day.