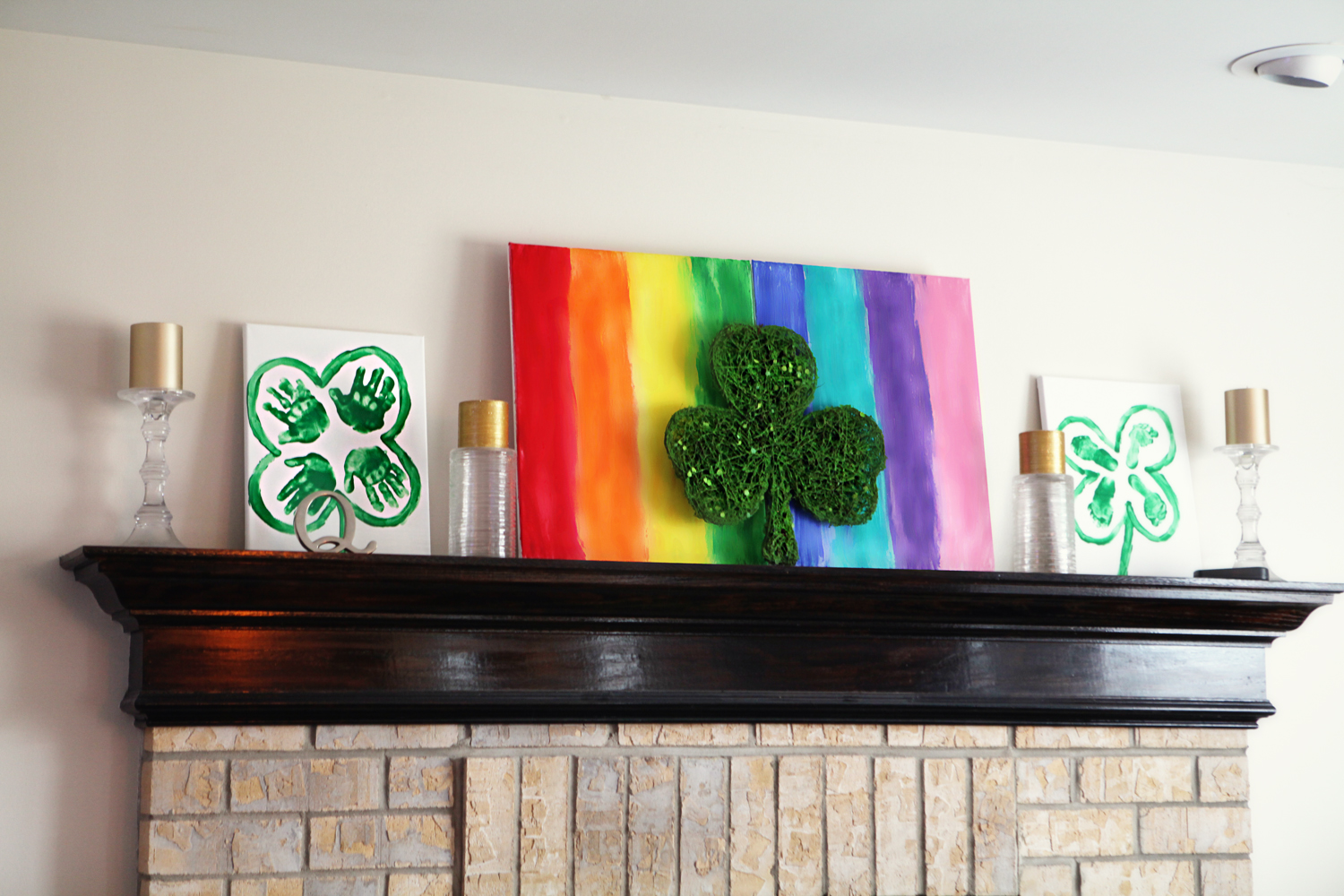 This past weekend we pulled down the Valentine's Day decorations around the house and added in a little green. With St. Patrick's Day quickly approaching I wanted to have some fun with my daughter and make the house look a little more festive. So, we came up with these kid friendly crafts for St. Patrick's Day. We hope you enjoy!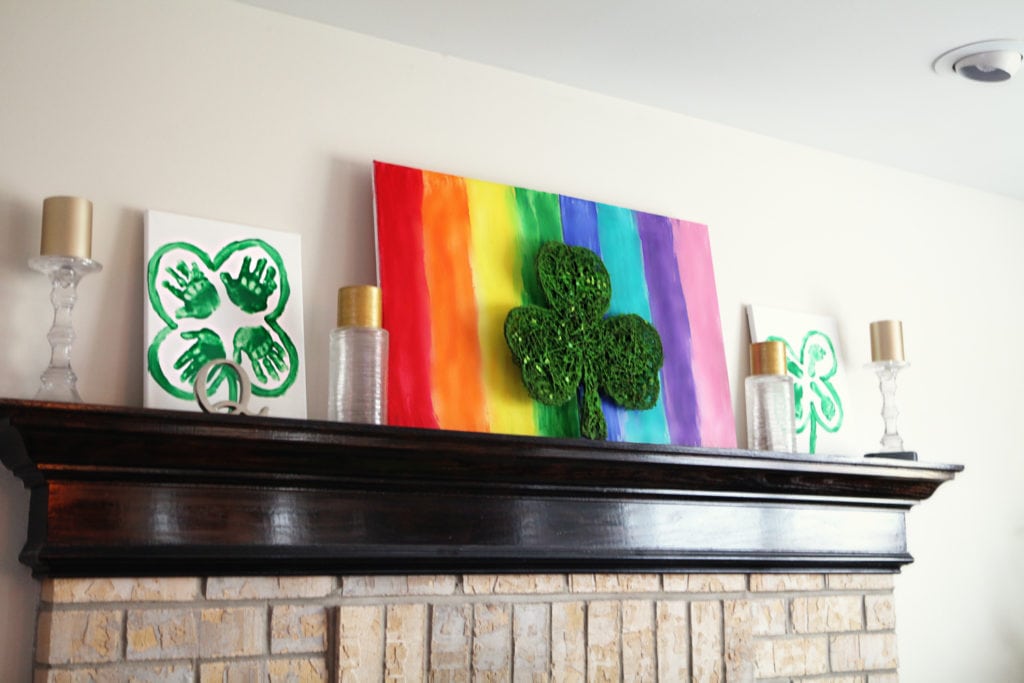 Rainbow Canvas
This one was my daughter's favorite. She is big into rainbows lately. Everything she colors, she colors "rainbow." So, I knew we had to find a way to incorporate at least one rainbow into our crafts.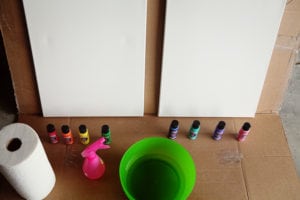 For this project you will need:
Two small canvases. We found our's packaged together at Hobby Lobby for $8.
Paints in all the colors of the rainbow. You can use a variety of paint here, but we used acrylic. If I did this again, I might switch that up for water colors. The original intent was to make drip canvas painting, but there were too many colors to incorporate and that wasn't really giving us the best rainbow look.
Paper towels. This gets messy.
Water – in a spray bottle and a bowel.
Optional: Paint brushes for each color. Again, if we did this again I would use a paint brush to help spread the color around a bit better. But, if you don't have paintbrushes, paper towels will do.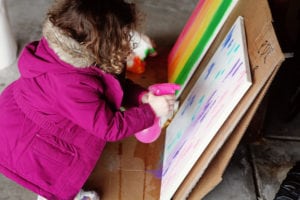 Steps:
Make sure you locate a dry area to paint and lay your canvases up against and on top of cardboard. You will want to make sure wherever this is, it is an area that you wouldn't have an issue with actually getting paint on should there be a spill or seepage. We used our garage. I don't recommend doing it outside unless you can ensure it won't be blown away or have debris/dust blown onto it.
Lay out your colors in the order you want to use them.
Wet the canvases with a paper towel.
Add in your colors by dripping them onto the canvas.
Spray the paint globs with the water bottle so that the pain drips down the canvas.
Use a paper towel or paint brush to make sure the paint covers most of the canvas and even out the paint if you desire.
Repeat for each color until you get the look you want.
Let it dry and display!
My daughter kept talking about how this was so "beautiful" and she loves the way it looks now that it is up. She was a fan of getting to use water too.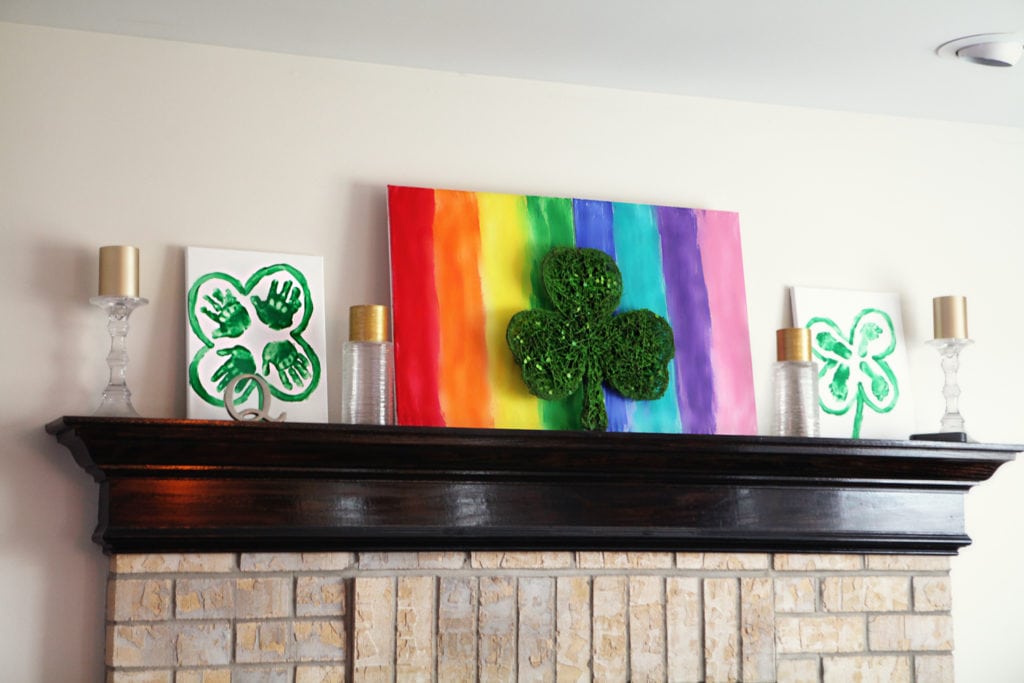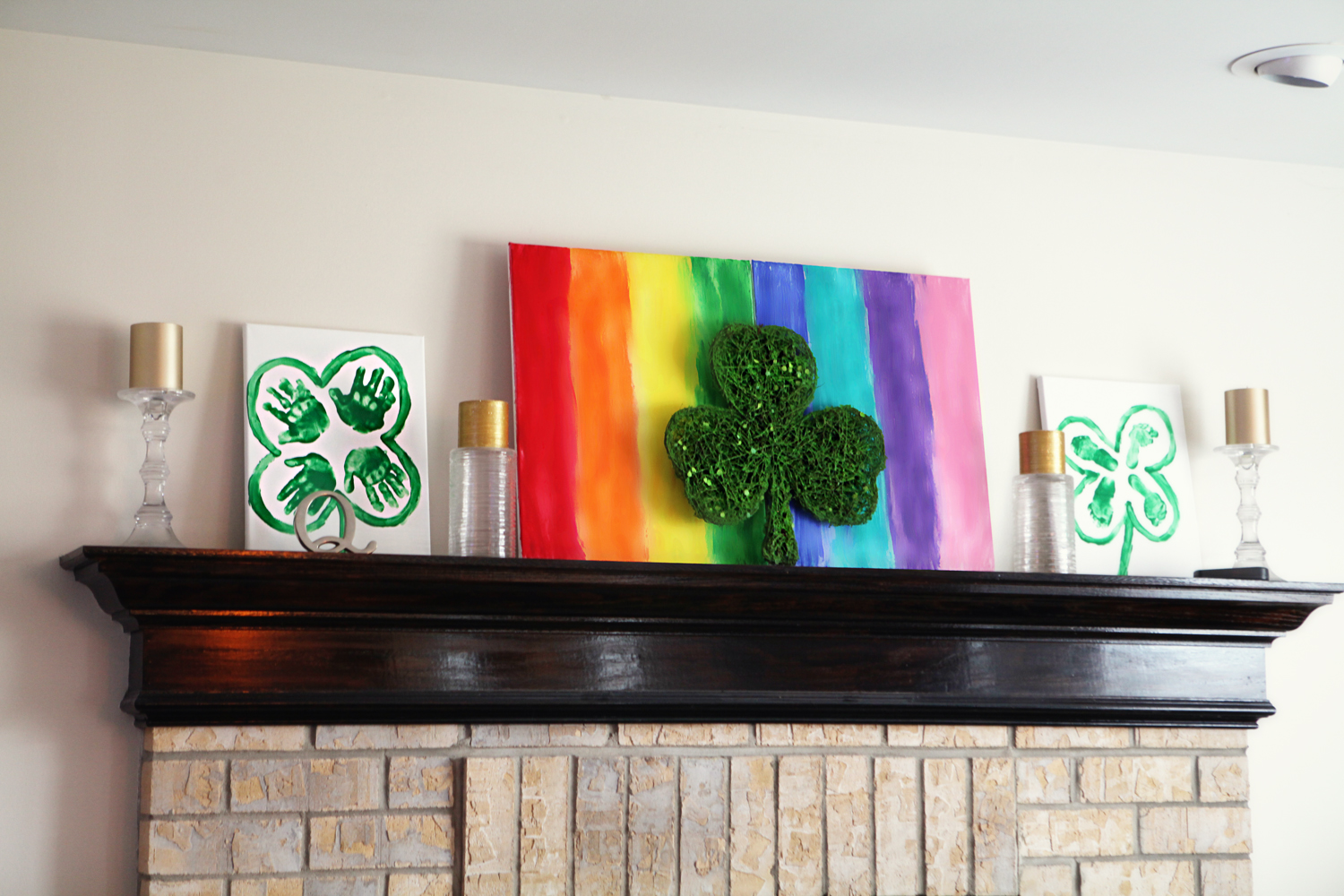 Shamrock Stained-glass Clings
We wanted some window decorations but we didn't want to spend a ton of money buying them from the store for a holiday that's going to pass us by very quickly this year. Instead, we made our own!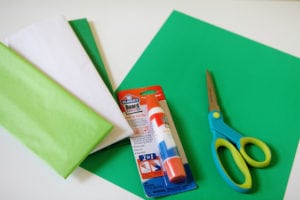 For this project you will need:
Green poster board
Glue
Clear tape
Scissors
Multiple colors of tissue paper. We used a light greenish yellow and a darker green.
Steps:
Cut your shamrock shape out of the poster board.
Cut a corresponding shape in the middle of the shamrock
Cut or rip the tissue paper into various sizes. We cut ours, but it still had a ragged look. When we do another one (my husband wants more!) we will probably tear it into various sized pieces.
Pick the backside for the shamrock. This side will face out of the house. Since this is really for your enjoyment inside, this side will have rough edges. People outside won't be able to tell unless they are right at your window and if they are that close to your windows for no reason, you should probably call the police.
Glue or tape the pieces of tissue paper to the inside edge of your shamrock.
Tape corresponding pieces together. If they are in strips, you can tape along the entire edges to make sure they don't gap.
Tear of any access the moves beyond the shamrock shape itself.
Tape it to your window and enjoy!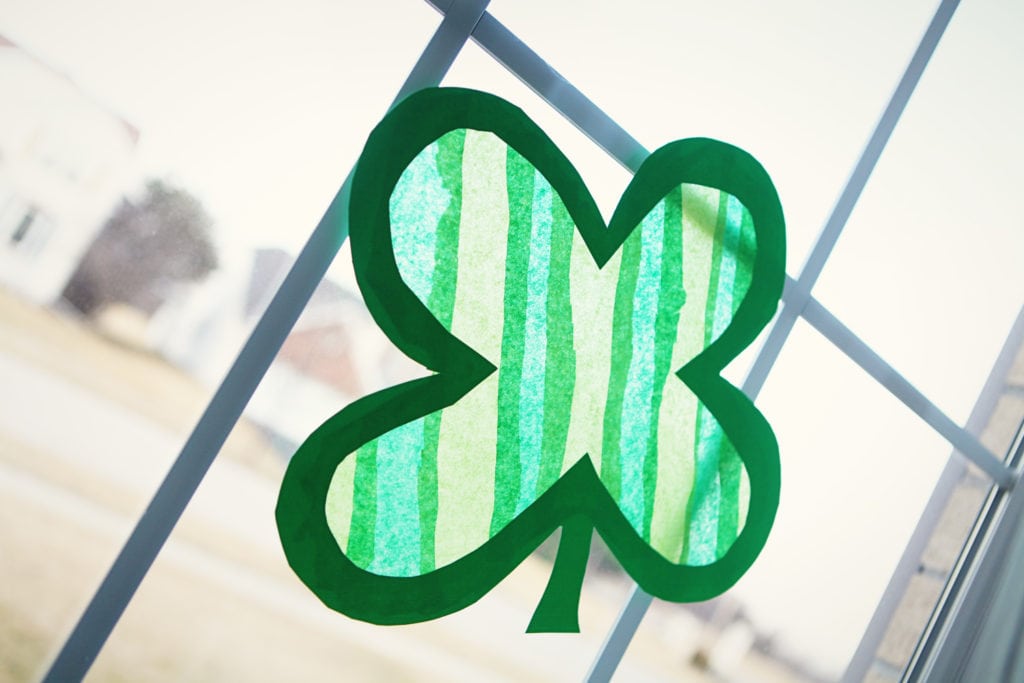 Shamrock Handprints
I'm big on capturing the size of my kids' hands, or in Roman's case, his feet right now. This project gives you the option to let them get a little dirty with some tracing and finger painting.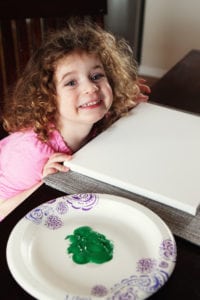 You will need:
Canvas or white sheets of paper. Ideally, 8X10 or larger, but this will depend on the age of your child.
Green, washable paint
A paint brush
A pencil
Two little hands or two little feet
Steps:
Make sure your children's' hands or feet will fit on the canvas prior to breaking out the paint.
Paint child's hand or foot with the green paint. We dipped them for this and I don't recommend that. Going forward, I will always paint their hands and feet with a brush because we had too much excess paint. It was also very difficult to do this with my son's feet. He hated getting the paint on them and balled them up on me.
Place hands/feet on the canvas four times to make the leaves of your shamrock. We used each hand and foot twice so both of them were captured.
Lightly trace a line for the stem and lines for the leaves around the hands.
Let your child finger paint the line.
Wait for it to dry and hang!
That's it! It provided an afternoon of fun for us last Sunday and was a great way to connect with my daughter. If you decide to try these, let me know how they turned out in the comments below!
Happy crafting!