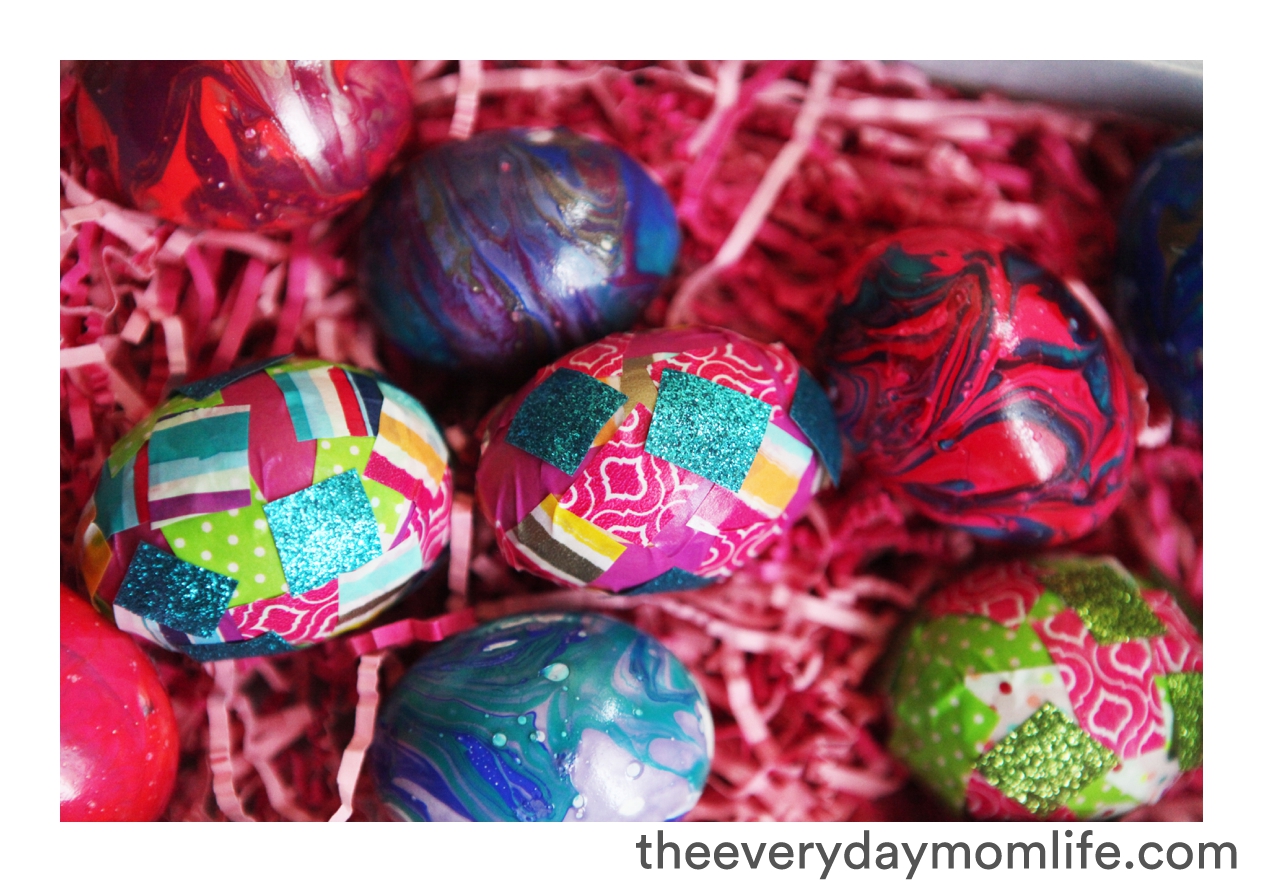 Tired of doing the same old thing when it comes to decorating your Easter eggs? So were we. So, this weekend we tried some new ways to decorate that were exciting and produced vibrant results! My daughter was so thrilled that she literally oohed and aahed.
So, if you need some new ideas for your little bunnies, check these out!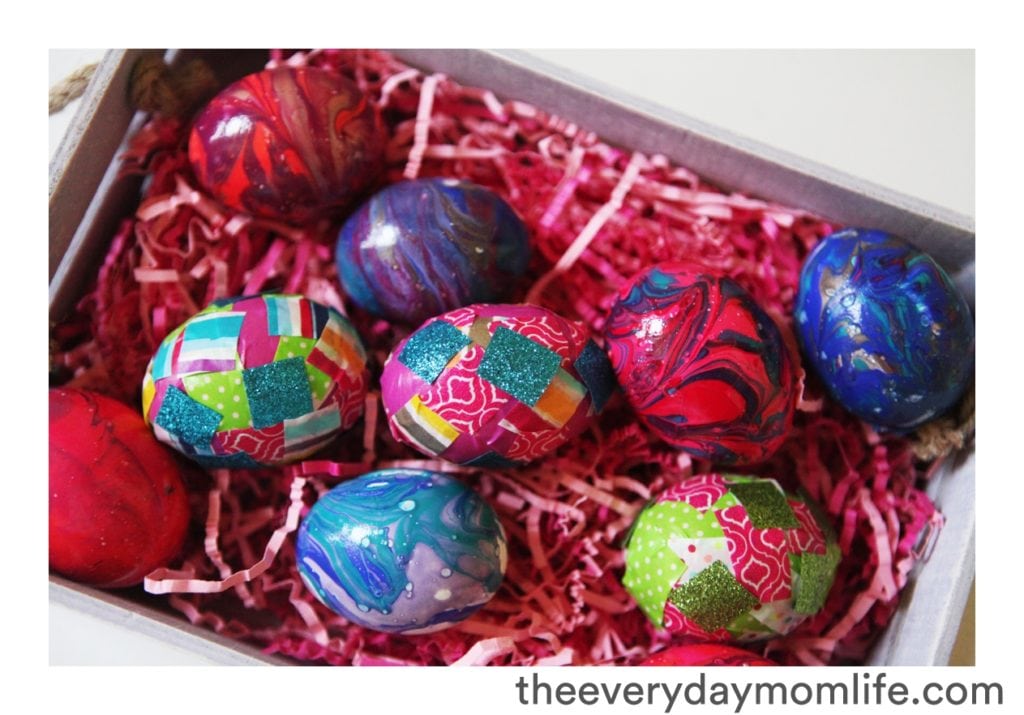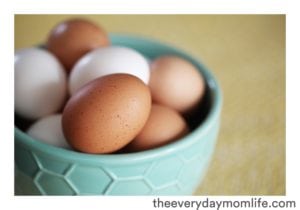 To get started, pick up an extra dozen eggs for hard-boiling. We picked up an extra two dozen, just because we were experimenting with new decorating techniques and I wanted to make up for eggs that often crack during the boiling process.
However, we tried out the American Egg Board's new Easy-Peel Hard-Boiled Eggs recipe and I found that not only were they easier to peel afterwards, but I had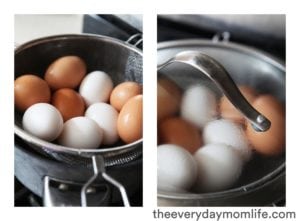 fewer cracked eggs once they were done cooking. They also took less time to cook, which is a bonus when you are working with an impatient threenager.
I don't have a traditional, stove steamer system so I improvised. I put my strainer on a similar-sized pot and covered it with the pot's lid. I often steam veggies this way and I figured it would work well for the eggs too. Within a minute, you could see them cooking. If you don't have a strainer, you can also put them directly in the boiling water, too.
After about 12 minutes on the stove, the eggs came out perfectly hard-boiled. I liked the fact that I didn't have to fuss with pulling them out of the hot water too.
We then let them cool in the refrigerator for about two hours before we began our decorating adventures.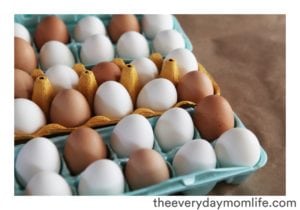 My daughter and I decided to try two new ways to bling our eggs. First, we decided to use washi tape and create some patchwork eggs. I liked this method because she was able to put the tape on herself. She liked that she could make her own designs and that she could make it look, "so pretty."
Patchwork Washi Tape Eggs
For this project you will need: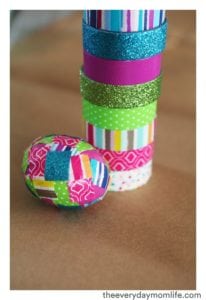 Hard-boiled eggs, cooled
A variety of washi tape with differing designs (We had about eight different designs.)
Clear glue
Steps:
After you have hard-boiled your eggs, make sure they have cooled. Then cut your favorite washi tape into squares to begin your patch work. If your eggs are too hot, the washi tape will not stick.
Continue to layer different washi tape until your egg is completely covered.
Use the glue to help keep down some unruly edges.
I found that the sparkle washi tape was the biggest offender with unruly edges. It doesn't stick or bend as well so it wasn't as happy about conforming to the shape of the egg. However, it was a perfect way to finish off the design! Don't you think?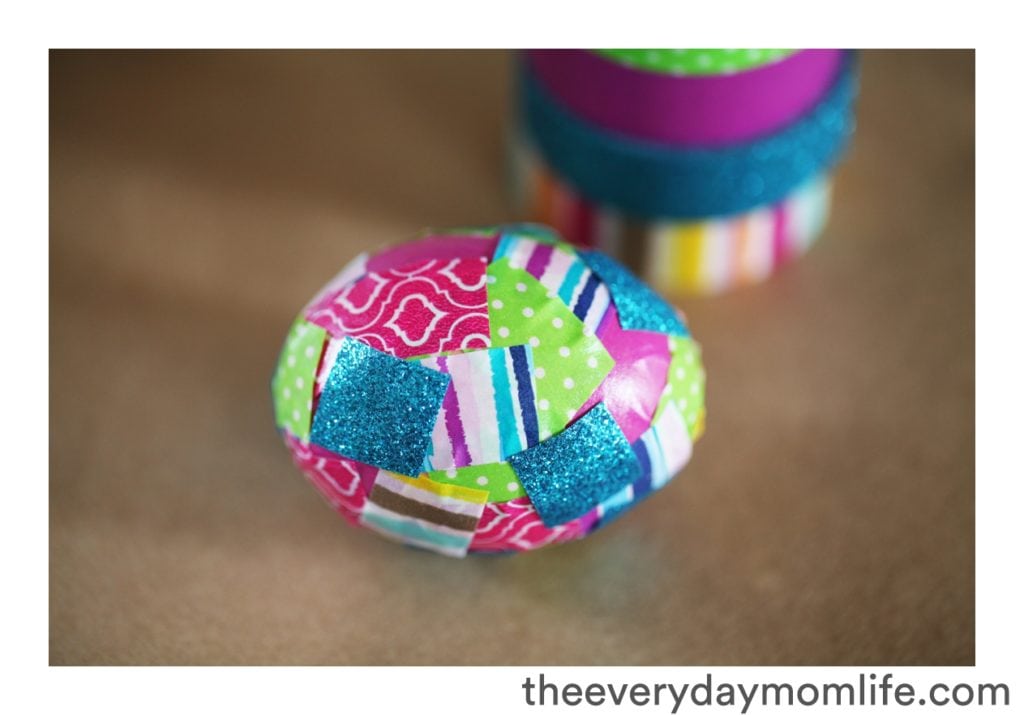 Our second design attempt used nail polish to created bright, unexpected, tie-dye eggs. We loved the results! It's definitely something we will try again because I think practice makes perfect with this design technique.
Nail Polish Tie-Dyed Eggs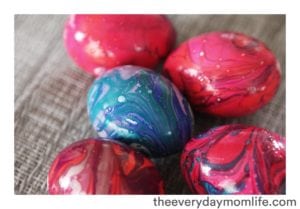 For this project you will need:
Hard-boiled eggs, cooled
A variety of nail polish (We had about 10 different colors.)
Water
Plastic cups
Tooth picks
Steps:
Fill your plastic cups with water and let sit out in the room where you will be tye-dying. It's important that the water is at room temperature. If it isn't, the nail polish will sink to the bottom of your cup. I filled the cups up first thing in the morning and we began decorating around 2 p.m.
Pick your first color and add it to the water by letting it drip in. You want to keep moving the polish around versus pouring the color all in one spot. If you add too much to one spot before it fans out across the water, it is more likely to become too heavy and sink to the bottom.
Add your second and third color in the same way.
Stir it up with a tooth pick.
Pick up your egg by the ends and dip it into the water. Make sure you fully submerge it and then pull it back out.

The nail polish will only end up on the part of the egg it touches, hence the side that is dunked. To get it to cover more surface area, try to rotate your egg as it comes out of the water.

Dry it sideways on the egg container (See photo). I found this worked better than anything else to keep the color.
For this project, my daughter picked the colors, but I did the dipping of the eggs. My girl took one look at my fingers after I pulled out the first egg and decided dipping the eggs was too yucky for her. If your child is a little older they will probably be able to watch you do this once or twice and then experiment on their own.
The yuckiness aside, the results that were produced through this method of decorating were pretty magical. No two eggs will ever be alike, even if you use the same colors, and they were bright and beautiful. This is one we will probably do year after year because the results were so impressive.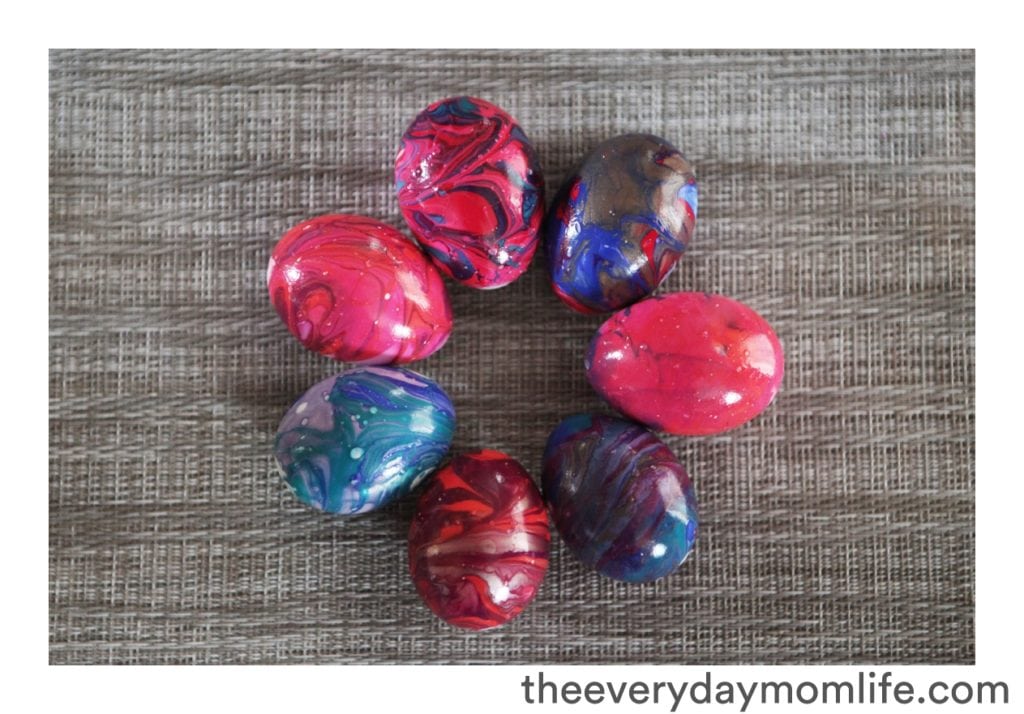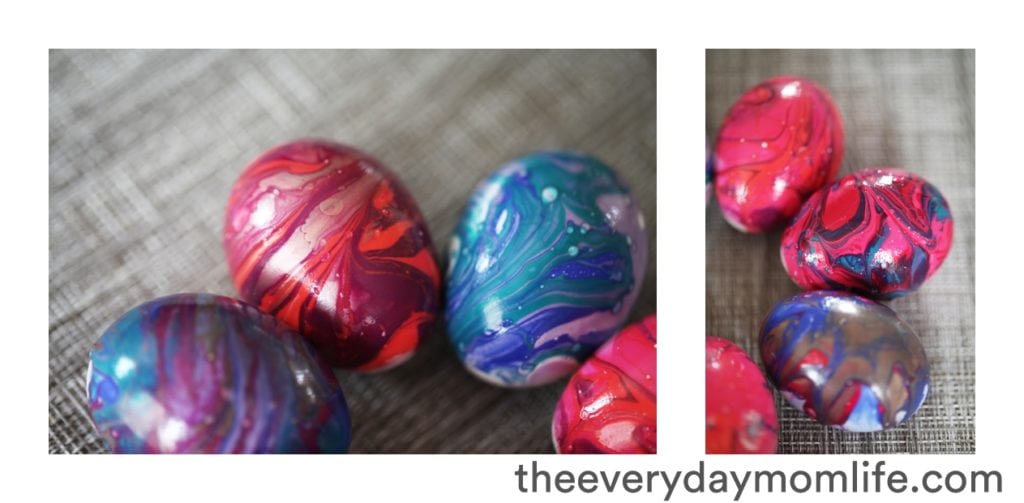 If you're looking for more decorating ideas, visit www.IncredibleEgg.org/Easter. If you're looking for some ideas for using all those eggs after the bunny has come, check out my Brunch Bruschetta.
This is a sponsored blog post by the American Egg Board.