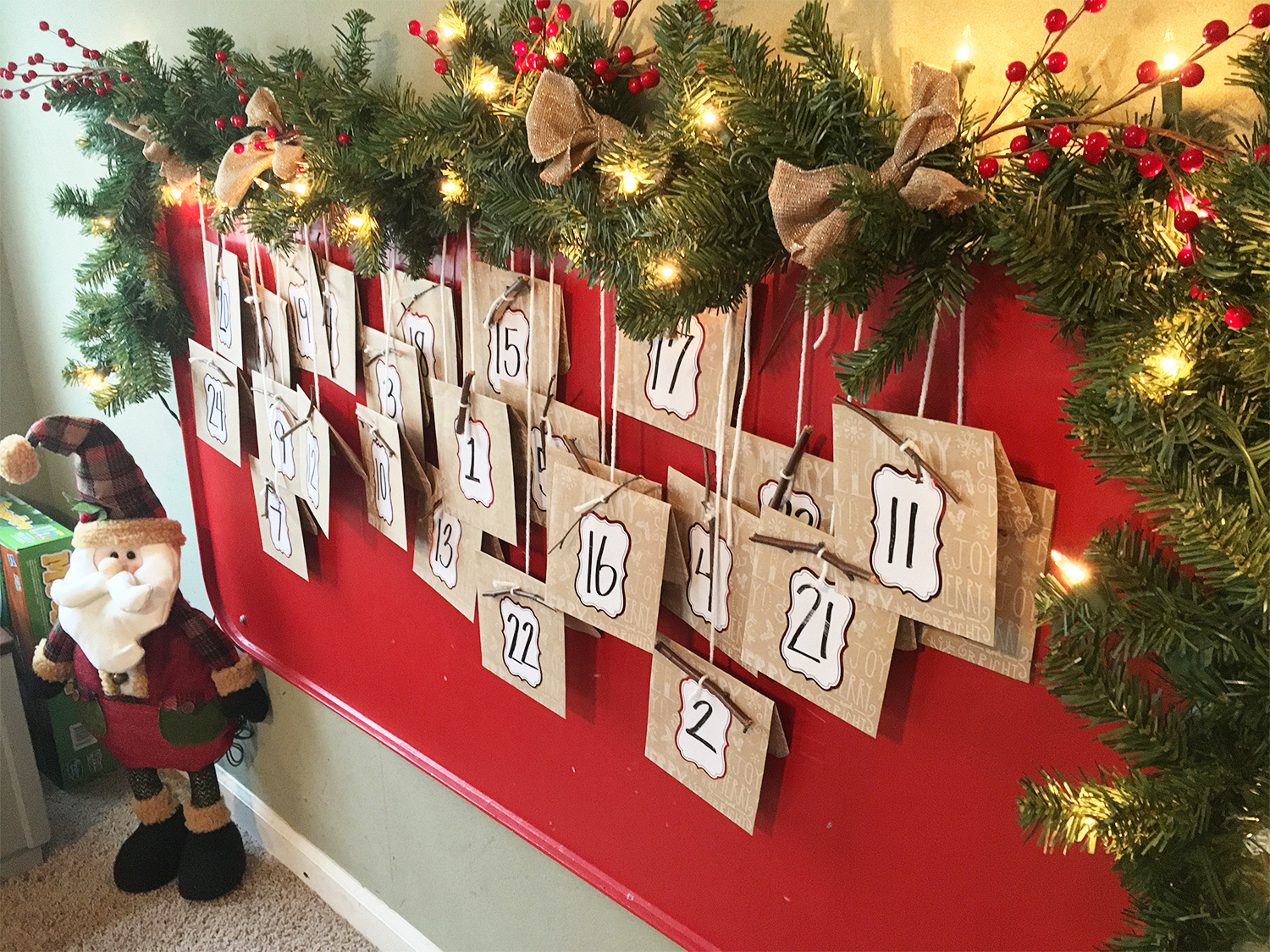 It's almost December and I can't wait! I love the Christmas season. It is my favorite time of year. Everyone is happy and friendly. I love the music, the decorations and let's not forget the food!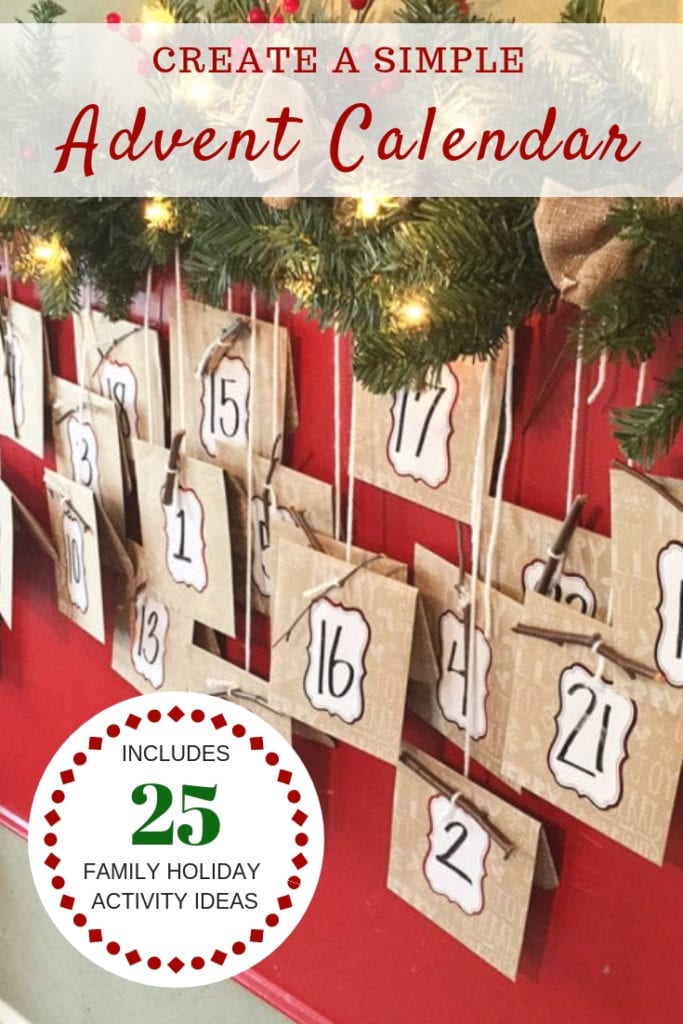 This year I decided to make an advent calendar for our family. I wanted it to be filled with activities we could do together. I also wanted it to serve as a cute decoration in our family room. I had the perfect spot – my son's magnet board. I made the magnet board a few years ago and I will have to give instructions on how to make that another day, but you can really pick any spot or blank wall in your house for this homemade Advent Calendar that's full of family advent calendar ideas.
You will only need a few items:
– Dowel rod
– Garland long enough to cover dowel rod. I bought one with lights
– Bows, holly berries and any other items you wish to decorate your garland with.
– Small paper gift bags
– Gift tags, I bought some that were stickers so it stuck right on the paper bag.
– String or yarn
– Small twigs (found a small branch in our yard and my son helped by breaking it into 3" pieces)
– Marker and hole punch
– Paper, I used green card stock. Cut into 25 pieces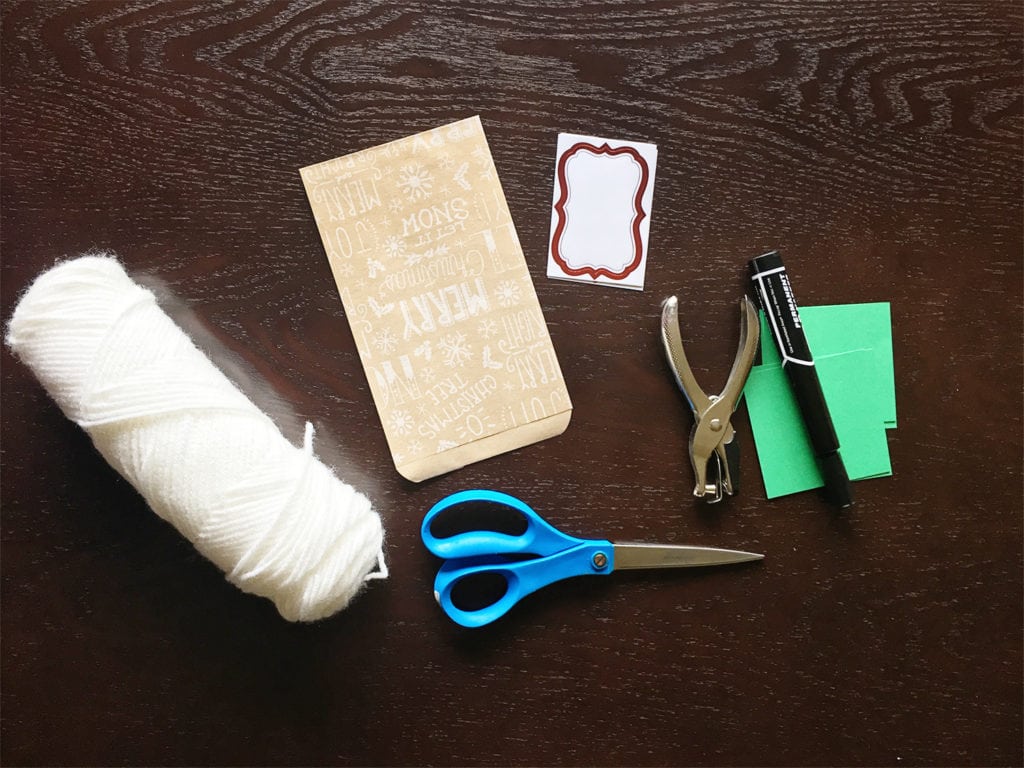 I was happy to only have to buy a few of these items, I had many of them on hand left over from other projects. The gift bags and gift tags were less than $2 at my local craft store and I found the garland on sale for $10. Everything else I already had. A good deal for a month's worth of fun and a cute decoration!
I chose the activities based on things we do every year as well as some new ones I am excited my son will be able to do for the first time. I sprinkled in a few "easy" days because while I try to make every day special, I still need to be reasonable. My suggestion is to look at your calendar and plan the activities so that when you make your advent calendar you can strategically pick which activity happens each day.
Advent Calendar Ideas
See Santa
Build gingerbread house
Decorate the small tree in my son's room
Go ice skating
Have hot chocolate. I have a homemade recipe I found on Pinterest that is delicious!
Read a Christmas book
Kiss under the Mistletoe
Color a Christmas picture
Make a Christmas card for my parents
Make a Christmas Card for my in-laws
Make a Christmas Ornament
Donate a toy (or 5!)
Write a letter to Santa
Have a picnic by the Christmas Tree
Have a snowball fight (I bought a bag of cotton balls in case there isn't snow that day)
Make a Christmas card for Daddy
Christmas tree pancakes for breakfast
Make reindeer food (oatmeal & glitter to sprinkle in the yard on Christmas Eve)
Read the Christmas story from the Bible
Make cookies
Go look at Christmas lights
Sing Christmas carols
Watch a Christmas movie
Buy a gift for a child in need
Write a wish for our family that we hope comes true this year and put it on the tree.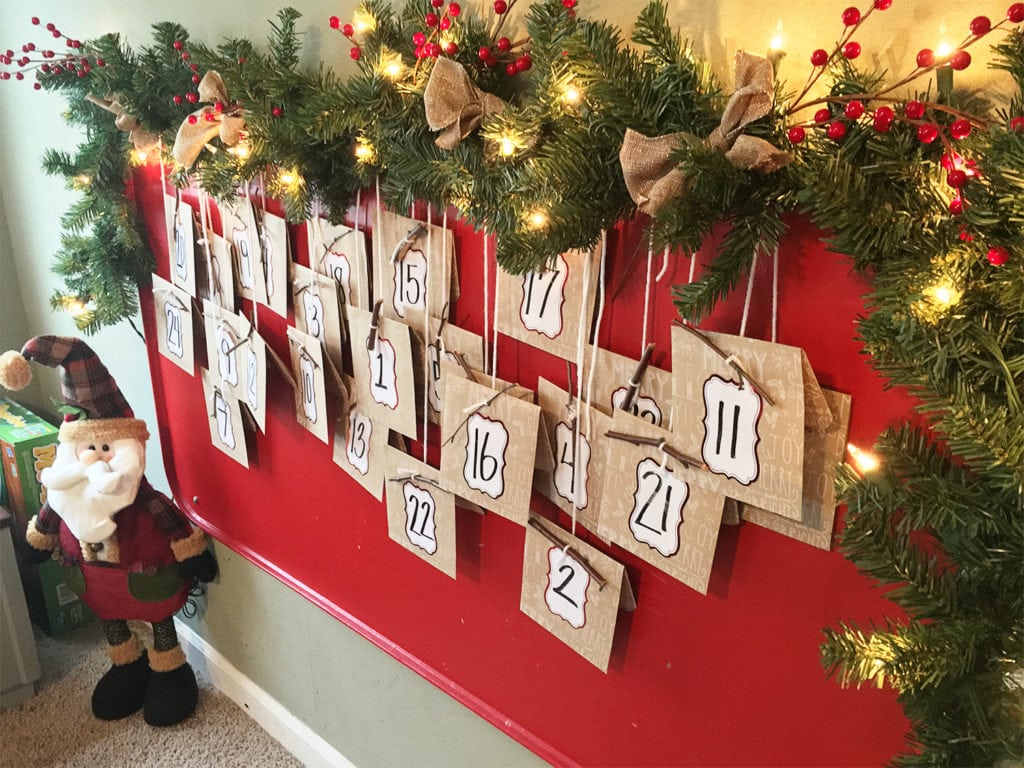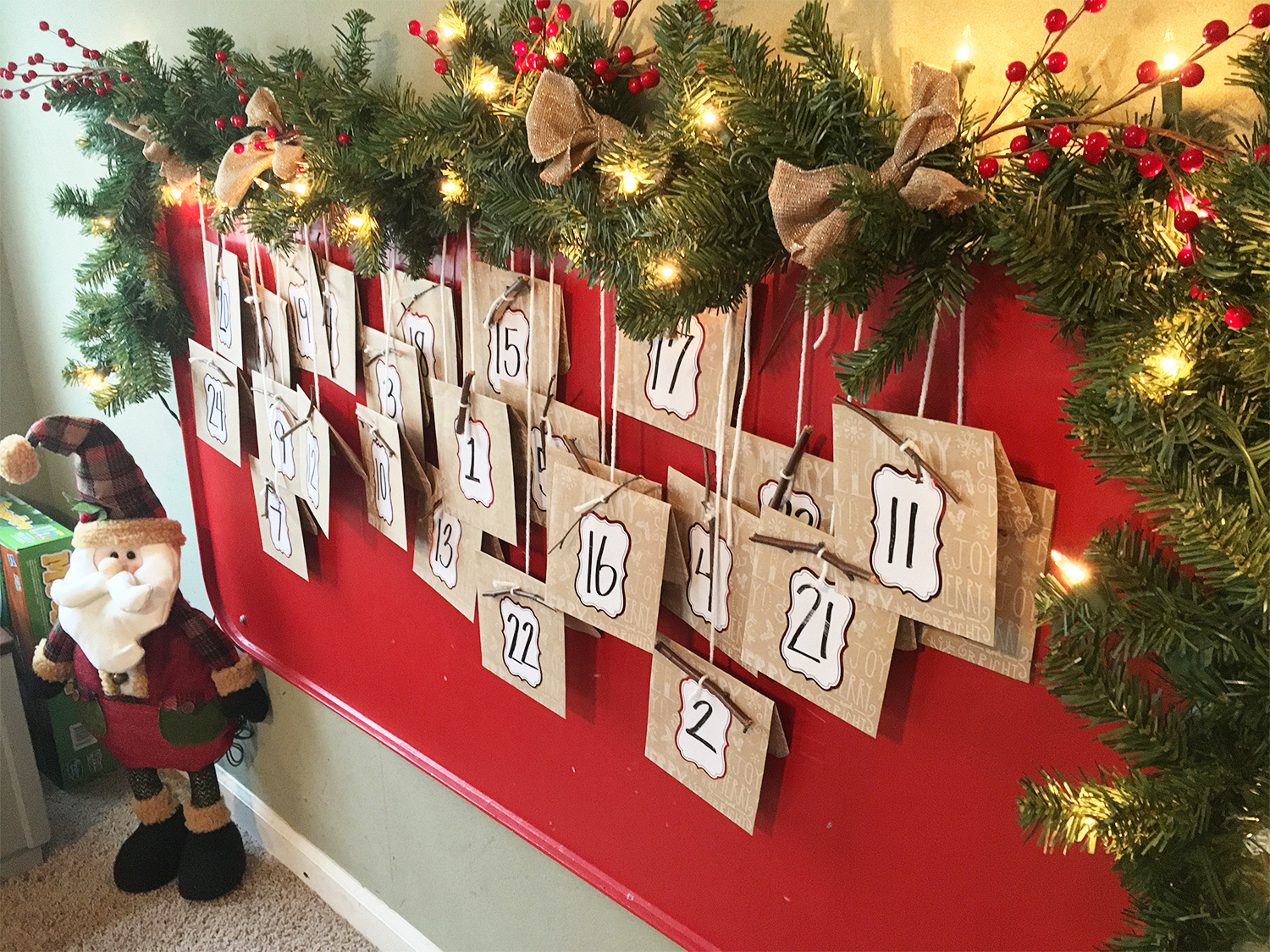 To assemble the advent calendar I stuck one gift tag to each bag and wrote 1-25 respectively on each of the 25 bags. I then put one activity in each bag, making sure that I wrote each activity in my planner so that we are actually able to do the activity on the day he opens it. I want it to be fun opening the bag to read 'go ice skating' and then actually go that day. I also want to make sure on the day we are making cookies that I have the ingredients ready to make them.
Next fold over the bag and punch a hole in the fold. I put a piece of string through the hole and tied a small stick to the string. This is for two reasons: It will look cute AND the bag won't rip like it would if I just tied the string through the hole.




Tie each string to the dowel rod at varying heights and out of order. This way my son will have to find the number each day, this is good practice for him and makes it more fun as well. Hang the dowel rod. As I mentioned, I hung ours on the magnet board. I thought it looked cute since ours is red and it's a good spot in our family room.
Attach the garland to the dowel rod. I used left over ribbon from another project. It looked cute and held the garland in place. I added a few holly berries to give it a pop of red against the greenery and the lights.
Most of my projects I do with my son. I had him help this time as well but I kept the activities a surprise. He can't wait to open them and has been doing a count down the last week waiting for December 1st. Your little one can help with punching the holes, finding the stick and breaking it into pieces. If they are writing this is perfect for them to write the numbers and tying the strings is good for fine motor skills too. I love how much fun we had making this and I can't wait to actually do a fun activity every day in December as well! Share a picture of your advent calendar ideas and any activities your family loves to do during the holidays. Happy Crafting and Merry Christmas!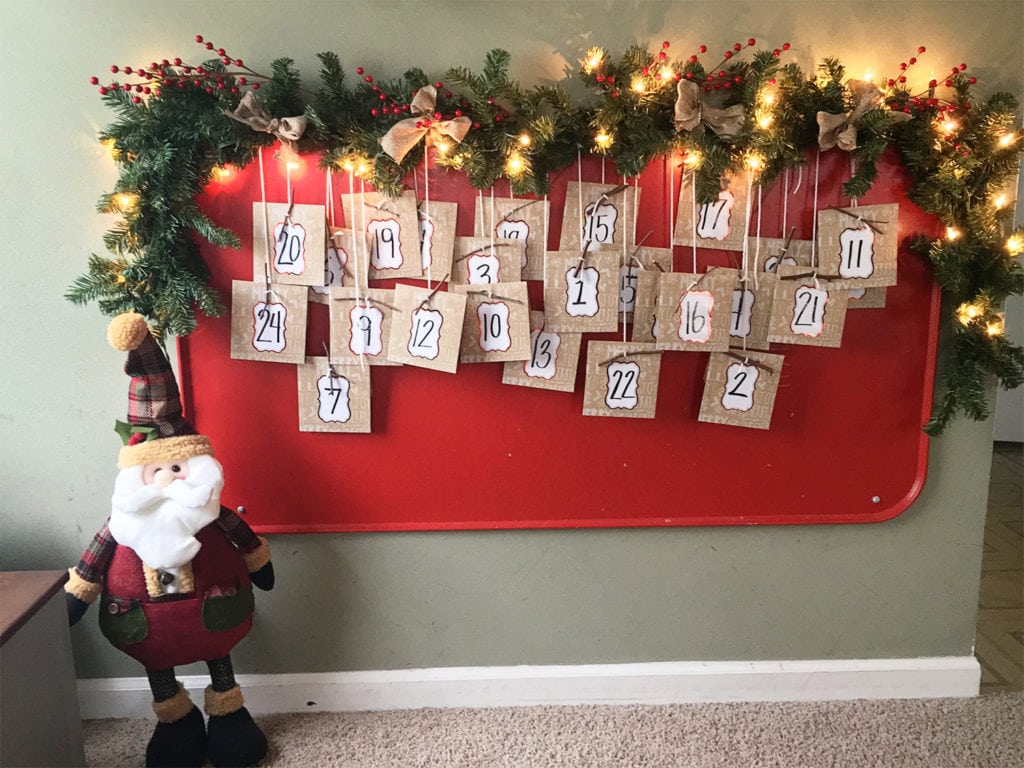 For more craft & DIY ideas, click here. And to see how to decorate on a budget, click here.