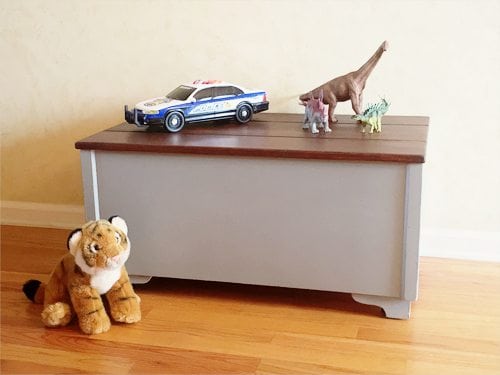 I am always on the hunt for a new project. I love to remake something into a more beautiful or useful version. As we are in preparation for a new baby I am trying to find better ways to organize my 3-year-olds' toys.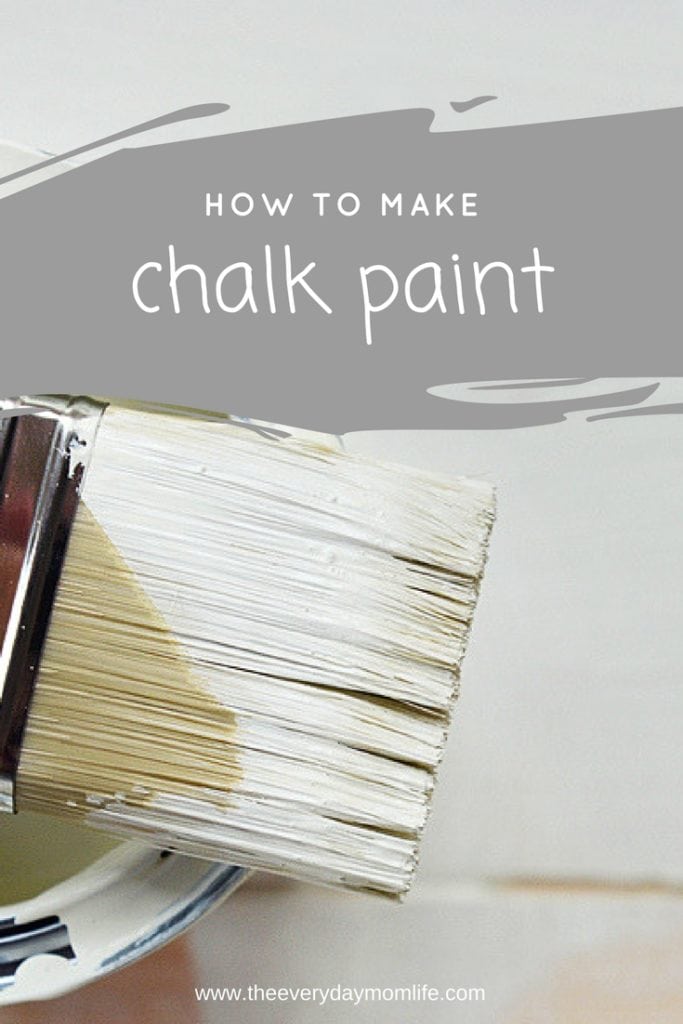 My mom called me a few weeks ago and told me her friend was getting rid of a toy chest. She sent me a picture of an old wood chest and told me it was built about 50 years ago. I loved the idea of redoing something that had been hand made and well-loved. Here is a picture of the toy box when I got it.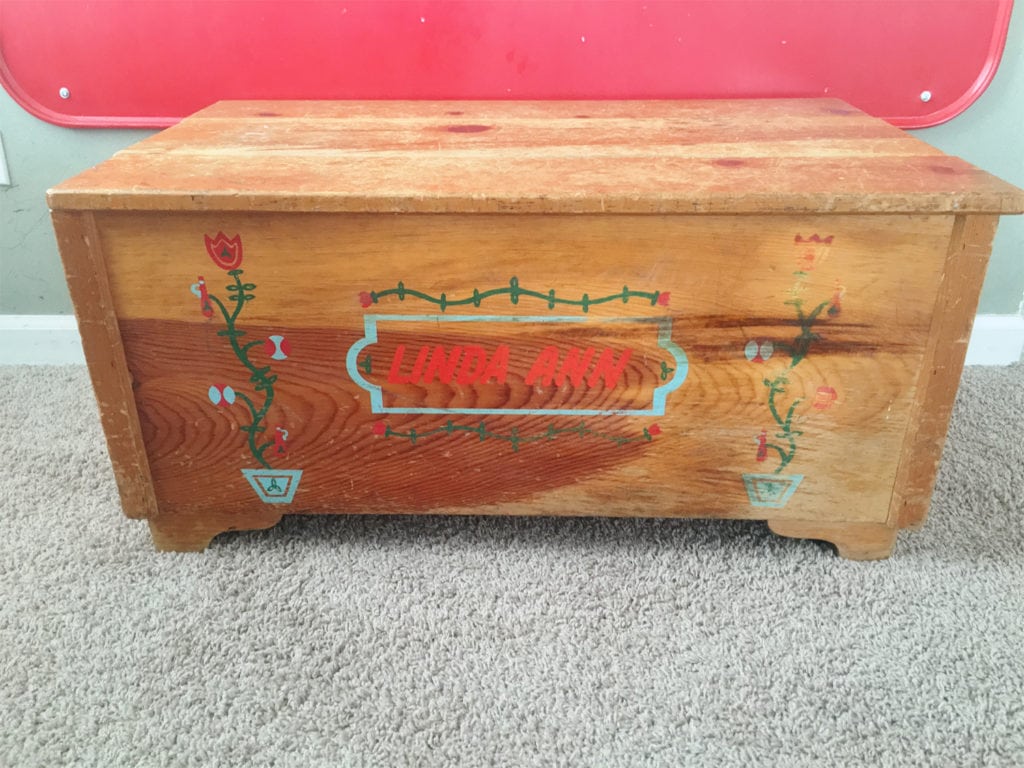 I have wanted to try chalk paint and decided this project was the perfect chance to try it. I went to the hardware store and saw two problems with the chalk paint; one, it is expensive, and two, there are about four colors to choose from. Both of these sent me back home to research other options.
I came across several recipes for chalk paint and after a few trials on paint stirrers and scraps of wood, I found the right recipe for my liking. I wanted it to cover the wood but dry quickly. I was willing to do about 2-3 coats to get the coverage I wanted.
Here is the easy recipe to make your own chalk paint.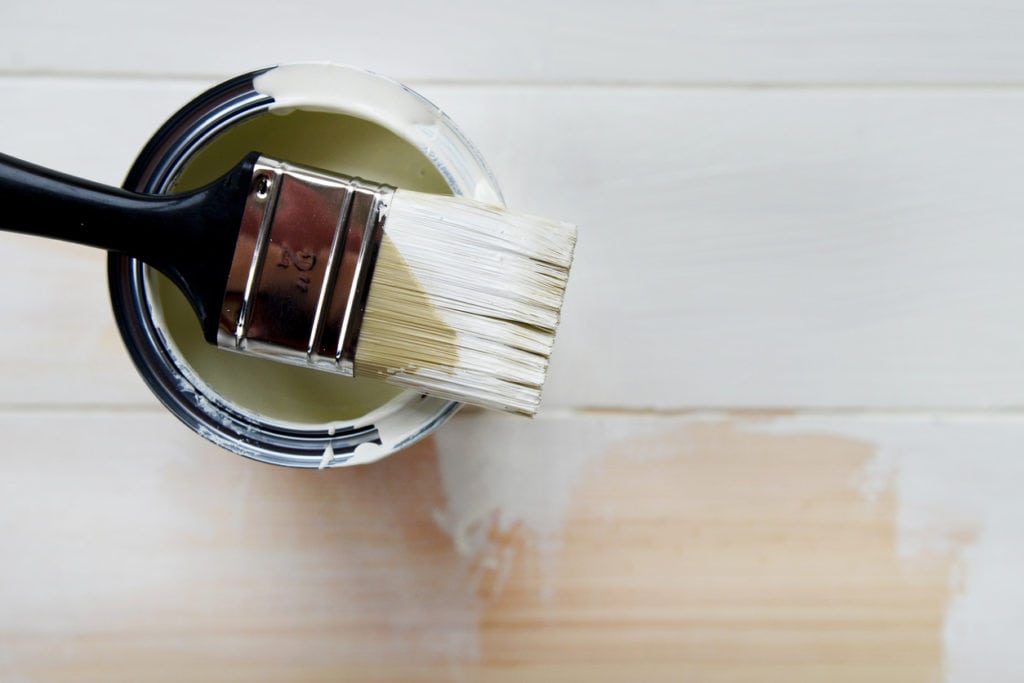 How To Make Chalk Paint
Ingredients:
Recipe:
One part Plaster of Paris
One part water
Two parts paint
Step 1: Mix the Plaster of Paris and water until the plaster is dissolved. The mixture will resemble skim milk. Make sure you do this step first or your paint will end up grainy.
Step 2: Add the plaster/water mixture to your paint. Make sure the container you are working with is good sized. You will need to mix the ingredients a lot and you don't want to slop over the sides as you stir. Stir the ingredients until it is well combined.
Step 3: Paint your project. I recommend painting a thin layer and waiting over night to assess. Depending on the look you are going for you may need two or three coats of paint.
I ended up staining the top of my toy chest to give it a two-tone look. I did this because I like the look but also because I know my son will use the top as a landing strip for his planes, a stage to dance on and who knows what else. I think the chalk paint will be durable but I decided stain was the way to go for us.
If you decide to stain I can't stress to you the importance of sanding. The stain will not adhere to wood that has polyurethane or other stain on it already. It will be blotchy or not dry. It's a mess and a waste of your time so make sure you sand, sand, sand. Here is what the top of my toy chest looked like after sanding it.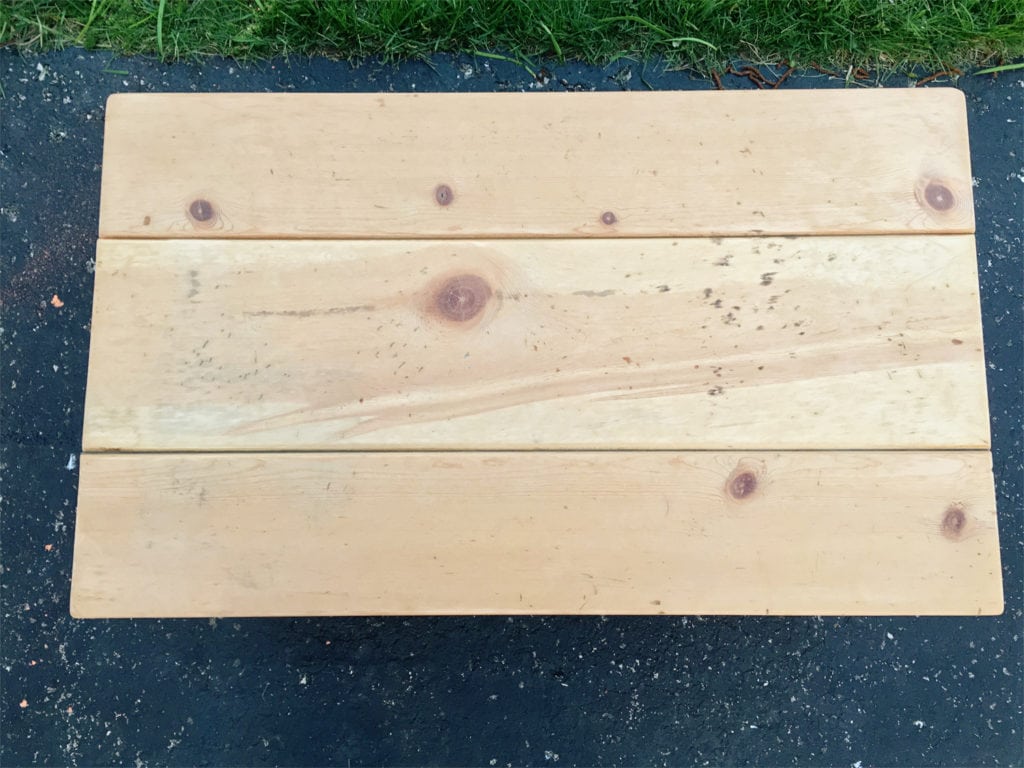 I put about three coats of stain on and then added two coats of polyurethane to help protect it from the wear I am sure it will endure. I ended up putting three coats of chalk paint on the base of my toy chest. I wanted the grey to be opaque.
One of the best parts about chalk paint is that you don't need to sand the wood you paint. You can paint right over other paint or paint bare wood. It is easy and fast to work with.
I love how the toy chest turned out. It looks so nice I ended up keeping it in our family room instead of the toy room like I planned. I always pictured having a separate adult area with no toys allowed. The reality of our life is that toys end up everywhere. A cute toy chest that looks pretty is the perfect solution.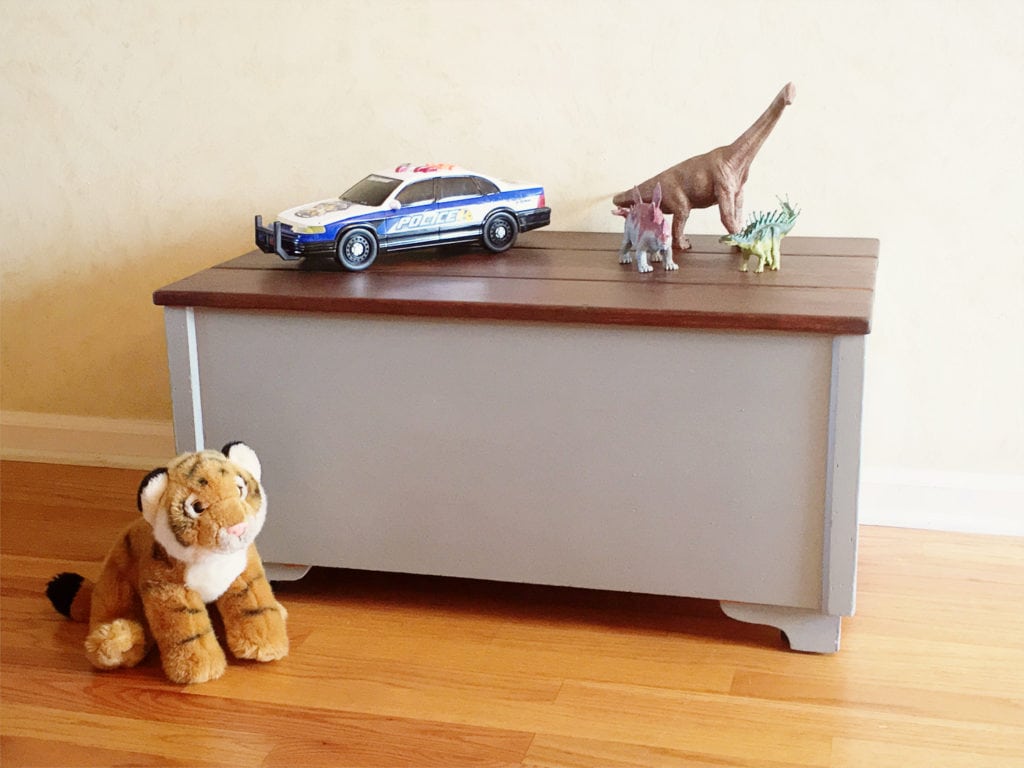 For more projects and DIYs, click here.